Best Bay Rum Aftershave – Buying Guide (2023 Bestsellers)
We may earn a commission for purchases using our links. Learn more
Any man who is keen on his shaving and grooming routine has to have an aftershave in his bathroom cabinet. And not any aftershave, but one that you'll love and that might take you back in time to when pirates and men ruled the seas.
Okay, the last bit is stretching it too far but with the best Bay Rum aftershave, you'll feel like a real and macho man. These classic old aftershaves were popular in the 1900 and 1800s and they've been making a major comeback in the 2000s.
Why? More and more men have switched over to wet shaving.
Some experts argue that there is nothing special about the bay rum smell that gives it an edge over other aftershaves. Though this is debatable. The spicy and manly fragrance from the classic bay rum is enough to make it a sought-out product.
Many Bay rum aftershaves get great reviews, but not all use authentic ingredients. As such, bay rum aftershave varies in odor and quality. Even with the ones that use identical ingredients, the fragrance will still vary.
To make it short, there are great (the best) and not-so-great bay rum aftershaves.
So to help you make an informed decision on the best bay rum aftershave, we've taken the liberty of compiling a list of what we consider the best in the market.
Yes, we've covered the best aftershave balms and best aftershaves for men in separate posts but we feel with bay rum aftershave popularity, they deserve their guide.
Top 3 Best Bay Rum Aftershaves at a Glance
Best Bay Rum Aftershave
Best Bay Rum Cologne
Good Quality & Affordable
Best Bay Rum Aftershave
Best Bay Rum Cologne
Good Quality & Affordable
Last update on 2023-11-28 / Affiliate links / Images from Amazon Product Advertising API
What Is Virgin Island Bay Rum Aftershave?
Before we dive into the guide, here's a quick history lesson to help you understand and appreciate the current craze about Virgin Island bay rum aftershaves. For this history lesson, let's travel back to the 16th century when sailors ruled the Virgin Islands and its seas. At the time, bearded and rugged-looking sailors rode the sea waves for months. As a result, they went for long periods without taking a bath. You can only imagine the stench that filled the ships!
This odor problem led some sailors to seek out a solution. In the process, some sailors discovered that West Indies bay tree leaves have a nice scent. They also discovered that if they crushed the leaves and rubbed them on their skin, the nice smell masked their stench.
Sure, it wasn't a magical potion that completely took away the stench but it made the ship a better place. Meanwhile back on land, some innovative slaves stumbled upon rum as they were making sugar from molasses. The rum was a by-product of the sugar-making process which they used as alcohol too.
One of the sailors borrowed the recipe, distilled it, and came up with a new variation that's 10x stronger. And in the process, they learned to extract bay leaf essential oils and thus bay rum was born.
After these discoveries, the recipe spread throughout the West Indies islands and special recipes with cloves, citrus, cinnamon, and other spices were born.
However, the rest of the world only caught up with the Virgin Islands when Albert Heinrich Riise mass-produced bay rum aftershaves. And since then, the UK and USA, in particular, have fallen head over heels for these shave scents.
Choosing the Best Bay Rum Aftershave
An aftershave should nourish, soothe, and moisturize your skin. Moreover, it should stimulate cell regeneration and promote healthy skin.
Before you purchase an aftershave, it's good practice to test it on your skin to ensure it feels good and doesn't cause an allergic reaction. But since we live in the digital age and most purchases are online, this test is not always possible. But that doesn't mean you go in blind. Instead, understand your skin type and what works for it.
Generally, for oily and normal skin types (or those living in humid areas, a bay rum balm is perfect. But for those with dry skin, avoid products with astringents or high alcohol content. And for those with sensitive skin, unscented balms, or those scented with bay oil are great.
As you shop you'll find that most bay rum aftershaves contain alcohol. Companies add it to help disinfect cuts and act as an anti-irritant. However, too much of it 'burns' the skin after application.
With that said, here are other things to consider;
Fragrance
The fragrance is an important consideration but it's not as simple as people make it out to be. Aside from the scent, you need to consider how long the smell will last. Generally, scents last for different periods on people. Heck, some scents smell different on different men given their different skin types and body chemistry.
Quality bay rum aftershaves use essential oils to develop different fragrances. However, they dissipate faster on dry skin than on oily skin. As such, we advise applying the aftershave to oily body parts including the temple or the back of your ears.
The best fragrances appeal to your sense of smell at different levels;
Top – you'll notice this smell first but it'll dissipate almost immediately after application
Middle – this is the heart of the fragrance
The base layer – manifests after the top layer dissipates and combines with the middle layer to provide a long-lasting scent
Because of the multi-layer fragrance factor, smelling it from the bottle doesn't give an accurate scent. After all, you only smell the top layer of the fragrance.
Sillage (Parfum/ Eau de parfum/ Eau de Cologne/ Pour Homme)
This refers to how much fragrance you leave behind when you walk through a room. You can think of it as the trail the plane leaves behind. Sillage varies from one fragrance to another. And while some companies take pride in having a lot of sillages, this doesn't work for all men.
As you'll see in the reviews section, classic bay rum aftershaves offer unique masculine scents without being too overpowering. For instance, Gilbert Henry Bay Rum balm has a warm and spicy scent. Its citrus tones pave the way for bay rum which rests on a beautiful base of sandalwood with some hints of ylang-ylang.
Wait, how will you know how long a fragrance lasts or its sillage? Simple, with the lingo used. Below are some common terms used for aftershave fragrance and their meaning;
Parfum – perfume is packed with oils and it lasts for up to 6 hours on the skin
Eau de parfum – this means 'watered down the perfume.' Instead of having 20% oils, Eau de Parfum has 10%-20% oils which last between 4 and 5 hours. Such bay rum aftershaves are budget-friendly.
Eau de Cologne – they are the lightest as they contain 2-7% of oils and last between 2-3 hours
Pour Homme – this phrase is used on bay rum cologne and aftershaves to mean 'for men'
Ingredients
So far you know that too much alcohol in your aftershave can do more harm than good. But aside from alcohol concentration levels, you should also check that the Bay Rum aftershave contains west Indian leaf extract/oil. It's a bonus if the bay leaves used are sourced from the Virgin or Caribbean islands.
Moreover, consider the chemicals (their names and percentage) used. Many aftershaves contain chemicals. While this cannot be avoided, you want a great balance between natural and chemical ingredients.
If you have sensitive skin, go for an original bay rum blend made from plant extracts, purified water, and essential oils.
Seal in the Moisture
Dry skin doesn't hold onto the fragrance for long. While you might use other products to ensure your skin is moisturized, ensure the aftershave contains moisturizing ingredients like aloe vera, Vit-C, and glycerine.
But even if you don't have dry skin, SD-40, alcohol, and rum in the aftershave will dry and numb your skin to some extent. The moisturizing ingredients will help to counter these effects and offer better aftershave performance.
Budget and Brand
Reputable brands like the ones we've featured on the list below ensure that they use quality ingredients. Since they have a reputation to protect, they work hard to ensure they maintain consistency in their production.
However, in most cases using high-quality ingredients is costly and as a result, the end product is expensive. So if you are looking for quality bay rum aftershave, you'll have to make this trade-off.
But this doesn't mean you'll part with a fortune every few months. If you are on a budget, it's okay and you can still get a more than decent bay rum aftershave. You just need to ensure the ingredient list is free from harsh chemicals and high alcohol content.
Best Bay Rum Aftershaves (Summary)
Last update on 2023-11-28 / Affiliate links / Images from Amazon Product Advertising API
1. Barberry Coast Bay Rum Aftershave – Best Bay Rum Aftershave
Barberry is an aftershave brand that excels in its trade. From its list of ingredients, you can tell it listens to its customers and adjust the product to meet their needs and is worth the title of 'best aftershave'. With this particular bay rum aftershave, Barberry prioritized the type and quality of ingredients used. If you have sensitive skin, this bay rum aftershave splash for men is the best for you.
The thing about this aftershave is that the scent of bay rum is unique and true. The spices and the oils used are authentic and the bay leaves used are sourced from the Caribbean Islands.
In the list of ingredients, you'll not find GMO oils or synthetic chemicals, cheap grain alcohol, or paraffin that'll cause skin problems. Moreover, it's free of Phthalates and Sulfates. Instead of cheap grain alcohol, Barberry Coast Bay Rum aftershave has 100% glycerin mixed with a little high-quality alcohol. The glycerin helps the skin to retain moisture and remain soft and supple for longer. Moreover, it helps the scent linger for longer.
Now, the Barberry aftershave causes a burning sensation after application but it fades after a couple of seconds. As for the scent, we love that Barberry Coast included Cinnamon, vanilla, clove, orange, and allspice in their scent blend. Aside from creating a great scent, collectively they help improve skin health. For instance, vitamin C produces antioxidants that help in cell regeneration.
The scent has the added benefit of reducing stress, and anxiety, reducing fatigue, improving your mood, offering clarity, avoiding mental confusion, and lowering blood pressure. Some men even find the Barberry Coast scent to be a slight aphrodisiac.

We Like
The natural ingredients used help to improve skin health
Glycerin keeps the skin moist
The subtle scent of bay rum lingers for long
Keep This in Mind
It has a burning sensation when first applied
Barberry Coast Bay Rum Aftershave excels in this space. It not only caters to your shaving needs but also goes the extra mile of ensuring your skin health is improved.
2. Gilbert Henry Bay Rum Balm – Quality Natural Product
Yes, we know bay rum and lotion tend not to go so well together. Often, bay rum aftershave lotions are greasy and prove difficult to wash off. But, the Gilbert Henry Bay Rum is different. Even though it's made as a lotion, you can still use it as a regular aftershave balm.
Gilbert Henry claims it's a natural product and true to their word, their list of ingredients doesn't contain synthetic elements. Instead, it's packed with natural ingredients like aloe vera which soothes your skin and eases the razor burn caused by classic straight razors, a double edge safety razor, or a men's cartridge razor.
Moreover, it contains glycerin and coconut which moisturize the skin. So instead of smelling good and suffering from dry flaky skin, your skin will glow and flourish. It also contains Black Willowback, Witch Hazel, and Neem oil extracts. Witch Hazel and Neem Oil help in healing cuts and nicks.
Speaking of cuts and nicks from your safety razor, read our blog on how to use an alum block and styptic pencil to stop bleeding when shaving. As for the fragrance, it's pretty darn good. It's a Sandalwood base with Portuguese orange and other West Indian spices. With all these ingredients, you are bound to smell like a slice of heaven. Your partner is bound to feel the kick when they lean in for a kiss.
To ensure an overall great user experience, the Gilbert Henry Bay Rum bottle has a pump top. This top ensures you have a controlled liquid pour. With just one or two pumps, you'll have enough for your chin and neck.

We Like
The pump top is perfect for controlled use
Its scent is made from authentic bay leaves, and citrus on a sandalwood and clove base
Its healing properties give it an edge
It's all-natural
Keep This in Mind
The Gilbert Henry Bay Rum Balm price is higher than other products in its category
For a quality natural product, the price point is expected. Its scent and effect on your skin is a great trade-off for the cost. Overall, Gilbert Henry Aftershave doesn't disappoint.
3. Club Pinaud Bay Rum – Best Bay Rum Cologne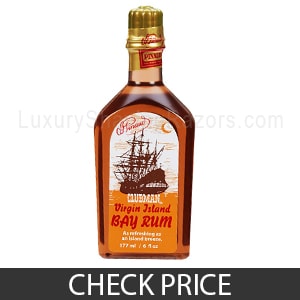 This is the biggest of all bay rums. It comes in a big 12 oz. bottle. With such an amount, the aftershave will last longer than most and deserves to be one of the best West Indie Bay Rum Aftershaves.
Now, at this point, we'd like to point out that Club Pinaud Virgin Island Bay Rum is more of an aftershave than a fragrance bearer. Don't get us wrong, it comes with a nice scent layer of bay leaves, rum, and cinnamon. However, it fades into your skin style after a couple of hours. If you are keen on the smell, you'll notice some hints of vanilla and nutmeg in the blend as well. Though Clubman Pinaud claims it is an 'All Purpose Fragrance' it performs better as a shaving scent than as an all-purpose perfume. However, Clubman Pinaud Bay Rum's marketing is accurate when it says that it's refreshing. You should therefore exercise caution when splashing it on your face. Too much of it will leave an intense burn on your skin.
This is mostly because it includes 2% of SD-40 alcohol. Being an alcohol-based original bay rum, it's a powerful disinfectant meaning bruise, nicks, and cuts from your safety razor stand no chance against it. The alcohol works alongside West Indian bay leaf clove to neutralize red spots, rashes, and face bumps.
When you check the label you'll come across some synthetic elements. Before you write Clubman Pinaud off as 'not-natural', many of these elements are gotten from essential oils.

We Like
As an aftershave, the scent is subtle and perfect
It has five different scent layers
If you love an instant burn you'll enjoy the Club Pinaud Bay Rum
Alcohol is an effective disinfectant
Keep This in Mind
It smells nice, but the fragrance isn't strong or long-lasting
The alcohol gives an intense burn
Clubman Pinaud Bay Rum is among the best bay rum aftershaves that offer quantity as well. Because of its alcohol content, you should consult with a dermatologist before you use it. Alternatively, you can perform a patch test on your skin before you commit.
4. Genuine Ogallala Bay Rum – Strong & Exciting Fragrance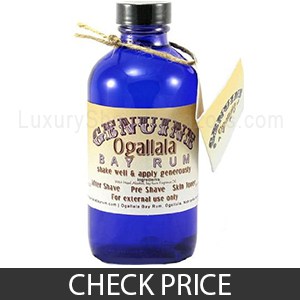 This recommendation is not only one of the best bay rum aftershaves but also a beauty to behold. With its vintage look, you fall in love instantly. Unlike the Barberry bay rum aftershave, we've reviewed this brand has a strong fragrance that will take over a room when you walk in.
The first time you apply the aftershave you'll get a mellow scent. With time, the scent will grow even stronger. At this point, we should point out that it contains alcohol. So if you are a fan of the burning sensation, the Ogallala bay rum is a great aftershave for you.
But aside from the alcohol, Genuine Ogallala Bay Rum comes with witch hazel and purified water. The water reduces the viscosity of the oils but still maintains great consistency making it easy to apply and not too runny.
Other natural ingredients included are oil of clove, cinnamon, orange, ginger, lime, wintergreen, sage, and rosemary. Going back to the Genuine Ogallala Bay Rum fragrance, the sandalwood fragrance captured our hearts. However, we especially loved the bay oil essence which works perfectly.  Other fragrance variances include Bay Rum Limes and Peppercorn, Bay Rum and Vanilla,
Bay Rum and Sandalwood, Bay Rum Cedar and Sage. Of all these scents, Lime and Peppercorn, and Cedar and Sage are the most popular.
The Genuine Ogallala Bay Rum glass bottle packaging is great and helps to preserve the quality of the scent. But we had some problems with the screw top. We found ourselves pouring out a little more than we would have wanted onto the cotton bud.

We Like
The vintage bottle design is beautiful
The price is set in the right range
It doesn't contain too much alcohol
Alcohol is an effective disinfectant
Keep This in Mind
It doesn't contain glycerin though the witch hazel does a good job of skin nourishment
The scent isn't what you'd expect from the best bay rum aftershave product
The fragrance fades away a little too fast
For those looking for a bay rum aftershave with a strong scent and exciting fragrance variations, this is it. With the Cedar and Sage, Lime and Peppercorn, and vanilla, you'll have unique scents for different occasions. But aside from the fragrance options, Ogallala made this list for its quality and beautiful packaging. It's more of a triple-threat aftershave.
5. Captain's Choice Cat O'Nine Tails Bay Rum – Great Gift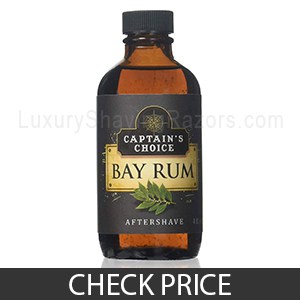 Our next best bay rum aftershave is the Captain's Choice O'Nine Tails. Its packaging resembles the Ogallala but with some improvements. First, we noted that the Captain's Choice Bay Rum bottle comes with a dapper than prevents first-timers from pouring an excess amount.
And instead of the blue bottle, the Cat O'Nine Tail has an amber bottle. It has about 4 ounces of Bay Rum which will last you a cool three months (of course depending on how often you shave and how much bay rum aftershave you use).
We tend to rank and prefer bay rum aftershaves based on their scent. Smelling good in the 21st century is, after all, the goal of every man in the 21st century. Cat O'Nine Tail smells like authentic Bay Rum Sensation. And even though it does not contain too much Clove, it has alcohol and glycerin.
The alcohol will give you the sting and the glycerin will soothe your skin and neutralize the sting in seconds. We also love that it contains witch hazel which counters the drying effect of alcohol. The witch hazel in Captain's Choice Bay Rum will lock in the moisture and keep your skin soft and supple for longer.
Unlike most options, the Captain's Choice Cat O'Nine Tails offers a slow-building warmth that covers your face seconds after you apply it. And though it has a yellow hue, it doesn't turn your face yellow when you apply it.

We Like
The sandalwood smell is sweet
Captain's Choice is absorbed faster into the skin
It has a soft and warm feeling after application
The witch hazel has anti-bacterial properties
Keep This in Mind
The burn is rather noticeable. It's not ideal for men with sensitive skin.
Captain's Choice comes in great packaging and its scent is addictive. It is easily one of the best bay rum aftershaves the industry has to offer.
6. Gabels Bay Rum Aftershave – Good Quality & Affordable
GABELS bay rum is another vintage-looking aftershave we've all grown in love with. It is designed to transport men back to the 1800s. To vouch for its quality and being the best, most barbershops use it on their clients. It has stood the test of time by producing consistently great bay rum aftershave even as times changed.
The signature scent of the Gables is derived from laurel oil. Aside from laurel oil, Gabels Bay Rum aftershave also includes SD-40 alcohol, food coloring, and sucrose out of acetate. And if you are keen enough, you'll notice a touch of clove in the aftershave. The best part is that clove isn't overbearing. It is perfect for men who love the classic fragrance of aftershaves and colognes than that of modern-day deodorants. We did not find any ingredient that ruled out this aftershave. However, it does contain some alcohol that burns. Luckily, the burn isn't painful instead, it refreshes the skin and leaves you ready to seize the day.
All the ingredients are perfectly balanced and together they soothe and firm the skin. They also close the pores to minimize skin irritations developed from shaving.
If you love a mild masculine aroma, you'll appreciate the Gables scent. The fact that it lingers for between 7 – 8 hours is a plus. And since it the scent is light you can reapply it during the day.

We Like
Aside from being a bay rum aftershave lotion, it doubles as a perfume with a subtle scent
It comes in a 16-ounce bottle
The aftershave is cool and soothes the shaving messes
Keep This in Mind
The scent is too light for some men. But then again, it's an aftershave and not a perfume.
For men looking for the best aftershaves that double as perfumes, Gabels is perfect for you. The fact that it comes in a 16-ounce bottle makes it a quality and affordable bay rum aftershave.
7. Grand Bay Bay Rum – Refreshing
For those who are wet shaving enthusiasts and follow a strict post-shave routine, you know of the classic Dominica Bay Rum. The aftershave had a simple approach to grooming and wasn't any different from the rest. However, it disappeared from the shelves for a while to the horror of many. But the good news is that it returned under a new brand name – Grand Bay.
The scent of this aftershave is elegantly simple and its ingredients include alcohol, water, and Dominica Bay tree oil. Though the simple approach is great, it comes with a downside – the scent only lasts a couple of hours. But since it is mostly made of alcohol, the scent packs a punch.
As you'd expect, the alcohol makes it not a great fit for men with sensitive skin. Unlike other bay rum aftershaves we've reviewed, it lacks ingredients to soften the sting from the alcohol. As such, we recommend using a moisturizer along with this aftershave.
With that said, Grand Bay has a lime version of the aftershave which is just as simple and elegant as the main product. If you'd like to experiment, the lime option is refreshing.

We Like
It has a traditional bay rum blend
It has a laurel scent
Comes in an 8 oz. bottle
Keep This in Mind
It might be too specialized to cater to the average guy
The scent doesn't last as long
Simple doesn't have to be boring. It can also be refreshing as Grand Bay has proved with this best-rated aftershave. However, with the simple blend, the aftershave is lacking in many areas. You will have to purchase a
moisturizer
to lock in the moisture and have the scent last a little longer than is advertised.
What Is the Difference Between Regular Aftershave and Bay Rum Aftershave?
Generally, both aftershaves achieve the same goal. However, there are some differences you should know about especially when you are keen on getting the best. At the top of the list are the ingredients.
Most regular aftershave companies make either alcohol-based or water-based aftershaves. However, bay rum aftershave companies use rum and West Indian bay leaf extracts. The two ingredients provide a nice tingling sensation that fades away a couple of seconds after application.
Another key difference is the fragrance. Bay rum aftershave fragrance is unique and varies from brand to brand. The complexities therein after are highlighted by the use of citrus, cinnamon, and cloves. Depending on the extra ingredients, the fragrance can be earthy or woody. On the flip side, regular aftershaves are packed with synthetic fragrances have much sillage, and last for hours. Because of this, they lack the natural element that a bay rum aftershave offers.
Benefits of Using Aftershave
The benefits largely depend on the ingredients used in the aftershave. But generally, the best aftershaves will offer the below benefits;
Help ease your acne
Soothe your skin after a shave
Prevent rashes and irritations caused by wet shaving
It has great healing properties
Frequently Asked Questions
What do bay rum aftershaves smell like?
There are lots of possible answers to this question. But to give you an idea of what to expect, picture this; the West Indian bay is famous for its spice. The addition of oils from different spice blends can affect the smell greatly. But generally, women say it smells like 'spicy cupcakes', and 'thanksgiving' to describe the bay rum scents.
Can aftershave double as cologne?
At their core, the two products are similar. Some manufacturers market their products as both cologne and aftershave. However, aftershave fragrance isn't as strong as that of cologne and therefore doesn't last as long. But depending on your perspective, it could be an advantage in that your partner can lean in and catch the exact smell.
Why does aftershave smell differently on different me?
Think of your skin like a canvas that will influence the scent tone of your aftershave. The difference comes is brought about by the complex interaction of your body's chemistry with the core ingredients in your aftershave. But even then, the scent difference is small since aftershaves aren't as strong as perfumes. However, just to be sure, test it on your skin before purchase.
When and how do I use aftershave?
Aftershave can be used before bedtime or post-shave. You should pour a small amount into your palm, rub it and then apply it to your face. If you want the scent to last longer, apply it to the oil parts of your skin as well.
Which aftershave is better Bay Rum Balm or Bay Rum Aftershave Lotion?
It all depends on your skin type. If your skin is oily, then using a bay rum balm will only make things worse or even cause acne and pimples. Balms are best for men with dry skin since they retain a lot of moisture and prevent the skin from drying. However, a bay rum aftershave lotion can also come with the same feature but be different in texture.
Is bay rum aftershave lotion even good for my skin?
Bay rum along with additional ingredients will distress your skin and prevent the occurrence of skin breakouts, and wrinkles. Bay rum aftershave also contains antibacterial and antifungal properties that help maintain healthy skin.
Summing It Up
Yes, bay rum aftershaves are gaining popularity among men in all parts of the world because of their antifungal and antibacterial properties and masculine scents. For some, the bay rum scent conjures fond teenage and childhood memories.
We've done a lot of work presenting you with a comprehensive list of the best bay rum aftershaves. But ultimately, you get to choose your best bay rum aftershave based on your skin profile, the scent, and how it makes you feel.
Remember to test the aftershave on your skin before buying.