Best Beard Balm – Reviews and Buying Guide 2019
Today's reviews and buying guide is about beard balms. Which one is the best one for you? Lets find out, shall we?
Every discipline you can think of has its dedicated tools of trade. Carpentry has hammers and saws while medicine has sphygmomanometers and stethoscopes. In the case of men's grooming, shavers, oils and clippers dominate the scene. It's impossible to get a decent job done without these tools. And probably the most important and unfortunately the most overlooked is the beard balm.
Beard balms are essential for any man who takes beard growth and care seriously. Because of this, we thought it essential to compile a comprehensive guide filling you in on the importance of beard balm, how to choose the best, examples of the best beard balms in the industry this 2019.
So without much ado, let's get into the guide.
Tips You Should Know Before Buying a Beard Balm
By now you surely know the drill.
There's no way we would advise you to purchase any beard balm before testing it out or passing it through our checklist. In this section, we'll go through a short guide on the things you ought to consider as you look for the best beard balm online.
What hold does the beard balm have? The beard balms that are highly concentrated with beeswax are ranked high on the 'hold' spectrum.
Pick one with natural ingredients – going natural is better for you, your beard and the environment. At least with a natural beard balm, you are assured you won't develop some weird reactions or side effects later on.
Consider the oils used – some of the best oils used in beard balm include argan, grapeseed and jojoba.
The best beard balms contain natural butter including cocoa butter and shea butter – the butter in the balm is important for locking in moisture and making it easier for the balm to spread on the beard.
If the beard balm cannot fight against beardruff, it's not worth your time and money
The 7 Best Beard Balms in 2019
We should point out that the beard balm are not listed in any order. All the balms featured on this list are great and are worth checking out. With that said, let's dive in.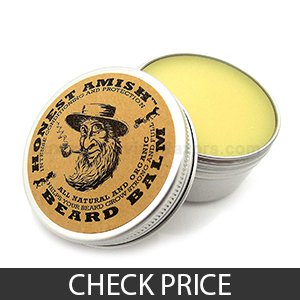 Any expert in the industry will take a quick look at this beard balm and realize the dedication that went into its production. Without a doubt, Honest Amish is experienced and passionate about making beard oil and beard balm. Over the years, Honest Amish has shown its dedication to the products and men's beard grooming in general by making the beard balm by hand. The company obsesses in delivering high-quality products. Anything that is below their high standards doesn't make it out of their factory.
But why is this? Well, if you think about it, beard growth, grooming and maintenance are at the heart of Amish men. They do so after marriage to fulfil the scriptures. Because of this, Honest Amish makes quality natural beard care products. The beard balm doesn't have fragrances, preservatives, chemicals or colorings. The natural balm ingredients repair, nourish, soften and condition beard hair. Heck, the company is pro-natural manufacture such that they package the balm in a recyclable tin.
One of the main ingredients is argan. Argan oil is known to be beneficial for protecting hair growth and stimulating its growth. The other key ingredient is Kokum. This is an antibiotic that helps in killing bacteria on the skin.
In total, the Honest Amish beard balm contains 15 hair strengthening and enhancing and naturally-harvested botanicals. The best bit is that the balm is easy to mould into the hands before application. It is soft and as such spreads easily across the beard hair. If you are a scent person, you'll love the mild woodsy, and manly scent it features.
Last but not least, Honest Amish states that their beard balm is perfect for short beards. And to show how much confidence they have in the product, Honest Amish asks that you to ship back the product if you don't find it to be better than other beard balms in the market.
Key Points
Hand made
It's easy to apply
It gets rid of itchiness and conditions beard hair
It has natural ingredients
Ingredients: Golden Jojoba, Argan, Virgin Avocado, Pumpkin Seed, Grapeseed, Apricot Kernel Oil, Aloe, Cocoa, Butter, Essential Oils and Kokum
There's nothing to hate this product. It has a great smell and is made up of organic and natural ingredients. It is because of this that this balm has made it to this top 7 list.
Now we are not saying that the scent is everything in choosing the best beard balm, but we cannot dispute the fact that beard balm scent is important, especially for those men who will be using the balm daily. At the very least, you should like the smell (if you are not in love with it). Now, the Seven Potions' scent can be described by one word 'woodlands'. This is because it's a combination of sandalwood and cedarwood. Overall, the scent is gentle but noticeable.
Aside from the scent, we love its hardness. It's just the perfect kind of firm and medium. It is easy to mould into your hands and work into the beard. Additionally, it has an excellent hold which works to soften the beard over time while getting rid of beardruff, protecting it from split ends and itchiness.
The balm also leaves the skin feeling soft and moisturised. This is because it has vegan-friendly glycerin. After a while, people will start noticing how healthy and well-groomed your beard is.
Another benefit is the fact that this balm is packed in 2-ounce containers. The brand makes its packaging bigger than those of other brands. As such, you'll use the balm for longer before going back to the stores for another purchase.
Since this is an all-natural balm, it's free of parabens, chemicals artificial fragrances preservatives and colourants. Last but not least, it's vegan-friendly.
Key Points
It has a great scent
It gets rid of beardruff and itchiness
It as organic and natural ingredients
It comes in a larger container and lasts for a longer time
Ingredients: Organic
coconut oil
, jojoba wax, palm oil, peach kernel oil, cocoa butter, palm free vegetable glycerin, avocado butter, cedarwood, sandalwood, vitamin E and essential oils
If you are reading this and your beard is out of control, you are probably getting frustrated. You've tried using combs, clippers and other tools but they are just not working. But before you throw in the towel, try smooth Viking Beard Balm and see how well your beard will respond to it. Thank us later.
Smooth Viking beard balm is designed to maintain beards regardless of how long and thick they are. It provides the much-needed strength and hydration to the hair follicles from the hair roots to the tips.
Additionally, the beard balm also features natural and organic oils like argan, avocado and pumpkin seed. These oils help the beard grow healthier and thicker. We don't need to reiterate the importance of essential oils to beard growth now do we?
In addition to growing thicker, your beard will also feel well conditioned and soft. What's even better this beard balm will trigger your beard to grow even longer. Now, aside from what it does to the beard, we love this balm for how easy it is to use and the fact that it's not messy. Rubbing a small amount of beard balm between your fingers and spreading it throughout the beard is enough. Let the balm dry and yield the great results.
Ow and in case you are wondering, the balm is light enough to be used on moustaches as well.
Key Points
Contains natural ingredients
It is not messy
It's perfect for moustaches as well
It triggers your beard to grow thicker
Ingredients: Safflower, Cera Alba, Olive Oil, Avocado Oil, Pumpkin Seed Oil, Shea butter, Jojoba, Argania Kernel Oil, Almond Oil, Carnauba Wax
If you love being in control of your beard growth and care, here's another perfect beard balm. Rocky Mountain Barber took it upon themselves to design a beard balm for beards that defied the wishes of their masters. This beard balm is focused on giving you styling control without weighing down your beard with wax.
In addition to this, Rocky Mountain Beard also focuses their sights on helping the men with beards that grow angled and that have active lifestyles. If you love hitting the trails, crossing streams, going fishing or exploring forests in your area, you know how easy it is to lose control of your beard. Luckily, armed with the Rocky Mountain Beard Balm, your beard will grow stronger and longer.
Though many beard balm companies love to experiment with scents, Rocky Mountain Beard loves sticking to what they know works. Because of this, they chose a cedarwood scent as the fragrance of this balm. To give it an even fresher feel, they added hints of Eucalyptus. Generally, the fragrance is masculine and will remind you of the great outdoors that you love so much. Even when you are out in the city, the mountains, hills, trails and streams will feel as though they are close.
The balm is made from natural ingredients sourced from Canada and North America. It is packed with eight essential oils and includes shea butter and beeswax to help in taming a wild beard. Given that it's designed for outdoorsy men, Rocky Mountain Beard Company was thoughtful enough to package the balm in a slim and compact container that will fit in any bag compartment or pocket. Because of this, you have no excuse of skipping your beard grooming routine even when you are hiking for days.
Key Points
It has natural ingredients
Easy to bring along on trips
It as a masculine scent
It provides superior beard styling control
Ingredients: Beeswax, coconut oil, grapeseed oil, argan oil, shea butter, jojoba seed oil, lavender oil, cedarwood oil, rosemary leaf extract, tea tree oil, lime oil, rosemary oil
Rogue Beard Company is the new kid in town. The company was founded four years ago. The idea was to provide high-quality beard products at affordable prices. Its prowess and excellence in creating products shine through in this Natural Beard Balm Sandalwood Leave in Conditioner.
True to its name, the company has made it its mission to chase after rogue beards and get them back in line. The formula confronts split ends, brittle bards, itching and beardruff. The result is a fully conditioned and well-groomed beard that is manageable and softer than the one you had before. This beard balm also helps in thickening the beard.
In addition to all this, we love the fact that Natural Beard Balm is made from natural ingredients.
Therefore, it doesn't contain parabens, pesticides, or GMOs. Even its 2-ounce can is recyclable. We should point out the fact that this balm is cruelty-free. None of its ingredients has been tested on animals.
If you purchase this beard balm and don't like it, you can return it and get 100% of your money back. It's simple as that.
Key Points
It conditions beards
It's affordable
It contains natural ingredients
It is designed to tame rogue beard hair
Ingredients: Coconut oil, sea butter, beeswax, coconut oil, olive oil, castor oil, argan oil, sweet almond oil, essential oils, jojoba oils
It's hard not to admire a product that has been made in the streets of Detroit with help from Sri Lankan Farms. This beard balm is made from a shop in Motor city.
The company has a fair trade certificate. Additionally, it has organic coconut oil, which is gotten from Sri Lankan farms. They do this to support the local industries as well as protect the tropical ecosystem. Now, despite the unique story and history behind the balm, you should not lose sight of the fact that it is a high-quality product.
The formula that works in this beard balm is a combination of coconut oil and grapeseed oil, beeswax and lanolin, which makes the moisturiser long lasting. With this formula, you can shape and style any beard type. The beeswax is gotten from Michigan fields that are pesticide free. The balm cans are made from steel produced in the American union shops.
The balm works on beard hair of any length as well as texture. It softens the hair and keeps it from splitting at the ends. It also relieves itchiness and dryness from the skin under the beard.
But unfortunately, the scent isn't overly rugged as you'd expect from a Detroit company. Nonetheless, its lemon fragrance is good enough and won't take away from your manliness. Overall, this is a high-quality balm with a great story giving it even more character.
Key Points
The balm relieves itchiness in the beard
It has all natural ingredients
It keeps the beard hair soft
It simplifies the beard styling process
Ingredients: Coconut oil, Grapeseed oil, beeswax, lemon oil, geranium oil, lanolin
Wild Willies is one of the few companies that is genuinely passionate about men's grooming and beard hair. This much shows in the quality of beard balm they produce.
Wild Willies is a company that believes in facial hair freedom. They believe hair should be loose and free and not entangled in ugly knots on your face and chin. The company wants its customers to look presentable and unique even if it means looking like lumberjacks who've just come out of winter hibernation.
Wild Willies speak of Magnum PI. Moustache fondly. Not only because having one was considered cool but also because it was right. You've got to love their passion and enthusiasm in the industry. Many times they come out as though they are begging you to grow out your beard and groom it properly.
Because of this, it's not a surprise that the company has poured out everything it has into the leave in conditioner. And as a testament of how good it is, the conditioning balm has gotten lots of positive reviews from past users.
There is a lot they love about the product;
There's a noticeable difference between a beard without using this balm and a few days after using it consistently. The difference is in how the beard looks, and the itchiness is lifted
The balm has a good hold all day long
The beard feels soft after a few days of using the balm
The balm has organic ingredients
The balm promotes beard hair growth starting from the inside
Users have also fallen in love with Beard Butter Balm because of its woodsy scent. However, it's not the best smelling balm we've come across. Not that it smells bad, no, it's just that others smell better.
Overall, this is an excellent product for individuals who would love to grow facial hair
Key Points
It reduces itchiness
It provides a good hold
It softens the beard
Ingredients: Beeswax, shea butter, sweet almond oil, jojoba oil, emu oil, castor oil, apricot oil, vitamin E, tea tree oil, tamanu oil, cedarwood oil, rosemary oil
The Right Process of Beard Balm Application – 6 Easy Steps
After you've picked the best beard balm, it's time to put it to work. Now, to get the best results from the balm, you need to apply it in the right way. Below are six steps guiding you through the right application process.
And no, it's not rocket science. They are steps you probably know, but you need to be reminded off and in the right steps.
Step 1:
Before anything else, you will need to choose a time of application. If you are like most men, you'll prefer to have it as part of your morning routine. After all, you are too tired to get anything done in the evening when you come home from work.
So say, you choose to do it in the morning, the best time to apply the beard balm is after hitting the shower. At this time, the beard is damp and warmed up. In this state, your skin and hair will absorb a lot of the ingredients in the balm and yield the best results in a short time.
Step 2:
Scoop a small amount of the beard balm. The amount you scoop will depend on the balm you use. Some balms require that you use a little more amount than others. If you are using a new beard balm, start with a small amount and increase if there's a need for it.
Step 3:
Rub the balm between your palms until it melts.
Step 4:
After, rub the balm onto your beard. Some experts suggest that you start with the facial skin and then work to the beard hair. But it doesn't matter which you start with.
Step 5:
Massage the beard balm into your beard and skin using a downward motion from the cheeks. Be sure to work the balm into the roots of the hair and then to the hair tips.
Note: always start at the roots, and not the hair ends.
Step 6:
Once the beard balm is absorbed into the skin with no trace, tame the stray beard hairs using a bristle brush. This will give the beard a groomed look
Why Beard Balm is Great For Your Beard and Skin
Beard balm is a great way to treat yourself. But even so, it's an important grooming product mainly because it has lots of benefits.
You probably noticed from the reviews above that many of the best beard balms feature the same natural ingredients. Some of these ingredients include cocoa butter and beeswax.
So why des beeswax feature in almost all products? You are aware that beeswax is secreted by worker bees, right? What you probably don't know is that it's the substance that holds the hive together. It's the structure around which the entire hive is formed. Think of it as the frame of your home.
As such, it only makes sense that the beeswax in the beard balms above will provide beard hair with the hold it does in hives. Moreover, it helps in locking in moisture that's produced by other balm ingredients.
Now, butter like cocoa butter and shea butter is used to make it easier to spread the balm. Additionally, they are great moisturisers. They are so good at moisturising the beard and skin that only carrier oils are better. If you live in an area with a dry or cool climate, the butter will help keep your beard moist and healthy throughout the day.
Another benefit is that beard bam helps in getting rid of beard ruffs. Beardruffs are flakes of dry skin that fall from the beards. They form when the skin under the beard is dry. The balm will hydrate the skin and prevent this from happening.
Beard balm also helps to trigger beard growth. It will help your beard grow longer and thicker. Also, the subtle manly scent is a plus.
Differences Between Beard Balm, Beard Wax and Beard Oil
There's a thin line between beard oil and beard balm. While it may be easy to tell them apart physically, it's hard to decide which to use when.
The difference is in their contents. Beard oil has high beeswax concentration and lacks shea butter.
Generally, beard oil is a perfect blend of oil while beard balm is a mixture of butter and beeswax. Also, beard balm is thicker and looks more like lip balm. It is packaged as a paste.
You can also look at beard wax as a leave in conditioner that helps with the styling and helps to tame stray hair.
When Should You Use Beard Balm?
Since beard balm is thicker, it's best to use it when your beard is thick – when the hairs are at least 1.5 inches long. The longer the facial hair is, the denser it is, and the more it will stray.
However, beard balm can be used by men with shorter facial hair as well especially because of the moisturising benefits. Also, it will help relieve dryness, hold moisture and ease itchiness.
Beard Oil Overview
Beard oil is a necessary beard grooming product
Beard oil can handle the moisturising need of medium and short length beards, especially for men with dry skin
Beard oil is absorbed into the skin quicker than beard bam since its thinner. It will give your beard a shinier finish.
Beards oils are a blend of natural essential oils. They mimic oils produced by the skin.
Beard oils have stronger scents than beard balm
Can Beard Balm and Beard Oil Be Used At The Same Time?
Since every beard is different, you will need to come up with a routine that works for your beard. However, there's no reason you cannot use the two together.
Here are some tips on how to use them together
After showering, apply beard oil to the roots and rub it deep into the skin. After, rub the balm on the hairs for a solid hold
You can use one at night and one in the morning
You can alternate their use
The Selection Process
There are many beard balms in the market – a lot more than we could review or try out. However, when coming up with this guide and choosing the best beard balms, we guarantee that we thoroughly looked into the experiences and reviews of past customers and for some tried.
Conclusion
And there you have it. Everything you need to know about the best beard balms and grooming products. As you head out to make a purchase, be aware and cautious of fakes in the market. Some make claims they cannot deliver on. As such, if you come across a product not on this list, we encourage you to do your due diligence. Read through the list of ingredients and even read through reviews online.