Best Beard Brush for Men – Buying Guide (2023 Update)
We may earn a commission for purchases using our links. Learn more
Beard brushes aren't always included in the list of 'must-have' beard grooming essentials. Most men write them off since they have combs or use their hands to groom their facial hair. But this kind of thinking is misguided.
As beard experts, we've come to appreciate the value and effect of the best beard brushes. You see, a quality bristle beard brush is explicitly designed for taming coarse facial hair. So if you want your beard to grow just the way you like it, you'd be insane not to get a beard brush. But aside from training your beard, a beard brush has numerous beard health benefits, as you'll soon see.
Unfortunately, like everything else in your beard grooming kit, choosing the best beard brush is not something you can pick with your eyes closed. But on the bright side, whether you sport a long, short, thin, or thick beard, you'll find a brush for your beard that elevates your style.
In this guide, we'll look into the major considerations to have at the back of your mind when shopping for a beard brush, check out some of the best beard brushes, and a quick tutorial on how to use these underutilized tools. You also learn of the benefits of brushing your beard.
Best Beard Brush at a Glance
Last update on 2023-01-29 / Affiliate links / Images from Amazon Product Advertising API
Benefits of Using a Beard Brush
Before you try one out, you need to be sold on the beard brushes benefits.
In this case, you are in the right place.
Exfoliates The Skin
The skin underneath a man's beard is very important for growing a quality beard. If the skin is dry and flaky, it will reflect in your facial hair as well.
Using beard oil is one way to keep the skin moisturized and in good health. Beard oil will also help rid your mane of beardruff. But aside from this, brushing your beard will help in exfoliating the skin. It will get rid of dead skin on the surface and make it easier to groom and tame your facial hair.
Stimulates Natural Oil Production
Oil glands produce sebum (the natural skin oil) at the base of hair follicles. A lot of it can make your face look greasy and dirty, but it will help your beard look healthier and moisturized in just the right amounts.
Generally, sebum helps to make your facial hair softer. So if there's a way you could increase its production and make it work for you, you would, right?
Well, there is. Regularly brushing your beard helps in stimulating the release of natural sebum from the oil glands. At the same time, it helps to prevent excess sebum from clogging the skin pores. In the process, it helps in preventing acne.
Trains Your Beard to Grow in The Right Direction
Most men looking to join the bearded gang underestimate the care that goes into growing a healthy and beautiful-looking beard.
Facial hair rebels every chance it gets. It grows anywhere it pleases but in the case of most men, never where it is needed. Luckily, brushing your beard will force the hairs to remain in the section you want and stimulates growth in the spots you want.
Overall, beard brushes help in reducing the number of stray hairs and keeping the beard in check.
How do Beard Brushes Work Their Magic?
Well, it's not exactly magic, but the results are impressive. For instance, when you apply beard oil and use a beard brush, the bristles will ensure that every strand is coated with the oil's nourishing properties. This alone helps in improving the results of the oil you use.
Beard brushes also help in keeping hairs in line even if you don't use the best beard balm. In this way, a beard brush is way better than beard combs since their bristles get in contact with a lot more hairs. This helps to keep the hairs in place and easier to style.
Key Considerations When Buying The Best Beard Brush
The number of beard brushes on the market and the fact that they are all advertised as 'the best' makes choosing one a daunting task. But you are in luck; in this section, we'll consider some factors that will help you sieve through the jargon and pick the right one for your needs.
As you read on, bear in mind that the term 'best' is subjective. So what might be perfect for your friend might be a waste of money on your end.
To be safe, you need to understand what every brush is offering and what it means for your beard. You should also understand your beard and what it needs since this is what will guide you to the best beard brushes that will fit your specific needs.
Handle Material
A beard brush is made of three main materials;
The fourth but not so common material is the 'Ox Horn.'
For the most part, the material you choose boils down to your personal preference and how the finish fits in with other grooming tools in your cabinet. A wood handle gives the feeling of class, while plastic has the advantage of being non-porous and cheaper.
But provided you don't skimp on the price, you'll get a quality handle that will serve you for a long time.
Now, aside from the handle material, you should also consider the shape of the handle or if you even want it.
Generally, there are three brush shapes: round, oval, and handle. If you would like to have more control when brushing, then your best bet is to choose one with a handle. Because of the control it offers, a brush with a handle is perfect for men with long and thick beards.
However, if you prefer a small brush to take with you when you are on the road, an oval shape is ideal. You can also opt for a round brush, but these aren't as common.
Bristle Type
Like shaving brushes, beard brushes come in a variety of fibers. And though manufacturers have a range of options to choose from, they use the following materials often;
Boar hair
Horsehair
Synthetic
Here's how they all compare to one another.
Boar Hair
These are by far the most popular type of beard brushes on the market. The driving force behind this overwhelming popularity is that they stimulate beard growth and distribute sebum better than other beard bristles. How do they achieve this?
Well, boar hair has almost the same softness, and texture as human hair does. Because of this, the bristles glide and brush over strains and the skin below without being abrasive.
Horse Hair
The stand-out feature of horse hairs is that they are softer in comparison to boar. As a result, they feel better on the beard and skin. But this texture comes with a downside. Because the hair bristles are uber soft, they get tied up in knots.
Now, if you have skin that is sensitive and acts out when you use a stiff-bristled brush on it, then we recommend going with a horsehair brush since they are softer and gentler on the skin. But be prepared to change these brushes often.
Synthetic Bristles
When you think of synthetic bristles, the first thought that crosses your mind is chemicals and 'not-natural.' While in many ways synthetic products have a bad rep and aren't the most recommended, synthetic brushes have their fair share of pros. Here's why you should consider a synthetic-bristled brush.
Synthetic bristles in the market are made from nylon. Also, they are made to be strong and durable. Because of their stiffness, they can be abrasive. But on the flip side, they are perfect for men with thick beards that get tangled easily. Because of their strength, the bristles can power through the forest that is your beard and forcefully detangled knots, rid the 'forest' of dead strands and straighten any beard split ends.
Price
You knew we'd have to touch on this, right?
Now, we are going, to be honest; the best beard brushes aren't always the most expensive. Remember, 'best' is always subjective, and it depends on your needs.
With that said, we don't advocate that you go for the cheapest one you can find, either. Because cheap often infer poor quality, and such brushes will only bring you frustrations.
Every time you come across a cheap brush, ask yourself – why is it so cheap compared to others? Often, to afford low price points, companies have to use cheap materials that directly affect durability and the product's effectiveness. In this case, the beard brush will generate a lot of static, causing more knots and making beard management even harder.
Also, cheap brushes will damage your hair follicles and cause split ends.
What you want is to strike a balance between quality and price. The best way to do this is to have a reasonable budget going in and to list down your needs. We also recommend reading through our reviews to gain insight into how well the beard brush in question works.
But whatever you do, don't settle for the $3 beard brushes sold in local drug stores.
Bristle Length
Another need you should consider pertains to the length of your beard. If your beard is long and thick, then the brush bristles should be long enough to work their magic inside the beard. If you work with a short beard, the brushing will only be superficial, and inside, things will be running wild.
On the other hand, if you have a short and fine beard, a short bristled brush will work wonders. This way, you do not run the risk of aggravating the skin below.
Essentially, the length of the bristles should match your beard length. If you change your beard style often, it'd be best to purchase both a long and a short bristled brush.
The Size, Shape, and Handle
In regards to this, you will almost always be looking for a combination of the following;
Square or oval
No handle or with handle
Whichever you choose will mostly come down to personal preferences. But even then, some factors will influence your purchase. Below are some questions you should ask yourself before you decide.
Are you on the road a lot?
If you are always traveling, it might be cumbersome to pack a large handled brush. In such cases, you want something small.
How big is my beard?
If you have a big beard, then a brush with a handle would be perfect. This is because handles provide better stability and an extra grip for better control. With these qualities, you'll manage your monster with great ease.
Where do you plan on keeping the brush?
This requires you to consider the dimensions and general size of the brush.
Brushing the beard when wet
We normally advise against brushing your beard when it's still wet. In such situations, a beard comb (as we shall see in a later section) does a better job. However, in some instances, it's unavoidable.
Therefore, you'll need a solid grip, which means purchasing a brush with a handle.
Bristle Stiffness
This quality is affected by the materials the bristles are made from. Generally, synthetic brushes are the stiffest, while horsehair is the softest. As we've seen, they both have pros and cons. Softer bristles will not irritate your skin, but on the flip side, stiff ones are better at distributing sebum throughout the hair strands.
Bristle Cuts
The condition of your beard will dictate the shape of the beard brush you choose. If your beard is thick, then you need something with an equally thick and close-set bristle. The bristle will do an even better job if they are rectangular.
On the other hand, if you have shorter and thinner beards, you should get a round and a short one.
Reviews of The Top Beard Brushes
1. ZilberHaar Beard Brush – Best Beard Brush For General Use
At first glance, you can tell that this is a high-quality beard brush. We found that it has quite a lot going on for itself, but the one thing that stood out more was that it sports genuine boar bristle.
The bristles are 5/8 inches long and perfect for beards between a month and a year old. In comparison to most brushes on this list, the handle on the ZilberHaar feels smaller.
But while some men saw this as a negative, others thought it was great as it meant they could have it in their car to facilitate midday grooming. It is manufactured in Germany, and its handle is made from pearwood. Speaking of the handle, it was carved for comfort and to improve control when beard styling.

We Like
It is perfect for both long and short beards
For its quality, it fetches an affordable price
Sports genuine boar bristle
Keep This in Mind
The boar bristles on this brush are quite stiff
The brush offers quality and control when grooming. Also, the genuine boar bristle ensure that natural oils and the beard oil you apply are well distributed throughout your facial hair.
2. Seven Potions Beard Brush – Compact Beard Brush, Great Overall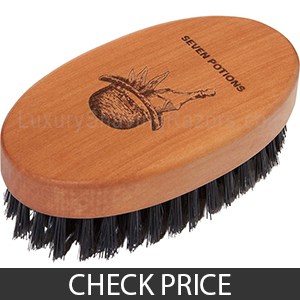 Let's with the fact that this beard brush is compact and has a stiff boar bristle that will untangle your beard and evenly distribute natural oils in your facial hair. The stiffness also helps in exfoliating the skin underneath, which contributed to the overall health of the facial hair.
A key point to note about the boar bristles used is that they are first cut. This means that the manufacturer made sure the hair was cut close to the animal's body, ensuring that the stiffness is the same for each bristle.
It has an oval handle and is relatively compact, which makes it perfect for traveling. Speaking of the handle, it's made from pear wood, which feels comfortable in hand.

We Like
Comes with first-cut boar bristles
The handle is made from pearwood
The bristles are stiff enough to untangle hair
Keep This in Mind
It's not ideal for men with super thick and coarse beards as the bristles can get stuck
The Seven Potions Beard Brush is versatile. It can detangle, exfoliate the skin, and evenly distribute natural skin oils to help you grow a healthy beard.
3. Billy Jealousy Beard Envy Kit – Best Beard Brush Kit
Everything you need to know about this kit is in its name. First, it's a kit, which means it comes with additional products you'll need to groom your beard, and second, it's high-quality. So much so that your friends will be green with envy when they see you with it.
The kit includes conditioning, styling, and wash treatment alongside the boar bristle brush that effectively spreads all the goodness over every hair strand. We also noticed that the bristles are reinforced to make them even more effective. With the reinforcement, training your beard to grow in a specific direction and exfoliating the skin will be a breeze.
With this kit in hand, you should follow the following steps to brush your beard;
Wash your beard
Dry the beard
Use beard control (the styling and conditioning treatment)
Use the beard brush
We Like
Trains the beard growth directions
Removes tangles
Offers additional products for the perfect experience
Keep This in Mind
You'll find the brush a little stiff on the first couple of tries
This kit is self-sufficient and will have your beard looking great at all times.
4. Grave Before Shave Beard Brush – Best Animal-friendly Beard Brush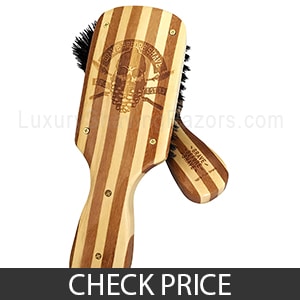 This bristle beard brush has a shape of a paddle form and is perfect for men with long and thick beards.
Though it has a lot of things going on for it, we should mention that during our review, we found it's not as versatile as other brushes. But on the flip side, its performance was through the roof courtesy of the boar bristle it sports.
Also, if you are cautious about your environmental footprint, you'll love that it is made from eco-friendly bamboo. Also, even though it sports boar bristles, no animals were harmed in its making.
However, we should point out that we noticed that it shed in the first couple of times we used it.

We Like
The handle offers better control
It's made from eco-friendly material
Ideal for men who love changing up their beard style
Keep This in Mind
It shed the first few times of using it
Overall, this beard brush is good for men who sport different styles often. The boar hair will distribute sebum, beard oil, wax, and conditioners with ease.
5. Badass Beard Care Beard Brush – Best Beard Brush for Long Beards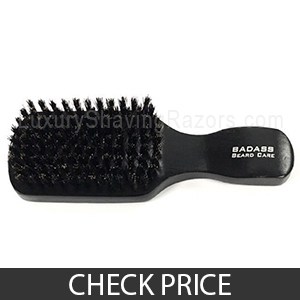 There are two reasons why you should pick up this boar bristle brush – its construction and quality. These two aspects make it perfect for thick and long beards.
But aside from this, the company boasts that the boar hairs afford you static-free brushing. But what good are perfect bristles if you cannot comfortably handle the brush?
To improve comfort and control, this brand used a 6.75-inch hardwood handle. With the control it offers, brushing through long beards will be a breeze. But unfortunately, it's not the perfect brush to carry for a midday touchup.

We Like
The handle offers great control
The natural boar bristle does not compromise on quality
It has a competitive price tag
Keep This in Mind
It's huge and not perfect for carrying around
If you have a long beard and do not care for midday touchups, this is perfect for you. The control this brush offers will make it easy to style your beard before you leave for work.
6. Can You HandleBar's Beard Oil Brush with Travel Case – Best Beard Brush for Short and Thin Beards
We fell in love with this one because of its compact design. It has a round handle and small design, which means you can carry it with you on the road.
Unlike the three brushes we've reviewed so far, this one features a horsehair bristle. And as we mentioned at the start of this guide, these bristles are soft and, therefore, perfect for short and thin beards.
With the soft bristle texture, it feels good on the skin and does a great job of distributing oils for a shiny and smooth beard look.
What's even better is that the brand sells it with storage tin. With this storage tin, you can keep it away from moisture and improve its durability. The tin also makes it easier to carry around.

We Like
Received positive reviews from bearded men
Feels great on the skin
Comes with a storage tin
Keep This in Mind
Though it is small, it's a little too chunky to fit in the pocket
The thin bristle design makes it ideal for men with short and thin beards. Remember, using horsehair bristle on thick and coarse beards will cause it to entangle.
7. Cremo Beard Brush – Best Budget Beard Brush
You probably know of the Cremo brand for its quality shave creams. However, they've opted to spread their brand across the whole men-grooming industry. And since they understand the needs of bearded men at a cellular level, they now create brushes to complement their creams above the skin.
This brush has a boar bristle that works to distribute natural oils, beard oil, and waxes evenly to achieve a healthy and silky smooth beard look. The boar bristles also prevent static, which could make it hard to style your beard. And finally, they have an uneven cut, which makes it easier for it to work its magic closer to the skin.
The wooden handle is oval and is only a couple of inches long. Overall, the handle provides a good grip to brush your beard.

We Like
It is small and ideal for men who don't have a lot of space to work with
It's inexpensive and comes with features synonymous with quality brushes
Ideal for men growing out their beard for the first time
Keep This in Mind
It has a thick body that makes it difficult to travel with
Though it doesn't have a handle, it affords you a good grip as you brush your hair. Also, this fact makes it ideal for men who don't have the cash to spend on other expensive 'best beard brushes' but who still take beard grooming seriously.
8. Peter's Beard Brush – Best Thin Beard Brush
Your beard needs some tender loving and care as well using this beard brush. What we loved about it is that its bristles are super soft. The quality of the horsehair used is unmatched.
But though the bristles are soft, it's by no means a pushover. The bristles will work magic on soft short hair and make styling a breeze. It has a small round design and only measures 2.5 inches wide. This means that it's one of the easiest beard brushes to travel with. And the fact that it comes in a little box is a plus.

We Like
Compact and perfect for travel
Comes with a two-year warranty
It's super soft
Keep This in Mind
It doesn't work on long soft beards
The brush is compact and has soft horsehair bristles. However, you shouldn't use it when your beard is wet because, over time, it will develop a strange smell.
9. Rocky Mountain Barber Company Boar Hair Beard Brush – Great All-round Beard Brush
Rocky is known to produce high-quality men grooming products. Fortunately, their beard brush is not an exception to this rule. Rocky Mountain also insists on their boar bristle quality. Unlike other companies, they do not settle for mixing plastic and nylon with their bristles. Instead, they offer natural boar bristles for the best grooming experience.
Aside from the boar bristles, Rocky Mountain also paid attention to the construction. The oval handle offers a firm grip, and it doesn't fall apart after several months.
To top it all off, it has the Rocky Mountain logo on the wooded handle and comes in a beautiful gift box complete with a lining that you can keep as your storage.

We Like
The bristles are soft and contoured
Has a sleek oval design
Features pure boar hairs
Keep This in Mind
Might lose a couple of bristles in the first couple of uses
This brush is well made and is a perfect addition to any man's
beard grooming kit
. It will help to keep your beard free of tangles and itching.
10. Smooth Viking Beard Brush – Great Beard Brush and Comb for Beginners
Smooth Viking is on a mission to prove that beard care doesn't have to be tedious. Instead, with the right tools, it is easy and can be an enjoyable and rewarding process.
As such, Smooth Viking offers a beard brush that will untangle beard knots and will do a great job of ensuring oil gets to every strand.
The beard brush comes with quality boar hair, which is a plus and works to massage, exfoliate, and stimulate the hair follicles to grow.
But Smooth Viking is aware that a brush alone isn't enough to offer the complete experience and achieve perfect results. As such, they throw in a wooden beard comb, which will complement the beard brush.
And finally, we should point out that it is compact and easy to travel with. But even with its small design, it has a good grip and superior precision control.

We Like
It's affordable
The bristles spread oils evenly
Gets rid of tangles
Keep This in Mind
Some consumers have complained about its effectiveness over the years
This beard brush is affordable and of great quality. It does a good job on medium-length beards and gives more expensive brushes a run for their money.
How to Wash Your Beard Brush
Now that you know how to buy the best beard brush for your needs and where to start your search let's look at how you can use your beard brush effectively. Because let's face it, like with old-style straight razors or traditional double edge razors, choosing the best brush is one thing, but unfortunately, it doesn't guarantee you the best results.
Below are five steps to follow for the best results with your beard brush.
Step 1: Comb your beard when it's wet and brush it when it's dry
After jumping out of the shower, or a thorough face wash and a couple of minutes after that, your beard will be wet. During this time, you should use beard combs on it. Using beard combat at this stage will help to detangle your beard and prepare it for brushing after it dries.
After drying, you can reach for your beard brush and work your magic. If you have a thick beard, you might want to use a blow dry to quicken the drying process.
Step 2: Apply oils
But before you use your beard brush on your beard, apply beard oil or beard balm to your facial hair. The brush will help to distribute the oils or wax evenly along the length of your facial hair. After some time, you'll notice considerable growth, and your beard will be healthier.
Step 3: Brush with the grain
Ever seen how a cat looks when you stroke it against the direction of the fur? Your beard will look the same if you do that as well. Therefore, you should always brush it along the grain.
Step 4: Start at the top and then proceed to the bottom
Every time you brush your beard, start with the tips. This will help straighten any tangles that the comb might have missed. Afterward, you can work into the beard body.
Step 5: Use some pressure but not too much
Think of it as a massage; pressure is good, but too much of it turns into pain. Now, your beard cannot feel pain, but the skin below will become tender and painful.
You should apply enough pressure so that the brushing is not superficial. But on the other hand, you don't want to be too rough that you notice hair strands on the brush or your skin becomes tender and painful.
Step 6: Wash your beard brush
After brushing, the brush will accumulate a lot of debris, including dead skin and oils. As such, you'll need to clean it before using it again. We'll cover beard brush cleaning in a different section. But for now, note that you can use coconut oil to help dislodge the debris from the brush for easier cleaning.
Also, always remember to dry your brush after cleaning. This is crucial if your brush has a wooden handle.
How to Clean Your Beard Brush
For your beard brush to serve you longer, you have to take proper care of it.
To clean it, you have two options; deep cleaning and basic cleaning. You'll choose either option depending on what you feel your beard brush needs.
Remember, cleaning a beard brush is a messy affair. Therefore, you should use a beard bib throughout the process.
Basic Cleaning
We recommend doing this at least once every week.
Step 1: Grab your Beard brush and comb
For the step that follows, it'll be better if you position yourself over a trash can that will catch the debris that falls off from the brush.
Step 2: Hold your brush with the bristles facing the ground
Run your comb through the brush bristles to dislodge any debris and dirt that might have been caught between them over time. This process will also work to loosen any hair that might have gotten stuck over time.
Aside from the debris and loose hair, you'll also feel some bristles. This might freak you out, but it's not a cause for alarm. The bristle strands you lose will not be enough to make a huge difference.
Deep Cleaning (Once a Month)
Step 1: Run some warm water over the brush bristles
Take your beard brush and hold it by the handle. Let warm water run over the bristles for some time. However, be careful not to wet the wooden handle too much.
Step 2: Use your Toothbrush and Regular Shampoo
Add a few drops of regular shampoo to the bristles and later it with a clean toothbrush. Don't use a lot of pressure when lathering it up.
Step 3: Rinse the Brush Bristles with Warm Water
Place your brush under a tap flowing with warm water and brush away with your toothbrush. When the shampoo clears, you can stop and repeat it if need be.
Step 4: Shake off the Water
Place your brush on a dry towel with the brush bristles facing downwards. Leave it in this position overnight, or for a couple of hours. Whatever time you afford it, ensure that the bristles are dry before putting them back in storage.
Which One Should You Use; A Beard Brush or a Beard Comb?
The two seem like they serve the same purpose, but they are used differently in maintaining a healthy and beautiful beard. So no, it is not a question of either-or.
Instead, you should purpose to get both beard grooming products for your kit and use them as we explain below.
For Detangling – use a beard comb
Suppose your beard is long (say about four months), you'll use a comb to detangle it and get rid of the knots that form throughout the day. Using a comb will also help to prevent matting. Unfortunately, soft bristles aren't enough to prevent this. However, stiff brush bristles do a good job. The best time to detangle is right after you leave the shower or when you are in the shower. At this time, the hair strands are soft and easy to work on.
For Styling – use a beard comb
Again, if you have a long beard, then both brushes and combs are handy tools. However, you'll have to learn which one works best for your beard.
If you have a specific look, you have a better chance of achieving it with a beard comb.
For Trimming and Cutting – use a beard comb
To keep your beard in the desired length and shape, you should use a comb. It will help in isolating the hair strands that need cutting, and it will help you to maintain a well-groomed look.
Unfortunately, brushes do not afford you this luxury.
For conditioning – use a beard brush
As we've already mentioned, a beard brush is perfect for distributing the oils (sebum and beard oils) throughout your beard hairs. You can use a boar, horsehair, or synthetic bristle, and the results will be great.
With proper conditioning, your beard will look and feel better.
For cleaning – use a beard brush
This is where quality bristle beard brushes thrive. They are perfect for removing dirt and debris that have built up in your long and thick beard. You can see some like the cake crumbs you had during the day and some like beard dandruff you cannot see.
If you have a shorter beard – use a beard brush
Using a beard brush will work to encourage the beard to become strong and healthy as it grows longer. Brushing will particularly stimulate the oils to be released better. A comb cannot stimulate oil production even if your life depends on it.
Moreover, if you use a comb on your short beard, you'll end up scratching your face a lot and probably even hate the thought of growing out your beard.
For a thick beard – use a beard brush
By far, a brush is one of the most important tools when it comes to long and thick beards. Why is this? Well, regularly washing and brushing your beard will help to encourage growth in the direction, style, and shape that you please.
A perfect example to explain this is when you get a haircut from a quality barber or hairdresser – one who understands your head and hair. Even without using too much effort and time, the result of the visit will be enviable. Cutting the hair well is enough to achieve a perfect style and to encourage growth in the right way.
A properly brushed beard will achieve the same results. In the end, your facial hair will look like it was meant to sit on your chin and face.
Does Using a Bristle Beard Brush Accelerate Hair Growth?
Well, this is not an easy question to answer because there are many variables, including how the skin and beard respond to brushing.
However, the good news is that regular brushing might stimulate growth as it exfoliates the skin. Note that this doesn't necessarily mean that it accelerates hair growth.
Moreover, brushing your beard can stimulate blood flow to some problematic areas and ensure that the oils are well distributed to all hair strands. The combination of these effects leads us to believe that regularly brushing your beard can stimulate its growth.
Don't Forget the Nose and Ears
Take care of your nose as well. We have seen many men taking great care of their beards but forgetting about trimming the hairs growing gout of their ears and noses. Yes, it happens. But don't let these body parts rob you of your gangster points when all you have to do is purchase the best nose and ear trimmer.
We have written an entire guide on how to choose and listed some of the best nose and ear trimmers you should consider as well.
Conclusion
If your goal is to have your beard grow healthy, strong, long, and beautiful, then you'll need to get the best beard brush for your needs. Hopefully, with the help of this best beard brushes bestsellers reviews and buying guide, you can achieve this and more.
My name is Don and welcome to Luxury Shaving Razors! The idea behind the site was born in 2016 after trying to find a decent safety razor for my own personal use. I decided to document my journey.