Best Beard Comb – Buying Guide (2023 Bestsellers)
We may earn a commission for purchases using our links. Learn more
Growing out a beard is great and can earn you some points with the ladies. But what they don't tell you is that facial hair can get unruly. Without proper beard products and care, your beard can easily turn into a nightmare.
But before you give up on having a great beard like your favorite celebrity or friend, consider getting a high-quality comb. Beard combs are perfect for styling and softening beards. They will easily detangle and even out beard hair and provide you with the neat look you've been looking for.
Choosing a beard comb is easy. Well, not quite. With so many options and materials available, it's difficult to know which works better than the other.
Luckily for you, we've put together a comprehensive guide to take you through the buying process of a quality beard comb to meet your beard's needs. We'll also look at whether combs are better than beard brushes. Stay tuned.
Best Beard Comb at a Glance
Last update on 2023-01-29 / Affiliate links / Images from Amazon Product Advertising API
Things to Consider When Choosing a Beard Comb
When purchasing a new beard comb, there are several considerations you should make. Below are some that should be at the top of your list.
Material
Manufacturers make beard combs from a variety of materials. You probably thought the material chosen was a matter of preference and availability of material on their part. And while to an extent this is true, the material used paints a clear picture of the manufacturers' goal when designing the beard comb.
Below are different beard comb materials and how they differ and compare in quality and results on your beard and mustache.
Wood Combs
Wooden combs are by far the most popular on the market. You can find wooden combs on retail websites, or you can purchase them directly from popular beard care companies. They are loved because they are natural and are low cost.
Aside from this, they tend to be gentle on the beard; they do a great job in distributing the oil evenly in your beard and are generally highly durable (especially those made from bamboo).
And since wood doesn't cause static, your beard will remain smoother and fuller throughout the day with minimal touchups.
Metal Combs
Given the material used, you can almost feel its durability through the screen. If you are searching for a simple yet long-term investment, you should consider metal combs. Given the material used, you imagine it will be heavy to use, let alone carry around. But on the contrary, they are lightweight and fairly easy to use.
However, we noticed that most metal beard combs have sharp teeth that can nick your skin, damage hair follicles, and also create a lot of static.
Bone Combs
Though these are the most high-quality beard combs you'll come across; they aren't the most common. They are heavier and thicker than other best beard combs, and men with tough beards prefer them for their efficiency.
Synthetic or Plastic Combs
As you'd imagine, these are the cheapest of all. Also, many are of low quality, and their construction leaves a lot to be desired. However, they make for perfect backup combs and can save you a buck while offering great service.
How It's Made
Even with new technology popping up every other day, there are still two main ways of making beard combs; by hand or by the press.
Stamp-pressed comb – this type of beard comb is made in the industry through a machine assembly—the machine 'stamps' the combs in bulk, which makes them cheaper than most options. However, though this process is fast and cheaper, it often results in lower-quality beard combs that are susceptible to breaking.
Handmade comb – from the name, you can tell that this is made by human hands. As a result, they are meticulously crafted and are often of higher quality, and are more durable. However, to enjoy such quality, you'll often pay extra. But the extra cost is justified given that you'll deal with fewer jagged edges.
Teeth Width
The space between a comb's teeth is important to have a great combing experience. The space determines how the comb will brush and the kind of beard it's best suited for.
Generally, a wide-tooth beard mustache comb has reduced the chances of tugging and pulling. But even then, we noticed that a fine-tooth comb is ideal for softer beards, and they help oil distribution through the beard hair.
The Type of Beard You Grow
Before buying a beard comb, it's important to know what you are working with. This means you have to understand your beard type and its needs. If you have thick beard hair, you need to get a tough comb. On the other hand, if you have a thin beard, you should get a gentle comb (a tough comb will pull on your facial hair too much).
Aside from this, there are qualities like frizziness that you should consider; some beard combs are designed to handle such qualities while others make it worse.
What Style Are You Going For?
In addition to understanding your beard texture, you should also have the end goal in mind. By this, we mean that you should know what style you want to achieve with the comb. What cut and length do you envision? Are there any special styling needs you need to address?
What Size and Shape Do You Prefer?
Combs are available in different sizes and shapes. And though it might appear like a non-issue, the shape and size of the comb affect a lot of factors, including ease of travel.
Some combs, including Kent's Handmade Combs for Men, are available in different sizes. Unfortunately, not all brands offer this choice.
Most often than not, you'll have to know and decide on the best size for your needs.
The shape of the handle will affect how it feels in your hand. Some come in straight handles while others sport a curved design that fits and feels better in hand.
Value
We are passionate about helping our readers get the best deals and value from their purchases. This is only achievable by understanding your needs, the factors that make up a great beard comb, and what to expect from a beard comb at different price points.
The Best Beard Combs in 2023

1. The Art of Shaving Sandalwood Beard Comb – All Beard Types, Quality Beard Comb
This wood comb is ideal for men with medium to long beards or men who vary their style between these lengths. The thing about most wood combs (except a few high-quality brands) is that they tend to break easily in comparison to those made from other materials.
The Art of Shaving is aware of this and, from the start, planned to make its product unique and durable despite the obvious setbacks. To do this, they chose to use the Argentinian green Sandalwood. This wood comb is sturdy and super durable.
For added functionality, The Art of Shaving also made it dual-sided to cater to a range of beard textures. The wider teeth are perfect for wavy or curly hair, while the fine teeth are ideal for heated beard hairs.
Last but not least, it is a compact pocket comb and feels great in hand.

We Like
The wood comb has a durable design
Comes with a storage pouch for protection
Has a pleasant Sandalwood scent
Keep This in Mind
It's slightly overpriced in comparison to other beard combs at its level, but it is a quality product
This is a great beard comb designed to serve you for longer. This wood comb is ideal for both long and coarse beards. It handles these beards with grace and doesn't cause static or snagging.
2. Baxter of California Beard Comb – Great Overall Choice
This beard comb is perfect for those who are looking for men looking for the best. So what qualified this beard comb as the best beard comb this year?
Well, Baxter of California has serviced the men grooming industry since 1965. Over time, they have grown to be leaders in the industry by making products that meet user needs and requirements. How do they manage to turn everything they touch into gold? Simple by relying on science to create simple yet functional comb designs.
The Baxter of California is made from high-end cellulose acetate sheets in Switzerland. The manufacturing involves a 12-step detailing process that gives the final product enviable durability and refinement. The result is a beautiful compact comb that you'll enjoy using, and that will do everything you'd like it to do for your beard.
The teeth are smooth, tapered, and rounded for maximum comfort. This feature ensures that the teeth do not dig into your skin or break your bread hair. We also loved that it's only 3.5-inches long. At this length, it is compact and easy to travel with. Heck, it can fit in your pocket and other small spaces.
It works perfectly with every styling product you use to tame your beard. Aside from this, we loved that it's perfect for the mustache and eyebrows. So not only is it a high-quality beard comb, but it's also versatile.

We Like
The quality and functionality are exceptional
It has a wide tooth and fine tooth section for versatility
The compact design makes it perfect for travel
Keep This in Mind
The size might put off some men looking for a compact travel beard comb
This is a one-of-a-kind beard comb and a great choice. It's handcrafted to give it a beautiful and perfect finish.
3. Kent Handmade Beard Combs for Men – Best Value Pick
Three things define and make this set of 3 combs one of the best beard combs for men:
Durability
Smooth teeth
Value (it's sold in a three-pack)
Any man looking for a versatile beard comb will be at ease using this beard comb. The Kent Handmade Beard Comb is manufactured by a British company that was formed in 1777. With such a long time in the industry, they have experience and understand the beard needs they are creating the beard comb for.
To show they understand beard grooming needs, Kent doesn't offer a single comb, but instead, they offer a 3-piece best beard comb set. The beard combs come in different sizes to meet the needs of your beard and facial hair.
Each of the three beard combs is saw-cut, hand-polished, and buffed to make round teeth tips that don't damage hair follicles or take a jab at your skin.
Each beard comb is made from cellulose acetate, a material that doesn't cause static. Also, Kent leaves rough saw impressions at the edge of the teeth that serve as dust cleaners. The impressions also play an active role in stimulating the release of sebum, which results in shiny and healthy-looking beard hair. In addition, if you use beard oil or quality beard balm, the plastic comb will ensure even distribution.
As expected, Kent made the handmade combs with perfect weight balance. This makes it feel good to handle.

We Like
It helps in stimulating the release of sebum for a shiny beard look
The beard hair comb comes in a value pack
Superior design and construction
Keep This in Mind
Some customers complained that the gold lettering on the beard comb rubs off after some time
Kent put a lot of thought into the design to make these the best beard combs on the market. And even more, they understand your beard needs and present the comb as a value pack to help address your beard grooming needs. Overall, the combs will not only help to keep your beard well-groomed well-moisturized, and style too.
4. Airisland Dual-action Stainless Steel Beard & Mustache Comb – Best Durability, Sturdy
This beard comb is perfect for men that are in love with steel beard combs. Overall, this comb is perfect for carrying around; it's built to outlast you and is anti-static.
Steel is the material companies in most industries turn to when they want to make a durable, rust-proof, and corrosion-resistant product.
A steel beard comb will last a lifetime with good care.
With this property in mind, it's safe to say that Airisland created the steel beard comb for durability. And to make it portable, they settled for a more compact 'pocket comb' design. And since it's made from stainless steel, you don't have to worry about it breaking (even with some level of mishandling). This isn't true for plastic or wood combs.
But aside from the above, this Airisland metal beard comb has other benefits, including the fact that it's anti-static. As such, you can groom your beard and not have to handle frizziness caused by static.
Now, instead of offering two beard combs, Airisland decided to give you a 2-in-1 beard comb that's perfect for styling thick and rough beards and thin and fine beards.

We Like
It's unbreakable courtesy of its stainless steel design
The top pocket comb gave its small form factor. You can carry your beard mustache comb in your wallet or make it an item in your travel grooming kit
Glides through thick and coarse beards without pulling or snagging
Keep This in Mind
Some complain the edges are a little too sharp for comfort
This Airisland design is created with durability and function in mind and is highly portable. To meet your beard grooming needs, it comes with two comb sides – fine teeth are ideal for a softer beard and the wide teeth are for a thicker and tougher beard. And though each side is designed to cater to different beard types, they do a good job of detangling and styling your facial hair.
5. Seven Potions Beard Comb for Men – Great For General Use
Seven Potions had the same functionality idea as Airisland, but they chose to actualize it with a different design, as you'll see below. Their unique approach goes a long way in making it one of the best plastic combs. Seven Potions comes with everything you expect an industry-leading beard comb to have and do for your beard, including improving its appearance and overall health.
The Seven Potions Beard Comb made from Cellulose acetate has fine and wide teeth. The cellulose acetate used gives the comb a more durable and comfortable feel while the teeth widths cater to different beard lengths, styles, and thicknesses. This feature makes it one of the best beard and mustache combs.
Also, the cellulose acetate comb helps eliminate excess static that might result in frizziness and evenly distributes sebum and beard oils through the hair. If you have excess oils in your beard, this comb will also help you 'rinse' your beard hair. Because of this, it is ideal for men whose beard tends to be too oily for comfort.
We should also point out that this beard comb is waterproof and highly durable. So with some care, it can help you keep your beard neat for decades. However, note that the Seven Potions Comb costs slightly more than other lower-quality combs.
But with all it has to offer, the investment is worth it. Finally, the comb is hand polished and has soft and round teeth that do not damage or irritate the skin.

We Like
Ideal for sensitive skin
Reduces static cling
The integrative teeth design makes it ideal for both thin and coarse hair
Keep This in Mind
Some users would want the teeth more spaced
This best beard comb feels good in the hand and is functional. Aside from improving your beard health and appearance, it is beautiful and lasts long.
6. Beard Brush & Comb Set By Grow Alpha Beard – Great Beard Grooming Kit
For men looking for the best beard comb that is more than what normal beard comb companies offer, the Grow Alpha Beard brand is perfect. Before we even get to the design, we loved that the beard grooming kit comes with a beard and mustache comb, a beard brush, and grooming scissors.
The brush works perfectly with thin, soft beards, and that stimulates beard and mustache growth in some difficult spots while the scissors do a good job of keeping your eyelashes, eyebrows, beard, and mustache well-groomed and trimmed. Like most beard combs on the market, the Grow Alpha Beard brand created a beard comb that's easy to carry throughout the day for some quick touchups.
The comb is made from bamboo and is lightweight. The bamboo used, coupled with the round and smooth fine, and wider teeth tips helps to gently massage facial hair. It's anti-static which helps to prevent tangles that may arise as a result of it. What's more, it stimulates sebum production and spread beard oils evenly throughout the beard.
The beard and brush comb set has a money-back guarantee, which shows the confidence Grow Alpha Beard has in the products.
The branding on the brush and the comb (2-in-1) give it a luxurious look. You'll therefore be proud to pull it out in a public place for quick detangling.

We Like
Bamboo is eco-friendly
The brush comes in handy when grooming short beard hair
Great value
Keep This in Mind
Though it counts as the best beard and mustache comb, it is too small for guys with larger hands
Value is perceived, but we can agree that Grow Alpha Beard outdid themselves on this particular set. The set is functional, versatile, and durable – all qualities you look for in a quality beard kit.
7. Badass Beard Care Black Series Fine Tooth Ox Horn Comb – Handmade, God Value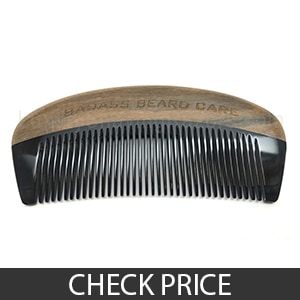 If there is any beard comb that screams out 'premium' on this list, this Sandalwood beard comb has got to be it.
Let's start with what impressed the hell out of us. The best beard combs we've looked at on this piece are made from one material – either steel, bamboo, or bone. However, Badass Beard Care opted to chart a different path. Instead of using one material, it combined two – Sandalwood and ox horn.
They made the comb's spine from Australian Sandalwood and then carved and polished the teeth from a piece of ox horn. The result is, well, a BADASS beard comb.
The Sandalwood used on the spine gives the comb a strong and durable base while the soft and smooth horn teeth give it a massaging effect.
Aside from this, the Sandalwood beard comb does a great job of spreading the natural oils from the beard hair base to the tips for even shine and health.
The comb measures 4.33 x 1.87″ while the teeth are between 0.75 and 1.0″. With these dimensions, it is compact enough to carry around and feels great in hand. We also found that the curved spine design adds to its comfort.

We Like
Strong and durable
Has a masculine and exotic feel
It's beautiful
Keep This in Mind
Some consumers complained that the teeth tugged on beard hair from time to time
Going for a functional beard comb doesn't mean that you have to sacrifice beauty – this Badass Beard Care is a true testament that the two worlds can merge seamlessly. Even better, for the beauty and function, you don't have to spend a fortune.
8. Kent 87T Brand New Limited Edition Folding Beard & Moustache Comb – Best Travel Choice
If you are into folding-style combs, the Kent 87T Pocket Comb for Beards is the best wooden beard comb for men's grooming. Yes, this is another beard comb Kent product on our list. It shows that they are dedicated to quality and understand what men need in their grooming kit.
Now, the beard comb Kent is great for all kinds of beard types. However, it especially excels when used with thick beards.
The fold-up design it sports (the same design in some shavettes and straight razors) gives it an even smaller form factor than other beards' combs on this list. With the compact design, carrying it around is a breeze. Like with all Kent beard combs, the 87T is saw-cut, hand-polished, and buffed to create smooth and rounded teeth that will massage your skin and stimulate sebum production.
In addition to this, this mustache comb helps to distribute the oil evenly throughout the beard and, as a result, ensures that the hair follicles get beard oil and beard balm from the base to the tips. After some time, you'll notice the beard is free of split ends and is generally healthier looking.

We Like
Made from cellulose acetate, a durable material
Rids the beard of tangles and split ends
Super compact
Keep This in Mind
It has a limited production
Generally, Kent makes great products, including brushes and combs. The 87T folding mustache comb is no different. If anything, it bears testament to the high quality of production Kent has maintained over the years, which has helped build a name for itself.
9. Kent 81T Men's Extra-Small Handmade Beard/Moustache Comb – Cheap & Portable
To close our list is yet another beard comb from Kent. This particular beard comb is ideal for men looking for a high-quality beard comb, serious about men's grooming but doesn't have the budget to splurge.
The 81T pays homage to Kent's beard comb design with its compact construction. It is 2.8″ x 0.5″. It's budget-friendly and, above all, still maintains the high-quality Kent has become known for.
The 81T is made from cellulose acetate derived from large sheets and not through injection molding. The round teeth and hand-polished and have been buffed to make sure it delivers a gentle combing action, whether it is the mustache or your beard.
The cellulose acetate will generate a lot less static than you would have with other combs. In addition to this, the plastic comb affords you the force you require to comb through stubborn tangles and knots.
The smooth teeth will also help stimulate sebum production inside the facial hair cuticles as you comb your beard. When you add some beard oil, it will help spread it evenly throughout your facial hair for effective nourishment.
Since the 81T is compact, you can carry it to work in your wallet or your pocket pants without feeling uncomfortable.

We Like
You can use it on your mustache
It is perfect for medium and thin facial hair
The rounded teeth massage the skin and help to stimulate sebum production
Keep This in Mind
It's not effective on longer beards
The 81T proves that Kent can still deliver its goodness in a small package. It is one of the best plastic combs on the list. You can take the Kent 81T anywhere you please for your occasional touchups and look dapper all through the day.
How We Chose the Best Beard Combs
There are many quality beard combs on the market. As such, choosing the best beard comb from the sea of beard combs is somewhat of a challenge. However, we are confident with the list we've provided. It is versatile and offers a good mix for every type of beard.
The idea was to cover the best beard combs made from all the four materials we mentioned. Moreover, we considered factors like price, durability, and construction. The brand also played a big role in the choices we made. Luckily big and experienced brands have great and high-quality products, making it easier for us to choose.
The Proper Way of Using a Beard Comb – 6 Steps
It's great that you are thinking of buying or have already bought the best beard comb you could find on the list above. That is a step towards maintaining a healthy and beautiful beard.
However, having the best tool in the industry is one thing, and using it to deliver the results promised is another. To make sure that your beard comb works wonders as the companies promise, you should use a couple of techniques and follow the six steps we've listed below. Luckily, the process is not complicated, and you can improvise (while sticking to the core steps).
1. Clean Your Beard
Before you comb your beard, you should clean it. We often recommend using a beard shampoo or a beard wash. Note that the shampoo you use on your head will not work on your beard since the two types of hair have different needs (facial hair is needy and requires more attention). And since head hair shampoo is designed to strip away the oils from the hair, it will do more harm than good to your facial hair, which needs to retain the natural oils.
After washing your beard, you should pat it dry with a soft towel until all the excess water is gone. The operative word here is 'pat.' Rubbing your beard dry might seem faster, but it might result in a lot of split ends.
2. Getting to Work
Before you comb your beard, make sure the beard comb is positioned with its teeth pointing up. Place it on your neckline and start working your way to the chin and your cheek. Moving the beard comb upwards with the first couple of strokes helps in separating the facial hair and fluffing it out. This makes it easy to style.
Now, when combing under the chin, note the following:
You might run into some snags down there a little more often than you will on your chin and cheeks. To reduce the painful snagging and tugging, you should apply some balms and oils to the comb before using it.
Give the hair under the chin extra attention.
Comb your beard carefully and slowly to avoid the painful snags
Only reverse the direction of your stroke after the beard is fluffed out.
3. Dealing with Snags
Here are some tips we've learned on how to best deal with snags. First, you should not try to pull or tug the snag to get past it with a handmade comb. In many cases, it is a couple of beard hairs that have crossed one another. Instead, you should be gentle and comb slowly through it. You might have to make a couple of strokes until it is loose and is undone, but this is a small price to pay to avoid pain and to protect your beard.
Remember, using beard oil and beard balm will make it easier to deal with your facial hair.
4. Light Touches
The same principle applies when you are combing through other parts of your beard. You shouldn't grip your beard comb tightly and force it through the beard. Instead, hold it firmly but lightly enough that it can easily fall out of hand as you comb through your beard.
5. Comb and Style Your Beard
After separating the beard hairs and having fluffed them out enough, it is time to go through it in the reverse direction. On this second pass, you can style it as you please. And while you are on it, remember to work on your mustache.
6. Keep a Strict Beard Combing Schedule
The statement sounds like you have an option of skipping a day, right? Well, you don't. We recommend combing through your beard at least once every day and not more than thrice. How often you comb will depend on how unruly and coarse your beard is. Combing your beard once a day is enough; anything more than that counts as over-combing and may lead to damage.
Reasons You Should Own and Use a Beard Comb Regularly
Beard Combs help to enhance and improve the health and look of your beard. All the combs we've listed above will do this in the following ways:
Prevents Ingrown Hairs
Combing your beard regularly with a special beard comb will protect your skin from ingrown hair. When you are dedicated to combing hair, it will not have the chance to curl and grow into and under your skin, leaving you in pain.
Instead, regular combing will train your beard to grow in the right direction and make it easier to style.
Keeps the Whiskers Away from Your Mouth
Training your beard to grow in the proper direction means your hair will not grow into your mouth. Hair strands growing into the mouth is one of the downsides of growing out a beard. Often these hairs will trap food and result in a messy and unsanitary look.
But if you use a beard comb to train your beard, you'll never have to experience this.
Moisturizes Your Beard
Using a beard comb regularly will help to stimulate sebum production and to distribute it in the hair follicles. This will help to keep the beard hairs healthy and well moisturized.
But in case you have dry skin, you can use high-quality beard oil. Sprinkle some oil on your beard comb and pass it through the hairs for even distribution.
Trains the Beard
When we say 'train,' we don't mean that you get a fitness instructor. No, we mean training it to grow in a manner that aligns with the hair. A beard where the hair is growing in a uniform direction looks fuller and even more masculine.
Beard Combs vs. Beard Brushes
If you are new to men grooming, you should know that beard combs aren't the only tools you can use to keep your beard in check. Another great tool you can use is the beard brush. We advise men to have both beard brushes and combs in their beard care kit.
Since they should both be part of your grooming arsenal, it goes without saying that they are different. Which now begs the question, which one should you use? What differences do the two have? Can we say combs are better than brushes?
Let's take a deep dive into a comparison of beard combs and brushes.
Beard Combs – Basics
So far, we have dissected beard combs, and you have a better understanding of what they are and what they offer. Unlike even the best beard brush, a beard comb has teeth that help to guide hair through for styling purposes, to distribute oils, and remove tangles.
Because of these teeth, a beard comb is well suited to grooming long hair. The really good bead combs will not pull at your beard hairs, and neither will they cause painful snags. Instead, if you use the best wooden combs, oils, and balms as we've explained in the above six steps, the comb should pass through your beard gently.
Beard combs are made from a variety of materials including plastic, metal, and wood. Each of these materials has its pros and cons and is perfect for you depending on several factors, including your budget and beard length. A wooden comb is also great in helping you trim your beard, especially if you are using a pair of beard scissors. With the comb, you can isolate some beard sections for trimming, just like barbers do when trimming scalp hair. Overall, they will help you keep your beard nice and neat.
We should also point out that beard combs come in various designs and sizes. Most of them are compact, and you can carry them in your wallet or pocket for quick touchups throughout the day.
Pros and Cons
There are a lot of pros we can sing about the best beard combs. At the top of the list is the fact that they are great for styling longer beards. The teeth do a great job of detangling the beard hairs.
A wooden comb gets rid of the pain of dragging a brush through unruly beards (which is a true definition of most long beards). A brush is more susceptible to getting caught in tangles and knots, and this can end up in a painful experience.
Also, the teeth in the best beard combs are designed to glide over the beard. As such, they generate lesser friction. On the other hand, beard brush bristles cause a lot of friction.
And while you can use a beard comb on wet beards (this yields the best results when getting rid of tangles and knots), beard brushes excel when used on dry beards.
But even though combing your beard with the best beard combs gets the work done, they are not all-sufficient when it comes to beard styling. In some instances, using a beard brush makes all the difference.
Beard Brushes – The Basics
Beard brushes come with handles and bristles. Most often than not, the beard brush handles are made of wood. However, the bristle material varies. Some feature boar bristles, which prove to be great in distributing sebum in the beard as well as evenly distributing beard oil.
The idea is to make sure the beard oils and balms evenly coat the beard hair from the roots to the tips. This helps to make the beard more manageable, healthy, and hydrated.
Pros and Cons
One of the key benefits of using a beard brush over a handmade comb is that it cleans the beard. Truth be told, beards are super magnets for grime, dust, and foods. As such using a beard brush cleans the beard better than a beard comb can. However, even with these tools, still need to have one of the best beard washes and shampoos.
Aside from this, beard brushes are perfect exfoliators that remove dead skin that accumulates daily. These dead skin cells can get itchy and lead to beardruff, which in turn leaves your beard looking lifeless.
We have found that beard brushes are better for training beards than beard combs.  A dense forest of bristles on the beard brush creates sufficient friction, which draws individual beard hair back in line, meaning that your beard will look great in the end.
With the above comparison, which one should you use?
Well, let's ounce it back to you, 'why should you not use both?' The general rule is that beard combs work best with long beards while beard brushes work best with shorter beards. But overall, they each have their fair share of pros and cons.
Even if you have a short beard and a beard brush is your best bet for optimal results, you still need a beard comb to serve as a trim.
Conclusion
The one thing that is great about growing out a beard is that there is no shortage of beard maintaining tools. From beard oils, beard balms, and wooden combs you have no excuse not to turn your beard into one of the best in your circle of friends. The key to combing your beard is a perfect example of the benefits you can reap from a simple tool and consistency and using the best combs and brushes you can get your hands on.
As you set out to make your purchase, remember the above is a list of some of the best beard combs you can choose from. But if you come across a good beard comb not on the list, make sure you cross-check it from the list of considerations we offered. Ask yourself questions like what is the comb made of? Is it a wooden beard comb or a plastic comb? Does it have wide teeth or fine teeth? Answering these questions makes it easy to pick the best from a sea of bestseller choices.
My name is Don and welcome to Luxury Shaving Razors! The idea behind the site was born in 2016 after trying to find a decent safety razor for my own personal use. I decided to document my journey.