Best Beard Straightener (Incl. Comb & Brush) – 2023 Bestsellers Buyers Guide
We may earn a commission for purchases using our links. Learn more
If you are looking for the best beard straighter, your eyes have been opened to the work it takes to maintain and style a killer beard. There is a range of oils and nutritional supplements designed to help bearded men keep facial hair in check. However, many men need more help than what these products can offer.
A beard straightener will get the job done. But what exactly is it? Is it a stiff beard brush or a great beard comb? Well, yes, and no.
The term 'beard straightener' is used generally to refer to mini beard straightening irons, heated press combs, and heated electric beard rushes. These are the type of beard straighteners that work on curls.
Some beard enthusiasts may argue that beard straighteners are harsh on facial hair. However, with improved technology, you can control the results you get. Moreover, no tool achieves similar results.
With that said, we've prepared a bestsellers list and buyers guide of the best beard straighteners you should consider. We recommend reading through the 'factors to consider' section before you settle on any product.
Let's dive in.
Best Beard Straightener at a Glance
Last update on 2023-01-29 / Affiliate links / Images from Amazon Product Advertising API
Factors to Consider When Choosing a Beard Straightener
Throughout this piece, we will shower you with indispensable beard grooming and straightening advice. To start you off, here are some pointers to guide your choice.
The Type of Beard Straightener
Currently, there are three types available. These include;
A mini flat iron beard straightener – this is the most effective for beard straightening. They are built with ceramic, which is effective in straightening your hair.
A beard straightening brush – this type can be used as a normal beard brush. But unlike a normal beard brush, it is designed to straighten and maintain beards. It doesn't do a perfect job on curls, but it manages to detangle facial hair and give you a neater look.
Cordless beard straightener – since they are cordless, they are portable. You can use them while on the road, and you never have to worry about tripping over wires. They run on batteries, which is their strength and weakness. Battery technology has come a long way over the years, but it's no match for a direct power source. As such, though they are small enough to fit in a travel bag and can be used in areas without electricity, they aren't as powerful as corded beard straighteners.
Beard Length
This should be at the top of your list to consider at all times. Remember, a beard straightener will only work for your facial hair. As such, you must get a tool that can handle your beard type.
Many beard straighteners don't have problems working on long beards. Actually, the longer the hair, the better. However, if you have a thick and long beard, you should go for a corded beard straightener instead of a cordless one. Why?
As we've pointed out, cordless hair straighteners are tiny and will, as such, need a lot of time to straighten your beard hair. Moreover, they may not have sufficient heat or power to get the job done efficiently. Overall, beard straighteners will require a decent amount of volume and length to work efficiently.
If your facial hair is short and thin, then the heating element will get dangerously close to your skin. A wrong move when close to the skin can cause serious burns. In this case, a brush or a comb is a better option.
For more styling options, you can use beard oil or beard wax with the beard straightener.
Speed
The best beard straightener should be efficient and fast. The last thing you want after a shower or a face wash is to spend a lot of time styling your beard every morning. As such, when making a purchase, consider the straightener's heating time.
Generally, 60 seconds in heating time is acceptable. However, if you can get anything that heats up faster, it's even better. On the flip side, you should consider the time it takes to cool off once you are done.
You don't want to leave a hot appliance lying around – it's a recipe for disaster.
Application Area
This is yet another factor most men don't consider when purchasing hair straighteners. Always ask yourself where you will be using the beard straightener. Will you use it in the bathroom, or in your room? In these two cases and anywhere else there is a socket, a corded beard straightener is ideal. You can choose to unplug it every time you are done straightening facial hair or leave plugged in like a fixed tool.
However, if the idea is to use the straightener on the road, or in places that rarely have sockets, then a cordless option is best. You can carry it along with you with ease and recharge it when you have access to a socket.
Alternatively, if you'll be off the grid for long, then combs and brushes will work fine. They may not be as efficient and powerful, but at least they detangle hair when you need it most.
Price
This is a big concern for most men. Before you start shopping, decide on a budget to work with. Make sure the budget is reasonable, and within a range, and you can get a decent beard straightener. But do not make the mistake of only considering the price.
A high-cost beard straightener isn't always the best. On the flip side, a cheap beard straightener isn't low quality. You always have to look at what it has to offer and read other online reviews to learn how it worked for other people.
Currently, beard straighteners come in a range of features. Unfortunately, you'll not use all the features included. As such, only get a tool with the features you need. Beard in mind that the technology used always affects the features and technology included.
Strive to find a balance between quality and price.
10 Best Beard Straightener
1. Andis High Heat Press Comb – Best Beard Straightening Comb
Let's kick off this buyer's guide with one of the high-tech products in this space. Aside from the fact that it's from a popular brand – Andis, it is designed for between medium and high difficulty use. With this heat press comb, you don't need extra tools to make it work, and the price is just right.
According to other reviewers, this beard straightener is ideal for any man looking for a convenient and fast way of taming and straightening a longer beard.
Below are some features of why this tool stands out.
When it comes to hair straightening, for both women and men, heat can be an issue. It can be an enemy or an ally, depending on how you use it. Why?
Well, hair is made up of a protein known as Keratin. Keratin makes up a large portion of beard hair. When Keratin is exposed to heat, it starts to break down its hydrogen bonds. With severed chemical bonds, your beard hair becomes pliable and easy to straighten.
The same thing happens to women when they straighten heads hair mess. Because heat works on hair, there is a huge demand for hair straightening tools. But amidst the sea of beard straighteners, this corded Andis beard hair straightener stands out.
It is packed with loads of features, and its numerous design points easily make it our favorite along with other men.
At the top of the list of things we love is the temperature range it offers. The comb heats up to 4500. While at this temperature hair will get damaged, which shows how powerful the comb is. Moreover, the heat press comb has a bunch of other impressive controls.
It has over 20 heat settings and affords you the luxury to control the temperature between these settings. Therefore, you can find the best temperature for your beard without causing any damage.
Be warned that even at the lowest setting, this heat press comb can still be too hot. The comb is made from ceramic which is great for spreading the heat to your beard hair. It also improves the quality and longevity of the heat press comb.
If you'd like first-hand opinions of what customers think of this product you can read through the reviews in major retail stores.

We Like
It heats up and is ready to go in 30 seconds
It's made from high-quality ceramic
20 heat settings
Keep This in Mind
It takes time to master
The power control is easy to hit accidentally given its location
As a top brand, a lot of expectations are placed on this beard straightener. However, Andis shows its prowess through this heat press comb. It is perfect for experts and beginners alike. However, if you are using it for the first time, there's a learning curve to getting the best temperature for your beard hair.
2. Bossman Beard Oil – Best Beard Oil Straightener
We should start by pointing out that this is more like beard jelly than conventional beard oil. It is designed to be easy to apply and for high efficiency on medium and short beard lengths.
Needless to say, you'll need additional tools to use the beard oil on your facial hair. It's ideal for men looking for simple and uncomplicated ways of managing their unruly beards.
Yes, we've gone from a high-power beard straightener to having you straighten your beard with your palm. To capture the genius behind the product, let's see what it has to offer and what its target market will benefit from.
With a heat press comb, you'll need some bit of practice to use it efficiently. But with the Bossman beard oil, you are good to go even as a beginner. That's Bossman's selling point.
Many men are already using this product as it is not only simple but also a crucial ingredient for great beard maintenance.
As a beard oil, it has loads of natural oils that retain moisture in your beard and also work to keep the skin underneath smooth and free of beardruff.
Unlike other beard oils, Bossman decided to go with a thick jelly instead of a runny oil. The extra thickness gives it the beard straightening superpower.
You apply the jelly just like you would regular hair products. In the process of beard styling, it will remove the curls and fluff and concentrate moisture. For an even better result, you can comb through the beard.
Bossman packs this jelly in 4 Oz. and sells it at a great price point as with most products from this brand (including pre-shave oils). There's no disputing the fact that it offers great value for money.

We Like
It offers value for money
It is extra thick
It has a fresh scent
Keep This in Mind
It's straightening effect is weaker than heated tools
While this is not the most powerful beard straightening product on our list, it is functional and great for the 'Boss man' who doesn't have a lot of time to learn a new tool.
3. Grave Before Shave Beard Brush – Easy to Use Boar Bristled Beard Brush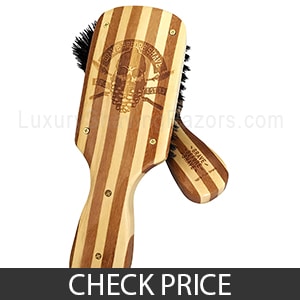 Next up is another product that should every man keen on his grooming should have in his beard grooming kit. Generally, it serves as a tool to keep your beard well-kempt, but in the process, it also straightens your beard. But like beard oil, you will need extra tools like a hairdryer and a beard balm or beard oil, to achieve great results.
It is ideal for any man who wants to grow an enviable mane. This brush has quality, stiff boar bristles that get the job done even for coarse beards. They can power through beard knots, and when you throw in a blow dryer, you will have an even easier time taming your unruly beard.
Now, just because it sports boar bristles doesn't mean that boars were killed in the manufacture of these brushes. No, Grave Before Shave are all about upholding animal rights.
Aside from removing beard knots, the brush helps you to work the oil and a nourishing beard balm into the beard, which in turn helps you to get better straightening results.
We loved that the brush is comfortable and doesn't slip.

We Like
The handle is ergonomic and comfortable
Cruelty-free bristles
The bristles are stiff and effective
Keep This in Mind
The bristles can get entangled in some thick and long beards
As a man looking to grow a thick and beautiful mane, having coarse and curly beard hair can be a pain to work with. With this brush, you can easily get rid of knots and spread some oil or balm into your mane for a beautiful finish.
4. NXUS Ionic Hair Straightener Brush – Best Moderately-priced Beard Straightening Brush
If you do not have a lot of money to spend on a beard straightener, then you'll benefit from the CNXUS ionic hair straightener.
Unlike the Andis heat press comb, this brush is easy to use; partly because it has lesser features. But to not interpret this as lacking in power.
This straightener brush is perfect for any man who loves the feel of a brush in hand but wants more power to go with that comfort.
If were to compare the Grave Before Shave brush above with this one, we'd say that the CNXUS brush is Robocop and the Grave Before Shave is your regular cop. No offense but if you consider the below tech upgrades, you will understand why.
The CNXUS Ionic features ionic technology. With this technology, the brush produces negative ions, shields, and diffuses heat throughout the hair. With the negative ions and heat in play, your beard hair will detangle fast. The heat travels through ceramic which means heat is distributed evenly.
Now, though heat is great, it can also be dangerous. To prevent accidental burns, the CNXUS team added a cool design feature – the plastic bristles are strategically placed so that they form a crescent shape at the top.
This shape accommodates your chin and jaw and makes it easier to brush through shorter hair as well. Adding to the safety are the plastic tips on the bristles. They help to keep the skin away from the heating element and prevent scalding.
Speaking of heat, the CNXUS beard straightener can go up to 4500 Fahrenheit – just like the Andis Heat Press Comb. But there is a difference. Unlike the Andis comb, the CNXUS has five heat settings between 300 degrees Fahrenheit and 450 degrees Fahrenheit. Though this is not a lot of control, it is enough to give you some room to customize the heat to your beard thickness and length.
You can control the temperature through a button interface on the handle. There is also a tiny LCD that shows your current temperature.
We also love that it takes only 60 seconds for the ceramic elements to heat up. Sure, this is not the best we came across, but at least it did not have us waiting for long before it was ready.

We Like
Plastic bristle tips for added safety
Simple design and it's easy to use
Great temperature range
Keep This in Mind
It's not as great as a flat iron straightener
The simplicity and power of the straightening brush will draw in any bearded man. Though it is not the most powerful on this list, it is not the least powerful either. As a plus, it is well priced and gives value for money.
5. AMOVEE Mini Flat Iron Ceramic Hair Straightener – Best Beard Mini Flat Iron Straightener
If you have never seen or handled a flat iron before, you will have a considerably hard time learning how to use this tool.
Now flat irons can be twelve inches long. However, the type that is ideal for your beard should be a lot shorter than that. The length and size should make it possible to maneuver through short hairs in a smaller space.
AmoVee saw a gap in this industry and seized the opportunity with the AmoVee Mini. It is less than eight inches in length, and its heating section is half an inch wide. Generally, it is difficult to straighten beards shorter than 1 ½ inches long. It is no different from its competitors, but we have to say it is the best flat iron for the shorter beard we've used so far.
The AmoVee Mini is designed with Ceramic and tourmaline. Ceramic helps to distribute heat while tourmaline emits negative ions efficiently and evenly. With this material combination, no follicle stick to the plate.
Unfortunately, we were disappointed with the lack of temperature control on this flat iron. The temperature is permanently at 4280; this is too hot for ideal beard straightening results. But despite this, the flat iron is comfortable, partly because not all the heat transfers to the beard hair.
Aside from having a high-temperature setting, you'll be pleased to note that it only takes 30 seconds for the flat iron to be ready for use.

We Like
Small form factor
Low price point
Great material for heat distribution and negative ion emission
The AmoVee Mini is small and straightens hair well. However, its size is not small enough for beards shorter than 1 ½ inches long. But then again, very few mini flat irons work great with such short beard hair.
6. Peter Coppola Keratin Hair Treatment – Best Long-term Beard Straightening Solution
Peter Coppola is made to offer bearded men a lasting solution for their curly and unruly beards. If you do not fancy the thought of straightening your beard every day, then this Keratin hair treatment is the perfect fit.
Because of how it works, you can consider this product to be a heated beard cream. The treatment will 'heat' and relax the Keratin in your beard hair, just like a heated tool would. The best bit is that the cream's straightening effects last long – up to 60 days.
However, you will still have to comb or brush your hair throughout the 60 days for maintenance. But the time you spend maintaining a straightened beard is nothing in comparison to the time you'd otherwise spend straightening it every day.
But with so much time saved, how come men are not falling head over heels for this product? Well, some manufacturers use Formaldehyde in their creams to give them a stronger punch. While it works, Formaldehyde is considered a toxin many would rather not have to deal with.
We are part of the men who prefer to stay away from Formaldehyde. As such, we scoured the internet for a Formaldehyde-free product like this cream from Peter Coppola.
We do not dispute the fact that it contains other chemicals that make it an effective product, but at least the other chemicals cannot strip the lining of your lungs.

We Like
Its straightening results last for 60 days
It is Formaldehyde free
Easy to use
Keep This in Mind
It still packs a lot of chemicals
It's expensive
This cream offers low maintenance, low cost, and a long-lasting solution to straightening your beard. However, it is more expensive than most creams in its category.
7. Kuschelbär Heated Beard Straightener Brush by Jeff Chastain – Best Beard Straightening Brush
If you are looking for an affordable beard straightener, this is not it. This Kuschelbar beard straightener is a premium tool that is available in high-end boutiques and salons. But while it's not available in drug stores, you can find it on the web, which makes it widely available.
So for a premium price, what does this product offer that other beard straighteners do not? Well, it's not so much about the technology but also the design and function.
The Kuschelbar beard straightener features ionic technology which helps to seal in moisture in your beard hair as it removes stubborn curls. Moisture sealing is a big tech step in the industry. Ideally, the heat from the straightener would get rid of the moisture, leaving beard follicles brittle and kinkier. But with moisture retention, the beard hair follicles are left straighter and softer.
Unlike most straightener combs that burn the skin, this one has a heat barrier that prevents a lot of the 3740 heat from burning your skin and damaging facial hair.
Another fact that users fell in love with is the soft bristles. These are by far the smoothest we've come across. They prevent the comb from getting stuck in the beard and causing damage.
As a corded comb, you can only use it in spaces with electric outlets. But to make it more travel-friendly, Jess designed it to work with 220 and 110 volts.

We Like
Smooth bristles
Uses ionic technology to ensure moisture retention
It's safe to use
Keep This in Mind
The high-temperature setting isn't the hottest we've seen in premium beard straighteners
It is expensive
For a premium product, you do not expect anything short of excellent. And while it delivers quality, we feel you can get a little more features for less. However, the finishing and detailing on this beard comb are beautiful and well designed.
8. Mexitop 2-in-1 Hair Straightener/ Curler – Best Combination Hair Curler/ Beard Straightener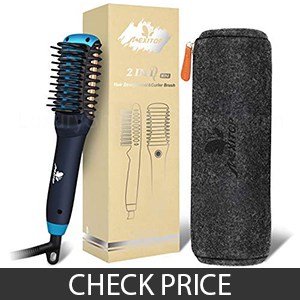 This is by far the most versatile beard straightening product on our list. You can use it to straighten your beard hair or curl your head hair. Its features and technologies are intertwined to make help it excel on both fronts. Though we tested its curling capabilities, we shall not dwell on it for this post.
Now, the Mexitop features a combination of metal and ceramic heating elements that heat up fast. You will not have to wait for a couple of minutes before it is hot enough. Aside from this, the brush has a crescent-shaped brush that accommodates your chin and prevents accidental burns. This feature comes in handy for men with short beards.
This Mexitop brush measures 8 inches long. At this length, it is easier to maneuver the face for proper grooming. What's more, it features a maximum temperature of 4100 and between 3400 and 4100, the brush sports three heat settings that work with the straightener and curler.
This is a corded unit with dual voltage and sports an auto-shutoff feature. You can get the tool in red, or blue.

We Like
Has multiple functions
Has a high-temperature range at 4100
It's safe to use
Sports dual voltage
The Mexitop beard straightening brush is a little cheaper than the CNXUS or the Kuschelbar. However, it costs slightly higher than its competition. If you want to straighten your beard and your hair or want a tool you can share with your loved one; then this Mexitop is a perfect fit.
9. MHU Professional Travel Size Mini Flat Iron – Best Budget Beard Straightening Mini Flat Iron
This flat iron has a small form factor but is packed with a lot of tech goodness. As a guy who is on the road a lot, you will appreciate its small design. MHU made it as a travel flat iron. It is only ½ inch wide and is perfect for short beards as well.
Aside from its perfect travel size, the flat iron has a ceramic and tourmaline heating plate that evenly distributes the temperature to the beard hairs. Unlike most straightening products we've looked at, this flat iron has a single temperature setting. Luckily, it is 3560, a good temperature for beard hair.
The flat iron heats fast courtesy of the ceramic used on the plate. On the other hand, the tourmaline helps to generate negative ions which work against frizz and ensures beard hair is always hydrated.
Now, since it's a small flat iron, you might find it lacks in a lot, but still, it is above its competition. For instance, if you are in a hurry and forget to turn it off, its auto-shutoff feature will turn it off after a couple of minutes of idling.

We Like
Small and lightweight
Auto-shutoff feature
Inexpensive
Keep This in Mind
It has a single temperature setting
As a professional who travels a lot, you'll find this flat iron quite useful. Sure it doesn't have the perks of a full-sized flat iron, but it meets your traveling needs.
10. Aberlite Beard Straightener for Men – Best Lower-heat Beard Straightening Brush
The Aberlite beard straightener is in the same price range as the Mexitop. Though it is not a 2-in-1, it has all the features necessary to meet your needs.
At the top of the list of features are the metal and ceramic plates built into the brush bristles. These plates ensure that the heat is evenly distributed to the beard hair. Moreover, it uses PTC heating technology which delivers consistent heat. If you have a long beard, you'll notice that brushes get stuck. To prevent this, the Aberlite Beard Straightener features an anti-static coating on the bristles.
When you turn it on, it takes 60 seconds to warm up. You can use the highest temperature setting (3740) or set it to lower temperatures depending on the coarseness and thickness of your hair. The ability to control the temperature is great as it keeps you from frying the hair or sustaining accidental burns.
And in case you forget to turn it off, the beard straightener has an auto-shutoff feature set to 30 minutes for added safety. It is ideal for beards that are 1 ½ inches.

We Like
Warms up fast
Offers three heat settings
Has an anti-static coating
Contoured bristles
Has an LED display to keep track of the temperature
Keep This in Mind
A few customers complained that some metal bristles might have imperfections
Most people aren't aware that using the maximum heat on your beard hair often can cause damage. As such, Aberlite has taken the liberty of creating inbuilt limitations for your safety. The three temperature settings it sports give you control over the straightening process. Overall, it's a well-thought-out design and works for relatively short beards.
Does Beard Straightening Damage Beard Hair?
Whenever you use a beard straightener, there will always be some amount of hair damage. The high heat can cause protein loss which results in lipid peroxidation. This is where natural oils get rancid due to exposure to high heat.
Luckily you can significantly reduce the damage by:
Washing your beard before straightening it. This will rid it of oils that can result in lipid peroxidation.
Apply beard oil or moisturizer after straightening beard hair. This will prevent the skin underneath the beard from drying and will reduce hair protein loss. We also recommend using coconut oil which protects against protein loss.
Tips for Using a Beard Straightener
Congratulations, you've purchased the best beard straightener for your needs. But, now what? How do you use it to ensure you achieve the results as advertised? Below are some tips and tricks for efficiency and avoiding accidents.
Speed is Your Friend
When using a beard straightener, you should not rest it in one spot for long. If you do, the heat will burn through your hair. Instead, you should spend a couple of seconds on each segment of the beard. You would rather come back to it if it needs more attention than risk burning it.
This technique will also keep you from weakening the hair. You should do this even if you do not have the beard straightener set to the highest temperature.
Stay Steady
As you move the beard straightener through the beard, make steady and smooth motions. Making chopped motions will lead to uneven results, and you'll look worse than you started. Make clean strokes from top to bottom and repeat until your beard is perfect.
Start Warm
Straighteners' temperatures can rise high. But the highest temperatures are not always the best. Always start with the lowest setting and then progress to hotter settings once you have mastered what your beard needs and how hot the straighten gets.
Also, remember if you start with the highest temperature, you will have a hard time adjusting to warm settings when the situation calls for it.
Unplug once you are Done
Many beard straighteners come with an auto-shutoff feature. But this is not a reason to leave it on. It is wise to unplug the straightener to prevent a fire. You should strive not to need the auto-shutoff feature.
And even when you are taking a break during beard straightening, turn the tool off and then back on when you need it. If you bought a quality straightener, it would take less than 60 seconds to warm up.
Steps to Straighten Beard Hair
Below is a step-by-step procedure for using a heated brush and a mini iron.
Heat Brush
Wash your face and beard hair thoroughly and dry it well
Switch on your heat brush
Select the heat setting of your choice. If this is your first rodeo, start with the least setting
Brush your beard hair with steady motions from top to bottom. Repeat this process until you are satisfied with the results
Mini Flat Iron
Shampoo your beard and dry it
Plug in your flat iron and wait for it to heat up
Grasp bundles of beard hairs and place them between the heating plates
Work through each bundle for 1- 2 seconds. Repeat the process until the curls are all gone.
Bear in mind that mini flat irons don't have temperature settings. So do not use heat that makes you uncomfortable.
The Best Temperature for Beard Hair Straightening
The best temperature for your beard depends on its size. Below is a quick list to guide you depending on your beard size.
Medium or shorter length beard – 3000
Thick and coarse beard – 3400
Longer beard length – 3900
Also, note that in the above categories, there are some variations depending on the type of hair one has. With that said, only you can know the ideal temperature for your hair. It takes some experience to learn this, but the above estimations are a good yardstick.
FAQ
Why do I Have a Curly Beard?
Genetics have a lot to do with the type of beard you grow. But on the other hand, what you eat contributes to it as well. For instance, if you eat foods rich in Vitamin A and Zinc, then your beard will grow healthy. Though this might not make your bard straighter, it will be thicker and more powerful.
Can I Use a Simple Brush and Comb to Straighten my Beard?
Yes, you can. If you have the patience, your fingers can get the job done as well. However, the purpose of this guide was to review and explain the fastest and most efficient way of doing it.
Can I Use a Beard Straightening Tool For a 1-inch Beard?
We would not recommend that you try because you'll risk scalding yourself. Instead, you can use a beard brush or a comb. For better results, throw in some beard balm or oil. Remember to clean your beard before applying the products.
Can I Train my Beard to Grow Straight?
Unfortunately, there is nothing you can do to ensure this happens. It's all in your genetics. The best you can do is correct the kinks to suit your desires when they appear.
Conclusion
We hope that this bestseller buying guide has helped you pick the best beard straightener tools for your needs. As you grow out your beard, consider going bald as well. A well-groomed beard and a bald head are a chic magnet in the 21st century – as the Rock and Jason Statham. You also might want to check out our how to soften your beard article.
My name is Don and welcome to Luxury Shaving Razors! The idea behind the site was born in 2016 after trying to find a decent safety razor for my own personal use. I decided to document my journey.