Best Beard Trimmer for Men – 10 Bestsellers Review & Buying Guide (2021)
We may earn a commission for purchases using our links. Learn more
In this article we take a look at the best beard trimmers – a complete bestsellers review and buying guide.
We have to be honest; though we are tempted to dream of it, beautiful beards do not appear out of thin air. Likewise, no one is born with the perfect one either. Like heroes, beautiful beards are made through hard work, which often includes trimming the beard regularly.
But here's the thing. To get the best trim, you need to have the right tools. One of the best tools for the job is a beard trimmer. Over the years, they have increased in number to a point where it is difficult for newbies to pick the best. Luckily for you, we've done the heavy lifting and compiled a list of the best beard trimmers.
In this piece, we shall also go through the proper trimming process and all accessories you need for the perfect trim. We shall finish off with a detailed list of FAQs.
Without further ado, let's dive into it.
Best Beard Trimmer (Summary)
In a hurry? Here is the key takeaway:
Factors to Consider When Buying the Best Beard Trimmer
When looking for a beard trimmer, you'll be presented with a myriad of options. While this is a great thing, the options can be confusing. Think about this – every beard trimmer has unique features and is marketed as the best on the market. The features range from a range of settings to different attachments and type (whether cordless or corded).
So how does one choose among these?
Well below is a quick list of what you should expect.
1. Versatility
Now, before you hit the stores looking for the best beard trimmer, pause for a moment and consider how you will use it. Will you use it only on your beard or will it trim the hair in other body parts as well? Some of them can actually be the best head shavers as well.
The reason it's essential to define the use of the trimmer is the list of features they have. Multi-use beard trimmers are available in a wide array of trimming settings. The settings allow you to cut hair on your head, face, and body. For instance, Panasonic ER-GB40-S has a whopping 19 trimming settings. With all these settings, it is perfect for trimming chest hairs and hair in other body parts as well.
2. Cordless or Corded
Each of these options has its fair share of pros and cons.
Cordless beard trimmers are flexible in comparison to corded trimmers. You can use cordless trimmers anywhere you please whether there's a socket or not. Usually, cordless trimmers provide about an hour of trimming when it's fully charged. How long the trimmer needs to get fully charged depends on the beard trimmer and the battery technology it is packing.
On the other hand, corded trimmers have more power in comparison to cordless trimmers. Moreover, they have the benefit of running non-stop provided they are connected to a power source. With corded trimmers, you can take your time to yield great results.
If you prefer cordless trimmers, you should always check on the battery technology it sports. The technology used will shed some light on the battery life and how long the trimmer will serve you before needing a recharge. But if a corded trimmer is your thing, always consider the length of cord the trimmer comes with. If you want the freedom to move around the bathroom, the cord should be long.
Most cordless trimmers today feature charging stations and stands. You can leave the charger in the charging station to prevent inconveniences the next time you need to recharge your phone.
3. Attachments
Most beard trimmers have attachments. The attachments are added to the trimmers to provide different cutting lengths and enable you to achieve different trimming styles, including a goatee. Some even include stubble trimming guides. These guides help you to pull off popular beard trims.
4. Beard Length
How long is your beard? Is it short, medium stubble or long? Answering this question will help you determine the number of length settings you need. Additionally, some beard trimmers are best for long hair and others for short hair. Whichever choice you make, ensure it is perfect for your beard length.
5. Wet & Dry Use
Most beard trimmers are perfect for both dry and wet use. This means that you can use it when you are in the shower and also with shave creams, soap, foams and gels. Of all types, waterproof beard trimmers are the easiest to clean. All you need to do is wash them under running water to get rid of the air trimmings. This level of convenience is challenging to resist.
6. The Blades
Chromium, titanium and stainless steel blades last longer and are super comfortable in comparison to other types. Some of the most expensive beard trimmers feature double-edged blades. These blade types have superior cutting precision and allow you to fine-tune the beard with minimal effort.
7. Convenience
If you are always on the road, either for pleasure or business, you should consider how travel-friendly the trimmer is. A travel-friendly trimmer is compact and lightweight. It is easy to carry in a bag. When making this choice, think about portability. If it's too big then it's not the best fit. You'll always have trouble carrying it around with you.
In addition to size and bulkiness, a travel-friendly beard trimmer ought to have long battery life. This means that it should last for plenty of use before it needs a recharge. Because of this, cordless beard trimmers are the perfect travel buddy. But even with this, you will need to have access to a charging source now and then for a quick recharge.
Now, the information above is intended to guide you through making the right choice. But to help in making the buying process even more comfortable below is a quick list of the best beard trimmers we've come across. We've included reasons in our brief our beard trimmer reviews why they are in our top list.
Best Beard Trimmer 2021 has to Offer
Commendable Features
Ergonomic design
Best for dry and wet trimming
Blades are angled at 450
Easy to switch between the grooming settings
Overview
Many brands claim their trimmers are the best when it comes to trimming mustaches and other hard to trim facial hairs. However, while many have the functionality that enables them to perform in this capacity, some are better than others. The Panasonic ERGB40-S is one of these.
Over the years, this particular trimmer from Panasonic has built a solid reputation for itself. People know it can handle edging projects with ease since maneuvering tight spots is not a problem for the trimmer. This is mainly because the blades are angled at 450. Additionally, the blades are hypoallergenic and cut cleanly and fast.
For an improved experience, you can use any of the 19 precision settings to trim, style, detail and cut your hair.
This trimmer is perfect as a cordless trimmer. It runs on a Ni-MH battery. This trimmer also comes to a unique charging stand which includes indicator lights. Another feature we love is the fact that the trimmer has both a dry and wet trimming capabilities. And if you please, you can clean the trimmer under running water.

We Like
Ideal for detailing hair hard to reach spots including a mustache
Easy to clean with water and as such perfect for dry and wet trimming
Rubberized grip. It is ergonomic. This enhances comfort and control.
Keep This in Mind
Some users have complained that the trimmer pulls their beard
There are many features and technologies to love about this trimmer. Part of our love for it includes ergonomic handles which make it easier for edging and detailing. Because of the technology used, you can move it around otherwise tricky spots on the neck and face.
Commendable Features
Quiet motor
Varied speed setting
Long-lasting battery
Ceramic blade
Quick charging
Overview
This Brio BeardScape Beard Trimmer has loads of features that help it stand out from the crowd. At the top of the list of features is the ceramic blade.
According to Brio, the ceramic blade is 4x harder in comparison to stainless steel. Moreover, it has less friction when cutting the hairs and when it comes into contact with the skin. Additionally there's quite a lot more to like about this beard trimmer and reasons why it fetches a higher price than most beard trimmers on the market today.
The trimmer comes with a multi-faceted LCD. The LCD shows the load on the head. In simpler terms, it alerts you when the clipper is clogged and needs to be oiled. When the 4th and 5th circles on the LCD are lit, it means that the trimmer needs cleaning and oiling.
The Brio beard trimmer also has reversible clipper heads which come with blade height adjustments between 1mm and 1.9mm. You can control the trimmer through these adjustments using a lever button. You can also micro-adjust the lever.
The +/- speed controlling button lets you increase and decrease the speed between 5000 RPM and 7000 RMP. The high-speed settings have the trimmer cutting through coarse and thick beards with great ease.
Another impressive feature is the lithium-ion battery technology. The battery is extra-large and can be used for 4 hours before recharging. It's important to note that the battery life always depends on the speed that you use the trimmer on. But even at the highest speed setting, you should get a clean 3-hour trimming service from the gadget.
How do you know when the battery is running low? Well, the trimmer features a digital battery life display on its body. With this display, you don't have to guess when it's time to recharge. This piece of technology makes planning easier. You'll never be caught off-guard.

We Like
It is perfect for long hairs which can be harder for other trimmers to cut through
The variable length and speed settings allow the beard to provide the perfect trim depending on the style and type of beard you have
Ceramic blades are tougher in comparison to stainless steel
Keep This in Mind
The trimmer might not offer high-level precision with the short beards as it does with the long beards.
The Brio BeardScape trimmer makes trimming an easy process – especially if your beard is long. Its features will help you cut through the hairs with great ease. Additionally, it has all the power and speed to provide the right amount of precision.
Commendable Features
Powerful Lithium-Ion battery
25 trimming settings
Durable blades
Overview
The Braun BT05070 provides great flexibility. It features a detachable trimming comb and has 25 trimming settings. It will serve you well regardless of whether you are trimming a full beard or just styling your stubble.
The blades in this system have been designed to last long. Since sharp blades are essential to a great experience, these stainless steel and super sharp blades cannot be ignored. Aside from durability, the blades ensure that the trimmer doesn't pull and tug your hair and cause irritations.
As for power, we honestly feel it could use a bit more. Nonetheless, it still performs wonders with what it has. And since the trimming setting span is great it's good for thin beards.
The trimmer also features trimming combs. These combs offer the flexibility you require. The precision comb measures between 1 and 10mm. This allows you to add finishing touches on the trim. On the other hand, the long beard comb measures between 10 and 20mm. It provides you a great range perfect for maintaining longer beards (if that's what you are after). This trimming range makes the trimmer one of the best in the industry.
Moreover, the trimmer includes a tiny 1cm trimmer which slides from the top of the unit. It is perfect for trimming some hard to reach spaces including around the mouth and nose. The battery lasts for 50 minutes before it requires a recharge. However, if you prefer trimming while connected to the power, the trimmer has a power cord for that.
With this trimmer, you also get blade oil, a pouch and a cleaning brush.

We Like
The motor runs quietly
It has multiple settings which allow men to retain their perfect beard length and style
The battery lasts for a considerable period of time
Keep This in Mind
The motor isn't the most powerful we've seen
The trimming settings of this piece are to die for. They make beard trimming and maintenance a breeze. You never have to compromise on your perfect beard length.
Commendable Features
Titanium blades
Affordable
20-trimming settings
Overview
We should point out that this trimmer is quite standard. There's nothing fancy about its features and design. Because of this, it's also not expensive.
But this doesn't mean that the 3500 Series isn't a great trimmer. It's one of the best in the industry. And whether you are looking to trim your mustache, beard or body, it will deliver a compact and straightforward performance that matches to the standard of other expensive trimmers on the market.
This trimmer is straightforward and affordable. But aside from this, there are loads of features why you should consider it on your next purchase.
You do not have to worry about getting the perfect trimming length for your facial hair. The trimmer has a whopping 20 trimming settings that are designed to improve precision trimming. You can adjust the trimmer through the different settings by simply turning a zoom wheel and locking it in place.
There's a lot of convenient features wrapped in this unit. You don't have to keep detaching and reattaching trimming attachments. The trimming settings are perfect for creating a perfect stubble. The 3500 Series is ranked one of the best short beard styling trimmers.
The blades on this trimmer are made from titanium. As such, they are strong and have a clean cut. The blades will not cause skin irritations. Moreover, they will last for long and retain the sharpness throughout their life. We should also point out that the blades have rounded tips. This helps in preventing skin irritations.
This Philips trimmer comes with a high performing battery which reviewers say lasts for more than 90 minutes when in cordless mode. To recharge the battery, it only takes an hour. With that said, this trimmer is ideal for both corded and cordless use. The battery also has a battery indicator which points out when the battery is about to die.
Overall, this trimmer is easy to clean. It has a washable head. It also comes with a cleaning brush for a thorough cleaning process. The brush comes in handy in removing loose hairs before rinsing the head with water.

We Like
Comes with a 45-day risk-free trial
It is lightweight
Has a two-year warranty
Self-sharpening titanium blades
Budget-friendly
Easy to maintain
Keep This in Mind
The multi-trimming use isn't as great as that of other trimmers
It will be a challenge to find a trimmer that works as good as the 3500 Series for the price it goes for. It is by far the best affordable trimmer available.
Commendable Features
Last for 80 minutes on a single charge
Has a powerful built-in vacuum
Has a lift and trim innovative technology
Self-sharpening blades
Overview
This beard trimmer prides itself in providing high-quality trims without creating a mess in your space. Moreover, it sports a unique design complete with a powerful internal vacuum which is responsible for the 'no mess' beard trimming.
The integrated vacuum system technology in this unit can pick up 90% of all the hairs you trim courtesy of the powerful fan and motor system that together create a powerful suction to capture hairs.
Aside from this, the unit also has self-sharpening blades and a complimentary lift and trim system. This system raises hairs from the skin and guides them to the blade. The blades have double edges which means that they cut more hair with every pass. Because of this, with this unit, you'll be done trimming your beard in no time.
Moreover, this lift and trim system ensures that the trimming is uniform. And because it guides hair, to the blade, it's ideal for the men who have bushy and thick hair. The comb attachment features round tips to trap and trim hair without irritating the skin.
Overall, the Norelco 7200 is all rounded but, unfortunately, it is not completely washable. Only the attachments are waterproof.
Now, how many settings does this unit have? Well, this system comes with 20 built-in beard trimming settings. These settings allow you to cut hair to your desired length. You can adjust the settings by using the zoom wheel. The lengths vary between 0.5mm and 10mm.
And for those who don't like to incur the extra cost of buying a sharpening stone or go through the trouble of sharpening the blades, you'll be pleased to note that the unit has blades that sharpen themselves.
A Lithium Ion battery powers the trimmer. This battery delivers high performance through its power. The battery can last for 80 minutes before a recharge is needed. With such juice, the Philips Norelco 7200 is one of the best in the industry. When the battery is close to empty you'll be notified through a battery indicator.
When you get close to the sectors that are usually harder to trim, you can add some detailing by using either the 5mm or the 3mm precision comb trimmer.
Since the trimmer has the added advantage of cleaning up after itself, how do you clean it? Well, the process is easy. You empty the vacuum chamber and rinse the blades with water. For a better clean, you can use the cleaning brush it comes with. This brush will allow you to brush off loose hairs and extend the beard trimmer's life.

We Like
The blades are durable and self-sharpening
The trimmer cleans after itself
The attachments are washable
The unit has 20 trimming settings
Keep This in Mind
The vacuum reduces the exposure of the blades which makes detailed trimming a challenge
Whether you want to maintain a stubble or a full beard, this trimmer is for you. It will serve you for prolonged periods when on the road and will not create a mess in the space you're in.
Commendable Features
The blade sports etched technology
Its shaving head is contoured
Perfect for short beard trimming style
Overview
If you are those men who prefer keeping their beard style on the down-low by sporting short beard styles, or you cannot grow a full beard, then maintaining a stubble beard is a great option. A stubble no only looks great, but it's also a chick magnet.
Now, and if you are going to rock a good stubble, why not use the perfect tools for maintenance? In this case, the ConairMan Super Stubble. This trimmer is an excellent option since it will help you maintain and style a perfect stubble look including 5 O'clock shadow and other beard styles for short beards. For even better results, the unit comes with a powerful motor and high precision.
The trimmer has a Flexihead which makes precision trimming a possibility. In addition to precision, the Flexihead provides maneuverability and control. The head can track the curves on a face for added comfort.
Last but not least, the Super Stubble also has blades with etched technology. This means that the blades have been electrochemically formed to make them durable and sharp. And if you want, you can remove the guide comb to use the trim with the blades for intricate detailing and fine line trimming.
Aside from all the above, the trimmer also sports a LED screen that displays selected cutting lengths and just how long you have before the trimmer runs out of juice. When the charge is full, this trimmer can provide you about an hour of trimming. Additionally, the trimmer has a quick-charge option, which allows you to get sufficient power for a short trimming.
This device is waterproof and can be used under a faucet. You can also use it in the shower.

We Like
It's an excellent trimmer for maintaining short beards like stubbles
The contour shaving head is designed to follow the facial curves for control and comfort
The trimming settings are precise
Keep This in Mind
Some users complain the motor is slow in comparison to other units they've used
The ConairMan Stubble trimmer makes maintenance and styling of beards a sure process. No guesswork is involved in the art. The trimmer is easy to control courtesy of the floating contour head technology.
Commendable Features
Dual cutting technology
It's an all in one beard trimmer. It's perfect for facial, head, beard and body hair
It runs for 5 hours
It can be washed with water
Overview
The most straightforward answer to give pertains to what this Phillips beard trimmer cannot do. This is because the Phillips brand is a beast when it comes to beard trimming. Listing the things it can't do will take a shorter time.
When Phillips labels this trimmer as 'multi-groom', it means it. You can use the beard trimmer on the beard but also your head, body, sideburns and mustache. It's challenging to beat the versatility this beard trimmer offers.
But on the other hand, the Multigroom trimmer is not all about versatility. It has a load of other functional and helpful features. First and foremost, it sports dual cutting technology which includes 2x more blades. And second, the technology helps to keep the blades sharper for longer. The technology achieves this because the blades rub against each other as they cut through the hairs.
The MG7750/49 features reinforced trimming guards (14). They each are available in varying lengths and consequently make cutting hair all over the body a breeze and very convenient. The guards are all marked and labelled according to the body part they are best suited for.
What about the blades? The blades are made of stainless steel. The stainless steel used is non-corrosive and doesn't rust.
The frame is also made from stainless steel. It is durable and feels strong. For a better grip, Phillips added rubber detailing.
Last but not least, the trimmer features a Lithium-ion battery. With this powerful battery, the trimmer runs for 5 hours on a single charge. If you are at home and need to take your time trimming, you can plug it to the socket and use it as a corded trimmer.
The power of this Phillips trimmer is derived from a metal motor and a drive train that is reinforced with steel. More good news includes the fact that this trimmer comes with hair and nose trimmer as well. It can also be washed with water.

We Like
Cutting technology is exemplary and unmatched. The technology makes it easy to cut precise lines in a single pass
It has a sturdy and solid design. The trimmer should last for a long time before you need to replace it
It comes with multiple attachments with varying lengths to suit hair trimming in different spots.
Keep This in Mind
The unit is slightly heavy
The Philips Norelco MG7750/49 is a beast in the hand. It offers everything you'd need to achieve a perfect beard trim. It is durable and can last for decades with proper use and care.
Commendable Features
A powerful vacuum-based system
Washable blades
Full-size trimmer
11 blade settings
Overview
Beard trimming can be a messy process. It doesn't matter how careful and cautious you are – hair trimmings will always find their way to the floor, sink and clothing. The power to be in control and to avoid creating the big mess is the number one reason why this beard trimmer stands out like a sore thumb. The vacuum system helps you keep the hair trimmings from scattering all over the place. Every hair cut is sucked into a collection chamber that is attached to the body.
Remington trimmer experts claim that the vacuum collects about 95% of all trimmed hair. With such efficiency, very little hair is left behind for you to clean up once you are done grooming. But aside from the vacuuming system built into the trimmer's system, there are a bunch of other features that make it one of the best on the market.
The trimmer has self-sharpening steel blades which can be washed with water. Moreover, it features an adjustable comb. The comb has 11 variable-length settings. For even better trimming control, the trimmer comes with a small comb that is perfect for sideburn and mustache trimming. And for even greater accuracy, the trimmer has a pop-out mini-blade.
The trimmer has a Lithium battery that can last for 90 minutes. But if you are around the house, you can use it as a corded trimmer. When connected to a power source, the trimmer is a little more powerful.

We Like
Trimming beard without creating a mess. This is courtesy of the high-speed fan and a powerful vacuum system
Several length settings which help in providing precise beard styling and trimming
Can be used on necklines, sideburns and mustaches
Keep This in Mind
It is best for longer beards and not shorter beards
The Remington MB6850 is perfect for mess-free trimming and will help you save time that you'd have otherwise spent cleaning up hairs from your clothing, sink, and floor. It is versatile courtesy of the stainless steel blades and a whopping 11 trim length settings.
Commendable Features
Long-lasting battery
The blades are self-sharpening
Detailed shaving heads and trimmers
Versatility
Overview
Like many beard trimmers on the list, the Wahl 9818 trimmer is a multi-tasking trimmer. Are you looking to trim your unruly beard? Trim the goatee or mustache? Trim your delicate nose or ear hairs? Well, the Wahl 9818 I the perfect beard trimmer for you.
To believe that this trimmer is the bomb and delivers on what it promises, ask any barber you know. If they've used or seen the Wahl 9818 in action, they will have nothing but praise for the unit. But what else is expected from a company that has more than a century in the industry? Wahl has been in operation since 1919. And ever since they opened their doors to the public they have impressed with their quality products. Over the years, it has been in use mostly in salons and barbershops. However, if you'd wish to experience the luxurious product first hand, you can always get yourself a Wahl product. And what better product than the Wahl 9818. It is designed for both professionals and amateurs learning how to tidy themselves up and perform clean and accurate trims with the best tools in the industry.
Now, aside from its quality, what else makes this brand and this specific beard trimmer so popular? Well, for starters, the trimmer is versatile as a grooming tool. It comes with self-sharpening blades which can take on hairs of varying lengths and types. The trimmer provides such versatility courtesy of the four attachments it comes with. These attachments include: personal rotary trimmer, detail shaver, T-blade and the detail trimmer. You can use this product to trim a bulky beard and still get excellent results. On the flip side, you can also use it to do some light touchups between detailed shavings for the nose, goatee, sideburns, mustache and whole body.
In addition to this, the trimmer also has 12 attachment guards, including guide combs. These combs create additional space between the hair and the blade and thus make it easier to cut precise lengths. To install the combs, you simply clip them over the T-blade.
Moving on to its power, you'll be pleased to note that the Wahl 9818 is powered by a Lithium-Ion battery. Unlike other batteries of its kind, this battery has a run time of four hours. It can recharge to full charge in an hour (which is standard time). But unlike other beard trimmers, this Wahl product has a quick charge feature which allows you to get three minutes of shaving from 60 seconds of charging. And quite honestly, three minutes is all you need to complete some accurate beard trimming.
The beard trimmer also comes with detachable trimmers (three). They are each designed to achieve specific tasks. One is designed to work on goatees ad mustaches and another to trim the hair closer to the skin. The last attachments make it possible to trim eyebrows, noses and ears.
Last but not least, and probably the most important for travelers, the Wahl 9818 has dual voltage capability.

We Like
Great for DIY'ers looking for trimming comfort and precision
Easy to operate. As such, it's a favorite for many professionals
Features attachment guards and guide combs which make it easy to cut hair to preferred lengths
Keep This in Mind
The stubble combs aren't the best quality we've come across
This beard trimmer has everything you'd need to achieve a perfect trim on your mustache, sideburns, beard, and whole body.
Commendable Features
Has memory settings
Has a touch screen display
Multiple trim settings
Turbo functionality
Overview
This trimmer comes packed with some of the most innovative and creative technology in the industry. Some of the smart technologies include auto-turbo and memory settings. As a nifty gadget, the tool contributes a great deal to grooming efficiency. In addition to this, the trimmer has a couple of trimming settings.
The memory settings make it easier for the user to trim the same style repeatedly and to the exact measurements as the previous cut — the settings store trimming length used in the last grooming session.
Aside from all these, the trimmer also has a motorized comb that comes with a whopping 175 trimming settings. With so many settings, you are sure to find your desired length.
Now, let's get into the auto turbo mode. This technology is added to the trimmer to enable it to detect the texture of the beard and adjust the speed according to it. Additionally, the touchscreen display is like no other. You can use it to set the length of your comb in a jiffy. You can also use it to monitor the trimmer's battery life as well as a couple of other features.
The trimmer also comes with great versatility. You can opt to use it to shape your sideburns or the neckline and other edging and detailing works. And when you are finished, cleanup is a breeze. The blades can be washed with water (you don't have to worry about rusting).
Last but not least, the MB4700 runs on a Lithium-ion battery which runs for about 50 minutes. While this is not the best time we've seen, it is still quite good. What helps this trimmer to stand out, even more, is the fact that it supports USB charging. With this feature, it's easy to travel with your trimmer across country and international borders.

We Like
Has an auto turbo mode that adjusts speed automatically based on the thickness of the hair you are trimming
Has a digital display through which you access all features
Finding precision length settings is easy
Keep This in Mind
One consumer stated that the trimmer's guard gets snagged in long beards
The technology and innovativeness of Remington were through the roof with the MB4700. And because of these technologies, the trimmer allows you to fine-tune the beard into a masterpiece.
Commendable Features
Fastest trimmer by Panasonic
It is great for dry and wet use
Has 19 trim settings
Best for both cordless and corded use
Overview
While speed is good, it's not the only thing that you need to consider when choosing the best beard trimmer. There are a bunch of other factors to consider and that gives this Panasonic beard trimmer an edge over the rest.
With that said, speed is the one factor that has earned this beard trimmer a good reputation in the market. It can do 9,800 cuts every minute courtesy of the high-powered linear motor which trims hair fast and comfortably. And here's the best thing – the speed at full charge is the same as the speed it runs at when it's running low on charge. This is a big deal since very few trimmers can boast of this feature.
Many start fast, but as the battery dies the power and speed reduces as well.
The Panasonic ER-SB40-K motor is also tasked with the responsibility of powering the wide tip blades, which help in delivering high and precision performance. The blades are made of stainless steel and are super sharp to ensure comfort and a close trim devoid of irritations that are common with other blades.
Combining the trimmer's strong and sharp blades, the power of the motor and the resulting speed, the trimmer can cut through tough hair like they are frail hairs. It can also lift the hairs on the skin for a quick and effective cut.
Now, aside from all the above, the beard trimmer comes with incredible settings. The 19 trimming settings available will help you trim your beard into any shape and style you please. And here's the best thing about it – changing between the settings is simple. All you need to do is adjust the settings dial.
The 19 settings adjust the blade's exposure between 0.5mm and 10mm.
And as if that's not enough the trimmer comes with attachments that easily attach over its blade. These attachment provide you with the ability to maintain and style your mustache, hair of the neck and head and sideburns even more.
Overall, the trimmer has a slim and sleek body. Unlike most trimmers, it is ergonomic and lightweight. This makes it comfortable and easier to handle and control. Though the ER-SB40K is corded, you can also use it as a cordless trimmer. As a cordless trimmer, it runs on a Li-Ion battery that will serve you for an hour. Once the battery is dead, it will take an hour to recharge it to 100%. Speaking of charging, the unit comes with a charge status on the handle. It also features a universal voltage which makes it your perfect travel beard trimmer.
Lastly, cleaning the trimmer is a breeze. You can do so under running water thanks to its water drain feature that Panasonic was so thoughtful to add to its water head.

We Like
Fast motor
With 19 trimming settings, it allows for precision trimming regardless of if you have thick and unruly beard
Has trimming attachments
Ergonomic handle
Keep This in Mind
The battery isn't as powerful as others we've come across in other trimmers.
The Panasonic ER-SB40-K packs great features. It's a beast when it comes to power and speed courtesy of its motor. It has great trimming precision and is perfect for achieving the exact length.
The Best Way to use a Beard Trimmer
| # | Preview | Product | Rating | Price | |
| --- | --- | --- | --- | --- | --- |
| 1 | | WAHL 5622 Groomsman Rechargeable Beard, Mustache, Hair & Nose Hair Trimmer for Detailing & Grooming,... | 44,303 Reviews | $22.99 | Buy on Amazon |
| 2 | | Philips Norelco MG3750 Multigroom All-In-One Series 3000, 13 attachment trimmer | 57,117 Reviews | $19.95 | Buy on Amazon |
| 3 | | Philips Norelco Multigroom Series 7000 23 Piece Mens Grooming Kit, Trimmer for Beard, Head, Body,... | 33,806 Reviews | $54.97 | Buy on Amazon |
| 4 | | Panasonic Cordless Men's Beard Trimmer With Precision Dial, Adjustable 19 Length Setting,... | 7,859 Reviews | $49.99 | Buy on Amazon |
| 5 | | Wahl Stainless Steel Lithium Ion 2.0+ Slate Beard Trimmer for Men - Electric Shaver, Nose, Ear... | 2,114 Reviews | $79.99 | Buy on Amazon |
Last update on 2021-05-17 / Affiliate links / Images from Amazon Product Advertising API
Having the best beard trimmer in the industry is indeed a crucial step towards proper beard styling and maintenance. But even more important is knowing how to use the beard trimmer. You might have the best in the market, but without the proper skill set to use it, you won't get the desired results. Below is a routine that has been perfected over time. Follow it for success in your styling and beard maintenance routine.
Wash Your Beard
Before you start on styling, make sure you wash your beard. You can use a beard shampoo for this. We insist on beard shampoo since regular shampoo contains harsh chemicals that can damage your beard and skin underneath it. The harsh chemicals in the regular shampoo will dry your skin under the beard.
On the other hand, beard shampoo has ingredients that moisturize the hair and the skin. If you don't have the time to shampoo your hair, you can use a clean, wet towel to moisten your beard and get rid of dirt, oil and grime. Once you are done cleaning, proceed to comb it using a special beard comb.
Choose the Trim of Your Beard
Now it's time to select a style that works for you. Under this, you should choose a length and trim that will complement your facial structure and general looks. What looks good on someone else will not necessarily look good on you. It's just like choosing new specs – you have to consider your facial structure and eye color. What works for your friend might not work for you.
Once you are settled on the length, proceed to trim the hair on all the relevant parts. During this step, feel free to experiment as much as you'd want. Try different lengths on different trims on different parts of your face. For instance, you could always choose to leave the mustache and goatee longer than the beard.
To achieve great results, you need to have a trimmer that has different settings. Luckily for you, all the trimmers we've suggested above have multiple trim settings. One even has as many as 175 trim settings. Because of this, there's no way you can claim you have no styling options.
Define the Cheek Line
Once you are done trimming the beard, you can remove the guard from the trimmer and start defining your cheek line. The golden rule of thumb is to target a neat and distinct natural cheek line. Try your best to trim high. And for a uniform look, you should fade the cheek line with a lower trim.
Define the Neck Line
Trimming the neck line is tricky business. If you don't do it right, it could end up messing your entire look. So while you are at it, you should exercise a lot of caution. Below is how you should go about it;
Don't try to trim high. Also, you should leave a curve
The hair on your neck that lies flat on the skin should not be trimmed. However, erect hairs should be trimmed.
Fade the neckline with the lowest trim setting to achieve a uniform look.
Use Razors for High Definition
HD here refers to intensifying the definition of the neckline and cheek line. For this, you can use a safety razor, a straight edge razor, Shavette (a favorite with professional Barbers) or a disposable/ cartridge razor. These two gadgets will help you in defining the neckline and cheek line significantly.
Also, you can invest in a beard shaping tools the likes of Manecode tool. These are what professionals use to achieve professional results.
Beard oil is a Must-have
Beard oil is important for styling and general grooming and maintenance and should bi included in every man's beard grooming kit. When you trim hair, be sure to use beard oil on the spots you work on. Some beard oils have aftershave properties. This means they not only leave you feeling fresh, but it also ensures you are irritation-free.
Accessories to Use for an Immaculate Beard Look
In addition to a beard trimmer, below are a couple of extra beard grooming tools that you need.
Beard trimming creating crisp and sharp outlines, as described in the above section requires that you use specific tools. The Fusion 5 Proglide cartridge razor is one of those tools you can use. This tool features a precision trimmer on its back that's perfect for getting to the well-hidden spots on your face including the sideburns and the nose. It also helps you in sharpening the beard outlines. The Fusion 5 has thin and fine blades that do not pull or tag on the hair like other blades do.
The Gillette razor also has a Lubrastrip which provides extra comfort when shaving and a FlexBall technology which helps to respond to the contours on your face. In addition to comfort, the Lubrastrip also provides users with visual cues of when you should switch the blades. When it is time to replace the dull blades, the lubrastrip will turn white.
Most refill package blades are available in a pack of five. These blades are usually anti-friction as well and will serve you well for a month if not longer.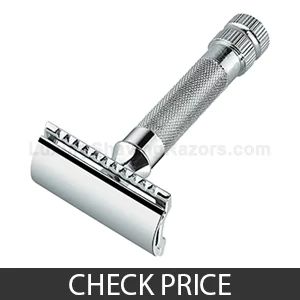 A safety razor is another perfect tool that comes in handy when defining the beard outlines. Though safety razors can be a bit more technical than electric trimmers and cartridge razors, the Merkur Classic 2-piece is a perfect choice for newbies to safety razors as well.
The Merkur Classic 2-piece razor comes in a thick and short handle. Its head is heavier than that of other razors. But the beauty of the extra weight is that it allows you to apply minimal pressure when trimming. And if you think about it, this is a great feature to have, especially when you are still learning how to use safety razors.
It's worth pointing out that this is a 2-piece safety razor. What this means is that it features the head and the handle as detachable pieces. The head has a closed comb design. These are features that are perfect in ensuring you get a close shave without irritating the skin.
In addition to the above, the razor has knurling on the handle. This ensures that you will have a good grip (again, this is perfect for men whose skin is sensitive and beginners to safety razors).
And the last thing about this safety razor is the fact that it's durable. But this doesn't come as a surprise since it is made from the Germany. Merkur has been around for more than a century. Over the years, they have mastered the art of producing quality items.
(Drip Stand Included)
Synthetic shaving brushes have grown in popularity in recent years. With synthetic brushes, however, there are several factors that you need to consider.
First and foremost, the synthetic brushes are a great alternative to the shaving brushes that are made from animal hair. They are such considered to be 'animal-friendly'.
The quality of the synthetic models, when compared to those of their animal hair brush counterparts, raises lots of debate. Individuals in different camps support their brushes to the death. But generally, synthetic ones usually do not command great respect in the wet shaving industry as the animal hair brushes do. This is probably because they do not feel natural despite the manufacturer's efforts to make them feel so.
With all that being said, a high-quality synthetic brush will provide you with a rich lather. It is for this reason that you ought to purchase a premium synthetic shaving brush. At the very top of the list of premium synthetic models, is the high-quality Frank Shaving Pur-Tech Synthetic Hair Shaving Brush. This is by far the best one in this segment of the market.
The very first thing you are bound to notice when you handle Frank shaving's signature synthetic brush is the soft bristles. Many consumers who have had the opportunity to review this synthetic brush as shocked at how soft the bristles feel. They almost are like animal hair brushes. They are not bristly as many expect them to be.
The Pur-Tech brush is designed to be sturdy. It features a black handle that has a comfortable fit despite your hand size. It performs great with shaving soaps since it requires a great deal of water. In addition to this, it also works well with the shaving creams as well.
The fact that synthetic brushes require slightly more water compared to animal brushes means that compared to animal brushes, they require a shorter soaking time prior to whipping up a rich lather. All you need to do with synthetic brushes is wet them and get on with the wet shaving.
The Frank Shaving Pur-Tech brush in addition to providing quality lather also spreads it evenly over the face. The bristles spread the perfect amount of shaving cream and soap on the face providing a decent amount of shaving foundation. With this, the skin, in the end, feels soft.
The Pur-Tech synthetic brush comes at a fair price. Compared to other shaving brushes, it cannot be categorized with the expensive brushes. But considering the fact that the brush comes with a drip stand, the price is reasonable.
Frank Shaving is a company that has built a name for itself over the years. While it produces this high-quality synthetic brush, it also is known for producing boar and badger hair brushes. Needless to say, they are committed to producing quality and cost-effective products.
We Like
Solid construction
Creates quality lather
It is surprisingly soft
Keep This in Mind
It does not retain heat very well
No drip stand included
If you love synthetic products, then you will love Frank Shaving Pur-Tech Synthetic Hair Shaving Brush. It has a solid construction and is softer than most synthetics. It provides a luxurious lather which can rival the quality provided by animal hair brushes.
It only makes sense that you'll use a clear shaving gel when trimming and enhancing the edges. Clear shaving gel allows you to see what you are doing while it lubricates your skin for a non-irritating shave.
The gel does not foam, and it's transparent. With this gel, you'll have control over the edging process without compromising on comfort.
This shaving gel has advanced glide technology which enhances its lubricating abilities with lots of lubricants, including aloe for a perfect and comfortable shave. You can even use the gel when manscaping if you want.
If you are serious about making your beard outline curved or straight, you should consider buying a shaping tool. Why is a beard shaping tool important? Well, for one, it will get you closer to beard shaping perfection. You will no longer have to worry about leaving the house with a crooked beard.
The beauty of this tool is that it's designed for beginners. It's easy to use and cuts down on the expertise and time required to create symmetrical beards. The Manecode beard shaping tool is by far, one of the best in the industry. It has a long list of accessories that include mustache scissors, a wooden comb and carrying case.
The Manecode shaving tool has a transparent body. This allows you to see the progress you are making on your beard. However, you can also use it on the sideburns, mustache and goatee. The wooden comb comes in handy in detangling as well as grooming the hairs of your beard and mustache. Last but not least, the comb also massages the skin on the face without making static electricity.
5 Beard Styles you can Make Using a Beard Trimmer
What styles can you achieve with the beard trimmer? The list is long and probably endless if you are bold enough to try most of them. Below are the top 5 beard styles that we recommend you look into and how you can achieve them.
Full Beard
Many people think that the hardest bit of having a full beard is caring for it while waiting to grow to its fullness. Well, while the process isn't simple, especially when it's itchy, there, an even harder part of defining and maintaining it once it's full.
When the beard is growing, use the trimmer to trim and check the neck hair and any stray hair in the cheeks. When it is growing, it will look unkempt (usually after a few weeks). Because of this, you must use a trimmer to keep the hairs in line.
One the beard is full, you can start the shaping. Use the long trimmer settings to trim the hair on the neck. When doing this, work from the middle and move to the sides. Trim the cheek line while using the natural growth pattern as your guide. Keep adjusting the trimmer to suit the different hair lengths at different spots.
Once the cheek and neckline are defined, comb the beard and use the trimmer to shape it. The golden rule of thumb is to use longer trim settings as you get closer to the chin.
Remember to shave stray hair from the neck, cheek and areas around the mouth.
Chin Strap
This is perfect for the men who have clean and well-defined jawlines- the men who are looking to rock minimal but bold looks.
Trim the beard evenly before you even start shaping
Use precision trimmers when outlining the beard. When doing this, pick a center point on the jawline and ensure you trim along the jaw on both sides
Trim the hair on the cheeks to make a chin strap. For this, use a foil or a rotary shaver to shave the neck and cheeks clean
Van Dyke
This style is a classic dating back to the 17th century. But despite it having been around for a couple of centuries, it is still popular. It is perfect for adding definition to faces (especially round faces).
Growing this beard type requires excellent commitment. You start by growing it to half an inch of beard. By the time it gets to this height it will be rough and give you a grizzly look). You should not fret if it is patchy when starting since the Van Dyke will work itself out.
Once you've combed the beard downward, pick the trimmer and use it to make a slanting line starting from the mustache to the jawline (the guide comb is out at this time).
Proceed with both lines towards the jawbone making sure that it connects with a straight line coming from the neck
Get rid of excess hair on the neck and cheeks without getting too close to the mustache and beard outline
Stubble
In the 21st century, more and more men are rocking stubbles. And according to research, women find these men sexy. A stubble is perfect for a man with a baby face and who is struggling to grow a full-fledged beard. It helps in giving a stronger and manly look to otherwise weak-looking jaws.
To ensure the stubble is at the perfect length, use a 3-4mm length setting on the beard trimmer. When shaving the cheeks and the neck, you should remove the trimming guard.
To contour the stubble, you can shave it back around the cheeks. This will create the effect of having a low beard line and an elongated face.
Goatee
This style was popular several years ago. And though it's not as popular today as it was back then, many men still love it. It is easy to create for men who struggle to grow long beards.
Use the trimmer to reduce the whiskers. Have them barely touching the edge of your upper lip.
Before you start trimming, you should have decided where you the goatee will end. For most men, this is under the jaw bone. Once you've decided on this, proceed to trim.
Use a sharp razor to keep the face clean-shaven around the goatee
FAQ Beard Trimmers
What is a beard trimmer?
Well, a beard trimmer is simply a grooming tool. It allows men to trim and clean up beards to desired lengths. They also come in handy when one wants to get a close shave without irritating the skin. Trimmers are ideal for maintaining beard hair to desired lengths Trimmers are used to do what scissors were used to do a couple of years back Trimmers are used to cut hair from the beard base rather than the skin like electric shavers do.
How does a beard trimmer work?
They feature a powerful motor that is either run by rechargeable batteries or electricity. The motor causes sharp blades to oscillate and cut hair. They have combs which allow you to trim hair to specific lengths. These combs are either fixed or adjustable The comb lifts hair into the trimmer to make work easier.
How do you choose a beard trimmer? Which should you buy?
The most important factors to keep in mind include the material used in manufacture, dry or wet trimming, extra trimming features, cordless or corded us, battery capacity and trimming settings. Check the above review for our suggestions of the best beard trimmers.
How do you use a beard trimmer?
Using a beard trimmer starts from preparing the beard for trimming. This includes washing the beard, deciding on final length, defining the neck and cheek lines, moisturizing using beard oil and using beard trimmer features and settings. We have described the steps above in six simple steps.
How do you clean a beard trimmer?
It depends on the type of beard trimmer. Some can be cleaned under running water and some cannot. The best are the kind that you can clean out clogged hairs using water without the risk of short-circuiting.
How do you sharpen a beard trimmer?
Most of the trimmers outlined above are self-sharpening. But in case you have one that is not, the best way to sharpen it is by running the blades over a sharpening stone. These stones are available in local hardware stores. You can also order them online. With the stone, all you need to do is move the blade across the stone's surface in a forward motion.
How do you oil a beard trimmer?
Most beard trimmers need lubrication to run efficiently and to prevent rapid wear and tear. A couple of lubricating oil drops on the blade and turning on the unit on for 20 seconds will work wonders.
How do you use beard trimmer attachments?
Attachments make the beard trimmers versatile and allow users to get different beard styles. The attachments include trimming guards of varying lengths. The attachment you use depends on the style you are going for.
How do you disinfect a beard trimmer?
The first step is cleaning the trimmer and removing loose hair. Next is cleaning the body of the trimmer using alcohol wipes. There's also the option of soaking the trimmer in a disinfectant.
Can a beard trimmer be used for body hair?
Well, it depends on your goal. If you want all body hair gone, then an electric shaver is best. But if you are preparing the body part for a clean shave, then a trimmer is perfect.
Can a Beard Trimmer Be Used for Head Hair?
No rule speaks against it. However, just like shaving other body parts, it should not be your go-to tool. The trimming blades are thin and not ideal for long and thick hair.
Can You Use a Beard Trimmer on Pubic Hair?
The best bet when working on these sensitive parts is choosing trimmers designed explicitly for pubic hairs. This is because the latter are designed to accommodate the light skin in the area and the sensitivity of the skin. Moreover, you also don't want to pass bacteria from the beard to the nether regions.
Can a Beard Trimmer go in Hand Luggage?
Yes, like electric razors, beard trimmers are allowed through along with hand luggage. However, safety razors and straight razors aren't.
Which Beard Trimmer is Best?
There are many options to choose from. The best one should be convenient, have many attachments, and be powerful to cut through the coarse beard.
Which Beard Trimmer Gives the Closest Shave?
All the beard trimmers in our review list offer a close shave. However, the Philips Norelco 7000 Series offers the best close shave courtesy of the dual-cut technology it sports.
Which Beard Trimmer Length Should I Use?
The trimming setting and length you should use solely depend on the style you are going for. If you are unsure of what you are looking for, always start with long trimming lengths and work your way to the shorter trimming lengths.
Which Beard Trimmer is Best for Stubble?
If you prefer a stubble, then you should go with the ConairMan Stubble Trimmer we've reviewed above. This trimmer is specifically designed to style short beards, including stubbles. It has a Flexhead which helps it accommodate the contours on the face.
Which Brand of Beard Trimmer is the Best?
Well, to be quite honest, we'd be pushing it if we say that there's one brand that is perfect compared with all the rest. However, those that appear in our review are among the best brands in the industry. They have stood the test of time and have continually provided the market with quality products. These brands include Philips Norelco, Wahl, Panasonic, and Remington.
Where to Buy Beard Trimmers?
These beard trimmers are available in many retailer shops around the world, including Target and Walmart. If you want to buy it online, consider buying through Amazon.
Where to Use a Beard Trimmer?
The perfect place to use the trimmer is over the bathroom sink or in the shower (if the trimmer has wet trimming capabilities). But you can use it anywhere provided you have a way of trapping the hairs.
When Should You Oil a Beard Trimmer?
To ensure that the blades don't wear out fast due to friction, it's essential that you oil them as often as you can. We recommend oiling the trimmer before every trimming session. A few drops are enough to grease the blades for smooth cutting.
When Should You Use a Beard Trimmer?
You can use the trimmer to get rid of stray hairs (especially if you have a long beard). However, you can also use the trimmer to shape the beard and also define the cheek and the neck lines.
What Beard Trimmer do Barbers Use?
Many professionals today gravitate towards the Wahl 9818. However, this piece can also be used at the comfort of your home and still yield a similar result if you are keen and patient enough. Make use of all the attachments available.
What Kind Of Oil is Best For a Trimmer?
The oil you use on the beard trimmer should be lightweight. It should also be able to withstand high temperatures. Usually, many beard trimmers are bought with oils that are formulated to grease the blades. However, other alternatives that would work excellently include olive and vegetable oil.
What's a Good Beard Trimmer With a Vacuum?
From our reviews above, the Remington beard trimmer sports a vacuum system which takes up 90% of the hair you trim. It reduces the mess and cleans up needed significantly.
What is the Best Laser-Guided Trimmer?
The Philips Norelco has the 9000 Series which is a laser-guided trimmer. This trimmer projects light on the precision line which makes it easier for you to achieve perfect edges.
What is the Best Trimmer With Guards?
Most beard trimmers have attachments and guards that make it ideal for getting the precision and styling detail you want. The professional Wahl 9818 is one great example of a trimmer with quality guards.
What is a Trimmer With a USB Charger?
The ability to charge a beard trimmer via USB is nifty. This is because you can charge it even while on the road. The USB charging option upgrades the convenience to that of a smartphone. Whatever device you can use to charge a smartphone you can use to charge the beard trimmer. The one USB chargeable trimmer we have reviewed is the Remington MB4700.
What Trimmer Has a Precision Trimmer?
Again, the Wahl 9818 excels and stands out above the rest. It features a precision trimmer which is ideal for edge work and detailing. You can use it to work on the mustache, sideburns and eyebrows. However, a couple of other beard trimmers also have precision trimmers.
What Beard Trimmer Has the Longest Setting?
Of all the beard trimmers on the market, the Brio Manscape has a long trimming setting. The setting extends up to 18mm.
What is the Best Corded Trimmer?
Most trimmers today have both corded and cordless features. Between the two, it's impossible to beat cordless trimmers in regards to convenience. However, you always have to know how much juice you have left. In this case, Brio Manscape is by far the best corded and cordless beard trimmer.
What's the Best Trimmer With an Adjustable Head?
With a total of 23 pieces in the kit, the 7750 Philips Norelco series makes it easy to adjust the trimmer to get the trimming length you want.
What's the Best Trimmer to Trim Pubic Hair?
Most of the trimmers we've reviewed above are ideal for trimming private parts. However, we have to point out the 1100 Series for Philips Norelco. It's one of the best for manscaping. It has integrated guards to protect the body.
What is the Best Trimmer for Longer Beards?
Brio Beardscape features control settings that allow users to adjust the blade height. This addition makes it ideal for trimming long beards. The ceramic blades generate minimal heat and friction.
What is the Best Beard Trimmer for Sensitive Skin?
Many of the trimmers listed above are ideal for use on sensitive skin. However, the Brio BeardScape is perfect overall. The ceramic blades offer a close shave without causing irritations.
Which Wahl Beard Trimmer is the Best?
Overall, all the Wahl beard trimmers are great. As such, it is difficult to pick out a single trimmer as the best. However, from the list, the Wahl 9818 coms with lots of great features including attachments, self-sharpening steel blades and 12 combs.
What is the Best Beard Trimmer for Thick Beards?
Thick beards often prove to be a challenge to trim. Usually, because they require strong and sharp blades to prevent skin irritations, very few trimmers can handle thick beards. But where most fail, the Philips Norelco 5100 trimmer excels courtesy of the lift and trim technology and sharp blades.
What is the Best Beard Trimmer and Shaver Combo?
The Philips Norelco 7000 series trimmer has 23 separate pieces which allow you to trim as well as shave from your head to your toes. It is an excellent tool for manscaping.
Beard Trimmer or Razor?
These two can both survive in the market because they were designed for different purposes. Trimmers are designed to trim facial hair and maintain it in desired lengths and styles. On the other hand, razors cut hair down to the skin. They are more perfect for clean shaves.
Beard Trimmer or Scissors?
Over the years, trimmers have replaced scissors. Very few people use scissors to trim beards. Trimmers are more accurate and have less risk involved. The results of trimmers are almost certain. With scissors, it's more of trial and error and requires great finesses that only a few old people have.
Beard Trimmer or Hair Trimmer?
The difference between hair trimmers and beard trimmers is how they are used. Since beard trimmers have a thin blade and cut closer to the skin. However, they are not perfect for cutting or defining head hair. Hair trimmers, on the other hand, are perfect for shaping long and thick hair.
Should I Use a Trimmer to Shave With or Against the Grain?
When you cut hair against the grain, it means more hair will be cut than you would if you cut along the grain. However, long hairs should always be cut along the direction of the grain. On the other hand, short hair can be cut in either direction you prefer.
Can I Use a Beard Trimmer in the Shower?
Yes it can. However, the trimmer should be waterproof. Many of the reviewed trimmers have wet and dry capabilities. This also means you can clean the trimmer with water.
How Do Beard Trimmers Differ From Clippers, Shavers and Other Trimmers?
Any man who is serious with his beard grooming routine has a bunch of tools in his beard grooming kit. These tools include hair clippers, electric razors, and stubble trimmers.
Best Straight Razor Kits For Beginners & Pro Shavers
Now, what is the difference between all these tools? Can't one tool be used to meet al trimming needs? Unfortunately no. This is because each of the tools has been designed for a specific purpose.
Shavers vs. Trimmer
Beard trimmers are designed to trim beards and maintain the desired length. Unlike electric razors they aren't designed to cut hair down to the skin. If anything, they should never touch the skin. To achieve a clean look, an electric shaver is your best bet. But for a trim, a beard trimmer is best. They both are available in dry and wet use variants.
Stubble Trimmer and Beard Trimmer
Now, here things start to get tricky and the variations foggy. But generally, you cannot use the two interchangeably. Stubble trimmers are designed to trim short hair. They can be used to achieve a 5 o'clock shadow. On the other hand, a beard trimmer cannot trim so low (though some do an excellent job in providing a basic stubble look).
Hair Clipper vs. Beard Trimmer
Hair clippers are used to cut long hair. They usually have attachments that allow them to cut long hair at varying lengths. They can also cut through large chunks of hair with ease. Like trimmers, they don't irritate the skin. Beard trimmers, on the other hand, are not ideal for long hair. And though they aren't perfect for short hair, they can get the job done.
Reasons why we Picked the Above Trimmers
We have a couple of reasons why we listed the above trimmers as our best this year. We considered a couple of factors including ease of use, versatility, attachments, durability, and whether it is used for dry or wet shaving.
Best Shaving Kits for Men (Reviews & Buying Guide)
We also made a point of reading through customer reviews and their personal experience. But the most important factor was if the trimmer did what it claimed it could do. Last but not least, we considered the price.
Conclusion
Beard trimmers are important tools to have for beard maintenance. They will help you to have your beard looking its best without having to fuss over it too much. And since many of them have multiple functions and settings, they can work for other body parts as well.
| # | Preview | Product | Rating | Price | |
| --- | --- | --- | --- | --- | --- |
| 1 | | Philips Norelco Multigroom Series 7000 23 Piece Mens Grooming Kit, Trimmer for Beard, Head, Body,... | 33,806 Reviews | $54.97 | Buy on Amazon |
| 2 | | Philips Norelco MG3750 Multigroom All-In-One Series 3000, 13 attachment trimmer | 57,117 Reviews | $19.95 | Buy on Amazon |
| 3 | | Remington MB4700 Smart Beard Trimmer with Memory Settings and Digital Touch Screen, Rechargeable for... | 2,130 Reviews | $66.26 | Buy on Amazon |
| 4 | | Panasonic Cordless Men's Beard Trimmer With Precision Dial, Adjustable 19 Length Setting,... | 7,859 Reviews | $49.99 | Buy on Amazon |
| 5 | | WAHL 5622 Groomsman Rechargeable Beard, Mustache, Hair & Nose Hair Trimmer for Detailing & Grooming,... | 44,303 Reviews | $22.99 | Buy on Amazon |
Last update on 2021-05-17 / Affiliate links / Images from Amazon Product Advertising API