15 Best Electric Head Shavers for Men (2023 Buyers Guide)
We may earn a commission for purchases using our links. Learn more
Today we take a deeper look at the best head shaver for men.
Though the thought of a clean-shaven head in your teens or early twenties is scary, with less hair on your head, shaving your head starts to get alluring as you clock mid-thirties and forties. Not only do you look good, but you've found yourself and are comfortable in your skin.
But like with any project, you need the right tools for the best outcome. In this case, a quality bald head shaver such as one of our top 3 head shaver picks is a tool to wield if you want to shave your head.
But not any electric shaver is ideal for head shaving. Sure, you can pick the first electric razor you come across in the stores, but chances are you will not get the best results. As such, to commit to a life of sexy baldness means to commit to finding the best head shaver you can get.
Top 3 Head Shavers at a Glance
Best Head Shaver Overall
Best Foil Shaver
Best Value
Best Head Shaver Overall
Best Foil Shaver
Best Value
Last update on 2023-01-29 / Affiliate links / Images from Amazon Product Advertising API
As mentioned above, the process of finding the right head shaver to shave your head is not a walk in the park. But on the other hand, we've done the heavy lifting and prepared a list and buying guide to use when finding top-rated bald head shavers so you can pick one that is best for you.
So without much ado, let's get cracking.
Choosing a Suitable Electric Head Shaver for a Bald Head Look
With grooming products, your decision should be driven by your needs and how the product in question can help you achieve your goals. In that regard, the idea of the best head shaver for men is slightly misguided. Instead, you should pick an electric head shaver that suits you best and that comes with the least cons possible.
We found this to be true when reviewing electric head shavers. Some head shavers work great for some people, but that doesn't mean that they will be perfect for you. To help you decide when you want to buy head a shaver, we've put electric head shaves into two groups:
1. Electric Shavers for the Head and Face
Rotary (such as the Philips Norelco series) and foil electric shavers (such as the BaBylissPRO and Braun Series 9) fall under this category. A foil or rotary shaver are considered normal electric razors for facial hair. But be it as it may, most of them (if not all) can double as head shavers, provided you are working on short hair.
The benefit of using an electric shaver is that it cut hair fairly close to the skin. Moreover, since they are designed to deal with coarse facial hair, they have no problem dealing with thin and soft head hair. Thus, achieving a sexy bald look is easy with any of these shavers in hand.
The idea is to use these electric razors often, say, after two or three days. If you let the hair grow too long, then an electric razor will start to pull and snag the hair. The process will be painful and the result patchy. The ideal hair length should be < 2mm for a great shaving experience and good results.
Some electric razors come with additional attachments that make it possible to handle slightly longer hair. However, these pre-trim attachments aren't available for all accessories.
The other advantage is that you can use the shavers on your facial hair. This means you don't need to get a separate unit for your head and face. But you should proceed with caution.
Why?
Well, most of them aren't designed for head shaving (though they can be used for such). Human heads are large and spherical. They also have more contours than the face, which is mostly flat around the neck and cheeks. While you may achieve a close shave, you'll need a few more passes when working on your head.
Moreover, you can't see your progress when shaving your head. You'll have to assume awkward positions to feel your head and get a nice shave.
To solve this problem, a couple of high-end rotary razors come with three flexible heads. The heads' flex' independently to adapt to the contours. A couple of foil shavers have a similar feature, as you'll see in the review section.
But even while this problem is solved, there's also the issue of handling. Holding the electric shaver with the conventional grip design makes handling the shaver difficult, especially when working at the back of your head.
Remember, they are primarily designed to use on the face. Nevertheless, with some practice, you'll find a way around this. However, be prepared to spend a little more time head shaving.
2. Dedicated Head Trimmers and Head Shavers
From our explanation above, a suitable electric head shaver will achieve a nice shave and adapt to the contours of your head. At the same time, it should have a design that makes it easier to handle and reach the back of your head. Luckily, in the past couple of years, shaving enthusiasts, brands and companies have come up with electric head shavers that make this possible.
Many head shavers are rotary shavers with three, four, or even five shaving heads. But unlike traditional face shavers, the way a dedicated head shaver is designed makes them easy to hold in hand. You can shave your head and at the same time feel the progress you are making with the palm of your hand.
The Skull Shaver Pitbull series is the perfect example of the 'new age' (AKS palm held head shaver) ergonomic electric head shaver designs.
Such head shavers achieve close shaves when used for their intended purpose.
Note: though a bald head shaver achieves a nice head-shaving result, they don't get as close as manual razors do. But they are more than good enough.
You can use these head shavers on your face too. But bear in mind that they'll not be as great as electric razors from Panasonic, Braun, or Philips.
Alternatively, you can opt for shearing blades (usually referred to as balding clippers, they are like normal hair clippers, but can cut much closer to your skin) instead of foil and rotary cutters. The body design of shearing blades makes them ideal for dedicated head shaving. They are also great as they can handle long hair.
But on the flip side, they don't get as close as rotary and foil shavers do. But this is expected from clippers. Depending on your shaving goals, balding clippers can be suitable alternatives. If you want a uniform short buzz design, balding clippers are ideal.
Like rotary and foil shavers, some head clippers feature foil attachments that allow them to get even closer shaves.
Now that you have a firm understanding of the features and qualities your electric shaver must have let's proceed to review some great choices.
Best Head Shaver for Men (Summary)
Last update on 2023-01-29 / Affiliate links / Images from Amazon Product Advertising API
1. Skull Shaver Pitbull Platinum Pro – Best Skull Shaver & Best Head Shaver Overall
Type: Rotary | Wet shaving | Cordless | Battery run time: 90 minutes

Skull Shaver reinvented this head shaver design with the use of excellent materials to provide exceptional comfort when shaving. Skull Shaver Pitbull Platinum Pro comes with a proprietary ergonomic handle that provides a great grip and fits perfectly in hand with the palm facing the head.
Owing to its remastered electric head shavers design introduced in the Pitbull series, this head shaver easily gets all the tough spots and produces great results when shaving your head.
Professional Performance
The Pitbull head shaver is made from high-quality materials with high-end equipment and exemplary production facilities. The head shaver comes with a new Pro blade design that promises great performance and longevity.
Shaving in the Shower
The Pitbull shaver is an electric head shaver that has IPX5 technology, which means it's water-resistant. This allows you to shave while in the shower and rinse it with water. However, if you wish to shave dry, it's an option you can explore (even without using shaving cream or shaving foam) and still get an irritation-free shave.
Travel Friendly
Several features make this head shaver travel friendly. First, the fact that it can wet and dry shave makes it convenient to use it anywhere and anytime. Second, the blades are designed to capture hair cuttings within the shaving chamber. So you can shave in the car or the office and not leave a mess on your shirt and skin.
Rechargeable Battery
The electric head shaver comes with a rechargeable Lithium-Ion battery that allows for a fast charge and cordless use of up to 90 minutes. With such use time, it means you can carry it with you on trips. Also, the shaver has an in-plug shave mode, which is perfect when you forget to recharge it. But this is rare since with the LED battery indicator; you'll always know how much juice you have left and can plan accordingly.
We Like
Less irritation courtesy of spring-loaded blades
Impeccable contouring
Shaves fast
It has a travel lock
90 min battery runtime
Keep This in Mind
It's expensive
It doesn't come with instructions. That being said, it is easy to put to good use.
It's difficult to find fault with this shaver. It has everything you'd want in a head shaver, including performance, speed, ease of use, ease to clean, and a great design. If you want a head shaver whose performance is backed with the latest technology, then this Pitbull Platinum Pro from Skull Shaver might be one of the best head shavers for you.
2. BaBylissPRO Barberology Cordless Metal Double Foil Shaver (BaByliss Foil FX2) – Best Foil Shaver for Head Shaving
Type: Foil | Dry shaving | Cordless | Battery run time: 180 minutes

The BaByliss Foil FX2 is one of the best finishing tools for professionals or regular men looking for the best shaving experience.
Although BaByliss isn't the most popular men's grooming brand, they've done a good job branding their products, especially towards professional barbers, as is evident in their clippers, shavers, and trimmers. These all have a premium glossy style, which helps grow their brand fast. Some men will love the bling, and some won't.
But what they all agree on is the quality of BaByliss products as depicted on the BaByliss Foil FX2.
Like their line of hair clippers, the BaBylissPro Foil FX2 comes in six colors: silver, gold, gunmetal, rose gold, and white. So if you go for one that is a bit more discreet like maybe the gunmetal version, makes this is probably the best electric shaver for an elderly man. Aside from this, below is what this head foil shaver has to offer:
Construction
Only a handful of electric razors feature a metal casing. Even the premium Braun Series 9 as well as the new BaByliss FX3 features a plastic casing. BaByliss made this foil shaver with a stainless-steel frame which is stronger and hardier than most shavers. Right off the bat, you get this feeling that this is a solid quality product. With the steel casing, professionals are guaranteed reliability and durability.
Double Cutting Elements
BaByliss went with the double foil cutters on the shaver to help reduce shaving time while still delivering quality shaves. Compared to single foil shavers, the FX2 provides 2X faster shaving performance. Even better, the foils have a 120-degree up and down motion for maximum versatility and precision.
The gold-colored nickel-titanium foils are hypoallergenic, which helps to deliver irritation-free and skin-friendly shaving results. Compared to regular steel foils, these foils tend to last a little longer.
Rotary Motor
The rotary motor on this shaver is powerful enough to handle heavy-duty shaving. As a result, the shaver can help deliver smooth head shaves, faces, and outlining regardless of how thick or coarse your hair is. On the flip side, it's a little noisy (noisier than the Andis ProFoil Shaver) because it runs on a more powerful motor. However, the noise isn't unbearable.
Powerful Battery
The BaBylissPro Foil FX2 runs on a NiMH rechargeable battery which offers 3 hours of cordless use when fully charged. This is quite impressive since most premium foil shavers available offer only 1 hour of cordless use.
On the flip side, the battery takes about 3 hours to recharge, which is a little too long for most men. If you prefer to use it with a cord, you'll love that it comes with a 3m long cord that allows you to maneuver in the bathroom or barbershop.
Auto-Shutoff Feature
For a good shaving experience, BaByliss added auto sensor technology on the FX2, which allows it to turn off automatically after a minute of idle running.
We Like
Easy cleaning courtesy of removable shaver head
Ideal for sensitive skin
Dual voltage (120v/220v)
Powerful motor
Corded and cordless use
It runs for 3 hours
Keep This in Mind
Slightly expensive
A bit noisy
Even though this is not a model that is marked as the best electric shaver for head shaving, I think it is a very worthy candidate. Although it's not the most popular brand outside the professional Barber community, the BaByliss foil shaver has thousands of positive reviews in major online stores. This is attributed to its reliability, beauty, power, ease of use and cleaning, and the fact that it's good for the head, neck, and face shaving. In my opinion, this is the best foil haver for head shaving.
3. Skull Shaver Pitbull Gold Pro – Best Value
Type: Rotary | Wet shaving | Cordless | Battery run time: 90 minutes

Having a bald head is nothing to be ashamed of in the 21st century. If anything, women find bald men more attractive. If this is a look you'd love, or it's your signature look, you need a head shaver that'll help you achieve the best results, and that will have you enjoy the process.
One of the best tools for shaving your head is the Skull Shaver Pitbull Gold Pro. Below are its features and reasons why we recommend it.
First and foremost, it's a rotary shaver, and its heads flex independently while maintaining close contact with the scalp. The main shaver head sports four cutting heads, while the bonus head comes with three heads.
Since the cutting blades are located behind a comb, they are comfortable and cut close to the skin but not as close as a straight razor can.
Now, handling a shaver with four cutting heads can be a problem. So Skull Shaver came up with a unique, comfortable, and convenient handling design.
Between the battery compartment and the head is a neck (a special handle) that allows you to hold the shaver between your fingers with your palm caressing your head. This way, you can feel for areas that need another pass as you make circular shaving motions.
We should also mention that the Skull Shaver Pitbull Gold Pro features new Japanese steel blades. These blades last longer and cut hair with great efficiency. With their high performance, you should experience fewer razor burns and less irritation, even if your scalp is sensitive.
Like with other head shavers, the Skull Shaver Pitbull Gold Pro works best on short hair. You can use it every two days, depending on how fast hair grows.
We loved that the shaver is waterproof (IPX5 technology). This means you can use it while in the shower and even rinse it afterward. For thorough cleaning, you'll have to open the head unit.
Alternatively, you can shave dry shave or use shaving cream for extra comfort.
Note: the blades are self-cleaning since they push out hair as they rotate.
A Li-Ion rechargeable battery powers this beast of a head shaver. The battery provides 90 minutes of service (a performance that's above what other head shavers offer). Even better, it sports a numerical LED that shows how much battery power is left. And even if the battery runs out on you, you can still shave dry when it's plugged in.
We Like
Water-resistant
The shaving heads accommodate the contours of the head
Sports 4 comb guides to achieving varied shaving styles
90 min runtime on the battery
Keep This in Mind
Replacement blades are expensive
The design is well thought out and functional. In addition, the fact that the Pitbull Gold is easy to handle, clean and maintains, achieves a tight shave, and is water-resistant makes it a great head shaver to have in your bathroom.
4. Remington HC4250 Shortcut Pro – Best Cordless Electric Head Clipper
Type: Clipper | Wet shaving | Cordless | Battery run time: 40 minutes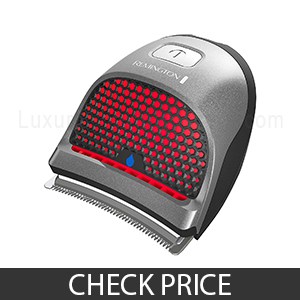 Features say a lot about a product, and boy does the Remington HC4250 Shortcut Pro balding clippers come packed. Below are some of what it has to offer when you set out shaving your head with this hair clipper.
Compact and Ergonomic Design and Shape
The Remington HC4250 has a unique shape and design. Its compact design measures 3.2-inches x 2.9-inches x 2.1-inches. With such a small form factor, it comfortably fits into your hands.
And given that it's cordless, you can move it around your head to reach all the hard-to-shave spots (like the neck and the back of your head and ears) without a struggle.
Moreover, it's fast, making it ideal for men to look for a quick touch-up before leaving the house.
Curved and Extra-Wide Blades
The blades are made from stainless steel. They measure 2.9 inches wide, meaning they cut 57% wider than most hair clippers. This means that you get a little more hair with every pass, thereby saving energy and time.
Another cool thing about Remington HC4250 is that the blades are curved. With this design, they cut hair as they follow your head's shape. The result is an even and close cut.
Last but not least, since it's made from stainless steel and is sharp, you'll not experience any pulling or snags with this trimmer.
Waterproof
Its waterproof feature means that you can wash it without damaging it. Coupled with the detachable blades, cleaning and maintaining this trimmer is a breeze.
14-Piece Kit
As if the special stainless steel blades, the ergonomic design, and waterproof and non-slip grip aren't enough, Remington had to throw in extras in the hair trimmer kit. You'll get nine guide combs, oil, a travel pouch, and a cleaning brush. With all these extras included, it is a good candidate in the adjustable head shaver category.
While it has a lot going on for it, including speed, comfort, and a waterproof feature, we felt the rotary motor wasn't the best. Also, the battery takes a little too long (4 hours) to charge fully for 40 minutes of use.
We Like
Easy to wash
Flexible
Nice and simple grip
Easy to clean and use
Noise-free
Keep This in Mind
Limited comb sizes
Weak battery
If you need to keep your hair short and well-groomed, the Remington HC4250 Shortcut Pro is the clipper for you. It has a compact design, shape, and speed tailored for self-cutters. However, bear in mind that the rotary motor and battery aren't the best.
5. Braun Series 9 (9370cc) – Best Face & Head Shaver (All Skin Types)
Type: Foil | Wet shaving | Cordless | Battery run time: 50 minutes

Let's get right down to business. The Braun Series 9 is an ideal foil shaver for men looking for the best possible shaving experience. This doesn't only apply to head shavers, but if you are searching for the best electric shavers for black men, usually one of the Braun Series 9 will be featured. Below is a quick review and what the Braun 9370cc has to offer.
A 32-Bit Processor
Braun makes a point of using 32-bit processors in the new generation Series 8 and Series 9 shavers. In the older Series 9, 8-bit processors are used. The upgrade to the 32-bit processors affords the new series more power.
The new processor handles more data resulting in higher efficiency than its older brothers.
A Powerful Synchronized Motor
Within the Braun, 9370cc is a powerful synchronized motor. The motor allows the blades to vibrate at 10,000 sonic vibrations, which creates 40,000 cross-cutting actions in a minute.
Waterproof
The Braun Series 9 – 9370cc shaver is labeled wet/dry. This means it is waterproof and can handle both dry and wet shaving. You can rinse the shaver with water or wash it by hand after use. The wet/dry feature also allows you to use it while in the shower.
Like manual razors, you can use shaving gels, foams, and shaving creams with the Braun 9370cc with ease.
Comfortable & Close Shave
If you love manual razors pared with shaving cream for the close shave they afford you, then you'll love the Braun 9370cc shaver. The shaver achieves this result even when you have ingrown hairs. We've proven its efficiency on three-day-old stubbles. You don't need to use a manual razor to clean up after the Braun shaver.
Aside from an impeccable shave, this shaver also cares for your skin's comfort. We should add that it's ideal for all skin types, not only for shaving your head. The flexible blades are responsible for the comfortable and tight shave it achieves.
Cleaning and Charging
The Braun Series 9 shavers' beauty is that they are easy to clean and convenient to charge.
This shaver, in particular, comes with a 5-action clean and charging station. The station hygienically charges, cleans, lubricates, and dries the shaver. You can select cleaning and dry programs by clicking the dedicated button.
Moreover, the shaver features a quick charge option. You can plug it in and, in five minutes, have enough juice for a shaving session.
If you are in a rush, you can opt to clean the charge station manually. Pop the fuel cap and clean the head using the cleaning brush provided. You should also shake the fuel cap to keep the blades clean.
And since it is waterproof, you can rinse and clean the shaver with water.
Power Source
The Braun 9370cc runs on a rechargeable Li-Ion battery that offers 50 minutes of cordless use. It takes an hour to recharge fully. But in situations where you are running out of juice and are in a rush, you can quick charge.
With that said, you'll always know when you are running out of juice. The LED battery life display on the handle showcases the charge runtime when the shaver needs cleaning and a travel lock. The travel lock is added to prevent the shaver from accidentally turning on while in your bag.
SyncroSonic Technology
As previously mentioned, the Braun shaver comes with a powerful motor—the motor powers four powerful cutting elements. Braun threw in intelligent SyncroSonic technology for added efficiency where the four elements work in synergy to deliver 40,000 cross-cutting actions every minute.
This technology also allows the device to capture different hair types, making it ideal for thick hair and sensitive skin.
Quadruple Cutting System
Braun 9370cc has five cutting elements including:
2 Optifoils – specialized in cutting hairs closest to the skin. They have hexagonal holes, which allows them to capture more hair in comparison to rounded holes.
Direct and cut trimmer – designed to capture and line hairs growing in different directions. It trims and directs hairs to Optifoils.
HyperLift and cut trimmer – this captures and cuts longer flat-lying hairs
Skin guard – it's laid between the first OptoFoil and the Direct and cut hummer
Pivoting Head
Braun's 9370cc shaving head flexes in 10 directions. It can move forward, backward, left, right, up, and down to achieve a great shave. This technology helps to reduce a lot of wrist movement, consequently making shaving sessions shorter.
We Like
100% waterproof
Noiseless
Powerful battery
Comfortable
High-tech LED display
Keep This in Mind
It's expensive – but with the technology used, this is expected.
If you are in search of the best electric razor for mens face that also doubles for exemplary head shaving, then this is the ideal tool. Braun always achieves high electric shaver ratings, and this one is not an exception. It feels great to hold, is built to last, and has a lot of bells and whistles you'll love.
6. Skull Shaver Palm 3 – Best Budget Electric Head Shaver
Type: Rotary | Wet shaving | Cordless | Battery run time: 60 minutes

This is another product from Skull Shaver. It's a smaller version of the Pitbull Series electric head shavers. It has three pivoting cutters hence the name Skull Shaver Palm 3.
Despite having lesser cutters, its precision and performance match that of its brothers in the Pitbull Shaver series. However, it costs significantly less. Below are the features it sports and why it made it to our list.
First, it has an ultra-precision blade – CR-3 blade. This blade has three large pivoting and flexing heads that ensure the shaver has close contact with your skin during the shave. Each of the rotary blades works independently to achieve a precise shave on your face and head.
A powerful Li-Ion rechargeable battery that offers 60 minutes of cordless serve when fully charged (similar to Skull Shaver Pitbull Silver) powers these blades.
With such a lengthy service, you are at liberty to use the shaver anywhere you please. However, if it runs out of juice, you can always use it while plugged in. This option comes in handy when you are on the road for prolonged periods or forgot to recharge it before your shaving session.
Speaking of shaving, the Skull Shaver Palm 3 comes with IPX5 technology and is water-resistant. This means you can use it while in the shower and can also clean and rinse it with water. However, if you choose to use it while plugged in, we don't recommend using it in the shower!
To make cleaning an easier and more thorough process, Skull Shaver included a built-in vacuum system that collects the hair inside the shaver. To remove the hair, you open the head, hold it under running water and watch the hair wash off.
The Skull Shaver Palm 3 comes with a nose & ear hair trimmer attachment which helps you get rid of unwanted hair in some delicate places without pinching, pulling, or causing you pain.
We Like
It comes with a nose/ear trimmer attachment
Affordable
Easy to handle
Water-resistant
If you are looking for a head shaving machine without breaking the bank, this one is a solid pick. Given its compact design, you can use this shaver both on your head and your face. The fact that it's easy to handle, clean, and achieves great shave results earns it lots of points with home users.
7. Remington Balder Pro Head Shaver – Good for Maintaining the Bald Look without Breaking the Bank
Type: Rotary | Wet shaving | Cordless | Battery run time: 50 minutes

This is yet another shaver from Remington guaranteed to give you a great shaving experience. But don't take our word for it; on several sites in the Uk, the Remington Balder Pro has been awarded the best budget shaver UK award. Below is what the Remington Balder Pro Head Shaver has to offer.
Features
At the top of the list of features are 5-dual track shaving heads that the company claims will deliver a close head shave in under two minutes. The shaving heads deliver 66 percent closer and faster shave than most cutting heads.
While not in use, the shaving heads are in a convex shape, but when the center shaving head is pressed down, they form a concave shape which better contours the skull's shape for a closer shave.
The shaver flexes and pivots with your shaving movements, delivering a smooth experience. However, the movements aren't as smooth compared to other head shavers. But on the bright side, the hair shaved collects inside the device, making the post-shave clean-up process easier and faster.
Remington added a pop-up trimmer located on the back of the head shaver to shave some hard-to-reach spots or your sideburns. It's nothing fancy, but it comes in convenient during shaves.
Remington Balder Pro Head Shaver doesn't sport an LED-Lit LCD screen, but it features a battery and charging lights that alert you when the battery is charging or dying. The Lithium battery the shaver comes with affords you up to 50 minutes of cordless shaving time and recharges in four hours.
Remington advises against using this shaver on hair older than 4 days or 0.2mm long. Start with a trimmer before using the shaver if you have long hair. Failure to do this, you'll notice the blades pause during operation, a sign they are struggling to cut through hair.
Also, Remington claims this head shaver delivers a close shave in two minutes. Well, most shavers couldn't get a consistently clean shave in that time. Instead, some used up even five minutes (this isn't bad either). With a 100% charge, you can get about 10 shaves.
Finally, the shaver is Wetech 100 percent waterproof, so you can shave in the shower, with or without shaving creams or gels.
We Like
Great grip
Closer shave
Cordless use
Waterproof design
Easy post-shave clean-up
More affordable than most competitors
Keep This in Mind
Might give some ingrown hairs
It can be a little rough on the skin
If you are looking for the best head shaver and want a quality head shaver that won't burn a hole in your wallet, the Remington Balder Pro Head Shaver is a great option. It contours perfectly to the skull is waterproof, has a great grip, and has a pop-up trimmer.
8. Wahl Professional 8061-100 5 Star Series Shaver Shaper – Best Electric Head Shaver for Sensitive Skin
Type: Foil | Dry shaving | Cordless | Battery run time: 60 minutes

Most times, it feels like we have to choose between old-school gadgets and new technology. But what if we didn't have to choose? What if you could have the best of both worlds in one product? Well, in this Wahl Professional 8061-100 5-Star series shaper you can.
This electric shaver features a rectangular design that pays homage to the 1950s. Moreover, it has a huge on/off button that stands out and a wide shaving foil.
But is the old-school design the only thing it has to offer? No. To improve on performance and the shaving experience, the electric shaver sports the following features;
It is lightweight which makes it easier to handle
Highly versatile. Though it is great for shaving your head bald, it also comes in handy for shaving the beard, neck, and face.
It's well priced
You can opt to use it with or without the cord
The hypoallergenic shaving foil makes it gentle on sensitive skin. However, it can be used on any skin type.
You can achieve a good shave result without applying a lot of pressure
The foil-style head makes trimming your beard and sideburns a walk in the park
Being a foil shaver, it works well on all hair types from fine to coarse hair. However, it's not suitable for trimming long hair.
Keep This in Mind
It's not fancy. If you are into fancy-looking electric head shavers or shaving kits, you should look elsewhere. However, this shaver is functional and covers the basics.
This old school cum new school electric shaver is ideal for sensitive skin. But even then, you can use it for other skin types as well. Its features make it versatile enough to use on your facial hair too.
9. Philips Norelco Shaver 3800, S3311/85 – Great Budget Choice for Dry & Wet Shaving
Type: Rotary | Wet shaving | Cordless | Battery run time: 60 minutes

Philips is a brand very few companies can rival with. It sets the trends in the industry and appeals to many men and women around the world. With its popularity, they seem to have unlocked an industry secret others haven't yet.
But regardless of what that is, we can attest to the fact that their shavers get the job done.
For instance, the Philips Norelco Shaver 3800, S3311/85 is designed as a dual-purpose shaver. As such, it can work on your face and head. Regardless of how you choose to use it, the shaver is gentle and thus ideal for those with sensitive skin. But how does a shaver with multiple rotary blades achieve this?
Well, Philips Norelco included a dual precision shaving system that ensures a smooth shave on the skin each time you use it. Also, dual precision technology is effective when trimming long hair and stubbles. On the other hand, it sports a flex, pivot, and a floating head that allows it to hug the contours on your face and head.
Because of this, it remains in contact with the skin and achieves a close and even shave.
If you are worried about friction, don't be. The heads are designed to generate low friction. They are also rounded to ensure their sharp blades don't nick the skin – you'd have to be trying hard for that to happen.
And since you wet or dry shave depending on your mood and how much time you have to spare, you'll be pleased to note that this shaver accommodates this choice courtesy of the AquaTec seal. When wet shaving, you can use it with shaving foam or gel you please.
A bald head always goes well with trimmed facial hair. Philips knows this and as such offers a pop-up trimmer along with the Philips Norelco electric shaver. You can use it to trim the detailing around the sideburns and the mustache.
A Lithium-ion battery and providers power this Philips Norelco shaver 1 hour of shave time. When the battery is running low, an LED indicator will alert you. The same indicator will tell you when it's fully charged.
We Like
It's easy to get a clean and tight shave
The rotary heads follow the contours on your face and head for an even cut
Can be washed with water
Keep This in Mind
It doesn't come with a power cord
The blades could be sharper
There are numerous reasons why you should purchase the Philips Norelco Shaver 3800, S3311/85, including its quality and its power. At 60 minutes, the Philips Norelco is one of the longest-serving electric shavers on this list.
10. Pitbull Silver Shaver IPX5 – Easy to Use & Efficient
Type: Rotary | Wet shaving | Cordless | Battery run time: 60 minutes

Pitbulls can be scary – this much we know. But unlike the animal they are named after, this Skull Shaver Pitbull Silver Shaver is gentle on the skin while delivering a smooth and close shave.
It's also worth mentioning the fact that it is great for both dry and wet shaving.
The Pitbull shaver is one of the newest electric head shavers lines from Skull Shaver. Today, it's dedicated to producing quality and durable shaving products, but that wasn't always the case for the brand.
As a result of their commitment, the head shavers now have 20% more blade power, and their cutting range is improved by a whopping 10%.
So what does this Pitbull shaver have to offer that warrants it to be on this list? First, the shaver features five shaving heads. These heads are larger than what you'd typically find on other shaving heads. These shaving heads allow you to shave in any direction comfortably, side to side, up-down, or even in circles.
Moreover, the blades are protected to reduce the risk of accidental cuts and nicks. This means you can use it with no worry in the world because this Pitbull will not bite.
Although this Pitbull shaver can be used for wet shaving, you should not submerge it in water, but you can use it in the shower.
Speaking of shaving while in the shower and shaving your head, how does the shaver not slip out of your hand? Well, while it doesn't have a textured grip, it is ergonomic and fits perfectly in hand for a firm grip. You can grasp it in multiple ways and shave different parts of your head comfortably.
This shaver features a lithium-ion battery that will serve you for 1 hour while in cordless use. Like other head shavers, it features an LED indicator that alerts you when the battery power is running low.
While getting a clean shave is important, you also love being in a clean space. In this light, you'll love the vacuum system built into the shaver. It collects the hair in the shaver, and you can also rinse it with water. You should clean these blades regularly for durability.
We Like
Works fast
Good for wet and dry shaving
Ergonomic handle
Keep This in Mind
Not ideal for cutting a stubble or longer hair
Pitbull is a scary name for such a gentle tool. It achieves a close shave with no risk of cutting and nicking the skin. You can also use it while in the shower.
11. Wahl Professional 5 Star Balding Clipper – The Professional Head Clipper Choice
Type: Clipper | Dry shaving | Corded

This is yet another great balding clipper from Wahl. The Wahl Professional 5 Star Balding Clipper has a lot of praise from professional barbers. This is mainly because it has sharp blades that cut hair with high precision and therefore reduce the chances of ingrown hair irritations.
It's also worth noting that the electric balding clipper features titanium blades. And what's more, Wahl threw in a self-sharpening feature to ensure the blades remain sharp and achieve the same results every time.
Powering the sharp blades on Wahl's 5 Star Balding Clipper is a strong motor that runs twice as fast as regular pivot motors. The combination of a powerful motor and sharp blades means that hair pulling and snugging is not something you'll have to deal with.
But aside from the sharp blades, the Wahl Professional 5 Star Balding Clipper comes with attachment combs, a blade guard, oil, a brush for cleaning, and a manual on using the shaver for optimal results.
We Like
It has a fair price
It's self-sharpening
Has sharp and precise blades
No pulling or snagging
Keep This in Mind
It lacks a cordless feature
For a hair clipper/ hand held shaver that receives a lot of praise from professionals, a lot is expected from it. And boy does the Wahl Professional 5-Star Balding Clipper deliver. The only thing we wish for is it would be more portable and more convenient (having a
corded or cordless
option) for shaving your head and as a
hair trimmer
while on the road.
12. Andis ProFoil Shaver – Professional Electric Head Shaver
Type: Foil | Dry shaving | Cordless | Battery run time: 80 minutes

The Andis ProFoil Shaver is a foil shaver favorite among professional barbers because it cuts hair close to the skin. Though it's built for achieving beautiful fades and occasionally removing your stubble, the ProFoil shaver is a great option for homeowners as well.
This head shaver features a simple design and basic features. By basic we mean it doesn't have a fancy LED display, a flexing shaving head, a no travel lock, speed settings, a beard density sensor, or a pop-up trimmer.
But this isn't a bad thing because it achieves, professional and enviable shaves.
Below are some features that contribute to its high performance.
Two Independent Cutting Elements
The shaving system comprises two micro-coils arranged in a zigzag fashion. To ensure an irritation-free shave, the elements are made from hypoallergenic Gold titanium foil. A Lithium-ion battery and providers power this Norelco shaver 50 minutes of shave time.
A rotary motor that achieves 9000 strokes a minute powers the blades. With such power, it doesn't matter what type of hair you have; fine, wiry, curly, or straight. The shaver will work wonders.
Thin Foil
The foil on this electric shaver is incredibly thin compared to that in other foil shavers like Panasonic and Braun. As a result, they help in achieving a close shave.
Corded or Cordless
This electric shaver features a rechargeable Li-ion battery that powers the motor for 80 minutes. This is quite impressive, especially when compared to what other electric razors offer.
Moreover, this ProFoil shaver also works when plugged in. It sports a universal voltage converter that makes charging convenient for frequent travelers.
Look and Feel
Though it has a powerful battery, it's surprisingly light. It's made from plastic, and though it doesn't have rubber surfaces, it's easy to grip and handle, courtesy of its lightweight design. Also, despite being made from plastic, it doesn't feel hollow or flimsy.
We mentioned that it doesn't have a battery-level display, but this isn't a deal-breaker. After all, it offers 80 minutes of operation and the option of being plugged in to use.
We Like
It's lightweight
It has a long battery life – it lasts 80 minutes when fully charged
It achieves a close shave and is great for sensitive skin, courtesy of its thin hypoallergenic titanium foil head.
Keep This in Mind
Only ideal for dry shaving
The Andis ProFoil shaver is one of the best bump free electric shaver picks for close shaving among the electric shavers in the industry. Its performance resembles that of some Panasonic and Wahl Finale models. Though it's not the fanciest electric shaver on the list, you'll have a hard time landing a better electric shaver at a similar price point.
13. Remington XR1400 – Wet & Dry Everyday Use
Type: Foil | Wet shaving | Cordless | Battery run time: 45 minutes

This is one of the most versatile shavers in the industry. You can use it every day if you please and is ideal for changing your beard style, mustache, and some minor grooming hair touch-ups.
Aside from this, it is also perfect for head shaving courtesy of the PrecisionPlus rotary heads and the HyperFlex neck technology which accommodates the contours of your head for a closer and clean shave.
Unlike Wahl Professional, this shaver comes with cordless use. Its lithium-ion battery recharges in four hours and affords you 45 minutes of shaving time. During this time, you can choose to use it for dry or wet shaving.
Speaking of wet shaving, we should point out that the Remington XR1400 is waterproof, and has a rubberized and ergonomic grip. As such, you will always be in control of your shaving.
For an even better shaving experience, this shaver comes with extra attachments including a brush, a precision trimmer, and rotary blades. The brush bristles are infused with charcoal that aids in removing grime and oil build-up from the pores in seconds. The result is a clean shave with no irritations.
We Like
It has three attachments
A rubber grip for added control
A flexible neck to adapt to the contours
Keep This in Mind
The power button gets stuck from time to time
The battery stops holding the charge for long after a while
This electric shaver is everything you have always wanted. The flexibility ensures you don't cut yourself while getting a close shave.
14. Conair for Men Even Cut Dual Blade Clipper – Easy to Use Electric Head Clipper
Type: Clipper | Dry shaving | Cordless | Battery run time: 60 minutes

The first thing that'll catch your eye about this balding clipper is its design. Instead of the traditional rectangular shape, Conair decided to surprise the market with a spherical clipper design. And from the interest it has been attracting, it's safe to say that its design goal was a success.
But a cool, simple, and out-of-the-box design isn't the only thing that this dual blade hair clipper has to offer.
It features a dual blade technology that allows users to shave hair using backward and forward motions. This means that you'll spend less time readjusting and maneuvering the clipper in your hand – a luxury that head shavers that cut in one direction cannot afford you.
Also, courtesy of the dual blade technology, it's easier to achieve an even shave.
But what is a dual blade technology without high-quality blades to finish the job? Well, Conair features high-grade stainless steel blades, which allow for fast and smooth cutting. Moreover, the clipper comes with four comb guide attachments that help you achieve different short hairstyles, including buzz cuts, fades, and undercuts. An ear taper guide ensures that you achieve an even finish with ease.
A rechargeable Lithium-ion battery powers this hair clipper. The battery offers 60 minutes of services when fully charged for about 3 hours. But if you are in a rush, 30 minutes of charge can grant you 15 minutes of use.
With everything that this Conair balding clipper has going on, we must point out that its strength is convenience and not achieving a close shave. If this is what you are looking for in a self-haircut kit, then the Conair clipper is perfect for your needs.
We Like
It has a dual blade system which allows for multi-directional shaving
Aspherical design that makes handling easy
Sports 4 comb guides to achieving varied shaving styles
Keep This in Mind
It's not the most precise electric shaver on the list.
The Conair clipper is all about making your shaving experience easy and convenient. With the dual blade design, shaving your head in record time is within your grasp. Moreover, it's affordable and has a beautiful and unique design.
15. Braun Series 3 – Affordable Multi-Use
Type: Rotary | Wet shaving | Cordless | Battery run time: 45 minutes

The main feature of this electric shaver is the intuitive design, ease of use, and great performance. With these characteristics, the shaver helps you achieve a close shave without irritations and without having to repeat the process for an even shave.
The shaver blades are super sharp and are guarded with a SensoFoil guard. This guard ensures you are protected from nicks and cuts and on the other hand, makes it ideal for use on troublesome skin. You do not have to apply pressure on this shaver for a nice result. And even when you do, the blades retract for your safety.
The Braun shaver is battery-powered and takes about 60 minutes to charge to 100%. A full battery offers 45 minutes of shaving. But in case it's dead, and you need a quick touch-up, a five-minute recharge will provide you with enough juice for one shaving session.
The battery status is shown by the LED display this unit comes with. As for cleaning, you can rinse it under running water since it has waterproof features.
We Like
Fast battery charging
Waterproof
Thin precision head
Pressure-sensitive blades
Keep This in Mind
Heats up fast
After a while, the battery stops holding the charge for long
This is an affordable and no-frills electric shaver. It is everything you would expect from a popular brand like Braun and more. Its pressure-sensitive blades are a cool addition and allow for use on sensitive skin. It is not one of the best head shavers, but if you are on a budget, looking for a cheap head shaver, and need a combo shaver for your face and bald head shaver, the Braun series 3 is not a bad option.
Can You Shave Your Head with a Normal Electric Razor – Or Do I Have to Have the Best Bald Head Shaver?
Of course, you can shave your head with a "normal" electric razor or shaver. That being said, dedicated head shavers generally, and the best bald head shaver especially, make this chore much easier.
For a long time, manual razors were used, and then electric razors happened. Though they took some time to catch on, an electric razor now finally has the benefits of the following factors;
They reduce the chances of ingrown hairs and cuts
They achieve a closer shave faster
You do not need a wet shaving soap, gel, or cream – even though you can use them if you please
You can use it anywhere and not just in your bathroom
Many have cordless features which makes them ideal for shaving on-the-go
With that said, we admit that there's a learning curve to using an electric razor when you want to cut the hair on your head. But on the flip side, it's not rocket science. A couple of shaves and you will be shaving like a pro.
One of the best ways you can achieve great results from your electric razor is via circular motions on your scalp. This pattern helps the shaver adjust to the contours on your head and reduces the chances of nicks and cuts. It is also known to provide the cleanest shave.
Pro tip – always do your head shave after taking a hot shower because the hair is softer.
Tips for Using an Electric Shaver to Get a Nice Head Shave
You can get a close shave with balding clippers or traditional razors. However, these tools have a learning curve to get the best smooth and close head shave. Electric shavers are somewhat intuitive. As a newbie, you can get down to business with minimal instructions and get a decent close and smooth shave.
But if you are reading this and want an experience and results that are better than decent, you should follow the tips we've compiled below.
Step 1. Start with Short Hair
If you've been growing out your hair and would like to transition to a sexy bald look, you are in for a treat. But before you glide the electric shaver over your head, you should trim the hair. Unfortunately, most electric shavers are designed for use on stubbles. Only a few come with hair trimmer attachments to help trim longer hair.
In this case, you should use a hair clipper or scissors to trim your hair.
Step 2. Take a Hot Shower
After trimming down the hair length, it's time for a hot shower. Taking a hot shower or at least washing your head and face with a good face wash helps to soften head hair and make it easier to cut. This way, there are fewer chances of skin irritations.
If the shaver you have is waterproof or is labeled 'wet/dry' like the Braun Series 9, you can start shaving while in the shower. Otherwise, I recommend using the best electric pre shave lotion.
Step 3. Correct Motion
Depending on the electric shaver you have in hand (either rotary or foil), you'll use different shaving motions. With a foil shaver, you can follow a straight line. But with a rotary shaver, you'll use circular motions. The circular motion mimics the movement of the heads on the rotary shaver.
Note: if you are unsure which type of electric shaver you have, skip to the next section for a quick rundown.
Step 4. Don't Apply Too Much Force
Any man who loves a bald look wants it to be the closest and the smoothest. However, in your effort to achieve this, you may be tempted to press down hard on the head shaver. You should fight this urge with everything you've got. Pressing down is counterproductive. You'll only irritate your skin and wear down the shaver heads fast. Also, the shave will not be any closer.
Step 5. Re-Shave Often
Electric shavers indeed make light the process of head shaving. It's also true that your hair will regrow faster than if you'd used a manual shave razor. As such, we recommend shaving every two-three days for optimal results and to remain the shaved head look or style you are most comfortable with.
Aside from maintaining a great look, regular shaving will make your shaving sessions shorter since you'll be cutting tiny hairs – which are a breeze to cut.
The Best Electric Shaver for Head Shaving vs. Traditional Razors for Head Shaving (Pros & Cons)
Most men still use traditional manual razors on their heads. A large percentage of these men don't realize it's possible to use an electric head shaver and get great results. If you are part of such men, here's a quick breakdown of the pros and cons of each.
Benefits of traditional razors to shave your head:
Hair takes slightly longer to regrow after you cut it with a manual razor. This leaves you with a cleaner and sexy look for longer.
A manual razor is usually cheaper
Traditional razors (except a Shavette blade, classic cutthroat straight razors, and the sharp safety razor blades) are compact and easy to travel with
A manual razor achieves a closer shave than most other shaving tools
How do traditional razors cause hair to grow slower? Well, hair doesn't grow 'slower'; instead, good-quality razors cut closer to the skin, making it feel like hair takes longer to grow back compared to electric shavers. The traditional razor such as a safety razor will lift the hair and cut it in one move closer to the hair follicle base.
Regarding costs, traditional razors are initially cheaper. But when you factor in the recurring blade costs if you go for a cartridge or disposable razor, they might be more costly than the best electric head shavers.
And finally, some razors are especially suited or even created as head razors. You should also check out our best razor for the bald head article.
With that said, below are the benefits an electric head shaver to shave your head affords you;
Faster and shorter shaving sessions.
Ease of use
Minimal cuts, little to no skin irritation, and razor bumps
You don't have to use shaving cream, gels, and water
It doesn't create a mess
You can use it in different places – not only to shave your head
Wet shaving to shave your head (the process of using a traditional razor and a shaving brush) requires a good shaving cream and constantly rinsing the blade. It also involves falling hair all over the place, which means its use is limited to the shower or the sink. And after you are done shaving, you have to clean up.
With electric head shavers (both rotary and foil), the process is different. First, many of the best head shaver for bald guys are designed for wet/dry use. This means you can use it anywhere you, please. About the shaving mess, most shavers come with a vacuum feature that sucks the tiny hairs you cut into a dedicated chamber. This way, the mess is contained, and no clean-up is necessary after.
Note: however, you'll need to clean the electric shaver after use. The process involved removing the cap and rinsing it with water.
With all the above considered, most men prefer electric shavers to shave their heads. Their allure is their convenience and ease of use.
How We Choose the Best Shaver for a Bald Head on This List
The industry is packed with the so-called best shaver for bald heads. So we must admit it was not an easy process. And unfortunately, we did not have the luxury of testing every best bald head shaver in the market before this review.
Nonetheless, we did extensive research, not only looking at the highest rated electric shaver, but also price, warranty, and other factors, which gives us confidence that these are some of the best electric head shavers to shave your head available today.
During the best men's head shaver choosing process, we considered customer reviews and our personal experience.
Best Men's Head Shaver Conclusion
If you've gotten to this point, you now have a wealth of knowledge on electric head shavers. No longer is there a need for Googling 'head shaver near me'. You know the best electric head shaver to pick and have tips on how to use them to shave your head and achieve the best results.
But, remember, what works for your friend might not necessarily work for you. You have to consider your specific needs and goals (a completely shaved head or just a close cut) in picking the best head shaver that is best for YOU.
Armed with the best electric razor for head shaving, there's no stopping you now.
My name is Don and welcome to Luxury Shaving Razors! The idea behind the site was born in 2016 after trying to find a decent safety razor for my own personal use. I decided to document my journey.