7 Best Electric Head Shavers – Reviews & Buying Guide (2020)

We may earn a commission for purchases using our links. Learn more
Today we take a look at the best electric head shavers for men.
Though the thought of a lean shaven head in your teens or early twenties is scary, it starts to get alluring as you clock mid-thirties and forties. Not only do you look good, but you've found yourself and are comfortable in your skin. But like with any project, you need the right tools for the best outcome. In this case, a quality electric shaver is one of the tools to wield.
But not any electric shaver is ideal for grooming your bald head. Sure, you can pick the first electric shaver you come across in the stores, but chances are you will not get the best results. As such, to commit to a life of sexy baldness means to commit to finding the best electric shaver you can get.
Unfortunately, the process is not a walk in the park. But on the other hand, we've done the heavy lifting and prepared a list to choose from. The Remington HC4250 Shortcut Pro is one of the best in the list.
So without much ado, let's get cracking.
The Best Electric Head Shavers For Men 2021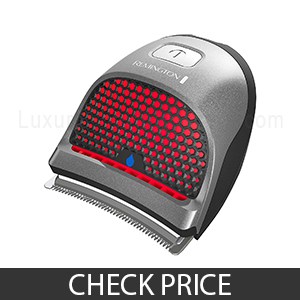 Many electric shaver reviews focus on the features of the electric shavers. Questions like:
How noisy is it?
How long does the battery last?
Does the shaver provider a close shave?
Is it ideal for sensitive skin?
Take the day. However, we also feel it's crucial to point out how the electric shaver feels in your hand and the skin. In this case, the Remington HC4250 excels.
The shaver fits perfectly in your hand. It's not clunky and difficult to handle.
It has a rubber grip which improves the grasp even when your hands are wet. With the improved grip, you have better control, and consequently, the chances of nicking yourself or falling the shaver are close to nil.
Now, back to the features. The HC4250 features an extra-wide and curved blade that contours the head and provides an even closer shave. Aside from this, it features;
A cleaning brush and oil
Different length combs for varied shaving results
Has a Li-ion rechargeable battery which offers 40 minutes of cordless use. The battery takes four hours to charge to 100%. This is not the best time we've come across, but it's not the worst either.
Aside from this, the shaver is washable, which means cleaning is a breeze, and it can be used in both cordless and corded mode.

We Like
Durable stainless steel blades
It contours the head for a close shave
It runs quietly
Keep This in Mind
The battery doesn't last as long as other electric shavers
The largest shaving comb is short
The fact that it sports stainless steel blades means it will serve you for longer. And though its battery and power performance isn't the best we've seen, for its price, it's great.
Most times, it feels like we have to choose between old school gadgets and new technology. But what if we didn't have to choose? What if you could have the best of both worlds in one product? Well, in this Wahl Professional 8061-100 5-Star series shaper you can.
This electric shaver features a rectangular design that pays homage to the 1950s. Moreover, it has a huge on/off button that stands out and a wide shaving blades.
But is the old-school design the only thing it has to offer? No. To improve on performance and the shaving experience, the electric shaver sports the following features;
It is lightweight which makes it easier to handle
Highly versatile. Though it is great for shaving your head bald, it also comes in handy for shaving the beard, neck and face.
It's well priced
You can opt to use it with or without the cord
The hypoallergenic shaving foil makes it gentle on sensitive skin. However, it can be used on any skin type.
You can achieve a close shave without applying a lot of pressure
The foil-style head makes trimming your beard and sideburns a walk in the park
It works well on all hair types from fine to coarse hair. However, it's not suitable for trimming long hair.
We Like
It is functional
It trims the beard and sideburns
Ideal for sensitive skin
Keep This in Mind
It's not fancy. If you are into fancy looing electric shavers or kits, you should look elsewhere. However, this shaver is functional and covers the basics.
This old school cum new school electric shaver is ideal for sensitive skin. But even then, you can use it for other skin types as well. Its features make it versatile enough to use it on your facial hair too.
Philips is a brand very few companies can rival with. It sets the trends in the industry and appeals to many men and women around the world. With its popularity, they seem to have unlocked an industry secret others haven't yet. But regardless of what that is, we can attest to the fact that their shavers get the job done.
For instance, the Philips Norelco AT830/41 is designed as a dual purpose shaver. As such, it can work on your face and head. Regardless of how you choose to use it, the shaver is gentle and thus ideal for those with sensitive skin. But how does a shaver with multiple blades achieve this?
Well, Philips included a dual precision shaving system that ensures a smooth shave on the skin each time you use it. Also, dual precision technology is effective when trimming long hair and stubbles. On the other hand, it sports a flex, pivot and a float head that allows it to hug the contours on your face and head. Because of this, it remains in contact with the skin and achieves a close and even shave.
If you are worried about friction, don't be. The heads are designed to generate low friction. They are also rounded to ensure they sharp blades don't nick the skin – you'd have to be trying really hard for that to happen.
And since you wet or dry shave depending on your mood and how much time you have to spare, you'll be pleased to note that this shaver accommodates this choice courtesy of the AquaTec seal. When wet shaving, you can use it with shaving foam or gel you please.
A bald head always goes well with trimmed facial hair. Philips knows this and as such offer a pop-up trimmer along with the electric shaver. You can use it to trim the detailing around the sideburns and the moustache.
This Norelco shaver is powered by a Lithium-ion battery and providers 50 minutes of shave time. When the battery is running low, an LED indicator will alert you. The same indicator will tell you when it's fully charged.

We Like
It's easy to use to get a clean and close shave
The rotary heads follow the contours on your face and head for an even cut
Can be washed with water
Keep This in Mind
It doesn't come with a power cord
The blades could be sharper
There are numerous reasons why you should purchase this unit, including its quality and its power. At 50 minutes, it's one of the longest-serving electric shavers on this list.
Pitbulls can be scary – this much we now. But unlike the animal they are named after, this Pitbull Silver Shaver is gentle on the skin while delivering a smooth and close shave. It's also worth mentioning the fact that it is great for both dry and wet shaving.
The Pitbull shaver is one of the newest lines from Skull Shaver. Today, it's dedicated to producing quality and durable shaving products, but that wasn't always the case for the brand.
As a result of their commitment, the shavers now have 20% more blade power and its cutting range is improved by a whopping 10%.
So what does this unit have to offer that warrants it to be on this list? First, the shaver features five shaving heads. These heads are larger than what you'd typically find on other shaving heads. These shaving heads allow you to shave in any direction comfortably, side to side, up-down, or even in circles.
Moreover, the blades are protected to reduce the risk of accidental cuts and nicks. This means you can use it with no worry in the world because this Pitbull will not bite.
Although this Pitbull shaver can be used for wet shaving, you should not submerge it in water, but you can use it in the shower.
Speaking of shaving while in the shower, how does the shaver not slip out of your hand? Well, while it doesn't have a textured grip, it is ergonomic and fits perfectly in hand for a firm grip. You can grasp it in multiple ways and shave different parts of your head comfortably.
This shaver features a lithium-ion battery which will serve you for 30 minutes while in cordless use. Like other shavers, it features an LED indicator which alerts you when the battery power is running low.
While getting a clean shave is important, you also love being in a clean space. In this light, you'll love the vacuum system built into the shaver. It collects the hair in the shaver, and you can also rinse it under running water. You should clean these blades regularly for durability.

We Like
Works fast
Good for wet and dry shaving
Ergonomic handle
Keep This in Mind
Not ideal for cutting a stubble or longer hair
Pitbull is a scary name for such a gentle tool. It achieves a close shave without the risk of cutting and nicking the skin. You can also use it while in the shower for up to thirty minutes.
This is yet another great shaver from Wahl. This unit has a lot of praise from professional barbers. This is mainly because it has sharp blades that cut hair with high precision and therefore reduce chances of ingrown hair irritations.
It's also worth noting that the electric shaver features titanium blades. And what's more, Wahl threw in a self-sharpening feature to ensure the blades remain sharp and achieve the same results every time.
Powering the sharp blades is a powerful motor which runs twice as fast as regular pivot motors. The combination of a powerful motor and sharp blades means that hair pulling and snugging is not something you'll have to deal with.
But aside from the sharp blades, the shaver comes with attachment combs, a blade guard, oil, a cleaning brush and a manual on using the shaver for best results.

We Like
It has a fair price
It's self-sharpening
Has sharp and precise blades
No pulling or snagging
Keep This in Mind
It lacks a cordless feature
For a product that receives a lot of praise from professionals, a lot is expected from it. And boy does it deliver. The only thing we wish for is it would be portable ad more convenient for use while on the road.
This is one of the most versatile shavers in the industry. You can use it every day if you please and is ideal for changing your beard style, moustache and some minor grooming hair touch-ups. Aside from this, it is also perfect for head shaving courtesy of the PrecisionPlus rotary heads and the HyperFlex neck technology which accommodates the contours of your head for a closer and clean shave.
Unlike Wahl Professional, this shaver comes with cordless use. Its lithium-ion battery recharges in four hours and affords you 45 minutes of shaving time. During this time, you can choose to use it for dry or wet shaving.
Speaking of wet shaving, we should point out that the Remington XR1400 is waterproof, has a rubberized and ergonomic grip. As such, you will always be in control of your shaving.
For an even better shaving experience, this shaver comes with extra attachments including a brush, a precision trimmer and rotary blades. The brush bristles are infused with charcoal which aids in removing grime and oil build-up from the pores in seconds. The result is a clean shave with no irritations.

We Like
It has three attachments
A rubber grip for added control
A flexible neck to adapt to the contours
Keep This in Mind
The power button gets stuck from time to time
The battery stops holding the charge for long after a while
This electric shaver is everything you have always wanted. The flexibility ensures you don't cut yourself while getting a close shave.
The main feature of this electric shaver is the intuitive design, ease of use, and great performance. With these characteristics, the shaver helps you achieve a close shave without irritations and without having to repeat the process for an even shave.
The shaver blades are super sharp and are guarded with a SensoFoil guard. This guard ensures you are protected from nicks and cuts and on the other hand, make its ideal for use on sensitive skin. You do not have to apply pressure on this unit for a close shave. And even when you do, the blades retract for your safety.
The shaver is battery powered and takes about 60 minutes to charge to 100%. A full battery offers 45 minutes of shaving. But in case it's dead, and you need a quick touch-up, a five-minute recharge will provide you with enough juice for one shaving session.
The battery status is shown by the LED display this unit comes with. As for cleaning, you can rinse it under running water since it has waterproof features.

We Like
Fast battery charging
Waterproof
Thin precision head
Pressure-sensitive blades
Keep This in Mind
Heats up fast
After a while, the battery stops holding the charge for long
This is affordable and easy to use an electric shaver. It is everything you would expect from a popular brand like Braun and more. Its pressure-sensitive blades are a cool addition and allow for use on sensitive skin.
Can You Shave Your Head With an Electric Razor?
Of course, you can. For a long time, manual razors were used, and then electric razors happened. Though they took some time to catch on, they finally have the benefits of the following factors;
They reduce the chances of ingrown hairs and cuts
They achieve a closer shave faster
You do not need a shaving soap, gel or cream – even though you can use them if you please
You can use it anywhere and not just your bathroom
Many have cordless features which makes them ideal for shaving on-the-go
With that said, we admit that there's a learning curve to using an electric razor. But on the flip side, it's not rocket science. A couple of shaves and you will be shaving like a pro.
One of the best ways you can achieve great results from your electric razor is via circular motions on your scalp. This pattern helps the shaver adjust to the contours on your head and reduces the chances of nicks and cuts. It is also known to provide the cleanest shave.
Pro tip – always do your head shave after taking a hot shower because the hair is softer.
What Exactly Are Electric Head Shavers?
As you can tell from the name, an electric shaver is a shaving tool that has a power source and whose features focus on shaving your scalp clean. Over the years as the bald look has grown in popularity, the shavers have become popular as well.
But not all electric shavers are the same. Actually, they fall into two broad categories;
Rotary shavers – these have blades designed to cut in a circular motion and hug the contours of your head in the shaving process. It's also ideal for men with thick hair.
Foil shavers – they feature a metallic foil on their shaving head which draws the hair towards the cutting blades. These type of shavers are perfect for sensitive skin.
And as technology in the electric shaver industry progresses, men have an easier time shaving their heads. With an electric shaver, getting a close shave is a breeze.
Also, if you'd like to trim the hair instead, you can purchase clippers as well. You should also check out our best razor for shaving head article.
How We Choose The Electric Shavers on This List
The industry is packed with great electric shavers. So we must admit it was not an easy process. And unfortunately, we did not have the luxury of testing every electric head shaver in the market prior to this review. But nonetheless, we did extensive research which gives us confidence that these are some of the best choices for shaving your head.
During the choosing process, we considered customer reviews and personal experience.
Last update on 2021-01-01 / Affiliate links / Images from Amazon Product Advertising API