Best Safety Razor for Beginners & Pro Shavers (Buyers Guide)
We may earn a commission for purchases using our links. Learn more
In this buying guide, our goal is to assist and guide you to find the best safety razor available for your preference.
First of all – kudos for being well-groomed and maintaining a neat beard. Those without a beard do not understand how much hard work it is to have it look as great as it does. But we do – so congratulations.
If you have been doing this for a while, you can attest to the fact that for complete grooming one needs to have a double-edge safety razor – and not just anything with a blade, but the best safety razor on the market.
Top 3 Best Safety Razors at a Glance
Best safety razor overall
Best value
Best budget pick
Best safety razor overall
Best value
Best budget pick
Last update on 2023-01-29 / Affiliate links / Images from Amazon Product Advertising API
Reading this, you surely are in search of a great safety razor to complete your grooming kit. You have lots of options from the electric, straight, disposable multi-blade, and safety razors. But in this piece, we shall focus on the double edge safety razors. We will look at the best safety razor for beginners, if you have sensitive skin, a coarse beard or if you are an experienced wet shaver. We have checked out all the top models – starting with the Merkur Futur. We will guide you in deciding on finding the best choice for your needs on the market. And now, without much ado, let's get the ball rolling.
6 Factors to Keep In Mind When Looking for a Double-Edge Safety Razor
Before you start to spend your hard but well-deserved earned money on getting the best safety razors, there are some factors that you need to consider.
1. Safety Razor Design
Safety razors vary in make, model, brand, and design. The main designs are the butterfly head, three-piece, two-piece and one-piece designs. Of these, the open butterfly safety razor version is the most common one-piece design.
We could go on and on about these different designs but let us focus on the basics. Let's start with the three-piece version. It is probably the most popular double edge razor design of them all. The two-piece, on the other hand, is favored by most wet shavers while the one-piece designs often come with a rotating handle that opens at its cutting head.
2. Double Edge AKA de Safety Razor
Safety razor blades are considered to be double-edged. They are given this name as they can shave with both edges. You can shave using forward and backward strokes.
3. Price vs. Quality & Features
With the unstable economy, most individuals are required to work more than one job adding up to insane hours in a week. With money being earned the hard way, it is only logical that one would want to make the best use of it as possible – get the most value for every dollar spent. Before you buy any product, you should compare the prices of the different brands.
I should mention that cheap is not always the best. There are, however, some instances that cheaper safety razors provide quality rivaling more expensive units.
Double edge safety razor versions' prices vary from $10 to $200. Yes, this is a huge difference, and yes, when comparing, the high-end units will certainly have significant differences in quality from the cheaper ones, but you don't have to buy the most expensive one to get a great result.
4. Handle Design & Length
The length of the handle boils down to personal preference. Different lengths appeal to different persons depending on the comfort level they provide. The longer the handle, the better suited it is for big hands. However, some users have gone on record to state that they are slightly awkward compared to short handle types.
5. Fixed Razor Blade or an Adjustable Razor?
Many of the safety razor models available are designed with fixed safety razor blades. With fixed razor blades, the exposure of the blade cannot be changed.
But with the improved technology and diversity, more and more companies are coming up with adjustable safety razors. These have their fair share of pros and cons as do the fixed blade ones.
6. The weight of the Razor
Each model comes with its weight. Some are heavy and others light. Whichever the case, like the length of the handle, it still boils down to the preference of an individual. That said, some men feel that the heavier safety razors feature more control than the light units. If you are a beginner to classic wet-shaving, a lighter weight makes the transition from a cartridge razor easier.
And now that we have the factors to consider out of the way, let us dig our teeth deep into the razors. This will shed some more light on the specific model and why they are preferred and the number one contenders on the market.
Before You Buy Any Brand – Remember This
Please note that our list is not a ranking in itself – it all comes down to:
Your experience level using a safety razor

Your type of skin

Your beard coarseness
Your individual preferences
Your budget
List Ratings
We don't rate the best safety razors on our list, it is (as always) a matter of opinion and the above-mentioned factors.
Best Safety Razor for Men (Summary)
Last update on 2023-01-29 / Affiliate links / Images from Amazon Product Advertising API
1. Merkur Futur (700 Series) Adjustable Safety Razor – Best Safety Razor Overall
Many persons ask themselves this question – which is the best safety razor for men. Now I probably should say this right off the bat – there isn't any perfect or best one per se. There are lots of contenders for the top position. But be that as it may, the Merkur Futur is at the top of the list.
Merkur is one of the companies that have been in this industry for a long time now – 30 years to be precise. Over the years, the company has grown courtesy of its attention to quality. The Merkur Futur adjustable safety razor is one of the high-quality products carefully designed and crafted by the company.
Merkur 700 series is a popular double edge safety razor with an adjustable head. The unit features a cool and unique design and look. It provides its users with unmatched versatility courtesy of its six settings. These six settings are designed to adjust the blade exposure.
It can be adjusted from Level 1 (sensitive skin) to Level 6 (aggressive) and therefore adapted to each individual's type of skin, beard coarseness, and shaving preference. The first set provides minimal exposure of the blade while the 6th setting exposes more of the blade thus providing the most aggressive shave.
The distance between the blade and comb can also be adjusted for a closer shave as your skill increases. Are these settings necessary? Yes, they are perfect for accommodating different face shapes and facial hair textures.
Now, while the adjustable safety razor blades may seem as though they are a new technology, Merkur has been in the business of making them for the longest time, since the 1980s. They have over the years been ironing out the bugs in the design and function of the adjustable safety razor design.
The Merkur double edge razor is cast from brass and has a chrome finish. It feels solid in the grip and looks very futuristic. Comes in a gift box and is available in matte (700), polished chrome (701), and a gold-plated (702) version.
Features
Merkur Futur features a smooth and brushed chrome finish. The chrome finishing differs between gold-plated chrome, satin, and the standard chrome finish. The chrome-plated finish you get depends on your personal preference.
It comes with a long handle. Guys with large hands will feel it is comfortable and with a perfect grip.
It has a great weight which makes it easy to maneuver even as the blade exposure settings and aggressiveness are increased.
Made in Germany. Needless to say, German craftsmanship is at the top end of the scale when it comes to quality safety razors.
In the hands of inexperienced shavers, the Merkur Futur might need some getting used to. Additionally, you will need to operate in the lower settings. Experienced shavers, however, will enjoy the quality of the results provided.
We Like
The ability to quickly and easily change the aggressiveness of the shave allowing a 'customized' shaving experience is in my opinion a great option
Weight and handle length makes Merkur Futur suitable for all but the largest of hands
A beauty of fine finishing and solid, good-looking modern style
Keep This in Mind
The wide cutting head can be a bit difficult to maneuver in tight spots, such as the lip and nose area
Shavers used to a knobby handle may get the feeling of slipperiness and require extra care when changing settings
The new head design will require a bit of care when changing the safety razor blades
It might not be the best double edge razor if you have no experience with safety razors
The adjustable Merkur safety razor is perfect for people who want a smooth shave. The more you turn the blade up, the more aggressive the cut will be. The high quality and adjustability make this a double edge razor you can purchase with confidence. This is not only the best adjustable safety razor but overall the best double edge razor choice in my opinion.

Read review: Merkur Futur
2. Merkur 34c Classic 2-Piece Double Edge Safety Razor – Best Safety Razor for Beginners
A best-selling safety razor with a classic design from 1931! The Merkur Classic 2-piece safety razor (Heavy Duty) has a double edge design that features a short handle that makes it easy to maneuver.
Don't be too worried about the heavy-duty part – there is only one Merkur 34c style. It is often featured with extra names, like "heavy-duty". But it is just a normal Merkur 34c. But there is also a gold variation named Merkur 34G instead of the normal chrome-plated version.
Molded-in brass and chrome plated for extra shine. Excellent for beginners, that have previous experience with cartridge razors, but is also one of the best men's razors for sensitive skin.
We Like
A glance at the Merkur Classic 2-piece double edge safety razor and you will see that it has a simple, but great design and build
While there are many 3-piece shavers in the market, the 2-piece design that Merkur features make it very easy to adjust the blade so that it is even on both sides
The chrome-plated finish is shiny and smooth and will not scratch even sensitive faces as you shave
The handle is made complete with knurling that helps to prevent your hand from slipping
Keep This in Mind
The Merkur safety razor is certainly not the most aggressive razor on the market, but when you think about it, this is what makes it the perfect pick as the best de razor for beginners in the first place
If you have a coarse beard, this one might not be your best pick
Overall, the Merkur Classic 2-piece double edge safety razor is great, probably the best starter safety razor, but also a good option for seasoned wet shavers. The design and construction are of great quality, but it still is a very reasonably priced product. The 2-piece design it sports makes assembly easier in comparison to most of the 3-piece products available today.
Read review: Merkur 34c
3. Merkur 23c Classic 3-Piece Double Edge Safety Razor – Best Budget Safety Razor (amazing value)
The Merkur 23c aka 180 aka classic three-piece de safety razor from the German manufacturer Merkur is one of the most popular safety razors on the market.
This is a long-handled version of Merkur 34c. Made of steel with quality chrome finish its powerful and trustworthy design is made to keep for a lifetime.
Merkur Classic 3-piece gives a closer and more friction-less shave than you get with a multi-blade razor without irritation and red rashes as there is only a single razor-sharp blade extending over the skin instead of several.
The safety razor has a great weight in your hand and gives a close and comfortable shave.
This razor is now also available in a very nice-looking black/ gunmetal version.
We Like
The high-quality safety razor with an affordable price tag
Easy to clean courtesy of its removable head
Has a guard inclusive option for newbies
The chrome plating finish is highly rust resistant
Keep This in Mind
The knurling is shallow
For many men with big hands, the handle will feel slim
The screw holding the different parts in place may corrode and break off with time
Cartridge refills are expensive. If you are a man or woman, you can save some money by using a safety razor.
The razor is 4 inches long and is perfect for people with large hands. The Merkur 34C HD that was mentioned earlier might be a better choice if you have smaller hands.
The unit comes in three pieces. This makes it easy to assemble, take apart, and clean.
You can have a smooth shave with this safety razor. It is cheap and affordable for everyone. You will be able to use it for years to come.
Read review: Merkur 23c
4. Merkur Slant Bar Double Edge Safety Razor – Best Slant Bar Safety Razor
Merkur 37c Slant Bar double edge safety razor is suitable for those with heavy or coarse beards. The slanted head enables the blade to make an even closer shave than a regular type.
The downside is that it increases the chance to nick yourself, but used correctly this tool is great for people with sensitive skin since it requires very little pressure against the skin to get a smooth, great shave.
Merkur 37c is a favorite among experienced wet shavers. The razor is a slant bar version of the bestselling Merkur 34c – can't go wrong with that!
The slanted head of the razor exposes more blades on one end and is in many ways similar to a straight-edge razor. This makes it great for slicing through course beards and tough stubble.
For best results with this safety razor, you should have some experience with aggressive shave/ traditional shaving.
We Like
The slanted angle of the blade gives a close shave with fewer passes
It is great for men who have sensitive skin
Effective for men with coarse beards
The weight is evenly distributed
Great grip for men with small or normal size hands
Keep This in Mind
The safety razor is rather aggressive – it is pretty easy to cut yourself if you don't pay attention or if you are new to classic shaving
Not for men with large hands due to a short handle
In my opinion, it is not a pretty design – but effective – to be sure!
It is not ideal for beginners
Merkur Slant Bar double edge safety razor is for experienced wet shavers. It is not good for beginners because it has a slanted blade. It is also good for people with sensitive skin and coarse hair.
Read review: Merkur 37c
5. Merkur Travel Razor – Best Travel Razor
The fact that they've made our list is a testament to the quality the double edge razor exudes. Also, being from a renowned German brand, you can trust its design and precision. Merkur has stood the test of time as a brand and has consistently delivered above standard safety razors for men needing different things.
With that said, if you find that the Futur Adjustable Safety Razor isn't the perfect fit for your needs, then the Merkur Travel Razor with 1 Blade could be what the barber ordered. It's especially ideal for a man who travels regularly.
When creating a travel-friendly safety razor, a manufacturer has to pay attention to the product size. Merkur is aware of this and made this safety razor ultra-compact. Adding to this, it features a hollow handle making it light enough to carry around. For convenience, the double edge razor comes with an equally compact leather carrying case that discreetly fits into your pocket.
We love the fact that it's compatible with double edge blades. This means that you can use disposable blades and save money in the long run. Also, this feature ensures you never lack compatible replacement razor blades regardless of where you are in the world.
To sweeten the deal, this travel double edge razor comes in a 4-piece design. This makes it easier to clean and maintain. As for the handle, it's short, but long enough (similar to the Merkur 34C) and has knurling on the right spots to ensure you get a firm grip.
Though this is not the best safety razor we've come across, it offers a precise and irritation-free shave for a travel safety razor. The shaving experience is ideal and doesn't come with complications.
We Like
It has a durable design
Includes a compact leather case
Ideal for traveling
Keep This in Mind
Though the short & hollow handle makes the double edge razor lighter, paired with the heavy head means that it might be a little off balance
This is a reliable, durable, and high-quality double edge razor for men who are constantly on the road.
6. Parker Long Handle Super Heavy (99R) Safety Razor – Best Butterfly Safety Razor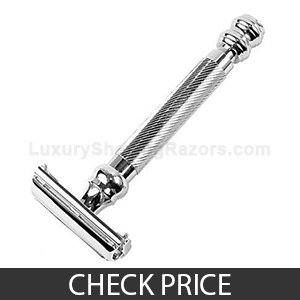 The best word to describe this unit is heavyweight. This unit is a bad boy – in all sense of the word. Once you first handle this unit, you will notice that it is considerably heavier than the rest you might have handled in the past. It weighs a total of 4 ounces.
Parker 99R is a large, heavy, and sturdy tool. It is cast in brass and chrome plated for extra shine. The shaft has small grooves that provide a very good grip. The blade is accessed using a butterfly mechanism, which means that when you twist a knob on the end of the handle – the double edge razor head opens up and allows you to insert a new blade.
Needless to say, this unit garners plenty of attention courtesy of its weight. The good thing is that the weight certainly works to its advantage. All individuals with large hands prefer this unit as it is comfortable and easier to handle. That said, I should also point out that the quality of Parker 99R is through the roof. If this were not the case, the unit would not have made it on this list. I think that this is the best butterfly safety razor around.
But getting back to the weight – how does heavy safety razors compare to light ones? Does it even make a notable difference? Well, in all honesty, it does make a difference. The choice of whether to get a heavy or light is determined by the personal preference to a great extent. But generally, with heavier ones, less pressure is applied when shaving as shavers let the weight of the tool do all the work.
On the other hand, individuals who prefer light safety razors feel that it provides them with slightly more control in comparison to heavier ones. This is particularly when trying to get the hard-to-reach areas like under the nose.
With heavier models, you benefit from high aggressiveness. But aggressiveness can work for you and against you.
As such, you need to be careful just how much pressure you apply when shaving. Once you are through the learning curve, you should be warned; that you may never want to use a light safety razor again. I guess, once you go heavy you never go back.
Long story short, getting a nice shave is not dependent on the weight of the tool. Provided you have a quality safety razor in your hands, you are bound to get a clean shave. The weight distribution and balance of the tool are far more important to most individuals as most experts have agreed.
While the Parker safety razor is heavy, it is also surprisingly comfortable. It features a long and knurled handle designed to provide a quality grip. With this knurling, you will not have to worry about slippage as you maneuver around the face.
Moving on to durability (yet another important factor to consider when choosing a product to last), the Parker long-handle heavyweight butterfly safety razor is designed to last for ages. But in the unlikely event that one of its three parts weakens, there is always the availability of a replacement for the specific piece needed.

We Like
Mild – perfect for beginners
Great balance and weight
Easy to load the blade
It is easy to clean
Has a long handle with a good grip
Keep This in Mind
Some quality control issues
Difficult to find the perfect shaving angle
The finish does not appeal to some individuals
This is a heavyweight product that beats all others in the industry with great ease. It features premium construction and design. It has a long handle and it is heavy. It is a great option for a beginner who is just learning the ropes of classic shaving – and especially a beginner with big hands. It has a great weight and balance that you can use to practice with. Remember practice makes perfect. With the Twist to Open (TTO) design on the safety razor, you will have an easy time cleaning and loading the razor blades. The only problem you might have is the durability of butterfly doors.
Read review: Parker 99r
7. VIKINGS BLADE The Godfather Stonehenge Double Edge Safety Razor (Ultra Durable 304L Stainless Steel) – Top-Notch, Big & Solid
If you are looking for a beast in the form of a safety razor, then this Vikings Blade Godfather 304L Stainless Steel is the perfect razor for the job. Its durability is unparalleled, as is its ease of use.
Let's dive a little deeper into what this Vikings Blade safety razor offers.
Packaging
It comes in beautiful and compact packaging. The presentation is excellent and worthy of the beast and work of art that it is. The outer box says, 'Heavy Stainless Steel Head and Handle Vintage Bronze & Zinc Base plate,' letting you know just what you should expect. Inside this packaging is a luxury feel, shiny bronze packaging with the Vikings Blade inscription in gold. It has a magnetic latch and can double as a travel pack for your safety razor.
The Viking Blades Godfather Stonehenge
The Vikings Blade Godfather Stonehenge is stunning. Aside from this, you'll notice that it's heavy when you pick it up. It weighs a whopping 5.6oz (159 grams).
In many ways, it looks like the original Vikings Blade Godfather, but there are some differences. First, its base plate is super solid with a level and straight edge. Second, the handle is made from stainless steel and has an excellent grip. The razor has knurling at the middle and the end of the handle for a superior grip.
We also loved that the handle is long 4.72in (12cm) and narrow in the middle, and thicker at the bottom. It makes it comfortable to hold despite its weight. In addition, the stainless steel matte finish looks like a stone from a distance, which gives it more personality.
The handle and the cap are made from stainless steel, while the base is made from Zinc with a vintage bronze finish. Moreover, the cap has a beautiful 'Vikings Blade' vintage branding.
The Vikings Blade safety razor will live up to your expectations. However, it doesn't come with a razor blade. The reason for this is that Vikings Blade believes a razor blade suitability is subjective and best left as a personal choice. Luckily, there are lots of double edge razor blades that you can pair this razor with.
We Like
Superior grip
Long handle
Stainless steel construction
Sturdy and beautiful design
Keep This in Mind
It's heavy
It doesn't come with blades
The Vikings Blade Godfather Stonehenge safety razor is a beast. It's heavy and durable, and ideal for any man. The fact that it doesn't come with blades leaves room for you to install blades suitable for your experience level. For instance, experts can go for ultra-sharp
Feather blades
, while beginners can go for the more forgiving
Personna blades
.
8. Muhle R89 Closed Comb Safety Razor – German Handcrafted Classic Razor
Muhle safety razor with the closed comb is made in Muhle's factory. It is a half-hour drive from Leipzig in East Central Germany. It has a classic design, but it is constructed with details that most safety razors don't have, like weight and the distance between the blade and the bar. It also has an angle that helps you shave better.
After individual parts of the safety razor are cast in brass or steel, they go through a special chrome plating process. This provides the Muhle razor its classic glossy appearance while protecting the metal underneath.
When you hold this razor in your hand you will notice that this is real German quality!
Perfectly suited for the Muhle safety razor stand or Muhle razor stand & shaving brush and a perfect companion for the Muhle Silvertip shaving brush.
Please be aware that the razor blades have a lot to say about how shaving with your safety razor is experienced. Try different safety razor blades and you will quite quickly find your favorite! That being said, the rust-proof Muhle razor blades are the perfect match for this superb addition to your kit.
There are plenty of manufacturers on the market today that will provide you with either a 3 or a 2-piece variant. The Muhle closed comb (also known as 'R89), however, offers them both the Traditional version and a version called Twist. It also takes this flexibility even further by providing you with a version featuring an extra-long handle called Grande for users that have bigger hands. And finally, there is a version of the Traditional 3-piece that is called Rosegold.
Mühle closed comb is a lot more forgiving than for example Muhle R41 – particularly if you are new to wet-shaving. For more experienced users with thicker hair, the Mühle R41 is usually recommended because of its more aggressive blade angle, but the R41 model is not recommended for novices to this kind of shaving.
Muhle offers a separate head with an open comb, so if you have a Muhle safety razor with a closed comb, you can change it later by purchasing this head, making the transition to a more aggressive version easier.

We Like
Muhle has a good design and construction. The chrome-plated finish is perfect.
Merkur R89 gives you various options; a 3- piece or 2- piece razor. You can also get a longer and thicker handle option as well.
It is perfect for beginners transitioning from cartridge razors or if you prefer a mild shave
If you are already using a cartridge razor, it is easy to use this one. It is light when you put it on your face and that can be helpful for a beginner
Keep This in Mind
The R89 Twist is a variation of the three-piece model. It is more expensive than those models.
Muhle closed comb safety razor is a great, but slightly expensive choice for beginners that want to get into classic shaving. It has a stunning German quality and finishes. It is also a great 2nd razor for men who've mastered the skill of wet shaving and looking to invest in a high-end quality safety razor.
Read review: Muhle R89
9. Double Edge Safety Razor Edwin Jagger (DE89 Series) – Popular English Classic Razor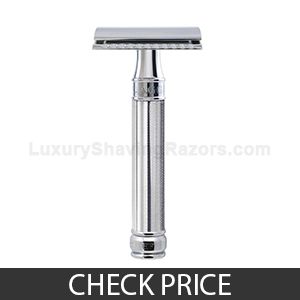 Edwin Jagger de89lbl is an incredible piece of design and workmanship! It looks good and has a perfect weight and grip so that you have very good control even if your hand is wet (as they often are when shaving).
The safety razor is elegant and stands out from the crowd with multiple stylish details. The handle has several small and precise knobs which ensure great grip while providing a nice effect.
Edwin Jagger is a family-owned company in Sheffield. The safety razors designed in England have a solid reputation. They have above-average design and craftsmanship. While there are many models one can choose from, the one we chose to feature here is the de89bl.
Among the many reasons why this unit has grown to its popular status is its ability to shave delicate skin. It is without a doubt the perfect choice for gentlemen with skin prone to irritations, nicks, and cuts.
The shaving head is of known Edwin Jagger quality, like any other Edwin Jagger razor providing a good and tight shave. Both weight and balance make the safety razor a tool that is well-liked by many. It has a closed comb which is well adapted to the chrome base.
With regards to the design, you will be pleased to note that it features a unique design and has great balance. Its balance contributes greatly to its use on fragile skin. But does this unit only excel on this kind of skin?
Certainly not, it also scores highly in providing clean shaves on any type of skin courtesy of the Edwin Jaggers Precision DE razor blade head. The shave it provides can be compared to that gotten from an old-fashioned straight razor unit.
Adding to the list of features is a beautiful chrome-plated finish which also contributes to its longevity. It is designed to have three parts which make it easy to replace worn-out parts and clean them with great hygiene.
The handle of this unit has been constructed from tubular brass and finished in chrome. It has great weight and balance which adds to the overall performance. When compared to other units in its class this beauty is rather light.
All Edwin Jagger products are hand-assembled and given the finishing touch in their factory in England. They come in a classy package that is perfectly suited for gift giving.

We Like
This is a top-notch safety razor for wet shavers at all levels
Great looking chrome-plated finish
Has a comfortable price level
Great blade alignment
Has great balance
It is perfect for sensitive skin
Keep This in Mind
The chrome-plated finish will wear out eventually (after years of use), but if you dry off your razor after use will help a lot
Slippery handle – I would personally get the knurled handle version
Occasionally users have also complained about the bolt that holds the head to the handle breaking off
The handle could be shorter to accommodate those with smaller hands as well
The Edwin Jagger safety razor is without a doubt a high-class product. It is the right pick for all skin types and perfects if you are upgrading from cartridge razors. Additionally, it has great longevity and can serve you for years.
Read review: Edwin Jagger DE89
10. Muhle R41 Open Comb Safety Razor – Best Open Comb Razor
The Muhle R41 open comb safety razor has over the years built for itself a solid reputation. Many who have used it in the past nicknamed it "The Beast" or more commonly 'R41. Unlike in most situations where the term is used negatively, in this case, it is used as a term of endearment.
But why the nickname? What has this brute got that they have unanimously decided to call the Beast? Well, the Muhle R41 open comb razor is among the most aggressive safety razors available. Courtesy of its aggressiveness, it is not exactly something that beginners learning shaving techniques should consider.
The Muhle safety razor has ahead with "open teeth" or open comb – meaning it is more aggressive than most of the other razor models on the market. For those with coarse beards an open comb can be an advantage, but be aware that the Muhle razor will require somewhat more skill to use than other models.
The open comb design is complemented by a gap behind the razor edge. This helps to ensure that the edge of the blade is always free of residue and stubble when shaving.
For safety purposes, Muhle features a safety bar. This allows for a shave while minimizing cuts and nicks. In this light, it beats the cheap low-quality versions hands down. But despite this safety design, you should not hack on your face as though you are chopping off a branch from a tree.
We do not recommend you to start with this model or any open comb safety razor if you have had no previous experience with traditional shaving.
But if you have the aggressive shave technique mastered, Merkur R41 is the perfect partner to glide through all those rough facial hairs with ease.
The safety razor with open comb features several designs; 4 designs to be exact. These include the three-piece Grande, the traditional 3-piece design, this version is also available as a Rosegold, and the 2-piece Twist. Of the four designs, the Grande design features an interchangeable handle. If you are not okay with the grip of one handle, you can change it to another that you feel more comfortable using. Of the three designs, the Twist is the heaviest and comes with the longest handle as well.
They all feature a chrome-plated finish that gives it a feeling of great craftsmanship and design- a clear sign that this is a German brand.
With its aggressive shave style, you should expect a clean shave without applying a lot of pressure. It features an open comb design. With this design, the blade is held at an angle and helps experienced shavers get a nice shave with ease.
Aside from its aggressiveness, the Muhle safety razor weighs way less compared to other products in the market. It also has a one-of-a-kind balance – the kind you only expect from a high-quality product from a reputable brand.

We Like
Features great craftsmanship and an ergonomic design
Has an open comb design that helps to shave beards in fewer passes
Has a great knurling design that helps provide a non-slip grip
Have three different designs
Provides a close shave
Keep This in Mind
Slightly expensive
It is aggressive and not ideal for beginners
While it is not perfect for newbies, you should not let it scare you away. The moment you get used to its aggressive shave nature you will be happy with the close shave you get each time.
This razor is good if you have a coarse beard or sensitive skin. It cuts quickly and has many features.
You should get a 2013 or later edition of this razor. Earlier editions have features that make them less forgiving on the skin.
The safety razor comes in 3 variants which vary not only in weight, handle size, length, and weight but also in cost. If you love the 3 piece design, go with the Grande or the Traditional version. On the other hand, if you are looking for a 2-piece design then the Twist is perfect for you. Give it a try, and you will surely not be disappointed.
Read review: Muhle R41
11. Seki Edge Feather AS-D2 Stainless Steel DE Safety Razor – High-End Luxury Safety Razor
Feather is the final word when it comes to male grooming with a double-edged safety razor. Feather AS-D2 gives the finest Japanese craftsmanship to produce a real gem that is as beautiful and enticing as a Japanese Samurai sword. To buy a double edge razor from the land of the Samurai swords ensures that you get the best of the craftsmanship in stainless steel design available.
When it comes to the design – you will either fall in love with the Feather as d2 or you may think it has somewhat been overdone. For those who are familiar with the high durability 316 surgical stainless steel design, Seki has taken the design of this model one step further.
The design of the Feather as d2 incorporates chrome plating and a matte finish that makes this product fit for Japanese Royalty. One cannot expect anything less from this company, for their next-generation design.
The Feather safety razor is built for a medium to less-than-medium aggressive shave. It perhaps is designed for style and class rather than high-end aggressiveness. The use of the solid base plate on the double edge razor gives it a less aggressive stance than some of the other double-edged types out there. In some stores, it comes in an exclusive burgundy gift box. There is also a version called Feather AS-D2s that comes with a matching highly exquisite all stainless steel stand (including the previously mentioned gift box).
Feather AS-D2 safety razors are cutting-edge tools that give you the best shave possible.
Here Is A Closer Look At The Features Adorned By This Razor:
Seki is a Japanese-based brand. It is well known for producing Feather double-edge razor blades. If you have never heard of these, they are among the sharpest and best double edge blades on the market. They are by far the most effective and efficient as well.
While these sharp DE razor blades may cause newbies and the less experienced to shy away from using them, Seki has constructed the double edge razor for precision and delivery of a gentle shave.
The double edge razor boasts a stainless steel design. Stainless steel is one of the most durable materials and one with the strongest resistance to corrosion, it is easy to see why this is a big deal. The plate and the handle are carved from stainless steel that will last for an eternity (or close to it). You will find the stainless steel easy to clean and sterilize.
The kit comes complete with a total of 5 stainless steel razor blades. The safety razor blades are double-edged and highly effective. When one edge of the blade dulls, you can use the other side instead of replacing the blade altogether. Overall, the razor blades on this precision tool are easy to remove and fit perfectly onto the shaving head. As a result, there is minimal movement while shaving.
The handle is compact measuring just 4-inches. With this length, it is by far one of the shortest models on the market. As earlier pointed out in the guide, this short handle provides for better control while shaving. The handle is finished with deep grooves which increase its non-slip grip.
Compared to most safety razors, the Feather double edge razor comes with a slightly more aggressive angle. As such, one needs to adjust their shaving angle and technique as well to achieve a nice shave. This is without irritation. But despite the aggressive angle, it does not feature a steep learning curve.
How does Seki manage to have all these features fit so well in what is a quite small package? Well, Seki is not a new entrant to the safety razors industry. It has been operational and manufacturing rooming, medical and barber kits since 1908. They, however, created their first safety razor back in 1932.
We Like
Extremely well manufactured, it scores top marks for beauty and function
Stainless steel manufacturing ensures the most long-lasting & durable finish in the market that probably will last you a lifetime
Feather's proprietary design solution of the head makes alignment of the double edge razor blade a breeze
The superb design and manufacture of the razor's

knurled handle

provide excellent balance, comfort, and grip, essential for your enjoyment of shaving
Suitable for all shavers; from beginner to highly experienced
Keep This in Mind
Compared with many other safety razors it is expensive
There might be other safety razors in the same price range that are better, but we haven't tried them
Not the best pick for those of you that got a thick, tough beard
Feather AS D2 stainless steel razor is an expensive option among the best safety razors competitors in the market, but if you truly believe in class and performance and the pocket pinch is not an issue, this is one buy you won't want to pass up for the best shaving experience available in the double-edged category. They perform superbly with Feather DE razor blades and should only be paired with them. This is one of the best safety razors for beginners and also for pros, but it has a (too) high price tag in my opinion.
Read review: Feather AS-D2
12. Feather Popular Double Edge Shaving Razor – Great Value
Feather is a safety razor brand from Japan that is popular the world over. Their safety razors are of high quality and are loved by many men. But before we proceed, we should mention that the name 'Popular' refers to how excellent the products are than anything else. And with that said, let's dive right into the reasons that make this butterfly safety razor popular.
The Feather Popular safety razor is crafted from a combination of metal and plastic. And even though it is priced low, it's one of the best butterfly safety razors on the market. But unfortunately, many of the twist to open razor variations do not operate as well as they are designed to.
If you were to sideline its value for money for a second, you'd notice that the razor's build is not the best. The razor tends to turn slightly when one is shaving. And though for most beginners lightweight razor designs sound like the best feature when it comes to actual shaving, they can prove to be a challenge to use, and they don't exactly command trust.
The razor has an old-school design. It features a flat head which reduces the steepness of its blade's angle. This gives it a mild character meaning it is ideal for men who have sensitive skin. But since it is made from light materials, one has to exert a lot of pressure during shaving, to get a close shave which could result in skin irritations.
The Feather Popular safety razor has one of the longest handles on the market. This is perfect for men who have large hands or those who prefer using long safety razors.
Now, though it offers excellent value for money, the performance could be better. In our research, we've come across safety razors that have better performance than Feather Popular.
But even then, many people are okay with the performance because they don't have to pay a premium for it. For most men, it's about striking a balance between value and performance. In light of this, the Feather butterfly safety razor seems to have nailed it.
As we conclude this, we should point out that the butterfly razor is ideal for men who are starting on traditional shaving. This is because it is not overly aggressive and therefore leaves room for error before you get the hang of it. Also, courtesy of its long handle, it's comfortable and easy to control.
On the other hand, it's ideal for men who do not have coarse hair and those who don't usually have to shave fast. For men who are always in a hurry when shaving, this razor will not achieve the desired results. With patience and some knowledge, the Feather Popular Twist butterfly razor is a great budget option.

We Like
It's ideal for beginners
The butterfly design makes it easy to replace the razor blades
It is economically priced
Keep This in Mind
Too light for most men
The build is not the best quality
The Feather Popular butterfly safety razor has a great balance between price and efficiency. This means that though it's not the best, it offers great value for your money.
Honorable Mentions
There are lots of great safety razors that for some reason did not make it to our "best" list. The reason can be design, price, availability or just that it did not make an overall high score, but they might have great specific features – that maybe fits your needs.
For example, the Merkur 38c and its sibling Merkur 39c – both are great safety razors, especially if you are a person with bigger hands. If that is something that fits your bill, you should check out our test of Merkur 38c and Merkur 39c.
If you are looking for an alternative to adjustable Merkur safety razors, you should check out our Parker Variant article – this is one of the best double edge adjustable razor picks. And we have just done a review of Rockwell 6S and 6C that is worth checking out.
Another great razor is the Merkur 1904 – aka – Merkur 42c – this is an open comb safety razor that ensures you an aggressive shave experience with a very affordable price tag.
If you want to have a safety razor that has a great grip, but maybe a bit different style than some of the classics, you should check out our Merkur 20c review.
Another great one is the Edwin Jagger Kelvin safety razor – a great alternative to the Edwin Jagger de89bl if you prefer a shorter handle.
Shaving Guide for the Best Results with Safety Razors
Let us be honest for a moment guys. Shaving with a safety razor means that you are finally thinking of upping your game. You are tired of mediocre looks and you are looking to reel in those good impressions from everyone you meet. Starting to shave with a safety razor can be compared to ditching your piece of junk car, with about 180,000 miles on it and purchasing a Mercedes, a Jeep, or any great dream car you have in mind. So in case you were wondering, making the shift is a big deal, and it is an upgrade.
But before you start thumping your chest with pride, you should know that using a safety razor is different from using disposable cartridge razors. The two are worlds apart. Safety razors call for much more precision, skill and finesse. Sure it will get you that clean and close shave you want, but you need to be patient to acquire the skill and technique of doing so. To keep you from nicking and cutting yourself, below are some tips to guide you in the shaving experience journey to becoming a pro shaver using a safety razor.
Wet Shave like a Pro with These Tips
1. Prepare your Skin
The first and most important step is preparation. Not that preparation time is never wasted time. It is crucial to the overall results (though it might not feel like it). You should wash your face and later generously apply your favorite shaving cream or good shaving soap. Use a quality shave brush for this, it helps to remove dead skin and prepares you for the next step. For this reason, the best time to shave is right after a shower.
Instead of taking a shower or washing your face, you can use a hot washcloth for several minutes on your skin. This will also work to soften the hairs on your skin.
2. Lather Up
Take a small amount of shaving cream and add it to a mug. Pick up the brush that you had earlier soaked in water and swirl it in the shaving cream until you have a thick lather. Apply the lather with your brush in simple swirling motions. When your face has been covered, smoothen it all out.
3. Use a Fresh Blade in your Safety Razor
This is obvious, right? Fresh double-edge safety razor blades have sharper edges and as such provide closer shaves.
4. The Shave
Classic shaving requires some technique and skill. This is not the case with cartridge shavers. And it is the reason most men love cartridge shaving. But while it does require some skill and technique, once you have got it mastered, there will be no stopping your efficiency. That said, here are 4 successful shaving tips you should apply.
5. Do not Apply Pressure
Why shouldn't you apply pressure while shaving? Here is the thing. With disposable razors or cartridge razors, to achieve a somewhat close shave, you needed to press down the razor on your skin. Well, with the best safety razors, this is not necessary. The weight of the razor is usually enough. The only weight your skin should feel is that of the blade. Hold the razor by the tip of its handle. Too much pressure will cause you to nick or cut your skin. Yes, this pressure is sufficient to provide you with a close shave.
6. Angle
This is probably the trickiest bit of wet shaving. The right angle is between 30 and 45 degrees. To achieve the proper angle, you should place the head of the razor directly on your cheek and hold the handle parallel to the floor you are standing on. In this position, slowly lower the razor's handle until you cut the hair. If you are not comfortable practicing with the face practice on the arm until you get a hang of it. If you find this tedious to maintain, you can always get safety razors with this angle designed on their heads.
7. Shave with the Grain Rather than Against it
Shaving against the grain may seem faster and more effective and can provide you with a smooth shave but this will only result in nicking, razor bumps, and irritating the skin. Always shave along the grain. It is slightly slower and takes ages to achieve the desired results but you will feel fresh. Note that different hairs grow in different directions for all men. Know your hair's direction and shave along.
8. Stretch your Skin
A safety razor will perform best when the skin is tight. Use the free hand to stretch the skin in the area you are shaving.
9. Less is Always More
We have already gone over the importance of easing the pressure. The other thing you should ease up on is the passes you make on the skin. The fewer passes made the better. Remember to take smaller strokes – you are using a safety razor and not a disposable razor. Shaving is a gradual process. You should not expect to remove your beard in just one swoop. Trying to hack it in one swoop will cause skin irritations. To keep this from happening, lather up properly and make several passes.
10. Rinse Frequently
Frequently run water over the razor to get rid of the shaving cream, free hairs, and other debris.
11. Post Shave
Once you are done shaving, it is time for a post-shaving routine. Start by rinsing your face with cold water. The cold water helps to close up the pores. Apply an aftershave or face moisturizer of your choice. Good aftershaves are built to reduce skin irritations, and razor bumps and enhances healthy skin.
12. Can You Shave your Head?
Agreed, this has got nothing to do with your safety razor shaving technique. But all the same, it must be addressed.
Yes, you can use your safety razor to shave your head, but you will have to be super careful. The skin on your head is more sensitive than that on your cheeks. As such, be patient and remember to ease up on the pressure. Check out our article about if you should shave your head or not.
FAQ Safety Razors
What is the best safety razor for a beginner?
We recommend the Merkur 34c. This comes after a lot of comparison and reviews. We rank it at the top because it is forgiving to newbies courtesy of its mild aggressive design. Nonetheless, it delivers a smooth and close shave.
What is the best safety razor on the market?
Here are by far the best safety razors you can purchase:
The best open comb razor: Muhle Open Comb Safety Razor
Best DE safety razor: Merkur Classic 3-Piece Double Edge Safety Razor
Best slant bar safety razor: Merkur Slant Bar DE Safety razor
Best value safety razor: Feather Popular Double Edge Shaving Razor
Best adjustable safety razor: Merkur 700 Series
Which Merkur razor is best?
Of the many Merkur safety razors we've reviewed and tested, the Merkur Futur is the best. It is an adjustable safety razor that's great for both beginner and expert wet shavers.
Is shaving with a safety razor better?
In comparison to electric razors and cartridges, shaving with a safety razor is better. The fact that a safety razor sports a single blade means you experience minimal skin irritation, ingrown hairs, and shave bumps. Generally, the fewer times you scrape your skin the better it will feel and look.
Can you shave against the grain with a safety razor?
Yes, you can shave against the grain with your safety razor. Generally, using a safety razor can avoid a razor burn. But when shaving against the grain, this benefit flies through the window. Though it might be faster, we advise against it because it tends to cause razor burns, ingrown hairs, and skin irritation.
Where to Buy Your Safety Razor for a Great Experience (Not Only the Best Safety Razor for Beginners)
Perhaps you aren't so familiar with where to buy the best safety razor for classic wet shaving. You don't need to feel stressed about this.
Compared to cartridge razors, I'm sure that you must have noticed the fact that the best safety razors aren't always available at local supermarkets and retail stores. Many times the few models on display at these stores are those you wouldn't place near your face – not to talk about using them for wet shaving.
Buying a good traditional safety razor is quite different from just purchasing a common cartridge razor. After all, using a DE razor isn't only about shaving. You also need to consider your safety and comfort.
With that in mind, the question that needs an answer isn't really, 'Which is the best?', but, "Where to get the best?".
Apart from some barbershops and reputable retail outlets, the best place to get the best safety razors is online. Often you can only get the best models online and you'll have the opportunity to choose your preferred brand from different vendors.
Don't forget that the best consumer goods are only available in a few places. This is also true for the best models.
Being an avid user of the complete range of these products myself, I can say with confidence that you will only get the best ones through the internet.
Online purchase of the best safety razors isn't only convenient but also very economical compared to the listed prices in the local stores.
I'll share with you an online site where you can find the best you're looking for. This is a place where I've had the privilege of purchasing things and I can attest to their great customer service and credibility.
Even besides safety razors, you'll also get the best shaving supplies at our recommended stores with after-sale services of free shipping, depending on the value of your order (which usually starts at $35). They provide a super quick delivery service.
There are also subscription sites like the Dollar Shave Club and West Coast Shaving that can be an option.
How Does the Double Edge Safety Razor Compare to All Other Shaving Tools in the Industry?
Most men believe that the best double edge safety razors are the number 1 option for those who take their shaving seriously. But we shall not force this thinking on you. We shall provide you with all the relevant information and let you decide for yourself. However, we too think that safety razors are cool shaving gadgets.
So here is the question. Are safety razors better than straight-edge razors, cartridge razors, and electric razors? Well, this still depends on the individuals you talk to as well as the experience you prefer. The decision of the best also boils down to which you have experience using tending your facial hair.
Below is a list and comparison of some of the different types of shaving razors and how they may be the top razor for men.
1. Safety Razors
Given that we have already gone through the best safety razors above, we shall keep this short. Let's go back to the basics. Safety razors were developed after the original straight razors. Compared to the straight razor, safety razors were an advancement at the time about safety. They recorded a reduced number of cuts and nicks.
All the safety razors in the current market use a double-edged blade (hence the name double edge safety razor). This allows a shaver to use both sides of the safety razor blade with great ease. They feature a lot of benefits including a much better economy in the long run. The initial buy might seem costly compared to other razors, but over time, they end up saving you cash. Quality safety razors can last a lifetime or get very close to it. The replacement safety razor blades are inexpensive compared to the price of disposable razor blades.
And the beauty of using safety razors is that they provide a shave similar to that of a traditional most trusted straight razor.
2. Straight Razor
If you want to do it as your grandfather did, then an open razor is perfect for you. If you love those old western movies, you might have seen the rugged men using these tools to achieve a smooth and tight shave.
Straight razors are simple and come in two parts; the handle and the blade. The handle also doubles as the storage for this blade. It is a fact that a straight razor provides tight shaves courtesy of the complete control they afford the user. The fact that the blade is fully exposed also helps the situation. Additionally, it is also a fact that straight-cut razors are known for their infliction of cuts, nicks, and other minor wounds.
To help maintain the blade's sharpness over the years, you must hone and strop the blade. While not many individuals use straight razors (it takes a long time to master the shaving technique, some will make it easier for you, check out our article on the best straight razor for beginners), its popularity in the current century is fast growing. I know that straight razors can be a tough step, that is why we also have written a buying guide to help you pick between several good straight razor shaving kits.
3. Cartridge Razor
When you think of cartridge razors, the first thing that pops into your head should be convenience. The cartridge razors were first introduced to people in the 1970s by the popular brand Gillette. Most men have made cartridge razors their preferred choice courtesy of their ease of use as well as ease of purchase.
The beauty of cartridge razors is that even when you forget yours at home, you can always get a new one from any gas station or drug store. Aside from their ease of use, cartridge razors feature a fixed angle which helps to reduce the chances of nicking or cutting yourself.
Cartridge razors are not only efficient but also cheap and affordable(at least in the short run). They usually provide a shave that does not disappoint. Though, razor bumps can be an issue with multi-blade types of razors.
4. Electric Razor
These units take convenience to another level. If you are not into the mess related to other shavers, you should prefer an electric razor. With an electric shaver, all you need is to turn it on and start shaving. No prior preparations are required to ensure you achieve a great result, even for a head shave.
There are 2 Types of Electric Razors
These include foil and rotary. The rotary shavers feature between 3 and four shaving heads with blades behind them. Foil shavers on the other hand feature a floating head with the blades seating behind a metal grid for protection. Aside from their design, they also vary in their ease of cleaning and the shave they provide. The rotary shavers are perfect for a close shave while the foil shavers are easy to clean.
Electric razors also come in corded and cordless versions. There is a lot to love about these shavers from their lightweight design, portability, and efficiency. But on the flip side, irritations such as razor bumps are more rampant since no prepping or lubrication is involved in the process.
Remember This
The wet shaving technique will take some time to get a hang of. This is true. But it is also true that once you have hacked the process and technique, your face will thank you.
How We Settled on the Safety Razors in This Article
Well, the decision on the best safety razor we made was a combination of three things; research, personal experience, and customer reviews. While we might not have had the resources and ability to test out every so-called best safety razor out there, we sunk our teeth deep into those safety razors we could get our hands on. I hope you've now gotten a good idea about where to get the best safety razor.
My name is Don and welcome to Luxury Shaving Razors! The idea behind the site was born in 2016 after trying to find a decent safety razor for my own personal use. I decided to document my journey.