Best Honing Stone for Straight Razor (2022 Buyers Guide)
We may earn a commission for purchases using our links. Learn more
I can only imagine your excitement if you are new to wet shaving and using a straight razor. You did well in choosing the best straight razor for your needs and wet shaving skill level, and now all that's left is learning to take care of your straight razor.
Razor sharpening is an important bit of maintaining your straight razor. Straight razor edges only last long when they're cared for. While you can outsource this task to honing services, it's best to learn how to do it – it's fun and will save you money in the long run. Some straight razor kits include a strop, but seldom a honing stone.
Here's a guide to get you started on the right foot.
Best Straight Razor Hones at a Glance
Complete Honing Kit
General Honing Stones
Classic Finishing Stone
Complete Honing Kit
General Honing Stones
Classic Finishing Stone
Last update on 2023-01-29 / Affiliate links / Images from Amazon Product Advertising API
What's a Straight Razor Honing Stone?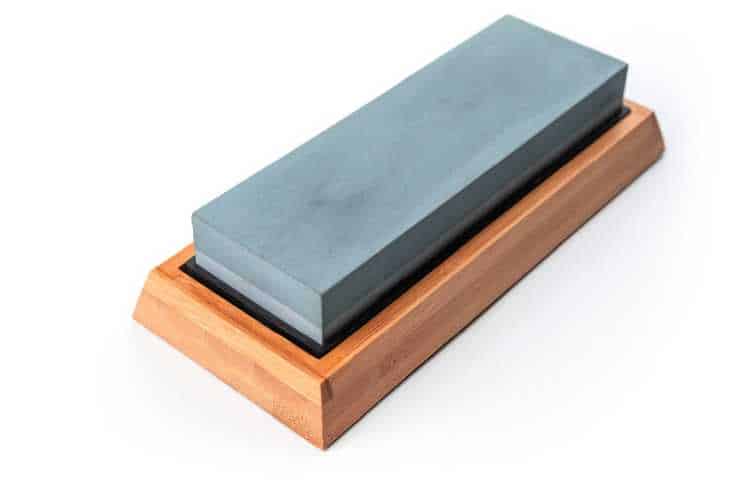 Honing is an intricate process of reworking the straight razor to create a new razor-sharp edge using a honing stone. Just like kitchen knives, razors get dull over time and need a new edge to make shaving enjoyable and efficient.
Honing stones are abrasive grains used to shape and change the texture of a blade. The stone removes metal from the razor's surface, sharpening it for a smoother, sharper edge.
Sharpening Grits
Proper honing is done with honing stones of different grit levels. The grit level determines the stone's abrasiveness and how well you can sharpen your razor without damaging it. Below are the different honing grit levels and their use:
Medium Coarse
These are honing stones with a 400-grit level. They are rigid and remove metal fast without leaving visible scratches on the blade's surface. They are perfect for refining hard-bladed razors, especially those made from carbon steel.
Fine Coarse
These 1,000-grit honing stones are ideal for refining dullness on razors. The grit has a medium sharpening rate and often gives blades a frosted look. This is the grit level to use if you want your razor to have factory-level sharpness.
Extremely Fine
These are honing stones with between 3,000 and 5,000 grit levels. These stones are super fine and give you more control, reducing blade damage. They allow you to get razor-sharp edges and increase your razor's life.
Near Mirror Polish
These are 8,000 grit levels that'll give straight razor near-perfect edges, and it polishes straight razor surfaces with minimal effort. They are perfect to use on razors that aren't dull and have minor chipping and scratches.
Mirror Polish
These are stones with between 10,000 and 12,000 grit levels. Their polish gives straight razor blades a mirror finish with no visible flaws. However, a finishing stone has the slowest sharpening rates, so it will take a long time to get your desired finish.
What Grit Honing Stone Do I Need for My Straight Razor Sharpening?
Now that you understand the levels of grits available, you're wondering which one you'll need to get a nice sharp edge. Generally, 1,000 grit honing stones are ideal for honing beginners. On the other hand, 3,000 to 13,000 grit stones are ideal for shave-ready blades like Dovo straight razors.
That said, different grit levels are perfect for different stages in the honing process. Low grit honing stones give rough surfaces, while higher grit options leave smoother surfaces. Here's a breakdown of how they're used in the complete honing process:
800 to 1,000 grit level – used for bevel setting and blade preparation
4,000 to 8,000 grit level – used for touch-ups and edge sharpening
8,000 to 10,000 grit level – used for finishing and polishing
Before we dive into the specifics of honing a straight razor, we should stress the importance of determining if your straight razor needs honing or just a round with the best razor strop. Here's an in-depth guide on straight razor stropping.
Best Honing Stone for Straight Razors (Summary)
Last update on 2023-01-29 / Affiliate links / Images from Amazon Product Advertising API
1. Sharp Pebble Complete Honing Set – Complete Honing Kit
If you're looking for an affordable honing set, the Sharp Pebble Compete Honing Set is it for you. The manufacturers added some features that make it ideal for beginners and expert honing alike.
First and foremost, these stones come with proprietary Aluminum Oxide composition that allows you to get the best honing results. The sharpening kit is double-sided with #1000 and #6000 grit levels. The #1000 grit level is ideal for straight razor blade beginners but can also be used on knives.
To ensure your safety, the sharpening kit has a rubber base that holds the stone in space and a guide that help beginners maintain the correct 20-degree sharpening angle. Even better, the kit is easy to assemble and uses water, so you don't have to spend extra on honing oils to get great results.
We Like
Versatile with two grit levels
Slip-resistant
Great quality
The stone doesn't flake out or crumble like other products
Keep This in Mind
The non-slip base isn't perfect
Although this sharpening kit is marketed for use with knives, it's a great option for straight razor blade honing too. The aluminum oxide helps reduce the honing time without compromising the quality of results, and it's a great pick for beginners and experts.
2. Norton 24336 Japanese-Style Combination Waterstone 4000/8000 – General Honing Stones
So far, one thing is clear; you need different grit levels to achieve excellent honing results easily. Unfortunately, most whetstones on the market aren't good enough for razors. However, Norton 24336 provides #4000/#8000 to cover all the honing bases.
The #4000 grit is ideal for maintaining and refining cutting edges, while the 8000 grit is ideal for polishing cutting edges. The stone cleans easily with water, creating an abrasive slurry that improves its sharpening abilities.
The stone comes in a blue plastic box with no-slip rubber feet that hold the Waterstone in place when honing.
We Like
Develops fast-cutting slurry
Comes with a lapping stone to flatten the stone when it wears
Great stability
Quality stone
Keep This in Mind
Slightly expensive
Some customers complained the plastic box arrived broken (probably a shipping-related issue)
The high grit levels are perfect for maintaining your straight razor edge. You'll get quality honing and polishing with #4000 and #8000 options. However, it may take a long time to set the bevel on this honing set.
3. Ardennes-Coticule ARD212 Whetstone – Classic Finishing Stone
Coticules have different grit levels since they are natural products. However, quality coticules are popular for producing quality finishes on cutting edges. Coticules are a mixture of clay and volcanic ash lined with hard garnet crystals cut from sedimentary rocks.
The Ardennes-Coticule ARD212 Whetstone has two layers, black slate, and coticule. On the edges are visible hairlines cracks mainly because the coticule is fragile.
We Like
Hones fast
Smooth surface that helps deliver great results
Do not leave burrs on the blade; hence no skin irritation
Keep This in Mind
Coticules are expensive
Not ideal for beginners
This honing stone set is more expensive than most on the list, mainly because of its extraction process and fragile nature. However, it does a great job honing. Straight razors honed with Ardennes-Coticule Whetstone ARD212 don't irritate the skin after.
4. Woodstock Green Compound Block – Additional Grit (Fine & Medium Polishing)
Once you experience the Woodstock Green Compound Block, you'll agree with this description – it's a beast in the shape of a block! The Woodstock Buffing Compounds are ideal for fine and medium polishing, and you can use them in conjunction with a leather strop and buffing wheel for the best results.
The 1-pound compound is of high quality but has a low grit level of 400-600. To make honing easier, the bar is designed into an easy-to-grip shape. The buffing compounds on the bar will eliminate moderate surface imperfections on your straight razor leaving behind a soft luster finish.
We Like
Available in multiple colors
Value for money
Lasts long
Keep This in Mind
Difficult to cut into smaller hand-held portions
A little pricier
The compound works well on carbon steel and steel straight razors to deliver a fine edge. Although it's pricey, its quality and durability make it a worthy purchase.
5. Sharp Pebble Flattening Stone – Honing Stone Maintenance
This Sharp Pebble Flattening Stone is double-sided with a diamond grid flattening system. The design is intended to give flat surfaces on sharpening stones, and boy, do they deliver. The stone is made from durable silicon carbide, which makes cutting sharpening stones a precise exercise.
The diamond-shaped groove pattern efficiently gets rid of waste material. Moreover, the double-sided design provides an extra-large honing surface. The dark grey side is 120 grit and perfect for flattening coarse water stones with 900 grit and below. The light grey side is 320 grit and is perfect for flattening 1000+ grit water stones.
We Like
Wears slower
Versatile
3-times larger than other stones on the market
Easy to use
Keep This in Mind
A little longer than expected
This stone is designed to flatten sharpening stones and not hone straight razors. Its diamond-shaped grooves make this an easy and efficient process while collecting waste material.
How to Hone a Straight Razor
Like stropping, honing a straight razor requires knowledge and skill.
Terms to Know
Learning terms used when describing the honing makes learning the process easier.
Bevel – refers to the sharpening surface on the edge on either side of the blade
Burr – small pieces or raised edges of materials that remain attached to the blade during the honing process
Chromium Oxide – a paste full of fine grit between 13,000 and 50,000
Deburr – smoothen the edge by getting rid of the burr to get a nice cut on the edge
Grit – the abrasive level of a sharpening stone. It's measured in numbers that determine size and edge result.
Heel – the blade's edge closer to the tang. It functions as the razor's protection for your thumb from the edge
Pass – moving the blade across the honing stone in one fluid motion in one direction and back in the opposite direction
Toe – cutting edge's endpoint on a blade
It's also worth reviewing parts of a straight razor.
Honing Tools
Honing can be achieved by several tools, including:
400-grit sandpaper is the most convenient and affordable option. Attach this sandpaper to a flat surface using tape and then start honing. While it's an affordable option to start, it gets expensive because the sandpaper wears out fast.
This honing method gained popularity over traditional honing methods. Like wet sandpaper, you'll need a flat surface to set your film, and you'll need to master lapping and slashing techniques to succeed with this method.
This is the most popular method of honing straight razors. To learn how to hone a straight razor, you'll need to purchase stones. Luckily, they aren't as expensive as lapping films and do a better job.
You can use one honing stone, but investing in multiple honing stones is better for better results. You can choose between whetstones, water, and synthetic stones.
What are Coticules?
There are many variations of stones, including whetstones like coticules and Belgian Blues. These are in-demand stones mined in Ardennes and have natural properties that help deliver quality honing and finishes.
Coticules are derived from sedimentary rocks that have existed in Western Europe for centuries. They are versatile since you can make a slurry to make your honing more efficient. On the flip side, they are harder to master and need years of experience to use without damaging your straight razor.
Belgian Blues are perfect for sharpening and honing akin to 12,000 grit levels. Since they are natural, they are more expensive. Despite this, they have a large fan base that claims they are a worthwhile investment.
How to Hone a Straight Razor
Once you have the necessary honing tools, you can start honing your straight razor. Before diving into the process, you must learn to check if the razor edge is sharp enough. You can use different tests for this:
You can use this test at any stage of honing. Use the razor to shave the hair on your arm. Do this while going against the grain. Arm hair is finer, so you can easily tell if it's shave-ready or not.
Although this test can be done at any stage, it's best done when working with lower grit stones. Carefully run your thumb across the edge (not along) to feel if it's sharp enough. The blade isn't ready if the edge tickles smoothly like a sharp knife. However, it's shave-ready if it leaves a tickling sensation and slightly grips the fingerprints on your thumb. But if it responds to all bumps and digs in, you might have overdone it.
Take a single strand of hair and bring it to the blade's edge. If the edge doesn't slice through the hair, then continue sharpening.
Take a tomato and slice it with your blade. If the blade doesn't tear the skin, you're good. However, don't reuse the tomato.
Draw the razor's edge lightly across your fingernail. If it glides cleanly, leaving a slight mark, you're making great progress.
The Technique of Honing a Straight Razor
Like stropping, honing requires patience and time. Rushing through the process can lead to accidents and undesired results. Below is a quick step-by-step process.
Before you start honing, we advise leaving your stone submerged in water for 15 minutes. Soaking will soften the stone's surface, making it easier to hone your razor and create a slurry. Some experts refer to this process as lapping, but it's the normal technique of flattening new uneven stones.
Many stones come with rubber mats or cases to keep them from sliding when in use. If yours didn't come with these extras, find a moderately rough surface to provide friction and prevent sliding. Place the stone in front of you, so you don't struggle when honing.
Unlike in stropping, the blade goes first in honing. As such, you need to be extra careful with the process. Slipping might send the blade into the stone, and you may have to start from scratch. Place the razor flat on the stone's surface, ensuring the shoulder is touching but isn't rubbing against the surface. The honing results will be uneven if the shoulder rubs against the stone.
Place your fingers across the razor's spine and apply a little pressure. The harder you press, the more metal scraps off the cutting edge. Bear this in mind depending on your goal.
Run the Blade Down the Stone
Use an X pattern when honing since most honing stones are narrow. In addition to applying light and equal pressure across the razor's spine, you'll have to reduce your progress. Work slowly and reduce the speed like you would when stropping. You'll realize that slow honing wears down the stone, but even then, it'll take time. Using an X pattern will prevent warping the stone too much and help keep its surface flatter.
When rolling the blade, be careful. Turn it while the spine touches the stone. Don't let the cutting edge cut the stone.
Bring the blade back slowly as you apply the same pressure you did on the first pass. after every lap, go back to the starting position. You might ask how many laps you need before getting a good result.
Do as many laps as you need to. However, regularly check the blade for sharpness using the tests we've described. Don't over-hone the razor as this will remove a lot of metal, leaving the cutting edge vulnerable to damage.
Generally, 10 strokes should be enough, but it depends on the state of your razor and your goal. The reason honing experts love coticules is that they give some feedback when the blade is ready. You can always tell this by the suction sensation with every draw.
Conclusion
Now that you have all you need to recreate a great honing experience, it's time to implement. Get the best honing stone and practice your skills. Watch videos and follow the honing instructions to the T. If you'd like more help getting a close shave using straight razors and or a safety razor, we have lots of information here on our site.
My name is Don and welcome to Luxury Shaving Razors! The idea behind the site was born in 2016 after trying to find a decent safety razor for my own personal use. I decided to document my journey.