Best Shavette Straight Razor – Buyer's Guide (2023)
We may earn a commission for purchases using our links. Learn more
What's the first thing that comes to mind when you think of the best shavette? If you are an expert, it could be a specific brand that has worked well for you in the past. But as a beginner, you are probably thinking of a straight razor instead. And it's okay because the two shaving tools are like brothers. Given their similarities, in design, use, and goal, most beginners get confused. So reading this you want to learn the difference therein and get the best shavette in the market.
We've taken the liberty of testing as many shavettes as we could get our hands on and read in-depth reviews on blogs and forums for the few that we didn't test out. Below is a buyer's guide of our findings and what we trust will afford you the best-wet shaving experience.
But if you are in a hurry, we found the Feather Artist Club DX Folding Wood Handle Razor to be the best shavette. It is a quality product both recommended and used by professionals & experts. Of all the shavettes we've seen, this one is insanely identical – and performs as well as – the best straight razors. You slide in the blade through a tiny rail on the shaft. Read more on what it has to offer in the product section.
Top 3 Best Shavette Razors at a Glance
Best Shavette for Professional Barbers
Best Dovo Shavette
Classic Professional Barber Shavette
Best Shavette for Professional Barbers
Best Dovo Shavette
Classic Professional Barber Shavette
Last update on 2023-11-29 / Affiliate links / Images from Amazon Product Advertising API
Let's start at the top.
What Is a Shavette Razor?
This might come as a shock but 'shavette' is a trademark name and not a type of shaving tool. The trademark name is owned by a German company called Dovo. This is the same company that produces the famous Merkur DE razors as well as DOVO straight razors.
Over the century, their shavette became popular and common and everyone started referring to the disposable blade straight razors as shavettes. It is the same way people refer to all adhesive bandages as Band-Aids and not by their actual brand names.
So essentially, a shavette is a straight razor featuring a disposable blade. The razor blade is not reused or sharpened. Instead, it's thrown away when it is no longer sharp.
With that said, we shall use 'shavettes' to refer to disposable straight razors. But have it in the back of your mind that it's a trademark name.
Benefits of Using Shavette Straight Razors
Here are some reasons why a shavette straight razor is ideal for your needs.
There's no stropping – some men are in love with the habitual process of stropping blades. But some loathe the idea and feel it's an added step they'd rather not go through in the morning. Since shavettes feature disposable blades, you don't have to realign the blade edge before every shave. Just slide in a new blade and you are good to go.
Blades are sharp – the beauty of using replaceable blades is that you always get to use a sharp blade. If you have a thick beard or skin that is sensitive, using a sharp blade is a plus since it'll help reduce razor burns and irritation.
They are hygienic – this is important for barbers who serve different clients in a day. Swapping out the used blade for a new one maintains hygiene and saves time. But even in a home setting, it comes in handy as couples share the shavette. The man shaves the beard and the wife grabs it to shave her legs.
It's ideal for travel – the fact that straight razors need regular stropping and occasional honing makes traveling with them inconvenient. Most times you won't have the space to hang your strop or the time to complete the process. Therefore, replacing the blade is a better choice.
Quality shave – shavettes afford men better control which allows them to get a precise and close shave. With the best shavette, the results are closer than that of a straight razor.
Best Razor for Men – Buying Guide
Shavette vs. Straight Razor
So far, we've pointed out one major difference – disposable razor blades. This difference, in turn, means you'll get a quality shave and there's no stropping. But despite their similar design, there are other differences including;
Weight – straight razors are considerably heavier than shavettes. Shavettes feature smaller and thinner blades hence their reduced weight. On the flip side, straight razors need a heavier, often stainless steel, blade to help maintain balance and reduce the pressure you apply when shaving. Also, shavettes are made of plastic and/ or light metal making them best for travel.
Blade size – shavettes have shorter blades. This makes it easier to replace used blades. But it also means you'll need multiple strokes for a closer shave.
Maintenance – a shavette is easier to maintain since you dispose of the used blade after every shave. You don't have to clean, sanitize, or strop.
Cost – shavettes have a lower initial cost than straight razors. However, over time, you'll spend on new disposable blades. Because of this, their long-term cost has the potential to get expensive. Luckily, blade replacements are inexpensive. Therefore, the costs rarely break through the roof.
Training – we've come across blogs and videos suggesting that you can use shavettes as a stepping stone to a straight razor. And while there's some truth to it, it's not accurate. On one hand, a shavette requires patience and concentration just like straight razors. However, since they are lighter and often sharper, the technique used is different. We can liken the process of learning to skateboard which improves your balance in motion but does nothing to improve your steering or pedaling skills.
Factors to Consider before Buying a Shavette
Let's dive right into it.
Blade type – the industry offers three blade types including; the round point, square point, and oblique point blades. The round point blades don't have a sharp edge and are therefore more forgiving and easier to use. On the flip side, square point blades are sharp and provide a precise shave especially if you are using them on small spots. Lastly, the oblique blade is as sharp as the square blade but even better for hard to shave areas like under the nose and the chin.
Weight – different shavettes have different handles. Some are heavier and others lighter. Heavier handles are made from aluminum or steel and lighter handles are from plastic. Metal handles have the advantage of gravity which makes shaving easier.
Price – always opt for a shavette at a reasonable price. Luckily, shavettes are not expensive tools. But we should warn you that going for cheap shavettes might cost you in the long run.
Best Shavette Razors (Summary)
Last update on 2023-11-29 / Affiliate links / Images from Amazon Product Advertising API
1. Feather Artist Club DX Folding Wood Handle Razor – Best Shavette for Professional Barbers
Style: Folding handle | Spine: Stainless steel | Scales/ Handle: Resinated wood | Mechanism: Spring-mounted | Recommendation: Beginners – Experienced

This is yet another fantastic razor from Feather. The fact that Feather has been in the industry for a couple of decades puts it in a unique position to manufacture functional razors.
Just by glancing at this Feather shavette, you can pick out one difference from the Artist SS club straight razor below. And that is the folding design. Because of this, it is ideal for the men who want the look, feel, and function of a classic straight razor without the hassle of stropping and honing before every shave.
What Is the Difference Between Feather DX Artist Club and SS Artist Club Series?
From the price point to the stainless steel material and the design, the Feather
DX
Artist Club and
SS
Artist Club Razors are two very different razors. But both series are great for different reasons.
Both razor series comes with two types of handles in response to professionals' preference and techniques.:
"Razor Type (folding handle type)"
"Japanese Razor Kamisori Type (non-folding handle)"
Artist Club DX Series
The body of the Artist Club DX razor is made of SUS316 stainless steel for smooth and friction-free shaving, as well as high durability, and handles are made of super engineering resin (Razor type) or elastomer resin (Japanese Razor type).
The DX series offers a slightly more aggressive blade exposure vs the SS series.
DX series is perfect for heavy beards, lots of shaving, and the weight of the razor does all the work, good for all skin types.
A little bit pricier than SS Series
The razors in the Artist Club DX series are a little bit heavier than the SS series (weight is between 1.58oz (45 grams) and 1.97oz (56 grams), depending on model/ handle).
Artist Club SS Series
The body is made of stainless steel SUS317. Stainless steel SUS 317 has better corrosion resistance than SUS 317.
The SS series has a beveled edge (a distinct slant lip that aids in flattening the skin) and a more bulbous (fatter) blade holder compared to the DX.
This is easier for beginners, works well for all skin types, but is slightly better for sensitive skin vs the DX series.
Handles in the SS series are made of super engineering resin (Razor type) or silicone resin (Japanese Razor type).
The razors in the Artist Club SS series are a little bit lighter than the DX series (weight is between 1.51oz (43grams) and 1.79oz (51grams), depending on the model/ handle).
The Feather DX Folding Wood Handle Razor features a stainless steel body which makes it durable. The body is resistant to chemical corrosion and rust. On the other hand, the handle is made of wood. But not just any wood – resinated wood. This is a polymer designed to be water and chemical resistant. Moreover, it is heat-treated which means it can withstand high temperatures.
With these wood qualities, you can sterilize the shavette with boiling water or ethanol. For thorough cleaning, you can dismantle the razor head.
Note: you shouldn't use sodium hypochlorite to sterilize the shavette.
For blade replacements, you can use the sharp Feather Artist Club blades.
Other qualities include:
An ergonomic handle that makes the razor comfortable to use.
Feather engraving on the blade shaft for authenticity.
A spring-mounted blade mechanism. It only takes one touch to dismantle it.
We Like
High-quality stainless steel construction
Resinated wood
Easy to dismantle and clean
Keep This in Mind
Heavier than the SS Feather Razor
Expensive
Though it is from Feather, it is slightly different from the Artist Club SS Razor. But even then, it retains some likable properties including a comfortable handle, durable construction, and spring-mounted technology which allows for one-touch dismantling of the blade. Expensive, but it is a product ideal for professional barbers.
2. Feather Artist Club SS Japanese Style Razor – Best Japanese Style Straight Razor
Style: Japanese (Kamisori) | Spine: Stainless steel | Scales/ Handle: Silicone Resin | Mechanism: Spring-mounted | Recommendation: Beginners – Experienced

The Feather brand is known for making state-of-the-art cutting tools and the Feather SS Artist Club is one of these. Feather is among the best Japanese straight razors available today. The brand lives up to its name by designing and manufacturing lightweight razors. But do not confuse this for inferior quality. Below is what the Feather SS Artist Club Japanese Straight razor has to offer.
At the top of the list is durability. This shavette is made from stainless steel. With this material, you'll never have to worry about rust or corrosion by impurities. Even better, steel gives the blade heat-resistant properties. To safeguard this property, Feather threw in a silicone resin, heat-resistant handle. The handle can withstand up to 2750 F.
Aside from being heat resistant, the resin offers a firm grip and has a beautiful matte black and smooth finish. Speaking of beauty, the Feather SS Artist Club Japanese Straight Razor mimics both the look and feel of the traditional straight razor, but with additional futuristic perks.
These perks include a spring-mounted blade slot which makes it easy to switch the blades when one gets dull. Moreover, the shaving head is rounded which exposes the blade enough for a smooth and soft shave.
When replacing the blade, pinch the razor head hard and pop it out. Repeat the same process when loading a new blade.

We Like
Comfortable silicone resin-covered handle
Durable construction
Spring mounting technology
Keep This in Mind
A little more expensive than the average shavette
With its stainless steel construction, resin coating over the long handle, and spring mount technology, the Feather SS Artist Club Japanese Straight Razor is not only durable but also comfortable to use.
3. Feather Artist Club SS Folding Handle Razor – Moder, but with Classic Design
Style: Folding handle | Spine: Stainless steel | Scales/ Handle: Resin | Mechanism: Spring-mounted | Recommendation: Beginners – Experienced

Another great product from Feather. If you want a new razor with a sporty feel, you should consider this one. Aside from a great design, the shavette has a modern feel to it and has great construction.
For one, the handle has a firm grip courtesy of the silicone resin handle that's well-engineered. Even if your hands are wet, the shavette will not slip from your hand. Moreover, the handle is designed to withstand a lot of heat of up to 275 degrees Fahrenheit. Because of the heat resistance, you can sterilize it in boiling water.
Unfortunately, this shavette doesn't come with extra blades like other shavettes on this list do. However, it makes up for this with great blade support. Moreover, the mechanism of switching between blades is easy. But even then, be extra careful when loading the new blade. Pinch it tightly and apply some pressure to ensure the blade settles well.
As for performance, the blade used is sharp and will slice unwanted facial air with great efficiency. However, it's easy for the blade to cut into your skin around the chin and the mouth. Because of that, this Feather shavette is best for experts who know how to get the perfect shave.
Fits the ultra-sharp Feather Artist Club blades.

We Like
Heat-resistant silicone resin handle
Easy to fold
A sharp blade that cuts through hair easily
Keep This in Mind
It doesn't come with extra blades
The Feather Artist Club Folding-handle Straight Razor is of high quality and checks all the boxes beginners and expert wet shavers could ask for. It combines the style and technology of its siblings the Feather SS Japanese Razor and the Feather DX Folding Wood Handle Razor.
4. Parker SRB Straight Edge Barber Razor – Classic Professional Barber Shavette
Style: Folding handle | Spine: Stainless steel | Scales/ Handle: Synthetic | Mechanism: Clasp | Recommendation: Beginners – Experienced

Every inch of this shavette screams 'professional'. But if you are a beginner, don't shy away from it. Parker has been designing shaving tools and accessories for over four decades. They have been at the forefront of pushing tech innovations in this space. And the Parker SRB benefits from all this knowledge and experience.
The blade arm and the handle are made from stainless steel. Some people think it's aluminum since it is lightweight but it is not. The steel construction is solid and guarantees decades of use. Unlike many other foldable shavettes, the Parker SRB is perfectly weighted. Therefore, you'll use minimal effort to shave. For added comfort, the steel handle is covered in resin.
According to most experts, the Parker SRB functions just like a straight razor minus the honing and stropping. Once the blade gets dull, you can replace it with single edge blades or half of the common double edge blades. This razor comes with 100 Parker Premium Platinum 1/2 Blades to get you started.
When replacing the blades, you will love the snap and lock blade holder mechanism complete with inserts that hold the blades securely. Changing blades can be a risky business but Parker has toned down on the risks with this feature.

We Like
A rounded tip making it beginner-friendly
A snap and lock blade change mechanism
Comes with blade replacements
Keep This in Mind
The handle could be built better
Parker SRB is perfect for professional and novices alike. Though it's not fancy, it's functional and is of high quality. The price is affordable too.
5. Dovo Shavette – Best Dovo Shavette
Style: Folding handle | Spine: Aluminium | Scales/ Handle: Polyamide plastic | Mechanism: Insert | Recommendation: Beginners – Experienced

If you are transitioning from cartridge razors to shavettes and straight razors, prepare yourself for a steep learning curve and a high initial cost. This is the general advice dispensed by wet shaving experts. But who wants to spend a fortune to test the waters? No one. And that's where this Dove shavette comes in. It is an affordable beginner shaving tool but with all the perks of high-end shavette sports.
The blade carrier is made from stainless steel which ensures durability. The holder is plastic which might feel awkward at first but makes it light for ease of use and control. Unlike heavier shavettes, this Dove shavette is easier to get used to.
Courtesy of the plastic holder, you also benefit from a solid grip. Moreover, the holder is available in black and silver. The package includes three extra plastic inserts.
When the razor gets dull, replace it with a new blade. Be extra careful not to cut yourself with these blades since they have square ends and are sharpened by machines for excellence.
You can replace the blade with any double-edge blade, like Derby Extra Double Edge Razor Blades  (by breaking it in 2), or 1/2 blades such as Derby Professional Single Edge Razor Blades 1/2 Blades. The DOVO Shavette comes with holders for longer blades as well, such as Tondeo TSS 3.

We Like
Sharp blades
Affordable razor
Lightweight construction
Keep This in Mind
The plastic handle is not long-lasting
This Dove shavette proves that getting a clean and close shave doesn't have to cost you a fortune. Aside from that, it is available in multiple colors and thrives in the hands of beginners and experts alike.
Full review: DOVO Shavette
6. Classic Samurai CS-102 Razor – Budget Beginner Shavette
Style: Folding handle | Spine: Stainless steel | Scales/ Handle: Stainless steel | Mechanism: Clasp | Recommendation: Beginners – Experienced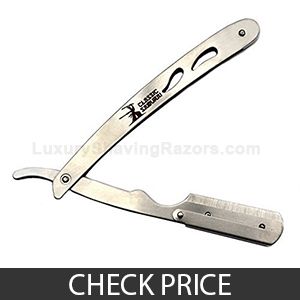 Two words are true when describing the Classic Samurai CS-102, stylish and effective. The first thing that'll catch your eye is its clean finish. The construction is genuine and is rust-free courtesy of the steel body. The handle is smooth and has a comfortable grip.
This shavette features a foldable design which you'll love and cut-outs on the handle that gives it more personality and style. Most men love this product because it comes with 100 disposable blades. Every blade is wrapped in wax paper for added protection and safety.
To make bade replacement a breeze, the shavette includes a 3-step locking technology. When loading the blade, you place it against the tabs on the shavette and flip a lever to lock them in place. Moreover, the tip of the shavette is rounded which helps to minimize accidental cuts as you learn to use the tool.
This shavette is compatible with a range of double edge razor blades including Derby, Lord, Shark, and Astra.

We Like
Strong and with an exceptional finish
Nifty blade locking technology
Affordable pricing
Keep This in Mind
The blades are not very sharp
The Classic Samurai CS-102 is not the classiest we've come across, but it does a great job, especially for beginners. It more than makes up for the dull blade with the 3-step locking technology when replacing the blades. Overall, it is safe and functional.
7. Parker SRX Heavy-duty Professional Stainless Steel Straight Edge Barber Razor – Heavy Duty Shavette
Style: Folding handle | Spine: Stainless steel | Scales/ Handle: Stainless steel | Mechanism: Clasp | Recommendation: Beginners – Experienced

If you are looking for a shavette that comes close to a straight razor, then this is it. The Parker SRX is heavy and perfectly balanced. Moreover, the etching on the body gives it a premium and professional look.
As a heavy-duty shavette, the Parker SRX weighs 2.3 ounces. The scales and the blade arm are made from steel and balance well. It has a shiny naked finish which commands respect for the one wielding it.
The blade compartment is rounded to reduce blade exposure and minimize the risk of cuts. When the blade gets dull, you have a safe and secure clip and lock blade holder mechanism to work with. In case you've never handled a shavette before, Parker includes step-by-step blade replacement instructions.
You can replace a dull blade with half DE blades or a double-edged blade (split into halves) from your local store. But this is after going through five Parker's Premium Platinum 1/2 blades that come with the shavette.

We Like
Has a rounded tip
Features a clip to close blade loading mechanism
Comes with sharp stainless steel razor blades
Keep This in Mind
The blade isn't the best we've experienced
If you are a professional, this unit is right up your early. It has the perfect weight to relieve pressure from your strokes and has an easy-to-load mechanism. The five half blades that come in the packaging are great to get you started.
8. Parker SR1 Stainless Steel Straight Edge Professional Barber Razor – Stylish Shavette (Professionals & Beginners)
Style: Folding handle | Spine: Stainless steel | Scales/ Handle: Chrome-plated plastic | Mechanism: Clasp | Recommendation: Beginners – Experienced

The Parker SR1 toes the line between traditional and modern shavette design and style. This is a good thing especially if you want a tool that reminds you of your granddad but looks like something you'd buy in the 21st century.
The SR1 feels great in the hand and is comfortable. It is lighter than the SRW which makes it easier to use around the hard to shave spots on your face. The blade arm is made from steel for durable construction.
For easier blade replacement, the SR1 features a secure snap and lock blade holder. Moreover, this mechanism ensures that the blade doesn't slip from its place and cause a disaster.
For added protection, the blade has a rounded exposure. With this detail, you don't have to worry about accidental cuts. Like the SRW, the SR1 has engravings on its body which add some character and style to it.
Comes with 5 Parker Premium Platinum 1/2 blades included.

We Like
Has ample heft
The build is solid and sturdy
Easy to switch disposable blades
Keep This in Mind
The scale is made from chrome-plated plastic and not steel
For the price it goes for, the Parker SR1 offers great value. This shavette is both functional and stylish. It's also ideal for a commercial setting and for beginners to use in the comfort of their homes. The Parker SR1 Shavette is also available in a nice
professional straight razor kit
.
9. Equinox Professional Straight Razor – Budget Shavette
Style: Folding handle | Spine: Stainless steel | Scales/ Handle: Stainless steel | Mechanism: Clasp | Recommendation: Beginners – Experienced

It's said that you get what you pay for. While this is true in most cases, it doesn't apply to the Equinox Professional Straight Razor. When you compare it to other shavettes on this list, it has everything you would want.
This Equinox straight razor is made from stainless steel which gives it rust-proof properties. Adding to its durability, these shavettes come with a box full of blades that will last for eight months or longer if you do not shave daily.
You might have noticed that this brand is not as popular, and yes, it does not have a history as rich as other featured brands.
Nonetheless, it gives the other shavettes a run for their money with its design and comfortable handle. The ergonomic design makes it easy to use and the open blade guard technology makes it easier to switch dull blades with sharper ones. Last but not least, if it's defective, you have thirty days to return the shavette.
Comes with 100 Single Edge Derby Blades included.

We Like
Affordable
Comes with 100 blades in the initial packaging
Has a 30 day return period
Keep This in Mind
Heavy. It weighs 4 ounces
Though Equinox is not very famous, it has done a great job with this shavette. The ergonomic design and the 100 blades make it a favorite with most men. Overall, it's easy to use and replace blades.
10. Facon Professional Straight Razor – Durable Beginner Shavette
Style: Folding handle | Spine: Stainless steel (black powder coating) | Scales/ Handle: Stainless steel (black powder coating) | Mechanism: Swing lock blade insert | Recommendation: Beginners – Experienced

The Facon looks like something you would see in a James Bond movie; only that is perfect for beginners. Here is why many people have fallen in love with this unit. The Facon straight razor has a rounded tip coupled with a blade lock which adds safety to using the shavette. Moreover, it ensures that you get consistent results every time.
Though the Facon is different from the rest, it features stainless steel construction and is resistant to rust and corrosion. The resistance promotes longevity and durability. Also, the Facon is hallowed to make it lighter and easier to use on the skin.
Aside from this, the unit has a black powder coating and comes with 100 single-edge Facon blades. When replacing a dull blade, you have to deal with a swing lock insert as mentioned above. Last but not least, to show you their confidence in their product, Facon gives a lifetime guarantee.
We Like
Has a lifetime return policy
It's inexpensive
Lightweight
Keep This in Mind
The starter blades are not the best especially for expert wet shavers
The shavette has everything one would need including stainless steel construction, an affordable price tag, and comes with a bunch of replacement blades. If you are trying your hand at wet shaving, then this is the piece to try.
How Do You Use a Shavette?
A shavette is used in the same way a straight razor is. However, bear in mind that a shavette has a smaller blade than a straight razor. This means that you will make multiple passes to make up for the shorter.
The first step is to prep your face. Start by warming the skin by taking a warm shower or applying a moist towel. Next, apply the best shaving cream for your skin type or the best classic shaving soap preferably with a shaving brush.
Hold your shavette from the handle lightly at 30 degrees from the skin. Start shaving from your sideburn downwards. To make it easier, pull the skin tight with your free hand. Follow your jawline and then move towards the mouth. Be sure you are patient and use small strokes.
You can make multiple passes depending on your preferences. But with every pass reapply the shaving cream or shaving soap. Experts recommend that you shave against the grain on the second and third pass. But if you are a newbie, stick to shaving with the grain until you master the art.
Once you are done shaving, use the best aftershave to close the pores and kill bacteria that might otherwise cause acne.
Best Shavette Blades & How Often Should You Change It?
Unfortunately, this is one of those things we cannot give a definite answer to. Why? Well, because it varies from one person to the next and on the blade you use. Some experts say they can get between 7 and 10 shaves from double edge razor blades and approximately 20 shaves from single edge blades.
On the flip side, some claim to get hundreds and others only one or two shaves. Ultimately, the number of shaves depends on your skin and beard. Learn what works for you and stick to it.
But the golden rule of thumb is that when the blade starts tugging on your hair, it's dull and it needs a change. Luckily, double edge blades are cheap and you can afford to change them as often as you please.
Is a Shavette as Good as a Straight Razor?
So far it's clear that the two are similar. But the shavette vs. straight razor debate has got some beginners confused and thinking one is better. But not quite. As we pointed out above, they both excel on different fronts and are better for different situations. For instance, if you enjoy honing and stropping, then a straight razor such as the popular Dovo Bismarck is a great choice. But if you don't and want optimal hygiene, then getting one of the best shavettes is ideal.
Where Can You Buy the Best Shavettes or Straight Razors?
You can purchase these tools from your local store or online stores like Walmart, and West Coast Shaving. If you purchase online, make sure you deal with a reputable company less you risk getting a counterfeit product.
Conclusion
There you have it – everything you need to know about shavettes. The above list is what we found to be great for different situations and that did not disappoint us. But if you come across a tool not on this list, use the above list to counter-check the quality and function of the best shavette or the best traditional straight razor. Aside from these two, you can also consider getting the best safety razor. Some experts claim that a safety razor can yield an even closer shave.