Best Balding Clipper for Men (Andis to Wahl – Buyers Guide)
We may earn a commission for purchases using our links. Learn more
Imagine the time you'd save maintaining and styling your hair at home! With a balding clipper in the palm of your hand, you don't have to queue for hours at the barbershop waiting your turn.
While this is exciting news, not every hair clipper will get you the desired results. You want a hair clipper that'll cut through your hair with ease, that's easy to control, precise and safe. Hair clippers like the Wahl 5-star balding clipper (#8110) will work some magic on your style.
To make it easier to find the ideal balding clippers, we've taken the liberty of compiling an easy-to-follow guide. We've also thrown in reviews of some of the best balding clippers' bestsellers in the market.
Let's dive into it.
Top 3 Best Balding Clipper at a Glance
Best Balding Clipper
Best Professional Clipper
Best Budget Balding Clipper
Best Balding Clipper
Best Professional Clipper
Best Budget Balding Clipper
Last update on 2023-11-28 / Affiliate links / Images from Amazon Product Advertising API
Best Clippers for Bald Head – What to Consider when Shopping
After assessing numerous balding clippers, we zeroed in on several main factors to consider and pick the best balding clippers for you.
1. Cutting Length
Whether you intend to use it for professional or personal use, you need to know how low the clipper can go. In most cases, balding clippers that can get surgically close are the best. This way, you get a big styling range to work with. You can decide to get a nice fade or go for a completely bald head.
Most balding clipper brands achieve the 'styling range' by throwing in attachment combs. You can use any of the combs to vary the length of hair you cut. Of course, these attachment combs mean nothing if your goal is to go bald.
2. Motor Power
Balding clippers feature different motor types. As a result, they have varied pros and cons that'll affect your decision. The three motor types are:
Magnetic motors
Pivot motors
Rotary motors
Here's how they work.
Clippers with these motors are the fastest. Mainly because AC power comes in at 60Hz. They operate through a spring push action that moves the blade once in the positive and negative peaks of a sine wave. This means that the blade of an electromagnetic motor balding hair clipper moves at 120 Hz per second. This translates into 7200 RPM for most electromagnetic motor balding clippers.
On the flip side, the spring push action and fast speed result in low torque and high heat on clipper blades because of friction.
So what does all this mean for you?
Well, in layman's terms, magnetic motors deliver reliable power and high blade speed for general and tapering cuts. They work best on fine to medium texture hair. And because they have fewer moving parts, they are low maintenance and tend to last longer.
Like a magnetic motor, a pivot motor uses AC power to the blade. But instead of the spring-push action, they rely on the magnetic pull. The pull on the blade arm is equal on both sides, courtesy of diodes. In the pivot motor design, the blade moves once every sine wave. Therefore, the blade speed is calculated as follows:
60Hz x 60 seconds = 3600RPM.
This blade speed is half of what magnetic balding clippers offer. But on the bright side, the pull force results in high torque. Also, with the low blade speed, there's reduced friction and heat generated.
Now let's translate the jargon.
Generally, pivot motors generate high power at lower blade speed, are whisper quiet, run cool, and last long. They are perfect for men with thick and heavy hair. Even better, they can cut through wet hair with minimal motor strain.
Rotary motor designs are the most common. They are mostly found in low-priced hair clippers and convert circular motion into linear motion. They are a favorite for many men because they often come with rechargeable batteries and are the most affordable. Though most rotary clippers operate on a single speed, some high-end rotary clippers feature variable speed settings.
Rotary motors offer an equal amount of speed and power. The balance between speed, power, weight, and size makes them versatile and ideal for heavy-duty hair cutting. Unfortunately, they aren't the most durable. But if you cut hair once a week, then a rotary motor should serve you well.
3. Blade Width
The choice of perfect blade width is made by finding the sweet spot between ease of navigation and efficiency. A wide blade will have you cutting a large surface area in a go, but it will prove problematic when working spots on the neck and behind the ear.
The perfect blade width is about 1.5″.
4. Blade Teeth
On the top of balding clippers are blade teeth. The length of the cut you get depends on the blade teeth you use (some even have self-sharpening blades). You'll come across clippers with deep and longer teeth and others with shallower and shorter teeth. For a close cut, go with the shallower set.
But the good news is that you aren't limited to a specific set of teeth. Some of the more popular hair clipper brands are designing replaceable blades allowing for more customization. So if you want a replacement for a change of style or the original blade tips are damaged, you can get a replacement at an affordable price.
5. Cordless vs. Corded
The benefits and convenience they both offer are undeniable.
First, corded balding hair clippers are more powerful. As such, they deliver consistent results. On the flip side, cordless balding hair clippers are less powerful. However, they make up for this with portability. They are more compact, lightweight, and can be used while on the road. Moreover, with cordless clippers, you never have to worry about cords getting in your way.
If you are getting a balding hair clipper for professional use, then a corded type is best. The power and speeds it packs help to deliver cleaner cuts and fades. But if you want it for personal use and love to travel, a cordless one is great.
If you end up choosing a cordless tool, consider the battery life. Anything between 40 and 60 minutes is acceptable. It's a plus if the cordless balding clipper can offer a couple of cutting minutes for a few minutes or recharging.
6. Ergonomic Handle
Ergonomic handles affect control and, ergo, your execution and results. If you'll be cutting hair all day, you'd rather do it with a clipper that feels great in the palm of your hand. One designed with centered weight and a body that fits snug into your palm is perfect.
7. Price
At the time of writing this, we determined a quality balding clipper to be anywhere above $60. This price is for corded clippers with replaceable metal blades. This feature makes them a safer and more long-term investment in case of damages. The clippers also had reliable power from the best motor designs.
We also noticed that balding clippers that were way higher than the $60 price tag didn't offer anything exemplary aside from extra brushes and attachment combs. We didn't notice a change in performance despite insanely high price tags.
On the flip side, with cheaper balding hair clippers, we noticed some compromises in the performance of the motors. Needless to say, this impacts quality.
Note: The trick when picking the best clippers for a bald head is to strike a balance between quality and price.
8. Waterproof
It's never a good idea to use electrical appliances in the shower since you risk electrocution. With that said, some brands have designed water-resistant balding clippers.
This feature makes it easier to clean blades after cutting. Instead of using a small brush to remove the tiny hair cuttings, you can rinse them under a tap.
Best Balding Clippers for Men (Summary)
Last update on 2023-11-29 / Affiliate links / Images from Amazon Product Advertising API
1. Wahl Professional 5-Star Balding Clipper 8110 – Best Balding Clipper Overall
Wahl is a must-have clipper brand for professional barbers or practical men looking to get hands-on with their grooming. This Wahl Professional 5-Star Balding Clippers (#8110) is 6.25 inches long and weighs a solid 1 pound. Its finish is a mix of burgundy and black.
While this Wahl balding clipper is packing (as you'll see), we noticed that it might not be as durable as the Oster 76 classic or the Andis Master. However, it's pretty sturdy, has great performance, and is ergonomic. It doesn't slip from the hands or cause strain.
Aside from the clipper, you'll receive a cleaning brush, a Wahl clipper oil, instructions, and a red blade guard to protect the teeth. And as a surprise, you'll get 3/16 inch and 1/16 inch Wahl guards. Sweet right?
But before you get carried away, we should stress the fact that this clipper is not to be used for fades, or lineups of beard trimming. Such detailing should be left to regular trimmers. The Wahl 8110 is specifically designed for balding. Use it as such, and your speed, precision, and results will improve.
Now, the Wahl 5-Star Balding Clipper sports a V5000 electromagnetic motor that's designed to Wahl's quality and performs above industry standards. Usually, magnetic motors have heating problems, but this model stays impressively cool. The V5000 is powerful and will shave your head fast and precisely.
Blade
The Wahl 8110 excels in blade quality. It comes with the #2105 surgical titanium-grade blade. Without extra attachments, it cuts between 0.1 and 0.2mm. With this closeness, I'll leave a small stubble behind. Sure, it's not as close as quality head razors, but for a clipper, it's impressive.
Also, remember that this is a single-position blade. So there are no adjustment levers.
Noise
The Wahl 8110 is impressively quiet. While it doesn't run on mute, its quiet levels are great, considering the power it packs. The vibrations are also reduced, which makes for a great shaving experience. No one wants to wield a great clipper, only for the results to be offed by a jittery design.
A Double-Edged Sword
Its blade is the main advantage. However, in the hands of an amateur, it can be a weakness. How so? Well, the blade delivers a sharp bald look. But if you throw caution to the wind, the zero-gap blade will nick your skin.
Do not apply too much pressure, and be mindful of the angle from which you cut hair. Go slow and sure.
Corded
In addition to its precision, the clipper has an 8-inch cord that allows for better mobility. Whether you are using it in a barbershop or at home, you have enough radius to work with. The cord is covered with a chemical-resistant coating that doesn't crack or dry with time.

We Like
Ergonomic grip
Close cuts
Powerful magnetic motor and high performance
Keep This in Mind
The cord might be too long for personal use
Too heavy for some
This is one of the best balding clippers in the industry. However, its close-cutting performance doesn't match that of
the best razors
, it's close enough for a clipper. On the plus side, it has a solid construction, strong motor, and is long-lasting.
2. Andis 01557 Professional Master Adjustable Blade Hair Clipper – Best Professional Clipper
We should start by mentioning that this Andis Master isn't directly marketed as a balding clipper. However, men in different forums, including Reddit, Badger & Blade, cannot stop raving about the quality of the cut it delivers. Some professional barbers even went the extra mile and dubbed it the 'Cadillac of Andis.'
Here's what the Andis Master offers:
The carbon steel blades are powered by a magnetic motor. As such, the clipper can shave your head with great precision and speed. Unlike most balding clippers, the Andis Master delivers 14,000 strokes per minute. This is a whopping 6,800 extra strokes per minute more than what the Andis Professional T-Outliner Trimmer manages.
With the extra strokes, your grooming process is made even faster and more precise.
Aside from its speed, it also allows you to make smoother fades with minimal chances of pulling your hair. On the same note, you can shave your head and facial hair without fear of razor bumps or irritation.
We also loved the fact that the clipper is adjustable. You can work with it from fine to coarse of size 000 to size 1. Alternatively, the blade can be zero-gapped. The adjustment is done through a lever conveniently placed the size above the one-hand on and off button.
We did point out that the magnetic motors are fast and tend to heat up. Well, the Andis Master is no exception. However, we noticed that for ten minutes of use, the clipper warmed up by 30F. If you use it for longer, the temperature increase is significant, and the clipper has to work slightly harder. The good news is that oiling helps.
Finally, this clipper is heavy. It comes in at 1.25 pounds. It would have been heavier was it not for the lightweight aluminum housing. If you handle the clipper every day, all day, you'll experience some fatigue. But if it's meant for personal use, then the weight isn't such a big deal.

We Like
A high number of strokes a minute
Quality craftsmanship
Adjustable blade
Keep This in Mind
Heavy
Expensive in comparison to other clippers on the list
If you want to shave your head faster, then a high-speed clipper like the Andis Master is great. It will feel great in your hand and improve your productivity. Just bear in mind that it's slightly heavier than other balding clippers.
3. Oster Classic 76 Universal Motor Clipper – Most Versatile
Wahl and Andis often overshadow other brands in the male grooming industry. In all that dominance, the Oster Classic 76 has managed to make a name and a niche for itself.
Below is everything you'll get from the Oster 76 balding clipper.
Body
The Oster 76 design strays from the norm. It's cylindrical, weighs a solid 2 pounds, and is a little over 7-inches. If you are a professional, you might want to rethink getting this since it'll wear out of your hands. Aside from this, it'll afford you high-end cutting action.
When it comes to durability, the Oster Classic 76 Clippers are right next to the Andis Master (if not better). The body is made from valox, which is break and fall-resistant courtesy of vertical knurling along its length. At its base is a 9-foot cord that provides added flexibility. It also comes with lubricating oil, a cleaning brush, a guard, clipper grease, and a power cord.
Blades and Motor
The best way to describe the motor is as a Jeep Trackhawk in a sea of Toyota Prius. It generates great torque and power enough to cut through dry or wet, thin or thick hair fast without changing speeds. Moreover, the motor is ideal for heavy-duty work. This means it can handle high-volume and prolonged cutting.
And while the motor can heat up, it's nothing like in the Andis.
Now the blades are made from stainless steel and are tested in harsh conditions to ensure sharpness and durability. This balding clipper has a detachable blade system. You, therefore, have to change blades when you need a different cutting length. On the plus side, you can throw in any blades you please. Unfortunately, replacement blades don't come cheap.
On purchase, the clipper comes with detachable blades measuring 000 and 1. The #000 leaves hair at 0.5mm while the #1 leaves hair at 2.4mm.
Clipper Maintenance
It might be a challenge the first time you try shaving your head, but it starts to grow on you. We'd like to emphasize oiling. Oiling the blades helps it last longer. And every week or so, you should do some deep cleaning to get grime and excess hair off the blades. Doing this will help keep your blades sharp.
With all the good stuff said, we should let you know that the Oster Classic 676 is heavy and bulky and can get a little noisy.

We Like
Classic design with an old-school vibe
Works with several cutting blades
Has a powerful electromagnetic motor
Keep This in Mind
It's quite heavy
Detachable blades
There's no doubt that the Oster Classic 76 is powerful, fierce, and versatile. However, it has a different design than most balding clippers that might need some getting used to, and is heavier.
4. Wahl Professional Super Taper Hair Clipper – Very Affordable
The Wahl Super Taper adheres to the quality and performance we've come to associate the Wahl brand with. At the top of their list of greatness is the blade – it's impressively sharp. In fact, because of its sharpness, we'd suggest beginners always use guards with this clipper.
Speaking of which, the clipper comes with eight guards ranging from 1/8 inches to 1-inch in length. The Super Taper II also comes with a cleaning brush and a guard. We noticed that the guards are colored, which makes it easier to distinguish between them.
The clippers do not tug or chew on the hair. Courtesy of its sharp blade and powerful motor (as we'll see), the clippers work through any hair type. Moreover, you can easily detach it to clean it.
On the left of the body is a lever that you can adjust to bring the blades closer or further, depending on the result you need.
Body
We'll be honest; the Wahl Super Taper II isn't a design masterpiece – we've seen other balding clippers with a more beautiful design than this. However, we acknowledge Wahl's efforts in creating great body balance in this clipper. It's not too heavy, but it's solid enough to offer maximum precision and stability. It weighs about 1.2 pounds.
We also noticed that the Super Taper II is slimmer in the middle than its elder brother. Because of this, it lies comfortably in hand and doesn't tire you out. If you'd like something a little smaller and more comfortable to hold, the Wahl Peanut might be your clipper.
The cord is long enough to allow for a wider range of movement. On the plus side, it's thick and durable.
Motor
The Super Taper II comes with a V5000 motor. We noted that some Wahl balding clippers feature the V9000 motor that's more powerful. With that said, the V5000 performs better than most motors in the industry. It cuts through the hair with ease but needs regular oiling.

We Like
Colored combs to make choosing the best easier
Ideal for beard trimming
Has an ergonomic design
Keep This in Mind
The clippers get a little noisy
Has a strong vibration
The Super Taper II is a great overall choice for professionals and casual users. It's efficient and comfortable to use. But as a professional, be warned, that the weight might cause hand fatigue after prolonged use. But on the bright side, the Wahl balding clipper is super affordable.
5. Remington HC4250 Shortcut Pro – Best Personal Clipper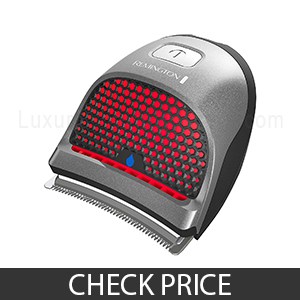 From its design, it's easy to see why we have the Remington HC4250 on this list. Very few balding clippers come close to it in terms of design and shape. But aside from this, does the Remington HC4250 have anything else to offer?
Well, it's compact with a 3.2 x 2.9 x 2.1-inch measurement. It fits comfortably in hand without problems. And the fact that it's cordless means that you can move it around with ease and work on the hard-to-reach areas. In addition to convenience, it's also fast.
Here's a quick breakdown of its features.
Blades
The Remington HC4250 has an extra-wide and curved blade made from stainless steel. They are 2.9 inches wide and deliver 57% wider cuts than most clippers available. With a single pass, you cut more hair and consequently save energy and time.
Their curved design allows the clipper to follow the contours on your head and deliver a close and even cut. You also don't have to worry about pulls and snags, thanks to its sharpness.
Waterproof
This is more than we can say for most balding clippers. Its waterproof feature allows you to clean it better. Add to this the fact that the blades are detachable, and you have one of the easiest to maintain clippers in hand.
Versatility
The Remington HC4250 can work on all hair types, courtesy of its nine-length setting. You can adjust the length settings between 1.5mm and 15mm. Without a doubt, it affords you greater control over the preferred style.
Lithium-Ion Battery
A rechargeable Lithium-Ion battery makes the deal even sweeter. Though it's slow charging (it takes about 4 hours for a 100% charge), it offers 40 minutes of cordless service. This offers great convenience when you are on the road. If the battery dies on you, you can recharge it through a corded connection.
14-Piece Kit
The clipper comes with:
9 length adjusting combs
A cleaning brush
A travel pouch
Oil
We Like
Lightweight
The wide and curved blades make cutting hair a breeze
Has a range of cutting settings
It's portable
Keep This in Mind
The Lithium ion battery takes a long time to recharge
Short battery life
The Remington HC4250 isn't a clipper for professionals. Mainly because it lacks power. However, it's ideal for casual users. Its portability, waterproof design, and rechargeable battery make it a must-have.
6. Wahl Professional 5-Star Detailer with Adjustable T Blade 8081 – Beard Trimming & Balding
This hair trimmer is often compared to the Wahl 8110. At first glance, they look similar, but they could not be more different. Below is a quick run-down of what to expect from this Wahl detailer and trimmer.
First and foremost, the words trimmer and detailer should shed some light on the technology. Some men love using specific tools for their sole purpose of creation. In this case, they'd prefer to use it to manicure their beard. On the other hand, some men don't have a problem with saving time and money on these tools, so they opt to use the Wahl 8081 for balding and beard trimming.
This baby has a zero-gap blade that allows for a close and precise cut. And courtesy of its extra-wide T-blade, that's 0.25 inches wider than most Wahl blades, you'll be done cutting hair in no time.
If you don't fancy a bald look, you could use the hair trimmer for fades with the three guides it comes with; the 1/16″, the 3/16″, and the 1/8″. In combination with the zero-gap, you can achieve an incredible skin fade.
The trimmer features a rotary motor that cuts through all hair types, including soft, wiry, thin and thick, and dry and wet hair. At only 5″ and 6.9 ounces in weight, the trimmer is compact and sturdy. This makes it perfect for creative and precise lines and cuts or multiple or prolonged cutting sessions.
During our review, we did notice some complaints about skin irritations. This is probably because of the blade's sharpness. You need to be extra careful, especially when using it on sensitive skin.
Also, while the extra-wide blade makes the grooming process faster, it makes it slightly difficult to find compatible guards. There are a handful of guards that can fit into it.

We Like
Compact and lightweight
Extra-wide blade
Useful for fades, beard trimming, and balding
Keep This in Mind
Might cause irritations on sensitive skin
Hard to find compatible guards
If you search for premium and professional balding clippers, the Wahl 8081 is the ideal trimmer for you. It'll handle beard trimming and balding with ease.
7. Andis 04710 Professional T-Outliner Beard/Hair Trimmer with T-Blade 04710 – Affordable & Good for Beginners
This trimmer features a powerful electromagnetic trimmer and other nifty features that'll blow your mind. Here's what both men and women will get out of this trimmer.
Design
The Andis Professional T-Outliner Beard and Hair Trimmer come in black and gray. It has contours and an ergonomic shape that allows it to fit in hand comfortably. Aside from this, it comes with sharp-cutting teeth that allow for effective and fast trimming. The teeth are fitted closely, which makes them ideal for dry shaving.
The trimmer head is wide, which improves speed and makes it easier to achieve a smooth cut. To adjust the trimmer, you simply align the T-bar with mounting screws.
The trimmer is 11.2 ounces and measures 1.8 x 1.5 x 5.2 inches.
Blades
It has an effective blade that provides the desired look with a couple of strokes. You may have to apply some force with other trimmers, but this isn't the case with the T-Outliner Trimmer. The blades cut as close as you'd like and achieve a clean and sharp cut.
Performance
The Andis Professional t-Outliner beard features a high-speed magnetic motor that provides sufficient power to the trimming blades. It helps to deliver 7,200 strokes a minute. However, we noted that the blades got hot after some time of use.
Honestly, with the electromagnetic motor, this didn't come as a surprise. And while it can be uncomfortable, we noted the same issue with other balding trimmers running on magnetic motors as well. The trick here is to oil the blades. Alternatively, you could shave fast before the temperature gets too uncomfortable levels.
Despite having a powerful motor, the trimmer isn't too loud. This is great, especially if you love maintaining a low profile.
Durability
This is one of the heavier trimmers in the industry that features robust housing. It also comes with a strong shaving head that lasts for a long if you adhere to a strict maintenance routine. Aside from this, the trimmer is ideal for balding. The results are similar to those you'd get from a barbershop (of course, subject to your balding skills).
Sensitive skin
Despite having a powerful motor and sharp blades, it's good for those with sensitive skin. You don't have to worry about irritations or rashes. But in case you were a little clumsy with this trimmer, it helps to use a soft brush dipped in hot water to stroke your face. This will prevent bumps from developing and will calm your skin.
We didn't like that the trimmer didn't come with guards. Even though you can still find affordable guards in the market.

We Like
Affordable cutter
Great for beginners
Can handle some trimming and balding
Keep This in Mind
It heats up pretty fast – within 15 minutes
The build quality is commendable but not the best we've seen from Andis
The Andis T-Outliner is a good tool for a dry head shave. It's not cordless, but the 8-foot cord provides you with a good radius to work in. Aside from that, the carbon steel blades are sharp and deliver great results.
8. Conair for Men Even Cut Dual Blade Clipper – No Frills
The first thing that'll catch your eye is the unique design. Like a couple of other clippers on the list, the Conair has strayed from the norm. Instead of a rectangular or cylindrical design, it's spherical. This is quite refreshing and will attract anyone who loves to stand out from the crowd.
But the unique design isn't the only thing it has to offer.
The Conair clipper has dual blade technology that allows you to cut hair with forward and backward hand motions. This means that you'll spend a little less time maneuvering and readjusting the clipper. With the ability to make complete strokes in either direction, you'll achieve a more even close cut. To ensure you get hair behind the ears with ease, it has an ear taper guide.
Complementing the dual blade technology are the stainless steel blades used. The quality of the blades allows for smooth and fast hair cutting. If you want to get close to the skin, you could do so without comb guards. But if you want to add some style to your cut, you can use any of the four attachment combs it comes with.
The clipper runs on a rechargeable lithium-ion battery. The battery lasts for 60 minutes when fully charged for three hours. However, if you run out of juice and are in a rush, you can plug it in for 15 minutes and get a whopping half-hour of life.

We Like
One of the most affordable on the list
Achieves a close shave
Has dual blade technology
Keep This in Mind
The design-build isn't the sturdiest. Some users claim it fall apart fast
This clipper is all about improving the cutting experience. The dual blade design improves speed and makes it easier to maneuver the clipper on your scalp. Its beautiful spherical design and low price tag are extra perks that you'd be pleased to have.
How to Use Balding Clippers for the Best Result
Using a balding clipper is like using regular clippers. However, we want to share some tips that'll help you get the best results with the least effort.
1. Cut Dry Hair
It's not mandatory, but clippers cut through dry hair faster and cleaner. Wet hair tends to clog the clipper. This often happens with low-powered clippers.
2. Clean Up After Yourself
Successful barbershops adhere to high cleanliness standards. After all, it's easier to market a clean space. If you are at home, cleaning up after yourself helps avoid marriage arguments.
To make it easier to clean up the small bits of hair flying all over the bathroom counter and floor, you could:
Cut hair in the garage and later sweep everything into a trash can
Hop into your bathtub, and do your thing while in there. All the hairs will be trapped in the tub, and you can rinse them down the drain after. Since the hair bits are very small, there's no need to worry about them clogging the drains.
3. Two Mirrors Are Better than One
After clipping, it's time to inspect the results. You can do this in front of the bathroom mirror while holding a small mirror behind your head. This way, you'll see any spots you might have missed or are uneven. Alternatively, you can take an aerial photo of your head. Lastly, you could run your hands over your head and feel for any unevenness.
4. Neck Hair
When cutting your hair, always extend your stroke past the hairline and down your neck. This will result in a cleaner and more even finish.
Cleaning and Maintaining Balding Clippers
The most important recommendation is to read the clipper's manual. The care practices are often similar, but from time to time, they might vary. Below are some key points to have in mind.
1. Dry Brush Regularly
Most clippers come with a dry stiff-bristled brush included in their kit. The brush is useful for getting rid of hair bits and dead skin.
Doing this regularly preserves the quality, longevity, and performance of the blade and clipper. Moreover, it's hygienic.
2. Oil the Blades
Oiling the blades reduces friction, prevents overheating, and results in a cleaner cut. We recommend oiling the blades before every grooming session. Though this might be tough for some busy professionals, you should oil the blade once a day. The process is simple:
Power off the balding clipper and add five oil drops under and on top of the cutting edger
Turn on the clipper
Move the adjustable lever (if there's one) to distribute the oil evenly
3. Blade Cleaners
Brushing and oiling the clipper blade is great for long-term maintenance. But for even better results, you could throw a blade cleaner into the maintenance regimen.
A blade cleaner like the Andis Cool Care Plus has a pressurized mist that instantly cools down the blade and blows away gunk and hair residue. It also acts as a disinfectant.
Hair Clippers vs. Balding Clippers
In your search for the best balding clippers, you'll come across several hair clippers as well as head shavers. Though they may sound and look similar, they are slightly different. Below is a quick overview of their differences.
Balding Clippers
They don't often come with attachment combs for cutting different hair lengths. Also, they have a powerful motor, and the teeth are designed for close trimming. You can shave your head to less than 1mm hence the term 'balding.'
Balding clippers are nice tools to achieve a 'bald' look without having to deal with razor bumps, skin irritations, and ingrown hairs when shaving your head.
Since they are designed for use on the scalp, many have wide-cutting blades. This width allows for faster cutting and fewer passes. This is important for professionals looking to be more productive.
Hair Clippers
Consider these standard clippers. They often come with side levers that you can use to adjust the height of the cutting blade. They come with varied attachment combs that help in achieving fades.
Unlike the best balding clippers, hair clippers have a narrower cutting blade. Finally, their cutting length range is between 1mm and 2.5mm. They tend to leave a lot of hair on the scalp than balding clippers.
Choosing Criteria for Finding the Best Balding Clippers
Choosing the best balding clippers is tasking. When finding the perfect clipper, you'll have to consider several factors, as we described at the start of this best balding clippers guide.
Judging from the list we gave, and after careful research and review, we are confident that the products on our list are some of the best yet. Whether you are searching for a professional barber balding clipper or just want a quality balding clipper to use at home, any of the above products will get you great results.
Conclusion
Feel free to pick a balding clipper that suits your needs from the list above. And if you don't find anything that does, make sure you consider the choosing tips we listed to ensure you get the best one yet.