Best Face Moisturizer for Men (all Skin Types – Buying Guide)
We may earn a commission for purchases using our links. Learn more
This week's article is a buying guide for the best mens moisturizer. We will take an in-depth look at lotions and creams – as well as a complete skincare system.
Many ladies have 'buy moisturizer' on their to-do list. But very few men, if any, have it on their list. Most men feel like it's unmanly to use a facial moisturizer.
But this is far from the truth. Facial moisturizers are not a thing for women alone. The products available are a testament to this. Today, there are facial moisturizers designed specifically for women and others for men. Men are encouraged to add facial moisturizers to their grooming arsenal since they have loads of important benefits.
But jotting it down on your to-do list is easier than actually picking out a product that will be perfect for your skin. A presentation walk down the skincare aisle can be overwhelming and super confusing. But don't you worry, as always, we are here for you.
We've compiled this best face moisturizer article just for you – to take you through everything you'd need to know and some of the best face moisturizers you should consider.
To kick this off, let's get started on what you need to consider when buying facial moisturizers – what makes it the best moisturizer for men? Is the face moisturizer good for dry skin? What about if you are a guy with sensitive skin?
Best Face Moisturizers for Men at a Glance
Last update on 2023-01-29 / Affiliate links / Images from Amazon Product Advertising API
Factors to Consider When Buying a Mens Face Moisturizers
Do not make the mistake of picking out the first facial moisturizer you come across on the shelves. Instead, take some time to vet your options. Consider the following factors.
Ingredients
We cannot emphasize this enough. A facial moisturizer is only as good as the ingredients used to put it together. In this piece, we shall echo this many times (you best be prepared for it). Below are some of the ingredients you are bound to come across.
Antioxidants
Antioxidants work to repair damaged skin. Antioxidants are available in many different forms including Vitamin C, Pomegranate, Vitamin A, and Green tea extract. From a scientific standpoint, antioxidants neutralize radicals that break down Collagen and over time cause wrinkles and fine lines.
Retinol
Many skincare products that are worth their salt will have this ingredient. Retinol is hailed as a great exfoliating agent. It will remove and reduce dead skin cells. Moreover, it gives collagen production and skin elasticity a major boost. It does this by stimulating the repair of damaged skin cells.
Alcohols
Facial moisturizers feature several different alcohols. These include astringents and ethyl alcohol. But even while manufacturers love using them, you should exercise caution when using alcohol-based facial moisturizers. Why? Well, alcohol can be harsh on the skin and even irritate it when used without moderation. But on the flip side, there are versions of alcohols called 'fatty' alcohols like lanolin that help in strengthening and moisturizing the skin.
Alpha Hydroxy Acids
These are natural acids found in fruits. These acids help in getting rid of dead skin cells and in the process, smoothening the skin. The acid levels are mild and as such can be used regularly.
Skin Type
Before you buy any moisturizer, you should consider your skin type. There are 4 types of skin namely; oily, sensitive, dry, and normal skin.
Sensitive Skin
If your skin is easily irritated, there are high chances you have sensitive skin. Sensitive skin requires moisturizers that do not cause or worsen irritations. On the contrary, the moisturizer should soothe the skin. To achieve this, the moisturizer should not have harsh chemicals like alcohol.
Oily Skin
If your skin is oily, you should stay away from oil-based moisturizers – they will only make your face shinier. Instead, you should get a water-based moisturizer laced with essential oils.
Dry Skin
If your skin dries up and becomes flaky, you need a moisturizer that will inject oils into the skin. A moisturizer that has antioxidants like grape seed oil is perfect for the job. To prevent your skin from cracking at the slightest stretch, you should get a moisturizer with petroleum jelly. Speaking of which, petroleum jelly is especially useful if you have eczema or wrinkles.
Normal Skin
This is the skin that is right between dry and oily skin. It is the least problematic of the four. If you have this skin type, you should get a moisturizer with moderate ingredients. Water-based facial moisturizers are always a great choice.
Age
We cannot run away from aging. This is a fact that you should make peace with. As you age, the skin losses its elasticity and moisture-retaining ability. For this reason, it's important to use a facial moisturizer. And here's the thing – when you dedicate yourself to a facial moisturizing regimen, your skin retains its elasticity for longer and you will have fewer wrinkles.
Your Climate
The climate and immediate environment also affect the health of your skin and how it looks. You should pick a moisturizer that will get the job done whether you live in a dry and warm climate or a harsh and extreme climate like winter.
Brand
Here's some good news. You don't have to worry yourself over which brand of moisturizer is better than the other (though some are popular and known to deliver quality). The most important thing to consider is the ingredients used and the research and testing that back the claims made.
Price
Like with other products, men's facial moisturizers vary greatly in price as well. Some are expensive and some are cheaper. And while many people automatically assume expensive facial moisturizers are the best, it's not always the case. We've come across expensive products that weren't worth their price tag and cheaper ones that were invaluable.
Your decision to buy a face moisturizer should be based on the ingredients as well as your skin type. If the moisturizer that works perfectly for you is costly it's okay. Your skin's health and comfort are well worth investing in.
Sun Protection
Moisturizers that protect the skin against harmful UV rays are great. You should give such moisturizers priority when you are looking for the best product to invest your cash in. Sun protection is represented as SPF (Sun Protection Factor). SPFs above 15 are great even if you have dark skin.
And with that said, let's proceed to look at which moisturizers are top-rated for men.
The 9 Best Men's Face Moisturizers – All Skin Types
1. Brickell Men's Daily Essential Face Moisturizer for Men – Best Face Moisturizer for Men (All Skin Types)
Brickell is a famous brand. As such, the story of how it got to the top of various best male face lotion list is not new. But even then, it doesn't hurt reiterating it.
The company was created in 2014 by Matt Bolduc and Josh Meyer. At the time, the two were looking for a premium skincare product for men they could use. Unfortunately (or fortunately for them), they couldn't find any they felt met their needs and expectations. So rather than going back home and complaining about the lack of a good product, they decided to put together a quality product based on natural ingredients. They started operating from Matt's garage but they have since grown into a force to be reckoned with.
It is said that it's one of the fastest-growing brands for men's skincare and in the grooming world as a whole.
Now, we all know how difficult it is to turn a startup into a successful business. And since Brickell's founders have managed to do so in such a short time, they must be doing something right. First and foremost, they have a one-of-a-kind product line for both men and women. The Brickell Men's Daily Face Moisturizer is one of them.
Like other Brickell moisturizers, this version absorbs moisture and provides the face with everything it needs to remain supple, soft, and smooth. Even better, the moisturizer is made with natural ingredients.
These include:
Green Tea – this is a powerful antioxidant. It has been proven to slow down the manifestation of aging signs
Jojoba oil – forms a protective barrier on the skin. This barrier helps to prevent moisture loss
Aloe Vera – it penetrates the skin and injects it with antioxidants and moisture
Hyaluronic acid – this is a great hydrator.
In addition to the above ingredients, the moisturizer also includes eucalyptus, lemongrass, and peppermint to give a refreshing scent that isn't too overwhelming.
It's also worth pointing out that the moisturizer doesn't contain sulfates, petrochemicals, synthetic fragrances, parabens, and gluten. The product is vegan friendly as it's never been tested on animals.
Given that it's not greasy and light, you will fall in love with how it feels on the face. Brickell made the moisturizer light to increase its rate of absorption into the skin.
Type: Lotion
Skin Type: Oily, Combination, Dry, Normal
We Like
Has a refreshing scent
It's absorbed faster into the skin
It smoothens out wrinkles and aging lines
Keep This in Mind
It doesn't have an SPF rating
It's quite clear that Brickell has invested a lot of money and time in the creation of this product. The Brickell Men's Daily Face Moisturizer is perfect for your daily hydration needs and will help keep you looking younger for longer.
2. Jack Black Double-Duty Face Moisturizer SPF 20 – Best Face Moisturizer for Dry Skin
This brand is all about catering to men and their skincare needs. The company started in Texas. It was created by men who were looking for natural products that were good for men with all skin types. This need saw the rise of Jack Black who has become an industry favorite.
Jack Black Double-Duty Face Moisturizer SPF 20 is designed to be lightweight. However, it packs a heavy punch thanks to its vitamin and antioxidant-filled formula. These ingredients give it sun protective properties. It has an SPF rating of 20. This rating is way higher than what other men's products offer. With this rating, the product protects against UVB and UVA rays.
On the flip side, it also hydrates the skin without leaving it oily as other heavy moisturizers do. Jack Black makes use of a 'PureScience' formula which consists of certified natural ingredients and natural surfactants. All of these ingredients are scent, paraben, gluten, and animal product free. The natural organic ingredients that give this Jack Black moisturizer its potent abilities include sea parsley, edelweiss, blue algae, and Plantago leaf extracts. The blue algae extract is rich in vitamin E which helps to prevent redness and irritation when shaving. The other ingredients are antioxidants and work to slow down the aging process.
The best part is that you can use the product all year round including the dry months. Like many of the moisturizers that we've looked at in this piece, Jack Black's moisturizer is great for all types of skin, but it is the best pick if you have dry skin.
We would also love to mention that a little amount of Jack Black does a lot. A thin layer on the skin will hydrate you for an entire day. In the end, you'll notice an overall improvement in your skin's appearance. However, you need to remain consistent with its use.
Type: Cream
Skin Type: Dry
We Like
It's lightweight and easy to apply to the skin
It has natural and organic ingredients
It protects the skin from harmful UV radiation
Keep This in Mind
Some men don't love the scent
The Jack Black Double-Duty Face Moisturizer SPF 20 is good for all skin types but excels if you have dry skin. It delivers on the promise it makes – that of providing a natural product. However, to enjoy the effects of this moisturizer, you will have to part with some pretty penny. Luckily, the moisturizer lasts for several months.
3. Ursa Major Fortifying Face Balm – Good Choice if You Are Prone to Acne – 100% Natural Ingredients – Made in the USA
Ursa Major is a small company based in Vermont, USA. Their philosophy is to make products that are an alternative to the major manufacturers who often sell poor products at high prices. Ursa Major uses natural and organic ingredients and is completely free of potentially harmful chemicals like parabens.
Ursa Major Fortifying Face Balm is a light lotion that quickly penetrates the skin provides a lot of moisture and has anti-aging properties. It contains 100% natural ingredients, of which 82% come from organic farming. Aloe Vera moisturizes, nourishes, and provides antibacterial treatment for your skin. Witch Hazel soothes your skin. Birch Sap cleans and nourishes.
The product does not contain any petroleum-based chemicals, sulfate, parabens, synthetic fragrances, dyes, or silicones. The ingredients are purchased as far as possible from family-owned and organic producers. The carton is made from 50% recycled paper. And the lotion is gluten-free. Has a nice smell of Birch, Lime, Rosemary, Peppermint, and Lavender.
Aside from the above, here is a shortlist of what this Major Fortifying Face Balm has to offer.
Gluten-free
No Parabens
Soothing hydration
Reduces the appearance of redness and shine
Type: Cream/ Balm
Skin Type: Acne prone skin, Oily
We Like
100% natural ingredients – Made in the USA
Works well with all skin types (especially normal-to-oily skin)
Fast-absorbing
Keep This in Mind
A bit expensive – but will last you a long time
If you are looking for a 100% natural and organic face moisturizer, Ursa Major Fortifying Face Balm might be the one. It is a bit more expensive than some of the others on our list, but it will last you a long time.
4. Tiege Hanley's Daily Face Moisturizer (Skin Care System Level 1) – Best Complete Skin Care System for Men
Now, if you haven't heard of this brand by now, you need to do some quick research on it. It's one of the best things that happened to the grooming industry.
The company was started at a time when the world thought men didn't care for facial beauty and wouldn't be found dead buying skincare products. A time when skincare products for men were unheard of and the few that came up were overly complicated. The Tiege Hanley brand provides skincare products on three-four levels.
Wash
Scrub
Morning Moisturizer
Night Moisturizer
The System Level 1 product package includes bedtime and morning facial moisturizers. It also features a daily face wash and a twice-weekly scrub. These products are gentle on the skin – so much so that they can be used daily (minus the scrub) without experiencing side effects.
The Morning product comes with 4 ingredients:
Lavandula oil
Plantain extract
Rosemary oil
Calendula extract
These ingredients complement each other very well. Together, they hydrate the skin without leaving it feeling too greasy or too oily.
The Calendula extract calms and nourishes the skin. On the other hand, the plantain extracts work to smoothen the skin as well as minimize scarring and improve healing. Lavandula helps to kill bacteria and reduce the redness of the skin. Given its antibacterial properties, it helps in preventing acne. Last but not least, Rosemary oil has antiseptic properties.
The morning moisturizer has active ingredients including Avobenzone, Octinoxate, and Octocrylene. These ingredients protect the skin from harmful UV radiation.
The Bedtime Moisturizer gets to work when you turn in for the night. While you sleep, it's busy repairing and triggering skin cell regeneration. Additionally, it helps to get rid of wrinkles and smooth lines. It does this by stimulating collagen production and hydrating your skin. During the day, as you go about your responsibilities, the skin undergoes a lot of stress from sunlight, wind, and pollution. A product that helps it to rejuvenate and regenerate overnight is a savior.
The main ingredient in the Bedtime moisturizer helps to improve youthfulness. No, it's not the fountain of youth (but it might as well be). Niacin (the main ingredient) helps in removing wrinkles and fine lines.
Additionally, it helps in reducing itchiness and promotes circulation as well as provides a balance of natural oils for hair and skin lubrication.
Another ingredient in this moisturizer is hydrolyzed elastin. From this, you can tell what this ingredient does right? It hydrates the skin. Complementing these ingredients are aloe vera and green tea which have antimicrobial, anti-inflammatory, and healing properties.
You'd be pleased to note that these moisturizers are fragrance-free. This is a huge plus especially if you have sensitive skin.
Type: Various
We Like
It's fragrance-free
Keeps the skin hydrated without leaving a greasy feel and look
It protects the skin from UV rays
Keep This in Mind
It's not great for men suffering from acne
A bit expensive
This day and night moisturizer is a perfect treat for your skin. Tiege Hanley's Daily Face Moisturizer (Skin Care System Level 1) will hydrate and rejuvenate it leaving it feeling soft and supple.
5. RUGGED & DAPPER Age + Damage Defense Facial Moisturizer – Great for All Skin Types
This moisturizer from Rugged and Dapper is an all-in-one facial moisturizer. It helps in handling some of the most prevalent skin problems including aging, acne breakouts, post-shave irritation, and damage from UV rays and harsh weather conditions. Any skin product that does all of these things is a winner. It is without a doubt a worthy investment.
With that said, here is a quick breakdown of how the Rugged & Dapper Face Moisturizer For Men achieves all of the above.
Ingredients
R&D chose to make its products exclusively with natural ingredients. This resolve makes it a one-of-a-kind product. Natural ingredients always have better effects on the skin in the long run than artificial ones.
So what are these natural ingredients? Well, there's a lot. The list includes sunflower oil, shea butter, vitamin B5, jojoba oil, and aloe vera. In addition to the above, R&D also throws in hyaluronic acid so do not be shocked when you see it on the list of ingredients. And despite what most men think, hyaluronic acid is a natural element found in the skin. It helps to keep the skin firm and elastic.
Additionally, it protects the skin from UV rays.
It's also worth pointing out that the moisturizer doesn't include toxins or parabens. It's also not tested on animals.
Versatility
Regardless of your skin type, you will love the effects this moisturizer has on your face. The moisturizer is light in comparison to most other lotions and moisturizers. Additionally, it's absorbed into the skin fast. And what's even better, you will not be left with greasy skin.
Other Benefits
In addition to the above, many people love the R&D moisturizer for the fact that it doesn't have a fragrance.
Type: Lotion/ Cream
Skin Type: Oily, Combination, Mature, Dry, Normal
We Like
Smoothens out the skin
It includes organic and natural ingredients
Its non-greasy and lightweight
Keep This in Mind
It doesn't contain specific (chemical) sun protection
Rugged & Dapper Face Moisturizer For Men is one of the best moisturizing creams for men. It is perfect for all skin types. The natural formula deals with common skin problems.
6. Baxter of California Oil-Free Face Moisturizer for Men – Good for Normal & Oily Skin
This oil-free face moisturizer from Baxter has everything a man would need to keep his skin hydrated, toned, and clean. We especially love the product because it's not oil-based. This ensures that it's absorbed quickly. We also love the fact that it is fragrance-free.
Baxter of California face moisturizer also comes with a daily face wash as well as a mint toner made from plant-based antioxidants. These help to protect the skin from cell damage.
Though Baxter has sprung into the limelight a few years ago, it was formed back in 1965. Since its creation, it has been dedicated to producing quality products. It's one of the few grooming brands that you can trust to deliver on its promises.
This moisturizer is designed to be lightweight. It leaves the skin refreshed and smooth. And as mentioned above, it's absorbed fast into the skin. On the other hand, antioxidants help prevent cell damage.
You can start your morning skincare routine with the Baxter of California Face Moisturizer for Men anytime. The results you get will be great. The face wash will help get rid of debris and excess oil. If you follow it up with the mint toner, you will cleanse and condition your skin. Last but not least, the moisturizer will refresh and hydrate your skin.
Type: Lotion/ Cream
Skin Type: Normal, Oily
We Like
It is packed with antioxidants
It is absorbed into the skin fast
It hydrates and restores the skin
Keep This in Mind
Some men think the fragrance is too light for their liking
This moisturizer is oil-free. On its own, it's pretty impressive. The natural ingredients will help to soothe the skin and hydrate it.
7. Lather & Wood Man's Man Facial Moisturizer – Good for Dry & Sensitive Skin – All Natural Ingredients
Lather & Wood Man's Man Facial Moisturizer is yet another product from a company that has made a name for itself by making high-quality grooming products for men. Its line of products includes; face wash, shaving supplies, and facial moisturizers. Lather and Wood are keen on providing quality products as well as exemplary customer satisfaction. This much is expected from a popular company, right?
But the thing about L&W's moisturizer is that it's more of an all-in-one product. It delivers all-around performance. The moisturizer is made from natural ingredients including jojoba oil, Shea butter, and palm oil. Palm oil is a powerful antioxidant. The lotion also doubles as an eye cream. The ingredients fortify, hydrate, and work to repair skin damage.
Additionally, the ingredients help to conceal aging wrinkles. Speaking of which, there's a lot of debate going on, on whether moisturizers can get rid of wrinkles or not. Well, it's more accurate to say that moisturizers improve the appearance of fine lines and wrinkles. It does this through hydration which prevents the skin from bruising and tearing. This helps the wrinkles appear shallow and less visible on the face.
It's also worth noting that Lather & Wood Man's Man Facial Moisturizer gives a soothing effect after its application. Its formula is all-natural. It doesn't contain harsh chemicals or alcohol.
Type: Cream
Skin Type: Oily, Dry, Sensitive
We Like
It's a versatile product
It helps to improve the appearance of fine lines and wrinkles
It has a soothing formula
Keep This in Mind
Some customers complain that the pump doesn't work that well
Lather & Wood Man's Man Facial Moisturizer looks and feels like a luxury product. It's costlier than most moisturizers. The good news is that it gets you results. The formula is made from natural ingredients and leaves your skin feeling smooth after its application.
8. Bulldog Skincare and Grooming for Men Original Face Moisturizer – Best Affordable Men's Face Moisturizer
This brand is aware that a dog is a man's best friend. But on the flip side, they insist that skincare products are just as important. Bulldog has taken the initiative of developing several natural grooming products specifically for men. We especially like the Bulldog Original Face Moisturizer. This moisturizer is without a doubt one of the best lotions for men. It is perfect for all skin types. However, some men who have reviewed the product say that it is even better with medium and oily skins.
While at face value there's nothing that stands out about this product, you shouldn't let its laid-back design fool you. Applying it regularly in the morning and at night right before bedtime will keep your skin moisturized and smooth.
Additionally, it is free of parabens, artificial colors, sulfates, synthetic fragrances, and other ingredients that are extracted from animals. Instead, it includes essential oils, green algae, green tea, konjac mannan, and vitamin E. Konjac mannan is a tropical plant that grows in Asia. It is commonly used in facial treatments.
Bulldog Original Face Moisturizer is slightly thicker than the other products we have looked at. But even then, it doesn't leave an oily finish. It has a subtle manly scent which is perfect.
Type: Lotion
Skin Type: All
We Like
It's perfect for oily skin
It has a masculine scent
It has natural ingredients and is packed with antioxidants
Keep This in Mind
It is too thick for some men
This moisturizer is pretty basic. However, even in its basic design, Bulldog Original Face Moisturizer does a good job and delivers the promises it makes. It is a great all-around product.
9. Neutrogena Men Triple Protect Face Lotion With Sunscreen – Inexpensive & Good for Dry Skin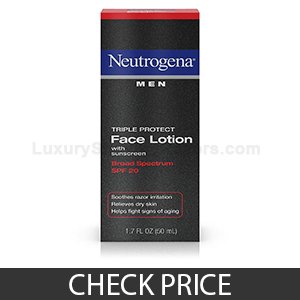 Neutrogena products are highly rated. Most dermatologists have got nothing but praise for their products. They love them for good reasons. The products are available in the form of shampoos, and lotions. They also work for women and men.
Neutrogena as a skincare brand understands the needs of women and men. It knows that they have different needs and proceed to make solutions for both. Since women's skin is 20% thinner than men's skin. This means men's skin is tougher. Nonetheless, it needs protection as well.
Neutrogena Men Triple Protect Face Lotion With Sunscreen is designed to soothe skin irritations after shaving, fight aging signs and hydrate the skin. It has an SPF rating of 20. With such a high rating, it protects the skin from harmful UV rays with ease. Given the high rating, some men also use it as sunscreen.
Aside from the above, here is a shortlist of what Neutrogena Men Triple Protect Face Lotion With Sunscreen has to offer (BTW we are working on a Neutrogena triple protect vs age fighter article. Stay tuned for that one!)
It has a matte finish
It leaves a cooling sensation and soothes razor irritations
It is thick and absorbs into the skin well
It has a soapy and fresh scent
It's inexpensive in comparison to other moisturizers on the list
Type: Lotion
Skin Type: Dry
We Like
Heals and hydrates dry skin
Provides sun protection
Relieves shaving irritations
Keep This in Mind
Has a mild fragrance – barely noticeable
This brand is famous for producing quality grooming products. It leads the pack in quality skincare solutions. The Neutrogena Men Triple Protect Face Lotion With Sunscreen is excellent and it leaves the skin feeling refreshed.
How to Apply Face Moisturizer
Experts make it look easy. However, it's not. If you've never done it before, it's easy to get the application wrong. We recommend that you take your time to learn how to do it right. This is the first step to reaping great results.
Apply the Moisturizer on a Clean Face
Never apply facial lotion on a dirty face. Doing so will only block sweat, oil, and other debris particles in the pores. And we all know this is not good for skin health. Before applying the moisturizer, wash your face with a face wash and then follow it up with a face moisturizer. You should also make sure your hands are clean.
Dry the Face
After washing your face dry it with a clean cloth. Applying moisturizer on wet skin affects how fast and well the skin absorbs the moisturizer.
Apply it in the Morning and Before You go to Bed
The best time to apply your moisturizer is in the morning and before you turn it in for the night. Applying it in the morning helps the skin look refreshed and bright. Applying it at night will help improve the appearance of wrinkles on the skin.
Use in Moderation
It's tempting to want to use a lot of moisturizer on your skin. However, it's not a good idea. A small amount (half a teaspoon) is sufficient. Too much moisturizer will leave your skin shiny and greasy.
Start With Your Cheeks
First, apply the moisturizer to your dry cheeks and then the rest of the face. The cheeks are often the driest part. Use circular motions to apply and be gentle.
Apply it to Your Forehead
Once you've done your cheeks, do your forehead next. From the forehead, you can proceed to the nose, chin, neck, and later the ears (in that order).
Don't Miss the T-zone
The T-zone is the area from the forehead down to the nose and the chin. These parts are usually oilier than the rest. Be sure not to use a lot of your moisturizer here.
Moisturizer 101
So since we've already looked at what a moisturizer is and the best ones on the market, we must have a look at the different types available. You might have noticed that we categorized the moisturizers by type. Here is a little more detail on how the above differ.
Lotions
Lotions are lighter than creams. They are perfect for all skin types. If you have trouble choosing the best one, go with a non-comedogenic one. This type will not block your pores. Lotions are often non-greasy and don't leave an unsightly shine.
Cream
Creams are thicker in comparison to lotions. They are perfect for men with dry skin. You should use heavy cream during winter or in conditions that cause your skin to dry out.
Ointment
These are thick and have a high concentration of oil. They are also sticky.
Gels
These are the lightest. They are non-greasy and feel cool on the skin. Most gels have bases that disperse the ingredients by liquid fat, alcohol, or water.
Anti-aging Moisturizer
These moisturizers supposedly slow down the manifestation of aging on the face including uneven skin tone, wrinkles, and fine lines. They are packed with vitamins, antioxidants, and ingredients that fight radicals.
Energizing Moisturizer
These include caffeine. Caffeine gives our bodies a jolt of energy that we need every morning. The antioxidants in the moisturizers also work to enhance blood circulation.
SPF–infused Moisturizers
These include sunscreen. Sunscreen protects the skin from harmful UV radiation. Additionally, they help prevent brown spots and wrinkles caused by exposure to the sun.
What Can I Use Instead of a Face Moisturizer?
Aside from face moisturizer, you can use the following alternatives:
Olive oil
Almond oil
Coconut oil
Shea butter
Cocoa butter
Aloe Vera gel
How do I Stop my Face From Burning?
Below is how you should treat your reaction to a face moisturizer:
Wash the moisturizer off with lots of cold water
Apply 1% hydrocortisone cream to manage the itchiness
Pop some oral antihistamines to treat itchiness
Don't use the product again
FAQ
Should men moisturize?
Yes, they should. Like women, men should moisturize their skin to keep it soft, supple, and healthy. Moisturizers should be a part of a man's skincare routine. But it helps to pick the best moisturizer for your skin type.
What happens if you don't moisturize your face?
Your skin will dry up and get dull. The situation gets worse if it's cold or there is low humidity. If you don't use a moisturizer, eventually your skin might start to flake in some extreme conditions. But the reactions are reversible with a good face moisturizer.
What causes a burning feeling in your face?
When you feel a sting, it's a sign that the face moisturizer is destabilizing your natural pH. Your skin is normally acidic, any change manifests as a sting. Stinging is a sign of incompatibility with the product.
How We Chose the Best Moisturizers
Our criteria in finding the best face moisturizer for men revolved around fragrance, texture, ingredients, and skin type as explained at the beginning of this piece. Like with all products, we preferred products with natural ingredients. We also looked for the face moisturizers that came with sunscreen properties. Though we were aware of the price, we didn't let it stand in the way of using reviewing a quality product. However, we did try to balance the price and quality of the product.
We hope that this buyer's guide opens your eyes to the world of options available and how to use moisturizers for the best results. If you have any questions or comments, please feel free to reach out.
My name is Don and welcome to Luxury Shaving Razors! The idea behind the site was born in 2016 after trying to find a decent safety razor for my own personal use. I decided to document my journey.