Best Skin Care Product for Men (Buying Guide)
We may earn a commission for purchases using our links. Learn more
Today we will take an in-depth look at the best skin care products for men. Unlike women, most men have a lot of improvement to do in the skincare sector. The days when a quick shave with a men's razor using a bar of soap and splashing nasty cologne on your skin are long gone.
Today, a man's grooming and skin care routine is a little more serious. Done properly, they are beneficial to the skin and a sense of well-being. In addition to the seriousness, men also have loads of products to choose from ranging from anti-aging creams, body lotions, facial cleansers, and acne treatment products.
All these options can be overwhelming, especially to a newbie. But like always, we've got your back. In this piece, we shall discuss everything you need to know about men's skin care products. We shall kick things off with the top-grossing Brickell Men's Purifying Charcoal Face Wash and throw in tips of other bestseller products in the market today.
So without further ado, let's get the ball rolling.
Best Skin Care Products for Men (Summary)
Last update on 2023-01-29 / Affiliate links / Images from Amazon Product Advertising API
Things to Know Before Buying Skin Care Products for Men
Here's what we tell men when they are out shopping for the best skin care product – do not pick the first product you lay your eyes on. Also, do not go for one with the fanciest logo or a fresh design.
To an inexperienced eye, skin care products are all the same. But on the contrary, they differ significantly. Having a way to tell them apart will help you land the best for your skin and keep you from investing in an inferior product that ends up being a pain. To help you make an informed choice, here is a quick guide to the considerations you ought to make.
1. Your Skin
Given that this post is all about skin care, skin type plays a significant role in the choice that you make. Before heading out to the mall or an online store, you should determine your skin type. This will help you know if you know the exact ingredients the products should have.
There are three main types of skin, namely:
Oily Skin
Every skin requires the right amount of oil to maintain a healthy pH balance. However, some men have skins with a little more oil than others. You have oily skin if you have large and visible pores and if your sheen shines shortly after washing your skin. Men with oily skin need products that will not dry out the skin.
Dry Skin
If you have dry skin, you'll notice it's often tight, itchy, and flaky. For dry skin, the goal is to invest in a product that will handle the grime and dirt without getting rid of the necessary oils in the process. Look for skin products that are strong moisturizers.
Sensitive Skin
You know you have sensitive skin if your skin often turns red or is easily irritated after going through a simple skin care routine. If this is your skin, you need products laden with ingredients that soothe and heal the skin. These ingredients include aloe vera. Aloe vera is famous for its healing properties, and it also does a great job of maintaining a healthy skin pH level.
Combination Skin
Having combination skin means that your skin is oily around specific places and dry in other areas. Like dry skin, you need a product that will strip the skin of grime and dirt but leave the skin's natural oils behind. Skin care products should also have hydration qualities.
2. Ingredients
Skin care products are made or broken by the ingredients they contain. We are skewed towards natural ingredients since these tend to have a healthier notion. This 'bias' will shine through in the reviews. However, this doesn't mean that only products with natural ingredients are worth your time. There are lots of other products lacking great natural ingredients.
Below is a list of some of the men's grooming products and some ingredients you should be on the lookout for.
Cleansers and Face Wash
There are a lot of good ingredients that manufacturers use in these products. The ingredients used usually vary depending on the type of skin and whether it's a cleanser or a face wash. These ingredients include salicylic acid, aloe, allantoin, glycolic acid, coconut oil, olive oil, and many more.
Face Moisturizer
The most common ingredient in this product is retinol. It is a great exfoliating agent. This means it rids the skin of dead cells which clog its pores. In addition to this, be on the lookout for moisturizers with antioxidants like vitamin C and A, pomegranate, and green tea. Alpha Hydroxy Acid is also great in removing dead cells and smoothening the skin.
Acne Wash
The most essential ingredients in acne wash products are salicylic acid and benzoyl peroxide. The benzoyl peroxide helps in killing bacteria that cause acne and also rids the skin of dead cells and excess oil which clogs the pores. Alpha hydroxy acid is also a common acne wash ingredient.
Anti-aging Cream
Anti-aging cream ingredients are a mouthful. If you weren't into chemistry in high school, then don't even bother trying to get the pronunciation right. These words look like sentences. Don't believe us? Well, the ingredients to look out for are methylsulfonylmethane (MSM) and dimethylethanolamine (DMAE). And contrary to what you might be thinking right now, these are natural ingredients. DMAE helps to retain skin elasticity while MSM keeps the skin absorbent.
Other key ingredients found in anti-aging creams include hyaluronic, glycolic acid, retinol, and vitamin C, E, and B3. The creams that contain Coenzyme Q10 are perfect for reducing wrinkles.
Exfoliators
Some of the best exfoliators in the industry contain cornmeal, pumice, caffeine, oats, and walnut shell powder. In addition to these ingredients, they also sport scrubbing heads designed to rid the skin of dead cells. These scrubbing heads vary in size from coarse to fine.
Note: do not choose exfoliators with microbeads designed from polyethylene plastic. Plastic is dangerous to the environment, and it's banned in several states in the USA.
Lip Balm
Common ingredients include cocoa butter, essential oils, shea butter, and beeswax.
Body Lotion
The essential ingredients to look for include alpha hydroxyl acids, ceramides, humectants, and emollients. In addition to these, you should also look for carrier oils, cocoa, shea butter, and essential oils including peppermint oils, tea tree oil, and green tea oil.
3. Additional Factors to Consider When Purchasing Men's Skincare Products
Fortunately, most skin care products today have some sun protection features. They work more like a sunscreen by blocking the skin from harmful UV rays.
The extra factors to consider include;
Your climate – consider the climate of the area you live in. Whether it's a mild or harsh climate, you should choose a product that fits your skin type.
Age – as you grow old, the skin loses its ability to retain water. For this reason, you need products that will moisturize your skin.
Price – it's important to note that the cost of a product isn't always a pointer to which product is of a higher quality and which one is not. So in this case what we care about is your set budget. With that said, some expensive brands in the industry are well worth their price tags. But on the flip side, an inexpensive product can meet your every need.
Fragrance – if you are into scents, then this might be the determinant of which product you choose over the other.
Now, with the above information, we hope you can now go through the buying process with ease. And since we have that out of the way, let's progress to the skin care products.
Improve Your Day with These Skin Care For Men Products
1. Brickell Men's Purifying Charcoal Face Wash – Face Wash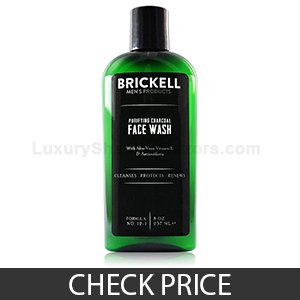 While a conventional bar soap will get rid of the dirt and grime, it will not do anything to protect your skin. And this is what we are all about – skin protection. If anything, it might do the opposite. Since you are reading this, you are ready to do better than just using bar soaps.
This is what a bar soap will do to your face – it will cause your skin to dry up by stripping it of its oils. It is because of this that we encourage the use of facewashes like this Brickell Purifying Face Wash. This face wash for men will do as good a job cleaning as a bar soap would. However, it will be gentle when removing bacteria and excess oil. It will do so without drying the skin or irritating it.
Now, it's worth noting that this face wash contains charcoal as the main ingredient. But this charcoal is not the same one used to grill meat at home. Well, it has the same chemical composition, but it has been medically altered to function as a skin care ingredient.
The charcoal is 'activated.' In this state, it sucks all the toxins from the skin thereby completing a thorough detoxification process and deep cleansing.
Note: the charcoal isn't abrasive while getting rid of the excess oil, bacteria, free radicals, and grime from the pores. In addition to this, it doesn't dry the skin.
But aside from the charcoal, Brickell added some additional key ingredients to this product.
Jojoba oil – this oil helps the skin retain moisture and provides a protective cushioning after cleaning out bacteria and dirt
Olive oil – This oil dissolves and gets rid of excess oil from the skin and replaces it with some healthy oils which work to nourish the skin.
Aloe Vera – this is a common ingredient in many skin products. It helps prevent the skin from losing moisture after the charcoal has performed a thorough deep cleansing
Other ingredients – aside from charcoal and these natural oils, this face wash also contains Vitamin E, B-5, and C, lemongrass oil, Eucalyptus oil, peppermint leaf oil, and a willow bark extract.
The reason this face wash is at the top of our list is that it is excellent for all skin types. What's more, the essential oils and the green tea are
natural skin toners
which makes this face wash multipurpose.
Brickell experts advise you to use the face wash twice daily – preferably at night and in the morning. You should use this face wash along with some warm water. The warm water will cause the pores to open and yield even better results.
2. Jack Black Pure Clean Daily Facial Cleanser – Face Cleanser
Before we sink our teeth deep in this cleanser, it's good that we point out the difference between a face cleanser and a face wash. Luckily, these two are so far apart that it is simple to tell them apart.
Now, face washes and face cleansers are primarily created to do the same thing – clean your face. The difference is in how they lather. Face washes are more like bar soaps in their lathering, but they do not contain irritating and skin-drying ingredients. You can think of facial cleansers as bar soap upgrades.
Facial cleansers don't lather, meaning you won't have to rinse it off after application. They are perfect for getting rid of oil-soluble impurities from the skin pores and hydrating the skin. And just like a face wash, it removes dirt, excess oils, and dead skin cells.
Though face washes are a perfect addition to your daily facial skin care routine, cleansers are better if you are exposed to air pollutants, grime, and excess dirt every day. If you work outdoors, a cleanser is a better skin care product in comparison to a face wash.
Now let's get to the next bit.
This facial cleanser by Jack Black is one of the best on the market. It is popular for two things;
It's designed as a 2-in-1 cleanser that digs deep into skin pores to remove oil and dirt leaving your face shave-ready and super clean
It doesn't dry out the skin. It leaves it fresh and hydrated.
The secret to this cleanser's success is in its ingredients. Here is a quick list of what the cleanser is made up of.
Witch hazel, is a great anti-irritant, toner, antioxidant, and astringent
Coconut and oat-derived surfactants help in cleaning the skin
Rosemary and sage leaf which have anti-bacterial and healing properties
Aloe leaf and chamomile help in reducing redness and soothing the skin
This Jack Black cleanser has been tested and approved by reputable dermatologists in the industry. The organic ingredients are paraben and gluten-free. It's also worth noting that the cleanser is vegan-friendly.
Another reason why this cleanser is popular is that it is great for getting rid of acne and blackheads. Additionally, it's perfect for men with all skin types.
With this Jack Black Facial Cleanser, you'll fall in love with how your face feels and looks after its application.
3. RUGGED & DAPPER Age + Damage Defense Facial Moisturizer – Face Moisturizer
Face moisturizers are ranked by their ability to moisturize the skin – how well it hydrates the skin. If you think about it, any product that doesn't do this isn't worth the name 'moisturizer.' If you do come across a moisturizer that does more than just hydrate the skin, you should consider picking it from the shelf.
The Rugged and Dapper moisturizer is a product that delivers quality in several ways. These include moisturizing the face, protecting it against irritations, reducing signs of aging, and protecting it against harsh weather including the scorching sun.
A husband and wife team developed Rugged and Dapper in Los Angeles. It is a serious contender for the best skin care product for men.
This moisturizer is made from organic and natural ingredients and is free from harmful toxins and chemicals that many skin care products contain. The main natural ingredients in this face moisturizer include jojoba oil, botanically derived hyaluronic acid, shea butter, minerals vitamins, and anti-oxidants. All these ingredients make it a great moisturizer for all skin types.
In addition to its list of organic ingredients, it also boasts of being non-greasy, lightweight, and fragrance-free. As such, you need not worry whether your face smells masculine enough.
Its multipurpose design makes R&D Facial Moisturizer a little better than other moisturizers on the market. As you age, you find love and appreciation for this moisturizer and how it keeps aging wrinkles from popping up. Now, we should say that there isn't any product that can halt the aging process. So any product that reduces the rate at which the aging signs add up is a plus.
Moreover, this moisturizer protects the skin against harmful UV rays and other harsh weather which may accelerate aging. And because this moisturizer is thin, it is absorbed fast by the skin. It doesn't leave a shiny or greasy residue behind. Instead, your skin will have a matte and smooth look.
4. Humane Maximum-Strength Acne Wash – Acne Wash
The first thing we should say about this product is that it's super strong – so strong that it shouldn't be used on sensitive skin.
But here's the thing. These strong qualities make it a formidable weapon against acne. While it doesn't come with harsh chemicals like propylene glycol, formaldehyde, or sodium lauryl sulfate, it does have Benzoyl Peroxide which is an ingredient commonly used to treat acne.
Benzoyl Peroxide achieves the same goal as salicylic acid, but it's slightly different. Benzoyl Peroxide goes a step further and kills bacteria that cause acne. Salicylic acid only removes dead skin cells which block skin pores and can cause acne.
This face wash will treat acne not only on the face but also on the back and body. It features a lotion that doesn't foam, and that is quickly absorbed by the skin. It is perfect for daily use. However, in the event you notice some irritation, peeling, and redness on the skin as a result of daily use, you should slow down on its use.
The face wash will dig deep into the skin pores and kill all bacteria that lead to acne breakouts. In addition to this, it will clear your face of blackheads, whiteheads, and pimples. Because of these, it is perfect for teens who suffer at the hands of acne. But this doesn't mean that adults cannot use it. If you are an adult and have acne breakouts, give this product a try.
Also, Benzoyl Peroxide has anti-inflammatory properties. And given that this is a powerful product, it comes with a pump that ensures that you use just the right amount of product to avoid skin irritations and peeling.
The list of ingredients is sodium hydroxide, sodium benzoate, and water. Sodium benzoate is also found in plums, cranberries, and many other fruits. It helps to even the skin tone by getting rid of scars left behind by acne. On the other hand, sodium hydroxide helps to keep the skin elastic and smooth.
When using this face wash, here are a couple of things that you should bear in mind;
Allow it some time to kick into action. It usually takes about 6 weeks before you can see some results.
However, the trick is in the regular application for several weeks to let it do its magic.
You should use a cleanser (gentle), before applying this face wash. After applying the cleanser, pat it dry and apply this face wash. Leave it on your skin for about 5 minutes before rinsing it off with some warm water.
In the event you experience some irritation after applying the face wash, you should follow it up with an oil-free moisturizing product.
5. Brickell Men's Revitalizing Anti-Aging Cream – Anti-aging Cream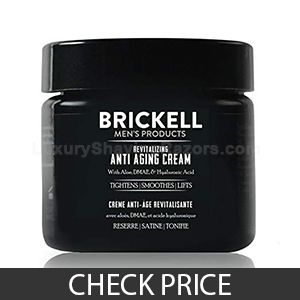 We all are getting old. And as we progress in age, the body starts to slow down. The rate at which this happens depends on how well we've been taking care of our bodies throughout the years. With age, you'll start to notice some pains and aches in places you didn't use to feel in your 20s. You'll also realize that your soft and supple skin gets wrinkled up with time. But this doesn't have to be you. With the product we are about to introduce, at least you can do something to help keep your skin looking youthful for longer.
The anti-aging cream by Brickell is one of the best there is on the market today. The cream is natural. Now, it's true that natural ingredients aren't foolproof, however, they are beneficial in more ways than one. For this cream, the ingredients help in slowing down the aging process.
The cream is designed to work with all types of skin including sensitive and dry skin. After consistent use, you'll notice that the wrinkles on your face will reduce. Other aging signs like crow's feet will also fade away courtesy of the powerful natural ingredients in the cream. Here's how the cream works.
Brickell Anti-Aging Cream contains methylsulfonylmethane (MSM) and dimethylethanolamine (DMAE). They sound like harsh chemicals but we guarantee you, they are not. MSM and DMAE are natural ingredients and they help in reducing age spots and counteracting facial atrophy which leads to the development of wrinkles. MSM is found in kale and spinach.
This anti-aging cream also includes green tea which is a powerful antioxidant that helps to reverse the damage of the sun on the skin and aging.
Hyaluronic acid is one of the best moisturizing ingredients. This cream, helps the skin retain moisture and to reduce the appearance of fine wrinkles.
It also features aloe vera which works to prevent skin irritation and soothe the skin.
You should also note that Brickell doesn't include glycols, sulfates, parabens, petrochemicals, and other harsh and irritating ingredients.
Brickell Anti-Aging Cream has a thick texture. You'll love the fact that a small amount will go a long way. Using the cream twice a day will yield long-lasting effects. And if you are a sucker for scent, you'll fall in love with the lemongrass, eucalyptus, and peppermint fragrance mix. This fragrance is super refreshing and sticks with you all day long.
Note: While you cannot stop aging, this cream can help slow down its signs significantly.
6. Brickell Renewing Face Scrub for Men – Face Scrub/ Exfoliator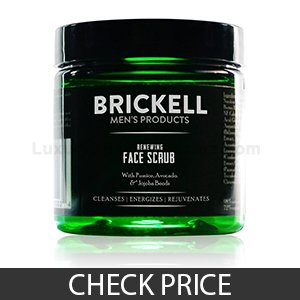 Don't let the name fool you. This face scrub is a great exfoliator courtesy of the pumice in the formula. Pumice is added to this scrub to get rid of dead skin cells. And if you think about it, exfoliation is all about getting rid of the dead skin cells.
But regardless of how you choose to look at this product, one thing is for sure; it has high-quality Brickell products are known for.
This face scrub will work to get rid of dead skin cells, facial impurities, and excess oils. It will do all this without causing the skin to dry out. Instead of drying out the skin, it will leave it soft and supple. Your complexion will clear up as a result of the natural scrubbing particles – pumice and jojoba beads. Other ingredients like aloe vera will nourish the skin.
It's worth pointing out that this facial scrub features both organic and natural ingredients that have been formulated to treat tough skin. The ingredients used are 70% organic and 98% natural.
Speaking of natural ingredients, you'll find vitamin E and avocado butter which help in nourishing the skin. The list also includes green tea and coffee extract which help to reenergize the skin and your senses. What you won't find in the list of ingredients are petrochemicals, gluten, sulfates, parabens, and synthetic fragrances.
Speaking of fragrance, this scrub has a fresh scent gotten from green tea and coffee extract.
Another reason why many people have fallen in love with this product is that you can use it as a pre-shave – it can soften your skin and the tough hair on your chin. This yields a comfortable and close shave that proves difficult to beat. In addition to all these, this scrub is perfect for all skin types. If you are prone to ingrown hairs, blackheads, or oily build-up, this scrub will work wonders for you.
We should also point out that this scrub is packed in a 4-ounce jar. The 4-ounces should last for about 2-months if you use it between 2 and 4 times every week.
7. Jack Black Intense Therapy Lip Balm SPF 25 – Lip Balm
If you live in an area with harsh weather or a cold climate, you know all too well the effects the weather has on your lips. Harsh weather causes the lips to chap and the skin to dry and become sore. These symptoms can make a lovely snowy winter the worst time of your life.
But we have some good news. While a few decades ago men had to persevere through the winter season, or use female products; today there are lots of men's lip balms. One of the best on the market is this one from Jack Black.
We have picked this lip balm by Jack Black for a couple of reasons. At the top of the list is that it has beeswax as an ingredient. Beeswax helps to provide the lips with protection against harsh weather.
Additionally, it features shea butter which moisturizes the lips. These ingredients put up a great fight and protect the lips from harsh weather and climate.
In addition to these ingredients, the lip balm protects the lips from harmful UV rays. It has a 25 SPF rating. This rating is higher than any you'll find in other products aside from sunscreens. Other key ingredients include avocado oil, cocoa seed butter, and green tea. Jack Black has chosen to stick with natural ingredients for this product.
This lip balm is packaged in a tube. Jack Black intentionally stayed away from the lipstick-like containers other manufacturers use because they can make application a pain, literally. In addition to this, Jack Black made a couple of flavors for you to choose from. However, most men love the lemon-fresh flavor.
Last but not least, you'll love the fact that this balm is easy to apply. So you need not worry about it making you look feminine while at it. Moreover, it doesn't leave a shine like most lip balms for women do. It has been tested and approved by dermatologists. Overall, you cannot afford to not have this lip balm with you throughout the winter or during the hot summers. Your lips will more than thank you.
8. Lubriderm Men's 3-in-1 Body Lotion – Body Lotion
This company is known for producing quality skin care products for ladies. However, some experts say that this 3-in-1 body lotion is better than the lotion they designed for the ladies. We've mentioned this in the past but it wouldn't hurt to repeat it for those who are new here. Men's skin is 25% thicker than that of women. As such, it only makes sense that Lubriderm would make a lotion for men that meets the needs of their skin. Given the thickness of the skin, men also have more collagen in comparison to women. As such, a lotion that boosts collagen in the skin is a plus. Luckily, Lubriderm does a lot more than this.
From its name, you can tell that this product is designed to be a triple threat. It works as a face and body lotion and post-shave lotion. What's even better, the lotion is made to be fast-absorbing, non-greasy, and lightweight.
Lubriderm is dedicated to producing products to make the skin comfortable and healthy. Dermatologists know that the skin is affected by its immediate environment. Prolonged exposure to these environmental elements causes the skin to lose its water retention ability with time. However, Lubriderm has worked on a product that has been clinically proven to improve collagen and moisture which, acting together, improves the skin's elasticity. This lotion is made using aloe to soothe the skin right after shaving.
Aside from the lotion, Lubriderm also includes a 16-oz pump container which is cost-effective and easy to use. The product also has a unique masculine scent with hints of sandalwood and pepper. This is a huge plus since there are very few (if any), lotions for men that have this scent.
9. Brickell Men's Restoring Eye Cream for Men – Eye Cream
This list is full of Brickell products, and it might seem as though we favor them, but honestly, we don't. It's just that they produce quality skin care products for men and we just cannot help but notice them.
This eye cream from Brickell does everything you would expect from a great eye cream and more.
While the eye cream will help you to get rid of unsightly bags under your eyes – the kind that makes you look old and worn out every time, it also helps to remove crow's feet. This cream will also tone your skin and reduce the manifestation of aging spots and puffiness.
It's true, there are many things we love about this product – and it's expected since it is, after all, a Brickell product. Brickell has earned the trust of many beauty experts and men because of its dedication to producing nothing short of excellent men's skin care products.
Now, this cream works on all skin types and all men regardless of their age. The cream is lightweight and is absorbed fast into the skin. Even better it doesn't leave behind a shine or residue. On the contrary, it provides its users with a more natural look. It leaves the skin looking youthful and vibrant.
Several ingredients come to play to make this eye cream what it is. These ingredients include:
Matrixyl 3000
This is a perfect blend of peptides that boost collagen production. Collagen is the main protein structure of the skin.
MSM
This is an acronym for Methylsulfonylmethane. As we've pointed out before it sounds like a harsh chemical. It's surprising to learn that it's a natural extract from kale and spinach. MSM is perfect for getting rid of age spots and other pigmentation problems.
Caffeine
Caffeine is the go-to morning kick-starter for most men (and women) all over the world. This cream is used as a natural stimulant to reduce dark circles and bags under the eyes. It does this by increasing the circulation of blood to these areas.
While the results of using this eye cream may not be instant, in very little time you will love the results it yields. A single jar will last for 45 days (assuming you apply it only twice daily).
This eye cream has a lot of beneficial ingredients. Brickell intentionally left out parabens, glycols, sulfates, petrochemicals, silicones, and phthalates. Anything that is not good for your skin was simply not included. In addition to this, the product is animal-friendly as no tests were done on animals during the development of this product.
10. Tiege Hanley's Skin Care for Men Level 3 – Skin Care System
If you are in the search for the ultimate skin care treatment, then this product from Tiege Hanley's is perfect for you. This product has everything you could think of including;
An eye cream
Facial moisturizers
Super serum
Exfoliating Scrub
Face Wash
Simply put, this is an all-around skin care treatment that covers all the bases of skin care treatment without making it too complicated. Speaking of complicated, this was the drive behind the creation of this product. The founders of this company thought men's products at the time were super complicated and decided to dumb things down for the normal user.
Why do we love this product? Well, it's simple. It has everything we would want for our skin – what's not to love about this product?
The product is a level 3 system. It comes with everything you'd get in a level 2 with the addition of an AM/PM firming serum. This serum is known as a Super Serum for a couple of reasons. First, it's packed with anti-aging ingredients, antioxidants, and vitamins which provide turbo-boosts your skin's health, look and feel.
When you use this super serum twice every day, blood circulation to your skin will improve, and the skin will retain more water and absorb more nutrients for a healthy look. It will do all this while keeping your skin smooth and hydrated. We should point out that this product is fragrance-free and thus perfect for men who have sensitive skin.
This Super Serum is made up of peptides (Acetyl Hexapeptide-8). These peptides will relax your facial muscles and consequently slow down the onset of aging.
To maximize the results and effects of this serum, experts recommend that you use it with other products included in this skin care system.
Aside from the Super Serum, the system also includes an eye cream. This eye cream is a formidable weapon against crow's feet, puffiness, and bags under the eyes. This cream generally allows you to look as fresh as you feel. This cream achieves its goals by improving circulation to the skin surrounding your eyes and causing it to tighten.
The main ingredients of this eye cream are caffeine and vitamin B3. Caffeine is an antioxidant that helps in protecting the skin from harmful UV rays. This eye cream should be used at night and in the morning.
Now let's move on to the face wash. The face wash included is among the best in the industry. It helps to remove grime, dirt, and excess oil. In addition to this, it helps to reduce swelling and redness without drying out your skin.
The main ingredients in the face wash are cucumber and eucalyptus oil. The cucumber smoothens and hydrates the skin while the eucalyptus oil helps to heal the skin from scars.
The next product is facial scrub. This scrubby Tiege Hanley is effective and fast. It gets rid of dead skin cells, fine lines, and wrinkles.
The exfoliating scrub contains apricot seeds which help in scraping dead skin cells from the face. It does this without feeling like sandpaper on your face. To reap the best results, you should use the product twice every week.
Last but not least is the Tiege Hanley Facial Moisturizer. This moisturizer is designed to hydrate the skin without leaving grease and excess oil behind. It protects the skin from the sun and has anti-aging properties which help to improve the health of the skin.
This moisturizer is often used overnight to regenerate and repair the skin. In the process, wrinkles and fine lines are gotten rid of. It contains aloe vera extracts and green tea. These two both have antimicrobial, anti-inflammatory, skin healing, and hydrating properties.
How We Arrived at Our Top Choices
This post is similar to the best-of reviews of shaving products we have come up with in the past. However, the aim of this post was also to give you a fresh perspective of what is available in a wide range of best skin care products for men to help get you in the right direction when doing your skincare research. When coming up with the list, we considered several things including price and ingredients. While some products on the market are expensive, it doesn't mean that they are the best. Products that made it to our list have a balance between quality and price.
My name is Don and welcome to Luxury Shaving Razors! The idea behind the site was born in 2016 after trying to find a decent safety razor for my own personal use. I decided to document my journey.