Best Exfoliator for Men (Face Scrubs – Buying Guide)
We may earn a commission for purchases using our links. Learn more
In this week's buying guide we are looking at the best exfoliator and face scrubs for men.
The best exfoliator for men you might say, do men use that? A couple of decades ago, grooming was thought of as a thing for women. But things have changed. Today more men are paying attention to both how they look and how they feel about their looks; after all first impressions are everything today. Whether it's a face wash, exfoliating, hair care, beard care, or bathing, men have a lot to benefit from grooming courtesy of the innovative technologies and the best men's grooming products available in the market.
Now, when you think of grooming, the first thing that comes to your mind is a process that takes hours, right? Well, while that might be the case for some ladies, grooming for men takes minimal time. Heck even washing your face counts as grooming for men. Speaking of face wash, the routine has evolved over the years. Today, there are loads of quality face washing products for men that provide healthier and deeper cleansing in comparison to bar soaps.
And that's not all. Another product takes things to an even higher level for men – a face exfoliator or as they are commonly known; face scrubs. Exfoliating will improve your grooming game tenfold. And here's the kicker, you don't even have to use the exfoliator every day. A few times every week will yield great results.
This is because the best exfoliator for men does more than just cleanse the face. They unclog skin pores, clean up oily skin, and get rid of dead cells on your skin.
Now, we should point out that not all face exfoliators for men are equal. Because of this, you ought to be cautious of the facial scrub or exfoliating product you buy. To help you out and reduce your research time to find the best exfoliating product that will be the best choice for your needs, we've dug beneath the surface and have compiled a comprehensive guide including some of the best scrubs- and exfoliating products on the market.
Best Exfoliator for Men at a Glance
Last update on 2023-01-29 / Affiliate links / Images from Amazon Product Advertising API
Factors to Consider Before Purchasing an Exfoliator or a Face Scrub
Do not be deceived; the exfoliator you choose has a big impact on the results that you experience over time. Choosing an exfoliator is just as important as choosing any other men's skincare product. In line with this, skin type is at the core. Luckily, the industry is full of exfoliators for all skin types. But how do you tell them apart? Well, here is a quick guide on which types of exfoliators are great for different skin types.
Skin Type
Sensitive Skin
Believe it or not, many men have sensitive skin. With sensitive skin, you ought to be careful with the exfoliating products you use on your face. Sensitive skin requires gentle products. You should choose an exfoliator that is allergy and hypoallergenic tested. If you aren't sure of the product, always check with your dermatologist before using it on your face. Remember, consulting a pro is always better than not exfoliating.
Dry Skin
Exfoliation is the best solution for those men who have dry skin. You see, having dry skin also means you have a lot of dead and flaky skin cells. But aside from this, how else do you know you have dry skin? Well, if your skin feels tight after washing it, it is rough, dull, and has red patches, then it is dry skin.
Given that your skin is already lacking in moisture, you need to choose an exfoliator with a formula that won't strip the little moisture that's left since this will only make the problem worse. The best mens exfoliators have ingredients that replenish the skin. Usually, exfoliating products packed with moisturizing ingredients are creamy.
Oily Skin
Facial scrubs work overtime on oily skin. Exfoliating products are required to penetrate deep to unclog skin pores to prevent acne breakouts while balancing the skin's oil production. If you have oily skin, choose an exfoliator with salicylic acid. This is a deep cleaning ingredient that also helps to even out skin blemishes.
Normal Skin
Men with normal skin are blessed. They have the luxury of choice. They do not have to worry too much about the skincare products they choose. Their skin works fine with many ingredients. But even with the luxury of choice, you should choose an exfoliator that will deep clean and will maintain your skin's health. Pick an exfoliating product with multiple exfoliating agents – you've got nothing to lose.
We are working on a dedicated guide best exfoliator for african American face later this year.
Exfoliating Ingredients
The best exfoliators work wonders through several ingredients that do the heavy lifting of cleaning and unclogging the skin. Though there are synthetic ingredients (and these produce drastic results), we recommend sticking to natural ingredients, including sugar, oats, coffee, cornmeal, pumice, and walnut shell powder.
Scrubbing Beads
Mens exfoliator has scrubbing beads that are intended to get rid of dead skin cells and unclog skin pores. The size of these scrubbing beads matters. Usually, the size ranges from super fine to super coarse with lots of textures in between. While you can choose any texture you please, we recommend staying away from coarse grains if you'll be shaving and scrubbing daily. The coarse beads can be abrasive and are used often. Also, bear in mind that large grains increase the chances of skin irritations. Fine grains are perfect if you have a full beard and rarely shave.
What you should stay away from is an exfoliator with microbeads made from polyethylene plastic. The thing with these beads is that they are plastic and don't decompose. So eventually, they'll find their way to our streams, rivers, lakes, and oceans. They will pollute these water sources and put marine life at stake.
And actually, the US government banned the use of microbeads in facial scrubs in 2015. But despite this ban, some exfoliating products are still using them. For this reason, be vigilant in reading through the ingredient list, especially if you purchase an exfoliator made overseas.
So you should consider what type of skin you are working with, the list of ingredients, and the scrubbing beads contained in your scrub as you make a choice. Also, you should pay attention to the quality of the exfoliator (we shall look at this in detail later on).
Best 7 Exfoliators and Face Scrubs for Men
1. Jack Black Face Buff Energizing Scrub – Best Exfoliator for Men
Many of Jack Black's men's skincare items feature a 'PureScience' label. And if you take time to think about it, this label has loads of positive connotations. Some of the connotations include the product is created from organic and natural ingredients and is free of colorants, parabens, and fragrances. It is approved by dermatologists.
PureScience forms an excellent foundation for this energizing scrub. It helps the scrub to meet the standards of a quality facial scrub for men in a couple of ways;
It is an all-rounded product that's perfect for all skin types, including sensitive and oily skin. Speaking of which, it is arguably the best oily skin scrub on the market today.
It features small scrubbing particles that are effective in getting rid of dead skin cells and dirt. These particles make it a perfect scrub for prepping the skin for a quality shave without irritations. In addition to this, it helps to prevent in-grown hairs by unclogging blocked pores.
It has just the right amount of abrasiveness. It deep cleans dirt from the face without requiring you to apply a lot of pressure. The result is a smooth look and feel.
The bottle comes with a lot of scrubs to use. A single bottle can last you a couple of months even when you scrub several times a week. It without a doubt offers value for money.
The scrubbing heads are environmentally friendly and biodegradable. They decompose easily and don't pollute the water system and sources.
Many men have fallen head over heels in love with the scrub's scent. It is minty but still manly. It leaves the skin feeling refreshed and cool. The fragrance is similar to a masculine cologne with the added benefit of being mild.
Using the scrub on areas you intend to shave helps you have a better shaving experience. This is because the scrub gets rid of dead skin cells and dirt that may clog up even the best razor for men or cause friction and ingrown hairs.
We Like
It has an invigorating scent
It leaves the skin feeling refreshed and fresh
It deep cleanses and gets rid of grime and dirt
Keep This in Mind
The scent is too strong for some
Jack Black Face Buff Scrub is an all-around product that is perfect for all men, including those with oily or sensitive skin. Additionally, it is paraben-free and vegan-friendly.
2. Brickell Men's Renewing Face Scrub for Men – Quality Pre-Shave Face Scrub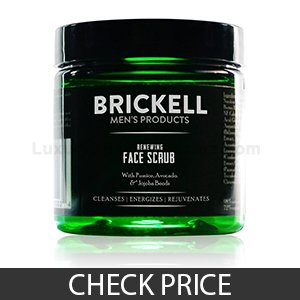 This is a quality facial scrub that is created to serve several functions. At the top of that list is exfoliation.
While it is true that a facial scrub is important for getting rid of the excess oil, dirt, and grime that clog up skin pores, it's also important for removing dead skin cells and improving the overall surface appearance of your skin. Experts have gone on record to state that this is an excellent exfoliator. And many men who have used it have backed up this claim. But why is this the case? Well, it is probably because of the pumice it features. Pumice is an abrasive that is used in cleansers and soaps. It is loved by manufacturers and customers because it has natural ingredients. It is a soft rock that is harsh on dead skin cells and dirt hiding in skin pores. Overall, pumice improves the exfoliation process.
Now, though pumice is soft, it's also strong. So much so that people often use it to get rid of dead skin on hands and feet. Moreover, it is used in construction and to grind and polish the glass surface.
However, this scrub from Brickell doesn't include pumice in its rock form. Instead, it grinds it to fine dust that has great exfoliation properties. The ground pumice will leave the skin feeling clean, fresh, and soft.
In addition to the pumice, Brickell also included jojoba beads in the exfoliator formula. These beads improve the scrubbing action while helping the pumice to unclog the pores and remove dirt and dead cells on the skin.
We are pleased to mention that the Brickell Face Scrub For Men is made up of 98% natural ingredients and 70% organic ingredients including aloe vera, vitamin E, and avocado butter. The list of ingredients is free of colorants, parabens, and a host of other harmful ingredients.
This scrub is perfect for all men, including those with sensitive skin. And if you are into mild scents on your grooming products, you'll be pleased to note that this scrub features a sweet-smelling fragrance made from coffee, green tea, and patchouli.
We Like
It has a refreshing scent
It has loads of natural ingredients
It is a strong exfoliator
Keep This in Mind
It comes in a small container – though most men feel it is travel-friendly and doesn't mind it much
The scrub from Brickell receives high reviews and is rated highly on the grounds of being great skincare and grooming product for men. And rightly so because Brickell Renewing Face Scrub For Men does a great job in cleaning and exfoliating the skin, not only on the surface but also as a deep cleanser.
3. RUGGED & DAPPER Daily Power Scrub Face Wash + Exfoliating Facial Cleanser for Men – Best Face Cleanser for Sensitive Skin
This is yet another great all-around scrub designed with men's needs in mind. Though it is perfect for all skin types, it is especially best for men with sensitive skin. As we pointed out at the start, men with sensitive skin should tread carefully when it comes to choosing skincare products. Products that have harsh ingredients may work for other skin types but will do more damage than good on sensitive skin.
Luckily, Rugged and Dapper made it their business to solve the sensitive skin problem. They do this by using natural ingredients in their products. These ingredients help to get rid of stubborn dirt and exfoliate the skin pores without causing damage.
This facial cleanser from Rugged & Dapper is strong enough to fight bacteria that cause acne and stabilize sebum production. The latter is key since many experts believe that it is a contributing factor to acne breakouts.
What ingredients does Rugged & Dapper have in this cleanser? At the top of the list is aloe vera. Aloe vera is perfect for smoothening the skin. In addition to this, and to help maintain smooth and glowing skin is willow bark, which is an anti-inflammatory and an antioxidant. Other ingredients featured in this product include tea tree oil, vitamin C, and burdock root. Tea tree oil is not a newcomer. On the contrary, it's a common ingredient in skincare products, not only for men. It is used because it has anti-inflammatory factors and also helps in treating skin conditions, including acne.
With all that said, this scrub has numerous benefits to the skin. First, it is an exfoliator that gets rid of dirt, and second; it's a revitalizing and refreshing face wash. It plays these roles without stripping the skin of its moisture. Men with different skin types and of all ages benefit from this scrub.
Last but not least, this facial cleanser has a creamy and thick texture. However, it's still light enough to be used on sensitive skin.
We Like
It is perfect for sensitive skin
It balances and cleans the skin
It is strong enough to fight acne causes and reduce its symptoms
Keep This in Mind
It is slightly more costly in comparison to other facial scrubs
This facial cleanser is strong for men whose skin needs thorough deep cleansing. But on the slip side, it is gentle enough for sensitive skin. We love Rugged & Dapper Facial Cleanser For Men because it gets the job done and it is free of harmful toxins and chemicals.
4. M3 Naturals Activated Charcoal Body Scrub Infused with Collagen and Stem Cell – Face & Body Scrub
What in the world is this? Why would anyone want charcoal on their face? Is this a joke? Fortunately, it's not. As you'll see, having charcoal as an ingredient is a great thing.
You probably know charcoal as a fuel and have never thought of it as being a great ingredient or grooming product. Today, charcoal can be found in soaps and toothpaste. It is used as a cleaning agent (yes we are back to the caveman ways). But put your doubts aside for a moment and hear us out.
Charcoal is perfect as a facial scrub ingredient. It is because of it that the M3 Naturals Activated Charcoal Scrub is getting nothing but praise from experts and consumers. Here is how they pulled it off. First, the charcoal used is 'activated charcoal'. This charcoal is porous and perfect for drawing out stains, oil, and dirt from the skin. It does all this while it attracts water to hydrate the skin. In simple terms, it is a high-tech vacuum for your skin that has the added benefit of infusing moisture into your skin. Isn't this the product you've been after all your life?
But M3 experts did not stop at the activated charcoal. They pushed the limits further and added Dead Sea salts to create a cleanser that packs a punch. The result is a scrub that removes blackheads, fights acne, and rejuvenates and detoxifies the skin. Your skin will look brighter and feel even tighter. Because of these, you will aging signs will disappear.
We Like
Activated charcoal sucks impurities from the skin
The product is effective and safe
It works great as a body scrub as well
Keep This in Mind
It leaves black residues. But this is nothing a quick face wash cannot take care of.
The M3 Naturals Activated Charcoal Scrub will get rid of dead cells, impurities, and excess oils. It will leave your skin feeling rejuvenated and smoother.
5. THRIVE Natural Face Scrub for Men & Women – Good for Sensitive Skin – Scrub & Energy Boost
For some men, coffee is the drink that helps to open their eyes and to supercharge their brains every morning. Without it, they feel lazy and incomplete. It's great when it's in a cup, so how about when it's in your facial scrub? Yes, you read that right. Thrive, a leading facial scrub brand has taken scrub technology to another level. They've mixed some plant-based oils with coffee grounds to create a product that not only exfoliates your face but also supercharges you and revitalizes your face.
This facial scrub is ideal for men who love to exfoliate the moment they wake up in the morning and who use coffee to boost their day. Why is this? Well, the caffeine included in the scrub will be absorbed into the skin, and you'll benefit from some caffeine boost which is both great for your energy levels and skin.
In addition to the energy boost, the coffee grounds, in combination with the plant-based oil have a pleasant scent. Speaking of plant-based oil, these ingredients are responsible for dissolving debris and dead skin that may be stuck deep in your skin pores. When combined with the coffee grounds, they give a tingly sensation that is refreshing and pleasant.
For men that have sensitive skin, Thrive All Natural Men's Face Scrub is a great choice. Despite the tingly sensation, it will not cause any sensitivity or irritation after its application. And like many products Thrive has made, the scrub contains super plants from Juanilama, Costa Rica, and Fierrillo. These plants have amazing restoring and protective benefits to the skin.
On the flip side, though this scrub doesn't do a great job of moisturizing the skin, the coffee grounds absorb liquid. Moreover, the scrub is packaged in a few ounces that sells at an affordable price.

We Like
It has a reasonable price tag
It's easy to apply and has no sensitivity
The coffee grounds give you an energy boost
The scrub penetrates the skin to exfoliate the skin
Keep This in Mind
It can cause the skin to dry
It's packaged into a few ounces
Though it comes in a small package, Thrive All Natural Men's Face Scrub is priced reasonably. This face scrub will boost your energy levels and give your skin a thorough deep cleansing.
6. Dove Men+Care Body and Face Wash, Deep Clean – Best Budget Face Cleanser
Dove has been one of the best facial and skincare products in the world for a long time. Over the years, it has honed its skills and learned what its target market needs, and adjusted its product to meet these needs. This Dove Men+Care Body and Face Wash, Deep Clean is one of the best they have. They have designed it specifically for men who have sensitive skin. Experts describe it as a pumice facial scrub that deep cleans the face without causing irritations after.
Let's dive into the heart of this face scrub to see what it has gotten such good reviews over the past couple of years.
First, the primary ingredient in this scrub is pumice. Along with other ingredients, the pumice gets rid of dirt oil, and debris from the skin pores. It achieves deep cleaning with no skin irritations. If you have deep and thick pores, the kind that traps oils and lots of dirt throughout the day, the scrub will work wonders for you.
And since blocked deep pores lead to acne breakouts, cleaning the pores out means that the acne will gradually clear out. Moreover, the scrub also includes moisturizing ingredients which ensure that the dirt and debris are removed without leaving the skin as dry as the Kalahari. Overall, your face will have a softer, supple, and healthier look.
Now, since the exfoliators in this scrub are intense, we don't recommend it to men whose skin is overly sensitive. Such men will experience some skin irritations. But this doesn't mean they are doomed. There are lots of other products on this list for them to try out (some of which are affordable and come in big packages).
With that said, the Dove face scrub is a budget pick that is excellent for most men's skincare and slightly sensitive skin.

We Like
Affordable for the ounces offered
It deep-cleans the skin
It leaves the skin feeling soft and supple
It exfoliates and moisturizes the skin
Keep This in Mind
Can lead to irritations if the skin is overly sensitive
If you are in search of a thorough deep cleaning face scrub, this is the best one yet. And though it is ideal for men with sensitive skin, those whose skin is overly sensitive should stay away and try other milder face scrub options.
7. Viking Revolution Microdermabrasion Face Scrub for Men – Great if You Shave Daily
Good grooming is essential for men as it is for women. After all, first impressions matter for men as well. But unfortunately, the grooming industry is full of products designed to meet the needs of women, and very few meet those of men, especially shaving men.
But the good news is that in the recent past, more and more companies have been coming in to change the narrative. Viking Revolution is one such company that came to the rescue of men and their grooming needs. They created a face scrub that can be used by men immediately after shaving to prevent their skin from drying out. With this scrub, Viking Revolution saved many men the agony and embarrassment of walking around with scaly skin.
So what makes this scrub popular in the male grooming space? Well for starters, it is designed to serve men with dry and oily skin since it moisturizes the skin, and second, it contains natural ingredients.
Now at this point, we should point out that this is a chemical-based exfoliator that makes use of natural oils to exfoliate the skin. But despite the natural oils, you shouldn't be misled into thinking that it's overly oily or that you cannot use it if you are prone to acne. On the contrary, as pointed out above, the scrub is great for men with oily skin.
You see, the oils included in the formula are not too thick that they clog the pores or give your skin an oily sheen. They are natural and reinvigorating. The deep cleanses the skin and promotes excellent skin health. Some of the oils included in the scrub include sweet almond oil, coconut oil, and sunflower seed oil.
And aside from cleaning the skin and the obvious health benefits, the scrub features a pleasant scent that is not overly feminine and not too overwhelming. Therefore, men who are keen on how they smell will have a hard time saying no to this scrub – its scent is a chic magnet.
We mentioned that the scrub is great for men who have dry skin. This is also because it contains vitamin E, which nourishes the skin and also repairs any cell damage that occurs. And though this scrub is marketed to men who shave frequently, we advise its application before shaving.
The order of operations includes taking a shower, applying the face wash, and then shaving. This is because the face wash will revitalize the skin and make it a little less sensitive to razor burns and small nicks and cuts that might be sustained during the shaving session.

We Like
Revitalizes the skin
Ideal for men who shave daily
Great moisturizer and exfoliator
Repairs skin damage
Keep This in Mind
Not great for overly sensitive skin
We recommend his exfoliator to men who shave frequently and who love having a smooth jaw. The exfoliator helps in improving the overall shaving experience and leaves your skin feeling cleaner and refreshed.
How to Exfoliate
The number one reason why we recommend using a face scrub or an exfoliator is to remove dead skin cells and unclog your pores. The skin is indeed created to get rid of dead skin cells. But unfortunately, it doesn't do a thorough job to yield a flawless look. For this, it needs your help.
However, to yield the best look, you need to know how to use the facial scrub.
Let's start with how often you should exfoliate.
How Often Should You Exfoliate?
The number one rule of exfoliating is that you don't need to do it daily. If you do so, your skin will dry out since you'll be draining too much oil from it and disrupting the pH balance. The ideal frequency is twice (at most) in a week. If you have normal skin, you can afford to do it more, but more than 4 times a week.
If your skin is oily, normal, or a combination of the two, then you can scrub a maximum of three times a week.
If you have dry, acne-prone, or sensitive skin, you should use your scrub only twice a week.
When exfoliating, you should do so with caution. Though you might love how your face looks after, do not give in to the temptation to overdo it. This might end up doing more harm than good.
Best Shaving Soaps For Men [All Skin Types] – Buying Guide
The Best Technique to Exfoliate
The steps are simple.
Before scrubbing, wash your face with some warm water. This will open your pores and make it easier for the scrub to penetrate and unclog your pores.
Only use a pea-sized amount of exfoliator. Use massage the scrub into the skin using the tips of your fingers. Move your fingers in circular motions. You can also opt to use a soft washcloth or a loofah.
Be gentle when applying the scrub. Being too vigorous will only irritate the skin and dry it out
If you want to shave, scrub your face first. The scrub will smoothen your skin and soften the hairs for a better shaving experience.
When you are done, wash off the face scrub with some warm water followed by some cold water. The purpose of the cold water is to close the pores and help to prevent impurities from clogging them up again.
Pat your face dry with a towel
Reasons to Use an Exfoliator
We have mentioned the benefits of facial scrubs in the introduction section. In this section, we shall dig a little deeper.
It removes dead cells on the skin – this is the primary purpose of face scrubs. Every fortnight new skin is regenerated. The old skin is left looking dull, flaky, and uneven. Bathing doesn't do a good job of getting rid of the dead skin. This is where face scrubs come to the rescue.
Cleansing – scrubs get rid of excess oil, dirt, and grime. They penetrate the pores and remove the dirt that has accumulated.
Scrubbing removes ingrown hairs – yes, it's that thorough. It helps to lift ingrown hair and makes it easier to get the perfect shave.
Slows down aging – while no product can make you forever young, some are known to do a great job in getting rid of aging signs and reducing wrinkles and fine lines.
Scrubs vs. Other Facial Products
Though we've focused on exfoliators, they are not the only products that deep cleanse. Below is a quick comparison of how they stack up against other face cleansing product options.
Facial Scrub
In comparison to body scrubs, facial scrubs are milder. This is because the skin on the face is thinner than on the body. Body scrubs have larger granules designed to penetrate tougher skin around the elbows, knees, and feet.
Eons ago, the Egyptians used alabaster particles, sand, sour milk, and pumice to exfoliate. On the other hand, Native Americans used abrasive materials like corncobs. Today, the physical exfoliators found in facial scrubs include pumice stone and jojoba beads.
Jojoba beads are round and smooth. They are gentle on the skin but do a good job of removing dead skin cells. On the other hand, pumice is harsher. Because of this, we do not recommend it to men with sensitive skin
Face Wash
A face wash is a super mild cleanser. Given their mild nature, you can use a face wash daily. However, they don't do a good job of deep cleansing as facial scrubs do.
Scrub Bars
These have a rougher texture in comparison to regular bar soaps. They are perfect for body exfoliation. Even their liquid versions have larger and harsher granules which make them perfect for body scrubbing.
Chemical Exfoliants
These exfoliating products use chemicals to get rid of dead skin cells. The chemicals used bind to the dead skin cells. Examples of the chemicals used include;
Lactic acid – is milk-based and is perfect for all skin types. It is available in different strengths
Glycolic acid – is slightly more powerful in comparison to lactic acid. As such, it gives an even deeper cleansing.
Citric acid – is naturally produced by citric foods. It helps to dissolve the top-most skin layer for anti-aging, cleansing, and smoothing purposes.
Salicylic acid – it's also called beta hydroxy acid. It is perfect for skins that experience acne breakouts and oily skin
Chemical Peels
These are categorized under chemical exfoliators. However, they are harsher. The peels contain a gel-like solution that strips away the top-most skin layer. They yield the best results for people with a lot of blemishes, unwanted facial hair, and blackheads. They also improve the skin's texture, color, and tone
Note: excess wrinkles and sagging skin don't respond well to the chemical peels. Laser treatments and facelifts are your best options.
Masks
Facial masks come with different ingredients including clay, aloe vera, essential oils, and seaweed. It works to draw out impurities and dirt. The masks also tone, hydrate, rejuvenate and nourish the skin.
Clay masks are mostly used for cleansing while gel/cream masks are used to hydrate.
FAQ Exfoliators and Face Scrubs
What is the best exfoliator?
This depends on first of all your skin type. We have found that the best overall choice of exfoliating for men is the Brickell Renewing Face Scrub For Men. For men with sensitive skin, we recommend Rugged & Dapper Facial Cleanser For Men. If you suffer from acne and sensitive skin, then Derma-Nu Exfoliating Face Scrub For Men is a good exfoliating pick.
How do you exfoliate your face naturally for men?
If you follow our 5 steps exfoliating outline you will get great results. The steps are simple.
Before exfoliating, wash your face with some warm water. This will open your pores and make it easier for the scrub to penetrate and unclog your pores.
Only use a small amount (think pea-sized) amount of the exfoliator. Gently massage the scrub into the skin using your fingertips. Move in a circular motion. You can also use a soft washcloth.
Be gentle when applying the scrub. Being too vigorous will only irritate the skin and dry it out. If you want to shave, scrub your face first. The exfoliating will smoothen your skin and soften the hairs for a better shaving experience.
When you are done exfoliating, wash off your face and scrub with some warm water followed by some cold water. The purpose of the cold water is to close the pores and help to prevent impurities from clogging them up again.
Pat your face dry with a towel
Should men use face scrub?
Yes! However, the number one rule of exfoliating is that you don't need to do it daily. If you do so, your skin will dry out since you'll be draining too much oil from it and disrupting the pH balance. The ideal exfoliating frequency is twice in a week.
How We Picked The Best Exfoliators
Needless to say, we did a lot of research to find the best exfoliators and face scrubs for men. We considered different factors and dug under the surface during our search, including quality, skin type, and ingredients. From our list, you can tell that we favored products with natural ingredients. And though we wanted the best product, we also looked for products that weren't exorbitantly priced.
Thank you for reading to the end. If you feel we left out anything or you have any questions about exfoliators or scrubs, feel free to get in touch. Also, share with us your favorite that we have missed and help us help men struggling to find the best exfoliator for men.
My name is Don and welcome to Luxury Shaving Razors! The idea behind the site was born in 2016 after trying to find a decent safety razor for my own personal use. I decided to document my journey.