Best Face Wash for Men (Buying Guide 2023)
We may earn a commission for purchases using our links. Learn more
Let's take a look at the best face wash & cleansers for men.
For many of us, the first thing we do when we get out of bed in the morning is to wash our faces. Yes, most times we do this even before we hit the shower- it's a routine we've come to get used to. And while this is a great thing, there's one thing many men do wrong – and that is using traditional bar soaps to wash their faces.
The problem with using bar soaps is that it dries out and strips the skin of its natural oils leaving you looking like a faded zombie in the apocalypse. So what should you use instead of the traditional bar soaps? Easy, use a gentle mens face wash and/ or cleansers like Ursa Major Fantastic Face Wash. Note: a man's skincare and grooming routine are not complete without a face wash and cleanser – and the best ones at that.
To guide you to the best face wash and cleaners for men, I've taken the liberty to do some in-depth skincare research and tests. From these tests and research, I've compiled a bestseller buyer's guide of what you need to know before making a purchase, the best facial washes and cleaners, and how to use these washes efficiently. I'll turn you into a face wash and cleanser expert in less time than it takes to eat breakfast.
Let's get to it.
Best Face Wash & Cleansers for Men at a Glance
Last update on 2023-01-29 / Affiliate links / Images from Amazon Product Advertising API
5 Factors You Should Consider Before You Purchase a Face Wash or Face Cleanser
Yes, face washes and cleansers are different. Sure they are designed to achieve one thing but when you break them all down and do comparison tests, several differences will pop up. When you are making your choice of the best product, the first thing you should consider is your skin type.
We all have different types of skin categorized into dry skin, oily skin, normal skin, combination skin, and sensitive skin. Let's look at each of these types individually.
1. Oily Skin
All skin types have oil (known as sebum). The oil is excreted by sebaceous glands and is important for lubricating and waterproofing the skin and maintaining an optimal pH balance. However, some men's skins have more of this oil than others do. These skins are characterized by large and visible pores and a greasy sheen that forms a short while after cleansing the face.
If you have oily skin, you need to choose a product that helps in regulating sebum production without causing extreme dryness.
2. Dry Skin
Dry skin is often itchy and flaky and feels tighter than normal. It rarely develops a greasy sheen. If these characteristics describe your face, then you have dry skin. Your sole mission when purchasing a face wash and cleanser should be to get one that gets rid of the dirt and grime without robbing your skin of the natural oils. Get a gentle face wash that will hydrate your face.
3. Sensitive Skin
Now, don't get it twisted. Sensitive skin is not for sensitive guys. The two are not synonymous. If you do get a sensitive guy with sensitive skin, it's purely a coincidence. With that said, sensitive skin that is more prone to inflammation is easily irritated and turns red after cleansing or shaving.
If you have this skin type, you should get a facial cleanser that has dense and creamy foam – one that has soothing ingredients like aloe vera. I'd recommend getting a cleanser that helps in balancing the pH level in your skin as well.
4. Normal Skin
If you have normal skin, thank God. You are lucky. This is one of the least problematic types of skin. With normal skin, you can use a variety of face washes and cleaners without running into skincare problems. Normal skin doesn't flake, is not easily irritated, or turns red when it experiences slight friction. Moreover, its tone is even and it doesn't have a greasy sheen.
Men with normal skins are just like guys with oval faces who look stunning in any beard style. If you are in this category, you are free to choose from a wide variety of face wash and cleansers. The only catch is that these products should not dry out your skin.
5. Combination Skin
Guys with combination skin have two types of skin on their faces; oily and dry skin. For most guys, the oily skin is on the chin, nose, and forehead while the dry bit is on the cheeks. Combination skin is a little tricky to shop for as you have to find a product that balances the two types.
You should invest in a cleanser that strips the skin of excess surface oil without reaching deep to rid it of desirable facial oils (which are great for the skin). So essentially, it should remove the oil and dead skin cells without drying out the skin.
A perfect face wash for this skin type will protect the lipid barriers in the skin and retain the skin's optimal moisture.
I feel the need to reiterate this – your skin type is your main guide to the wash and cleaners for your face. And now that we have that out of the way, let's go deeper and look at what makes the best face wash and cleaners the preferred choice for many.
Best Facial Cleansers and Washes for Men
1. Ursa Major Fantastic Face Wash – Best Face Wash for Men Overall
You probably have not heard of Ursa Major yet. But this doesn't mean that it doesn't have anything to offer. It's quite the opposite. Ursa Major has a lot to offer, starting with the Fantastic Face Wash. And if you are a fan of companies that prefer using natural ingredients in their products, you'll fall in love with Ursa Major. This face wash is designed to solve a lot of the common skincare problems men face.
Here's the thing; Ursa Major designed this face wash to clear skin and promote optimal skin health. Additionally, it deep cleanses and gets rid of dead skin without robbing it of its valuable moisture. It has a lovely scent provided by the mix of essential oils it contains. These essential oils include; lavender, spearmint, cedar, and many more.
In total, Ursa Major has 36 natural ingredients including aloe vera and rice seed. Aloe vera is famous for soothing skins. On the other hand, rice seed hydrates and exfoliates the skin while maintaining moisture.
Speaking of natural ingredients, it's impressive that 99.5% are sourced from sustainable growers. The ingredients list is free of parabens, sulfates, petrochemicals, artificial colors, silicones, and synthetic fragrances. Moreover, the wash is vegetable-based, animal cruelty-free, and gluten-free.
Since it doesn't dry out the skin, it's perfect for oily and normal skin. It is maybe the best pore cleanser for men we have come across. The product is also great for acne and other skin problems. After a while, your skin will be clearer.
Type: Wash
We Like
It doesn't dry the skin
It is rich in natural ingredients
It exfoliates the skin
Keep This in Mind
The scent proves to be quite strong for some
Regardless of how you choose to look at it, getting this Ursa Major wash is a winning move. It's perfect for all skin types and thoroughly cleanses the skin without removing your natural oils. It's a great skincare choice and worth the number one slot in this best face washes guide.
2. Jack Black Pure Clean Daily Facial Cleanser – Best Men's Face Cleanser (All Skin Types)
Jack Black is another relatively new brand in the men's grooming industry. But despite their young age, they have made huge ripples in the industry and earned their place as one of the best mens face cleaners. This pure clean facial cleanser is a strong representation of the quality Jack Black provides.
The facial cleanser serves two purposes – first, it cleanses, and second, it gives the skin an even tone. It does this by remove excess oil and dirt. It is perfect for the guys who work in environments that get their faces covered in lots of dirt. In the end, the facial cleanser hydrates and leaves the skin feeling and looking fresh.
So how does it get the job done? Easy. The coconut and oat-derived natural ingredients help in cleaning the skin while witch hazel acts as an anti-oxidant and astringent. In addition to these, this facial cleanser includes rosemary and sage leaf which have antibacterial properties, and aloe leaf and chamomile which help to soothe the skin as well as reduce redness.
There are numerous reasons why I put this cleanser on this top 8 list. I like that it doesn't contain gluten, paraben, and sulfates and is also dermatologist tested and approved.
This cleanser is also perfect for men who have their pores clogged often or those who suffer from acne and blackheads. You will love how your skin is evenly toned after a few weeks of using this product.
Type: Cleanser
We Like
Sulfate and paraben-free
It's a dual-purpose toner and cleanser
It completely gets rid of oil and dirt
Keep This in Mind
It's a little bit runny in comparison to other cleaners on this list
Jack Black Pure Clean Daily Facial Cleanser is by far one of the best cleansers designed to provide a deep clean that most men are after. If you work in environments that have your face collecting a lot of dust throughout the day, then this is the perfect facial cleanser for you.
3. Tiege Hanley Men's Skin Care System – Level 1 – Complete Skin Care System for All Skin Types
Simply put, Tiege Hanley is a brand that was created by and for regular guys. It first launched in 2015. The brand came into existence because the team discovered that, unlike women, men didn't know much about skincare. But since everyone wants to feel comfortable and confident in their skin, the four visionaries set out to create a simple, and straightforward system which offers affordable and effective skincare solutions along with some education on how skincare works and how to make it work for them. Over the years, the brand has transformed into a skincare beast in the industry. They champion the narrative that skincare doesn't have to be complicated.
How do they achieve this? Well, the fourth man in the Tiege Hanley team is known as The Chemist. He is the master creator of the skin formulas that they proudly call Ferrari formulas. He has split Tiege's products into three systems to fit the unique skincare needs of all men. This particular product falls in the level 1 category. How does it work? The magic is in the four ingredients.
Cucumber Extract
The cucumber extract soothes and hydrates the skin. In the skincare world, it's known as a superfood that's necessary for great skin. Cucumber contains vitamin C, proteins, a bunch of minerals, and other emollient and moisturizing properties. The extract also helps the skin to shed its outer layer exposing the young and fresh layer beneath. It also works to tighten the skin.
Salix Alba bark
This extract reduces extreme skin irritation and inflammation. On the other hand, it helps in promoting wound healing and assists the skin through its shedding process.
Lavandula oil
It is commonly known as lavender. This oil is loved for its acne-fighting properties, hydration, and ability to reduce redness on the skin.
Eucalyptus oil
Eucalyptus oil has loads of health benefits for the skin. Part of the benefits includes stimulating the skin and serving as an antiseptic.
The Tiege Hanley face also features Rosemary oil. This oil assists in controlling oily skin. In the process, it also enriches it with vitamins, ions, calcium, and antioxidants.
We mentioned that Tiege Hanley has three levels for skincare. In the level 1 is this gentle daily face wash, a face moisturizer infused with SPF of 20, an exfoliator brush and a facial moisturizer to be used before you sleep.
The other thing that makes the Tiege Hanley products likable is the fact that they are designed for men with all types of skin. So whether you have dry, normal, or sensitive skin, the Tiege Hanley will prove to be the face wash best for you.
Type: Complete System
We Like
Gentle enough for daily use
Ideal for all skin types
Effective when used daily
Tightens and hydrates the skin
Keep This in Mind
Some users wish it came in larger bottles
This face wash is simple yet highly effective for all men's skincare problems. The Tiege Hanley face wash is an all-in-one wash that's designed for all skin types.
4. RUGGED & DAPPER Daily Power Scrub Face Wash + Exfoliating Facial Cleanser for Men – Best Pimple Face Wash for Men
This cleanser has proven to be one of the best natural solutions for keeping facial skin healthy. Rugged and Dapper has made this great product from natural ingredients including Willow bark, aloe vera, and Vitamin C. This cleanser soothes the skin but goes hard on grime and dirt. But aside from the natural ingredients, R&D has a lot more to offer.
It contains some plant-based exfoliates which help to get rid of the dead skin cells. These exfoliants also help to prevent congestion of facial pores helping to slow down aging.
This cleanser is perfect for men. It gets rid of excess oils and dirt and in the process prevents skin breakouts including acne. Speaking of acne, this cleanser is a great acne solution.
It is great for all types of skins regardless of their age
It is free of harmful chemicals and parabens
The cleanser has a rough texture. This texture helps in exfoliating the skin. In addition to this, the cleanser creates good foam. This texture is made possible by tiny exfoliating beads. Owing to these beads, you'll have a smooth face complete with a polished look.
The cleanser has a cool manly fragrance. As a man, you don't want a fragrance so strong and overpowering.
The R&D is a cleanser come exfoliator. It's important to note that it doesn't cause the skin to dry out.
Though the cleanser comes in a somewhat tiny bottle, it's highly concentrated. The serum concentrate means that it'll last for many months. The bottle is designed with a cap that's easy to snap off during use.
This cleansing formula also contains tea tree oil which has a host of health and skin benefits. At the top of the list of benefits is preventing and fighting off acne.
Type: Cleanser
We Like
Has a cool and manly fragrance
It has natural ingredients
It exfoliates your skin and unclogs blocked pores
Keep This in Mind
The exfoliating beads may be difficult to rinse from the beards
Rugged & Dapper is no-nonsense on grime and dirt but very soothing on the skin. It leaves the skin looking smooth and polished. If you are a sucker for products with natural ingredients you'll love the R&D cleanser. This is probably the best pick in the best face wash for pimples and blackhead cleanser for the man category.
5. CeraVe Hydrating Face Wash – Best Face Wash for Dry Skin
Truth be told, men with dry skin have a hard time finding the best products for their faces. This is rather unfortunate. When it comes to cleansers, they have to seek out those that get rid of grime and dirt without stripping the skin of its natural moisture. In addition to this, the cleanser has to protect the skin from drying out.
Luckily for all men in this category, CeraVe is here to the rescue with its hydrating facial cleanser. The facial cleanser Cerave does all I've mentioned above making it one of the best there is in the market.
But we cannot look at this cleanser without pointing out the ceramides it features. Ceramides sound like some chemical bound to be harsh for the skin right? Well, it's not.
Ceramides are lipid molecules present in cell membranes on the skin. They are usually in high concentration. They have a long list of functions but at the top of the list is holding together skin cells on the top layer. This creates a strong protective layer which helps in retaining moisture. Products with ceramide, like this cleanser, help to replenish lipids lost due to aging, drying products, and harsh environmental conditions.
This CeraVe cleanser includes 3 types of ceramides as well as hyaluronic acid which do great work in retaining moisture. The cleansing formula is gentle and doesn't irritate the skin. It's perfect for daily use by men that fall into this group.
The cleanser also features a proprietary MVE Delivery Technology. MVE is an acronym for MultiVesicular Emulsion. This technology helps to inject moisturizing ingredients into your skin and ensures that the cleansing effects last for long while following its application.
The other reason I loved this cleanser is that it sports a National Eczema Association seal of approval. This means that it's perfect for men with sensitive skin or eczema. Most reviewers love it because it leaves the skin relaxed and clean.
Type: Cleanser
We Like
It is great for dry skin
It contains ceramides
It restores the skin's protective barrier
Keep This in Mind
It's formula sadly has parabens included
Men with dry skin have several challenges when cleansing their skin. At the top of the list is moisture loss. Lucky for you, the facial cleanser by CeraVe is designed to help men with this problem. You'll fall in love with how good it makes the skin feel after.
6. Brickell Men's Purifying Charcoal Face Wash for Men – Best Face Wash for Sensitive Skin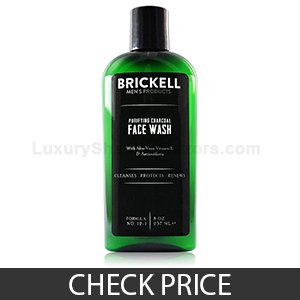 By a show of hand, how many of you think charcoal can make a good ingredient in a cleanser? If you were honest, then only a few of you believe it's possible. But here's some breaking news – charcoal is a great cleansing agent. And as a matter of fact, many shampoos on the shelves have activated charcoal.
Note: when I talk of charcoal, I don't mean the kind used to cook. No, this kind is activated – activated to help ramp up your facial skin health. It has numerous properties that make it a great agent for this job.
Activated charcoal is great in getting rid of bacteria, excess oil, irritants, and free radicals lodged in the skin pores. It does this without drying out the skin or irritating sensitive skin. Brickell is aware of these benefits and chooses to use them to their benefit in their purifying face wash.
But that's not all Brickell has in this face wash. The wash also contains numerous organic and natural ingredients including aloe vera, jojoba oil, and olive oil. Jojoba oil provides a protective cushion that helps the skin in retaining moisture. Olive oil helps to get rid of oils and dirt gently and in their place injects essential oils that nourish facial skin. This face wash is great & gentle for all skin types. However, it's the perfect option for those with sensitive skin.
As a company, Brickell was created back in 2014 by Matt Bolduc and Josh Meyer. The company started in a garage, like so many other household names, and has since grown to be a force to reckon with. It's now known for its preference for natural ingredients. The company sells its products in more than 20 countries and thousands of men sing its praises.
For those concerned with scent, you'll be pleased to note that this face wash's scent is natural. It's derived from eucalyptus, lemongrass, and peppermint essential oils. What's even better, the face wash is free from sulfates and parabens.
Brickell experts recommend that you use the product every morning and just before you go to bed at night. And if you are into fitness, do it after your exercises as well.
Type: Wash
We Like
It's perfect for men with sensitive skin
It's made from natural ingredients
It features activated charcoal which deep cleans the skin
Keep This in Mind
Some men are not into the scent
Brickell has done a great job of building a name for itself and is famous for the creation of natural skin products. The Purifying face wash does a great job on the face and doesn't irritate the skin.
7. Bulldog Natural Skincare Original Face Wash for Men – Gentle Deep Cleansing
Bulldog was created back in 2005 to provide high-quality skincare solutions for men. Simon Duffy, the maker of this great face wash, made it because he couldn't find a straightforward skincare product for men made using natural ingredients. He created a product that fits this niche perfectly.
The Bulldog Face Wash is created with all-natural ingredients including 8 essential oils and green tea. These ingredients work together to rid the face of debris and dirt. It's also worth noting that the cleanser has aloe vera as well. Aloe vera reduces and soothes irritations.
This face wash is delivered as a gel and doesn't dry the skin. Those with oily skin state that it's effective in helping to prevent acne. It will leave the skin feeling clean and soft.
Type: Gel Wash
We Like
It is gentle on the skin
It contains natural ingredients such as green tea and is free of sulfates and parabens
It has loads of natural benefits for facial skin
Keep This in Mind
The scent is not loved by some
This is a natural face wash. It is gentle yet does a thorough deep mens face cleaning job. This is one of the top face washes around.
8. Yellow Bird All-Natural Soap – Best Men's Face Soap (Handmade, Natural and Organic Ingredients
This soap is natural and handmade in the conventional small batch and cold process method. This process helps to maintain the effectiveness and quality of the natural ingredients. Though the method used takes a long time in comparison to other processes, Yellow Bird insists that it is necessary for them if they are to maintain control over their ingredients. By control, the company means that the product doesn't contain chemical preservatives, chemical fragrances, or synthetic dyes and lathering agents. With that said, let's have a look at what this product has to offer.
Activated charcoal – this ingredient detoxifies the skin by getting rid of excess soil and dirt. This also helps to prevent acne.
Shea butter – moisturizes and softens the skin. It gives it a more youthful look and feels.
Lavender and Lemongrass essential oils – these oils help to restore the skin's natural luster. It achieves this by getting rid of unsightly patches and blemishes. They also have a pleasant smell and have antifungal and antibacterial properties.
Coconut oil, palm, and sunflower oil – help slow down aging.
The Yellow Bird is black and looks just like what you'd expect from a product containing charcoal. But remember this is beneficial to the overall goal of the product. Last but not least, the soap comes with a money-back guarantee. If it doesn't do what Yellow Bird claims it will do, you can send it back for a refund.
Type: Soap Bar
We Like
Contains organic and natural ingredients
It's handmade
It's effective on the body and face and is great for both women and men
Keep This in Mind
The bar doesn't last as long as most foams and gels do
Yellow Bird Natural soap is perfect for all skin types and problems including rosacea and acne. It lathers nicely and leaves the skin feeling energized and fresh.
9. L'Oreal Paris Skincare Men Facial Cleanser – Best Budget Cleanser for Men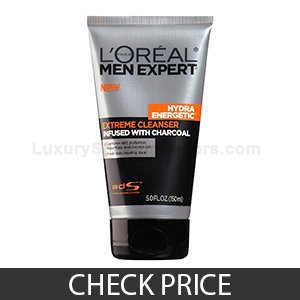 The L'Oreal Paris Skincare Men Facial Cleanser is a perfect combination of antioxidants and activated charcoal. These two ingredients work together to deep clean the face and promote cell health. It is ideal for men with oily skin because it helps in fighting off acne.
The activated charcoal in this face wash is an essential ingredient. It works by ridding the skin of excess oil and debris – something regular soap cannot do. The activated charcoal filters into the skin pores and sucks out harmful compounds and toxins. These harmful particles are washed away along with the charcoal. Because of this, you do not have to be rough when cleaning your face trying to get rid of the impurities that have accumulated during the day.
When the charcoal is washed off, your skin is left feeling smooth like a baby's butt. Now, we should mention that the wash is not ideal for men with sensitive skin. This is because it has a rough texture which can irritate the skin. It will help you prevent oily-skin-related problems and save yourself a lot of hassle and money trying to treat the said conditions.
But aside from all this, we are in love with the fact that the wash is affordable. For its low price, you get about five ounces of face wash. Because of this, it's one of the best budget face washes on the market. It is one of the best facial cleanser for boys.
Note: while using it to boost the health of the skin on your face, you should avoid rubbing it too close to the eyes. If any particle strays into your eye, it will sting.
Type: Cleanser
We Like
Affordable
It is ideal for cleaning skin pores
Ideal for Oily and Acne-prone skin
Has antioxidants that rejuvenate the skin
Keep This in Mind
Not recommended for sensitive skin
It might sting the eye if it finds its way to your eyes
This is an affordable yet effective face cleanser from L'Oreal. It gets the job done and even helps in preventing acne breakouts for those with oily skin.
10. Lather and Wood Best Face Wash for Men – Good Value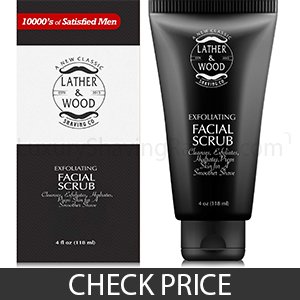 Many of the best male face wash and cleansers we have looked at so far are either using natural beads to exfoliate or chemical ingredients. Each of these types has its pros and cons. However, the Lather and Wood face wash combines the two types to maximize their pros and yield the most efficient results. In addition to chemical ingredients, the face scrub also features jojoba beads (which have been proven to be highly effective).
This combination face scrub is ideal for men that have unusually oily skin as well as those who don't have a preference for the sensation given by either physical beads or chemical ingredients. This face scrub is also great for men with dry skin. However, for men with dry skin, we advise that they proceed with caution as it doesn't have any hydrating ingredients or effects (but it doesn't make the skin any dryer).
But aside from the above, the real value in this face scrub is in the fact that it helps in reducing acne breakouts. It also smoothens the texture of your skin and makes it less oily.
And what about the scent? Well, the name says it all. But if you want proof, many consumers reviewing the product state that it has a woody scent. Now, depending on your perspective, this can either be a good thing or a bad thing.
If you intend to wear strong deodorant or cologne, you should be keen on the intensity of the face scrub's scent. Check if the two scents will mix well or clash.
Last but not least, you get great value when you purchase this product since it comes in a big enough bottle.
Type: Wash/ Scrub
We Like
It has a strong and masculine scent
It is great for fighting acne
It is a deep exfoliator
It is great value for your money
Keep This in Mind
Doesn't improve on dryness
The scent may be overwhelming for some men
Lather and Wood face wash is ideal for men with excessively oily skin. The scrub helps to clean the blocked pores and in the process reduces acne breakouts. It comes in an average size bottle, and for its price, it is money well spent.
How to Apply Face Wash and Cleanser – It's an Art
Now that you know how to choose the best facial cleanser or face washes based on your skin type and needs, it's time to learn how to use it effectively. Most men think that washing their face includes lathering up the soap in their hands, giving the face a good scrub, and rinsing. Unfortunately, to yield even better benefits, you'll have to do more than just lathering, scrubbing, and rinsing.
First off, soap may be great for your body but it will dry out your face (it's even worse for those who have sensitive skin). It's because of this that we recommend investing in a cleanser or face wash. A good face wash will rid your face of dead skin cells and excess oils. If you are going to use a soap bar, choose one that's fit for the job like Yellow Bird Soap.
With that said, here's how to use the cleanser and wash as it should be done.
Pick the Right Time
The best time to wash your face is in the evening or the morning. There is plenty of research that backs up this claim. More to this, men simply don't have time to do a thorough cleaning in the middle of the day. They have more time to clean in the morning or evening. Additionally, during these times, the dirt and excess oil build-up are at their peak. Maybe combine it with a smooth shave foam for your shaving routine? What better time is there to do deep cleaning?
Lather Up
Squeeze some cleanser or wash into your hand and rub your hands together to form some nice lather. Lathering up the cleanser helps in activating the ingredients. Once you have some good enough lather, spread it evenly on your face. Do this right up to your hairline.
The Water Temperature Should Be Just Right
Some men prefer hot water and others swear by cold water. However, these are the extremes. Cold and hot water will shock the system and stress the skin. Hot water will dehydrate the skin and cold water will close up the skin pores. Lukewarm water is the best. It soothes the skin and opens up the pores.
Massage the Face Wash into the Skin
Massage the wash into the skin using gentle circular motions. There's no need to be rough and brutal as though you are cleaning a car. Apply force just enough to dislodge excess oil and dirt. Keep massaging for 30 seconds and spend more time on areas that have excessive sweat and oil build-up.
Rinse
Once you are done scrubbing, rinse out the cleanser with cold or lukewarm water.
Note: you'll use the same technique when using a facial cleanser. However, you shouldn't rinse off your cleanser. Instead, use a clean and soft towel to remove the excess. Be careful not to remove too much of it.
Apply a Moisturizer
When you are done, gently apply a face moisturizer, preferably one with sun protection.
The Difference between Soap, Scrub, and Cleanser
The market is flooded with so many options that it's confusing to pick one that is right for your skin. If this is your first time making the best face washes purchase, you probably wondering if there's a difference between a face cleanser, wash, soap and scrub. And if there are, what are they?
Below is a quick overview of how these products differ from each other.
Face Wash
Face washes and cleansers are designed to achieve the same goal – to clean the face. However, there are some differences. For one, face washes are like soap in the way they lather. Cleansers, on the other hand, don't have foam. A facial wash is a cleanser with cleansing ingredients that are gentle to the face but deliver deep cleaning. Unlike soap bars, it doesn't include dehydrating ingredients.
So why should one choose a face wash instead of a facial cleanser? Well, it all boils down to your routine. A face wash is great for morning and evening cleansing. However, if you are exposed to a lot of dirt and pollutants at work, you should get a cleanser.
Also, it's important to note that face washes tend to be a little harsh on the skin in comparison to cleansers. So if your skin is sensitive, be sure to pick the best face washes to wash that is designed for sensitive skin.
Face Cleanser
As pointed out above, face cleansers are liquids that do not foam. Unlike face washes, you don't have to clean them off. It is used to rid the face of dirt, excess oil, and dead skin cells.
A good face cleanser is gentle on the skin. They leave the skin moisturized and well hydrated. It is more effective at deep cleaning in comparison to face washes.
But even with these differences, face washes and cleansers are often used together.
Face Scrub
Face scrubs are used to dig deeper into the skin for exfoliation purposes. They rid the skin of dead cells. Face scrubs include plant matter or beads which help make the deep cleansing thorough and effective. You don't have to use a face scrub daily. Twice or even once a week is enough to yield great results.
Bar Soap
Many men feel guilty for using normal bar soaps on their faces but somehow end up with them. Well, first, I should let you know it is okay to use a soap bar. However, it should be mild. But here's the thing about soap bars – you need to buy one whose pH levels are low. But unfortunately, the few that have low pH are way too mild to rid the skin of excess oils and dead skin cells.
Bar soaps are usually alkaline and remove natural oils from the skin. So even if you have excessively oily skin, soap bars are not recommended. In addition to drying out the skin, they can also contain harsh chemicals.
With that said, not all soap bars are bad for you. Some feature organic and natural ingredients. These are mild and great for the skin.
How I Choose the Best Male Facial Cleanser
The fact that I zeroed in on face wash bestsellers doesn't mean that they are the only quality products available. There are lots of great skincare products that are unique and effective. However, I had to come up with a list of 10. I felt these were the best face washes based on their price, quality, ingredients, and online reviews. For the products that I didn't try out personally, I depended heavily on product reviews in this buying guide to help me determine their quality and effectiveness to find the best face washes for men that you can implement in your daily routine – depending on your skin type and price.
My name is Don and welcome to Luxury Shaving Razors! The idea behind the site was born in 2016 after trying to find a decent safety razor for my own personal use. I decided to document my journey.