Best Shave Soap for Men in 2022 (All Skin Types)
We may earn a commission for purchases using our links. Learn more
In this article, we will take an in-depth look at the best shaving soaps for men that are easily available on the market.
Many things that had gone out of style are slowly coming back. These pertain to music, cars, clothes, and now, shaving. Yes, there is nothing wrong with wanting to shave like your grandfather or great-grandfather used to. We are big boys and make our own choices.
One of the tools that were handy to our forefathers in their clean shaving endeavors is shaving soap. Yes, sure, most people today probably think of shaving cream when they are looking to boost their daily shave. However, there is also the option of shaving soap. And believe it or not, unlike cream, the classic shaving soap has been around for centuries.
Top 3 Best Shaving Soap at a Glance
Best Shaving Soap
All-Time Classic
Best Shaving Soap for Sensitive Skin
Best Shaving Soap
All-Time Classic
Best Shaving Soap for Sensitive Skin
Last update on 2023-01-29 / Affiliate links / Images from Amazon Product Advertising API
Now you probably are tempted to think that since it has been around for such a long time, it is not as effective as the modern solution – the shaving cream. But on the contrary, the best shave soap is as effective as it gets. It works to facilitate a clean and smooth shave without a lot of hassle.
In this review and buying guide, we take a close look at some of the best shave soaps that are still in production. At the very top of the list is The Art of Shaving Shaving Soap Set.
But before we get our heads deep in the review, here are some factors to consider when shopping for the top choice shave soap available today.
Factors to Consider When Looking for Men's Shaving Soap
While we shall provide a review list of some of the options available, it is also essential that you have a solid understanding of how we arrived at these products as being the best shaving soaps. Knowing these factors will also make you one of the savviest shoppers. Being bombarded with lots of options from different brands will not faze you; you will be able to effortlessly pick out the one that fits your needs from the sea of alternatives available and therefore becomes the best shaving soap for your needs.
So before you proceed to the store, here are some factors you should be aware of to get the best shaving result.
1. Various Types of Shave Soaps
By types, we refer to the process that manufacturers use to produce shaving soaps.
This process of making shaving soap involves grating the final soap product. The grating is followed by melting and then pressing it into a bar or puck. If you do not have the time, or you just do not like the idea of getting your hands dirty by grating the shaving soap yourself, you will be pleased that some companies use specialized machines to triple mill the shaving soaps they distribute to their clients.
But why is triple milling soap an important process of shaving soap-making?
The answer is in the moisture levels. When the shaving soap has less water, it is milder and of higher quality. Sure there is always the option of curing the soap for ages to evaporate the water from the shaving soap, but this is a time-consuming process.
Triple-milling is fast. Additionally, this process mainly produces a hard shaving soap which tends to last way longer than soft shaving soaps do.
As its name suggests, the shaving soap is slightly softer than triple-milled soaps but is still harder than croap's which when compared to semi-hard shaving soaps, do not last long.
This is a soft, even creamy soap. The term 'croap' is a combination of creamy and soap. It is the softest of all shaving soaps as it contains a lot of moisture compared to other soap types.
2. What Are the Components in a Good Shave Soap?
Before you invest your hard-earned cash in any product, you must pay close attention to the various shaving products. Shaving soaps are not an exception. For the most part, soaps are oil, glycerin, or tallow-based.
Tallow-based – these shaving soaps are more traditional and are favored by old-school shavers. These soaps are animal fat-based. Over the years, individuals thought of tallow shaving soaps as being superior in quality to other soaps. But slowly, this notion is changing.
Oil-based – these soaps have been made using oils including palm, argan, coconut, and olive oil. These oils and therefore the shaving soaps are vegan-friendly. They are the perfect solid alternative to tallow-based soaps.
Glycerin-based – these have been gaining popularity over the years. They are considered to be gentle on the skin compared to oil and tallow-based shaving soaps. For the shavers that have sensitive skin, this type of shave soap is a good choice. Glycerin-based soaps are also recommended if you shave with a good cartridge razor (less clogging of the blades).
Aside from the ingredients mentioned above, another ingredient included in most shaving soaps is the fragrance. This can either be synthetic or natural. Blending some essential oils is one of the ways manufacturers have devised to provide natural scents.
3. Is It Easy to Use?
With regards to ease of use, there are several factors that you ought to consider. These factors include the ease of loading the soap onto the shaving brush and just how fast the soap lathers and still provides excellent moisture and slickness required to ensure a good close shave.
While you can use your hand to lather the soap, it is better to use a brush to make the application. Additionally, you will find it easier to create the lather in a shaving bowl.
Another merit of using a brush for the application process is the fact that the brush will tend to lift the hair off the face and help in facilitating a clean and close shave. The brush also lubricates the skin and softens the facial hair.
Most of the best shaving brushes available are made from boar hair, badger hair, synthetic fibers, or horse hairs.
4. What Kind of Scent Does It Have?
Some individuals love scented shaving soaps while others prefer their soap with no fragrance. The smell is, for the most part, a personal preference. Most of the shaving soaps available, however, are unscented. And those that are scented are only mildly fragranced such that the aroma does not last through the day.
Most manufacturers derive their fragrances from natural essential oils. There are however some synthetic shaving soaps that feature alcohol. If you have irritable or sensitive skin, you will want to stay away from alcohol-based smells.
5. Important: Slickness and Cushioning
If you are just starting your journey on old-school shaving, either using straight blade razors or a double-edge razor, you should take note of these two terms – you will come across them often.
Cushioning refers to the ability of the soap to allow the razor head to float on the skin thus avoiding cuts, nicks, and razor burns.
Slickness, on the other hand, refers to the layer of lather that remains on the skin and that helps to prevent friction. The higher the slickness of your soap, the more comfortable your shave will be.
6. Price of a Good Shaving Soap
Truth be told, regardless of what you are planning on buying, the price will always be a factor to consider when choosing the best shaving soaps. Sure the cost of the soap is not as significant as other products necessary for a clean and close shave, but all the same, it is an important factor. Generally, most shaving soaps range between $5 and $25. You can expect your soap to last several months regardless of the price.
Best Shave Soap (Summary)
Last update on 2023-01-29 / Affiliate links / Images from Amazon Product Advertising API
1. The Art of Shaving Shaving Soap Set – Best Shaving Soap for Men
The Art of Shaving is a grooming luxury brand that prides itself in providing quality shaving products. Their goal is to provide men with products that will help improve their wet shaving experience passionately and artistically. And boy did they deliver with this Shaving Soap Set.
Unlike most shaving soaps, Art of Shaving delivers the soap inside a great shaving bowl. But what is more impressive is the quality of the bowl. It's wooden, has a lid, and doubles as a great décor piece in your bathroom. The soap fits snugly inside the bowl without spinning when whipping up a lather. As a nice touch, it can be refilled with The Art of Shaving Refill Soap.
The Sandalwood scent is strong but not too much. Most people love that it leaves a lingering odor in the bathroom. However, if you have allergies, you may do well to skip them. The soap generates a rich lather and lasts a long time. With a couple of shaves every week, it might last six months.
Art of Shaving created this soap using three main ingredients: corn oil, coconut oil, and glycerin.
Glycerin and coconut oil moisturize the skin and condition beard hair. Ultimately, they make it easier to have a smooth shave since the razor glides over the face when shaving. A smoother shave means reduced skin irritations and razor burns. The Art of Shaving has what I consider the best shaving soap for straight razors with their Lavender version of this soap.
On the other hand, corn oil is rich in antioxidants and fatty acids. As such, it helps to keep the skin looking healthy and young and also heals wounds.
It's important to point out that the soap doesn't contain synthetic dyes or alcohol, which can dry the skin.
We Like
Nice Sandalwood scent
Beautiful wooden bowl
Rich lather
Keep This in Mind
A little expensive for its size
Aside from being a great presentation, the bowl can be refilled once the soap runs out. The Sandalwood scent is strong enough to take the shaving experience to the next level.
2. Taylor of Old Bond Street Sandalwood Shaving Soap in a Wooden Bowl – All-Time Classic
This brand was started back in 1854 in London. Over the years, it has grown in popularity, reputation and excellence.
Their top soap, the Taylor of Old Bond Street Sandalwood Shaving Soap is of a quality very few if any, shaving soap alternatives can match.
There is so much that draws someone in; from its sandalwood fragrance to its smooth consistency and the shaving bowl it comes with. Here is an in-depth review.
Texture
As pointed out above, Taylor of Old Bond Street Sandalwood Shaving Soap features a feel and consistency that most shaving soaps and creams envy. It feels like lotion in the hand. Other soaps are thin, however, this soap is thick and forms a perfect foundation for the blade to glide over your cheeks smoothly and with ease.
This soap comes oozing with essential oils which work to soften the beard and the skin as well as provide perfect lubrication.
Fragrance
Taylor of Old Bond Street Sandalwood Shaving Soap has created a reputation for itself as a manly scent with some earthy tones laced with cedar. The company also threw in some rosemary, jasmine, lavender, and rose to provide it with a unique smell. In all honesty, and this is probably a good thing for most, it is not a soap you can share with your girlfriend or wife.
Ingredients
One of the main ingredients in this product is glycerin. Glycerin is a natural sugar alcohol that is contained in most lotions. In combination with palm oil, these components help to make this soap a classic and superior to other shaving soaps available.
Bowl
The soap is packaged in a reusable shaving bowl (wooden). This bowl enables you to save water. The addition of the bowl is yet another example of this product's class and elegance.
Long-term investment
You will notice that this soap fetches a slightly higher price than most shaving soaps. While this may cause some to shy away from its purchase, you should note that it is of high quality and will last longer. A small amount will provide you with all the lather you need.

Keep This in Mind
Slightly expensive compared to other competitors
This is a great pick, and many agree on this. Most shaving soap reviews contain Taylor of Old Bond Street Sandalwood Shaving Soap at the top of their list – and for good and obvious reasons. It is a high-quality product, provided by a company that is known for its consistency. If you take your wet shaving seriously, you should give it a try.
3. Proraso Shaving Soap in a Bowl, Sensitive Skin – Best Shaving Soap for Sensitive Skin
It seems to be a common belief among millennials that shaving is a boring process. So much so that there are even months dedicated to letting beards grow thick and wild (see #noshavenovember). But contrary to these beliefs, for those who have tried it, shaving is an enjoyable and luxurious process. You, however, need to have the best tools in hand which mean getting the best creams, razors, and shaving soaps. For those with sensitive skin, this is even more important, even essential for good results.
We have gone through the razors on other posts, so we shall not get into the details of that here. Rather let's have a look at the leading shave soaps. Of the many shaving soaps available on the market, Proraso's soap is perfect for sensitive skin. It helps men shave without getting skin irritation and razor burns.
Proraso Shaving Soap for Sensitive Skin is designed using green tea and oatmeal which contribute to its gentle nature making it perfect for sensitive skin. These ingredients will protect and soothe sensitive skin. Additionally, it is known to produce a rich and creamy lather designed to soften the skin and provides perfect lubrication for the skin. The razor glides over the skin with great ease.
Proraso Shaving Soap for Sensitive Skin is produced the traditional way and matures in a pan for 10 days after cooking so that it becomes even more concentrated.
Proraso, the company, is located in Italy. It has been producing premium shaving products for a long time (since 1948). It has grown to be one of the leading brands available. Products from this company include all-natural ingredients such as natural oils and botanical extracts which work well to prevent skin irritation.
It is also worth noting that the products are paraben-free. This, in the shaving industry, is a huge plus. Additionally, it is free of SLS and mineral oils which gradually leech natural oils from the skin.
Most men have gone on record to comment about the scent of this soap. It has a hint of apple and lime which is manly and attractive as well. Unlike other soaps, it is not overpowering and neither is it too citrusy.

We Like
It is mild and with a pleasant fragrance
It is perfect for individuals with sensitive skin
The ingredients are natural(no alcohol, no paraben, no silicone, no mineral oils, no artificial coloring)
Keep This in Mind
Some reviewers and users state that the lather could be richer and thicker
If your skin is sensitive, you are aware of how daunting and challenging shaving can be without the proper tools in hand. Lucky for you, if you combine Proraso Shaving Soap for Sensitive Skin with the
top picks in safety razor blades
and razors, your shaving experience will be one of the smooth pleasures.
4. Truefitt & Hill Luxury Shaving Soap in Wooden Bowl – Superior Smoothening & Moistening Abilities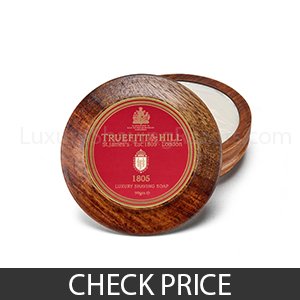 For more than two centuries, this brand has provided men with quality grooming products. Truefitt & Hill holds the Guinness Book of Records as the oldest barbershop that transitioned into producing men's grooming products. But most men don't love it because it is old, though their experience in the industry has taught them a thing or two about what men want in grooming products.
The Truefitt & Hill 1805 Luxury Shaving Soap has a lot of features going right for it. But at the top of the list is its wooden packaging. Very few men expect this even from a premium shaving soap. But while other manufacturers shy away from wooden packaging, Truefitt & Hill readily embraced it, and the results were phenomenal. The bowl is classy and elegant. It features ridges on its side which improve its grip. So even when you have soapy and slippery hands, they won't keep slipping to the floor. Additionally, on the lid is a well-designed waterproof sticker that screams royalty.
Being a product from two centuries ago, you'd expect it to have an old man smell. Well, it doesn't. On the contrary, it has an oceanic and fresh scent. The scent is mild and doesn't linger for long. In addition to this, Truefitt &Hill provided several scent options including cardamom, mandarin, geranium, lavender, and clary sage resting on a cedarwood, musk, and sandalwood base. Though the smells are mild and simple, they are unforgettable and complement the gentleman's look.
Now, when using Truefitt & Hill 1805 Luxury Shaving Soap for the first time, you'll find the soap to be hard. Because of this, the soap requires extra loading than other shaving soaps do. However, this is nothing a thin water layer cannot help to solve.
Overall, the soap lathers. With the hardness of the soap, you'd expect it to take a long to lather approximately 45 seconds. But you'll be shocked to find that 30 seconds are more than enough to yield lather enough for two razor passes.
Using this soap, you'll yield a smooth shave with minimal nicks and cuts. The foam nourishes the skin and easily softens heavy beards. It is ideal for all skin types and can be used for wet shaving, preventing ingrown hairs, preventing razor burns, and bumps.
We Like
Lasts long
Superior smoothening and moistening abilities
Catchy packaging
Mild scents with a wide variety
If you are moving from shaving creams to this soap, you'll never look back. Yes, shaving creams are good, but Truefitt & Hill 1805 Luxury Shaving Soap provides a luxurious lather, is comfortable, and handles long and coarse hair. And even better, the soap lasts for ages. You can leave the lid open and come back two days later, and it will still lather luxuriously and yield and afford you a smooth and moist shave.
5. Van Der Hagen Scented Luxury Shave Soap – Bestseller, Great Value, Vegan Friendly
When choosing a shaving soap, the scent is not the most critical factor to consider, though it does have some bearing on how great you feel and smell after the shave. Instead and at the very top of the list is how well the soap lathers and the lubrication it provides. These factors and properties will provide you with the best-wet shaving experience.
If you do come across a shave soap that provides a thick and rich lather, has great lubrication, and smells terrific, it is certainly worth a good look. Luckily for you, the Van Der Hagen Shave Soap is one of such soaps. It falls in the category of very desirable soaps.
The Van Der Hagen Shave Soap is a perfect combination of shea butter, mango butter, and cocoa butter. These ingredients are mixed in just the right ratios thus producing an appealing quality and fragrance. In addition, it is worth noting that this shave soap has glycerin. The glycerin does nothing to improve the scent but it plays a big role in ensuring the product provides a smooth, moisturizing, and lubricated shave. With all these ingredients, it is safe to say that the soap is perfect for sensitive and dry skin. Additionally, it is one of the best hypoallergenic soaps available.
But this is not all Van Der Hagen Shave Soap has to offer – there is more.
The very first thing you will notice is about it is just how fast it lathers. The best part is that it is also easy to work up a thick and rich lather with this product. With this soap, your shaving brush will be ready in 60 seconds of swirling around the soap mixed with water in a shaving bowl. Also worth noting is that the lather produced by this product lasts slightly longer on the face compared to several other 'budget' soaps. Speaking of budget alternatives, you will be pleased to note that this soap retails for about $10 online (this might change from time to time). For the quality of this product you get, it truly is a bargain. Though the lather is not as thick compared to other high-end options, it will get the job done and get you a smooth close shave.
The Van Der Hagen Scented Shave Soap is designed to be vegan-friendly.
Now back to its scent. While its fragrance is not over the top powerful, compared to other products the Bay Rum smell infused in the soap is gentle and smells great.

We Like
Has excellent scent
It lathers fast
It is budget-friendly
Keep This in Mind
The shaving soap is slick
For those searching for the best available option, one that will not have you break the bank in the process, the Van Der Hagen Scented Soap is a great choice. It compares greatly to alternatives that may cost double its listed price.
6. Col. Conk Worlds Famous Shaving Soap, Bay Rum – Bay Rum Scent
Before we get into the nitty-gritty of this product, let us have a look at the scent (Bay Rum). This fragrance has been the go-to smell for most men for what seems like forever. In history, we read that sailors used to rub the bar tree leaves on their bodies to mask their open-sea scent. Upon setting foot on land, they would smell fresh and welcoming to their families and lovers. This was way back in the 1500s.
While men of the 21st century are more sophisticated and cannot rub the leaves directly on their bodies, they still make use of the scent of these leaves extract well known as the Bay Rum scent. The smell is masculine and spicy but with a tinge of vanilla and citrus.
The fragrance will stick with you like glue all day long. And the best part is that it is mild and does not overpower your family, friends, and colleagues. You will love it, and the ladies will LOVE it too.
It is also worth noting that the Bay Rum scent has been the preferred choice of most barbershops around the world. Take a look at our Bay Rum Cologne article. Shaving with the Colonel Conk World Famous Shaving Soap which features this smell will help you be right in the middle of the shaving tradition.
The Col. Conk Shave soap is made with vitamin E, glycerin, and Avocado oil. Oil extracted from avocados is a great natural moisturizer. It soothes and smooths the skin giving it a mild glow. Avocado oil is one of the main ingredients in most moisturizers. In addition, it is perfect for getting rid of acne and blackheads. Any inflammation around the blackheads and acne is also taken care of.
The shaving soap also includes Vitamin E which has a wonderful moisturizing quality. Additionally, it has antioxidant properties that help to protect your skin. Its anti-inflammatory properties play a big role in ensuring that the inflammation and redness are reduced. These features make the soap perfect for sensitive skin.
In other articles, we have gone through the presence of glycerin in both shaving soaps and creams. It is one element that these products cannot afford to lack. Glycerin is either animal or plant-based. Whichever the source, you can rest assured that it is safe and beneficial to your skin. The glycerin contained in Col. Conk's Shaving Soap is plant-based and will keep the animal lovers out there pleased. The glycerin works to improve the smoothness of the skin and moisturizes it in the process.
Another fact you will love about this product is that it produces a rich lather. You can create this lather using a bowl and a brush.

We Like
It is vegan-friendly
It forms a rich lather
It moisturizes the skin
Keep This in Mind
If you are using this shaving soap for the very first time, you might have some difficulty whipping up a rich, thick lather. Expert wet shavers do not have this problem.
The Col. Conk Shaving Soap is one of the best there is. It has a rich lather and a pleasant fragrance that has stood the test of time. With this soap, you can easily take your shaving experience to the next level.
7. Razo Rock XXX Italian Shaving Soap – High Quality, Traditional Italian Shaving Soap
This is a high-quality shaving soap with its roots in Italy. It is made using the Super Tallow recipe. This is a new recipe that includes aloe vera, shea butter, lanolin, argan oil, and tallow. All the listed ingredients are key to making the Razo-Rock XXX the great product that it is.
The ingredients contribute to the moisturizing properties of the RazoRock XXX Italian Shaving Soap even after the shaving is complete. As such, when using this soap, you can save on aftershave – you will not need to buy one.
Its soft consistency (softer than most soaps) makes it easier to load. Additionally, it also means that you do not need a lot of soap to whip up a rich lather.
The fragrance of this Italian product is described by most men as a traditional Italian. This scent is inspired by Acqua di Parma. This manly smell also has hints of lemon, bergamot, and orange complemented with the earthy scents.
If there is any good reason why you should purchase an artisan product, it should be for its high-quality list of ingredients. Razo Rock XXX Italian Shaving Soap features the so-called high-quality ingredients. Its rich lather is a testament to this.
There are videos available to give you an idea of how well this product performs.
The lather Razo Rock XXX Italian Shaving Soap provides will allow you to shave closer to the skin with a sharp blade without nicking or cutting yourself. You will not have to go against the grain to achieve the much-desired close shave.
We Like
The RazoRock XXX Italian Shaving Soap is slick
It has great hydration and lubrication properties
It is easier to load compared to other soaps
It features natural ingredients which are responsible for its moisturizing properties
Keep This in Mind
The smell depends on personal preference
The price is slightly more costly than some other competitors
Razo Rock XXX Italian Shaving Soap is a great option for the men who are looking for high quality and slick soap that will ensure they get a close shave without nicking themselves. It is a croap shaving soap and will as such take several seconds to load – say about 30 seconds.
8. D.R. Harris & Co Windsor Mahogany Effect Shaving Bowl & Shaving Soap – Classic Shave Soap
This is by far one of the oldest brands available in the wet shaving industry. The company was formed back in the late 1700s. Needless to say, the company has centuries of experience in producing high-quality shaving soaps. In modern times, this brand of soap may just be the last standing old-school soap-containing tallow.
D.R Harris Shaving Soap comes in different scents designed to suit the varying needs of men. These variations include;
Almond – this is a combination of a warm woodsy scent with that almond fragrance
Arlington – this is a mixture of fern and citrus
Marlborough – this is a mixture of cedar and fern. Though some individuals describe this scent as being tobacco like
Windsor – most men describe this scent as being citrusy and leathery with just the perfect tinge of pepper, vetiver, and patchouli
The reason why this shaving soap stands out from the crowd is possible courtesy of its ease of loading despite it being a hard soap.
With this shaving soap, you are bound to save a lot of time. Unlike most triple milled soaps, this soap does not require soaking.
The lather this shaving soap produces is luxurious, thick, and rich. It is slick and also a great post-shave soap. Long story short, this product contains all the characteristics you would need in a shaving soap. These characteristics, however, do come at a price.

We Like
It has a rich lather and has perfect slickness
It is easy to load
The shaving soap features a great variety of scents to cater to the difference in preference
Its slickness allows a close shave even when using a sharp blade
This shaving soap brand is one of the very last that still produces tallow-based shaving soaps. The performance is through the roof owing to the tallow and stearic acid it contains. D.R Harris Shaving Soap is designed to be easy to load. Additionally, it features a luxurious lather that is slick. This, however, comes at a cost.
9. Lather & Wood Shaving Soap – Sandalwood – Refreshing & Clean Shave at an Affordable Price
Every wet shaver (beginner or expert) is aware that for a great wet shaving experience, you need to have the right shaving tools for the job. Because of this, Lather and Wood Sandalwood position themselves as a prime choice for men in wet shaving.
The soap is designed from a variety of natural ingredients, including Shea butter, coconut oil, and sandalwood. All of these ingredients are geared towards improving skin health. The lather the soap forms is thick which ensures that your skin is protected when you shave. You can get a clean shave without sustaining irritations. Now, before we proceed to the benefits of the individual ingredients listed above, the soap is durable and doesn't dissipate when in a bowl.
The coconut oil and Shea butter are great for your skin. They inject vitamins into your skin, including Vitamin E and A. Together; they help improve the softness of the skin. On the other hand, coconut oil helps the razor to glide over the skin with minimal effort. Even when you have coarse hair, the blade will glide over the face resulting in an irritation-free close and clean shave. Animal fat makes up the largest percentage of the soap. The fat helps the soap retain its shape. Also, it contributes to silky smooth skin after a clean shave.
Last but not least, the sandalwood fragrance is many and subtle. Once you shave, the scent will linger for quite a while and will appeal to other men and women. After using the soap, you are guaranteed of falling in love, and you'll never want to hear about another shaving soap again.

We Like
It leaves the skin soft
It facilitates an irritation-free shave
The scent is manly
Keep This in Mind
Has a slight burning sensation
The lather isn't creamy
For a refreshing and clean shave at an affordable price, the Lather & Wood shaving soap is perfect. The 4.7 oz. packaging will last you several months. During this time, your skin will thank you with a softness and a subtle glow.
10. Arko Shaving Soap – Affordable Classic
Arko is a classic shaving soap that was originally designed as a stick and wrapped in red paper. The design and retro-packaging scream mid-century, a feature that, oddly enough, attracts many men looking to get into wet shaving. However, the look and design posed a couple of issues. First, it didn't look great on a shelf like a ceramic or wooden shave bowl, and second, using it was a nightmare.
The paper got wet every time one would rub the stick soap on their face, and the red color bled into the soap, creating an even bigger mess and a bad experience.
For the persistent and loyal fans, the option was to grate the soap and mash it into a container.
As is evident with the new Arko design, Arko has learned to listen to its customers. They now have the soap in a convenient plastic container with a screw-top. With the new design, it's travel-friendly.
Arko has been keen to maintain the soap properties that we all love. First, it retains its fresh lemon scent. Second, the soap lathers fast and easily in any type of water (soft and hard). The lather built is thick and does a great job of lubricating the face. This makes getting a close shave easier, even for beginners.
What's more, the soap leaves the skin feeling smooth and supple.

We Like
Budget-friendly
Fresh lemon scent
New convenient container
Lathers easily
Keep This in Mind
The lemon scent is a little on the industrial end
Lacks scent variation
Wet shaving is an art that conjures images of the 1950s when your granddad was young and cool. So what better way to dive into wet shaving than with a shaving soap built in that era and whose packaging and features resonate with the quality offered in the 50s? Arko Shave Soap lathers quickly sell for an affordable price and are travel-friendly.
11. Henry Cavendish Himalaya with Coconut Oil & Shea Butter – Will Last You a Long Time (Good for Sensitive Skin)
The brand name has an old-soul feel to it. It is impossible to read the name out without thinking of a shaving scenario with a razor, a mug, and a shaving brush. The manufacturer of this product even insists that one uses a bowl and shaving brush to land the desired results when using this soap.
If you are a firm believer in high quality goes hand in hand with retro standards, then Henry Cavendish's Classic shave soap is the perfect choice for you. The quality of this product is made possible by the list of ingredients it contains.
At the very top of the list of its ingredients is glycerin. As earlier pointed out, glycerin is present in moisturizing creams as well as Shea butter. It works to replenish, revitalize and moisturize the skin. This soap is bound to give your skin a smooth feel.
And not only are you going to get a smooth shave, but you also will work up a thick, rich and creamy lather. This will help to soften your coarse beard and help to ensure that the razor glides over the skin smoothly.
If you love scented shaving, you will fall in love with this soap. It features a perfume oil fragrance. This scent is natural, refreshing, and light. It does not overpower those close to you or advertise your arrival before you physically enter a room.
The Henry Cavendish shaving soap comes highly concentrated and is bound to last longer in comparison to most other shaving soaps on the market. The natural ingredients that it sports make it a great choice for sensitive skin. The product does not contain any harmful additives or chemicals.

We Like
It has a rich and thick lather
It has a distinct and pleasant smell
It acts as a great moisturizing soap
Keep This in Mind
It is slightly expensive compared to other products of its size
Henry Cavendish Himalaya Shaving Soap With Shea Butter is a must-have on any review of shaving soaps. It is great for sensitive skin, it lasts long and smells great.
12. The Blades Grim – Luxury Shave Soap – Handmade in the USA
On the face of this shaving soap package is a logo of the Grim Reaper. While this might be scary for some, you should not let it frighten you away. The product inside will not drain your soul away. On the contrary, it is designed to add some life and a great experience to your best shaving session. Besides, if you take a closer look, the logo is creative. The Grim Reaper is holding a cool straight razor scythe.
That said, you should not judge the book by its cover. There is more to this than meets the eye. The Blades Grim Gold Luxury Shaving Soap is also included in several of the straight razor shave sets we have reviewed. So what does this shaving soap have to offer?
Softness
The shaving soap, compared to other products has a soft texture. It is what will work for you if you are tired of the hard pucks you often get today.
Handmade
Yes, you read it right, handmade. With technology evolving and spreading to just about every industry, it is harder to come across handmade products. The Blades Grim Shaving Soap is one of the few that are. Most experienced shavers prefer the handmade product as they have a high quality and feel to them that the factory mass-produced products just do not have.
Scent
While most shaving soaps are not strong-scented, it is always nice to have one that leaves a fresh scent after you are done shaving. The scent of this product is referred to as smolder. It is the most noticeable feature.
There are hints of star anise and coriander which add some spice to the scent. Overall, the scent foundation is found in the Tonka bean. This gives it a masculine feel as opposed to vanilla. The combination of these ingredients provides a wood smoke scent – this is refined and manly at the same time.
Components
The list of these ingredients includes coconut oil. This is perfect for the skin. It cleanses and hydrates thus providing a smooth and close shave. It also contains glycerin (vegetable glycerin) coupled with stearic acid which provides adequate moisture. It also helps to make lathering the soap easy.
Lather
The soap is perfect for its thick and slick lather. It is easy to lather in a short time; another benefit of its soft texture.

We Like
It is handmade
It is great for men looking to have a soft and smooth shave and who prefer soaps
It has a distinct aroma
Keep This in Mind
The consistency of its lather tends to not be the same during different shaving sessions
For those who would love to have a soft alternative, one that smells heavenly and that will provide you with the best shaving experience, then The Blades Grim Gold Luxury Shaving Soap will serve you greatly. Do not pay attention to the Reaper on the packaging, if anything he is there to be of help.
How to Build a Great Lather with a Shaving Soap for the Best Shaving Experience
Now that you have gotten the business of choosing the best shaving soap out of the way, let us get our hands dirty with the actual shaving process.
First and foremost, you should build a rich and thick lather. This will help to ensure that the shave is close, clean, and most importantly comfortable.
To help you work up a thick and rich lather with ease, there are two methods you can use. Here is a step-by-step process of each method. The first is using a shaving bowl. The second is building the lather directly on the face.
Using a Shaving Bowl
The first step is to fill your bowl with some hot water and then dip the brush in to soak for a minimum of two minutes. You could also soak the brush in running water.
After you have soaked the brush, the next step is to pour out the water and just leave a tiny amount in the bowl. The next step is to shake your brush to rid it of any excess moisture.
As you soak your shaving brush, you should also be working on softening the soap. Dripping a few drops of warm/hot water on it will do the trick. When soft enough you should swirl the brush on the surface of your soap for about 15 seconds. Bear in mind that this is the most important step in the process of creating a thick and rich lather.
Last, swirl your brush in the mixing bowl for about 60 seconds. The lather will build from a light bubbly texture to a thick one. If you think the lather is too thick, you can simply add several water droplets to the mixture and continue swirling.
Creating the Lather on the Face
First, soak your brush in some hot water. Only retract the brush when the bristles are soft and moist.
As you soak the water, soften the shaving soap with a few hot water droplets.
Swirl the shaving brush on your soap. For this process, ensure that the shaving brush bristle tips are covered in soap.
Last, swirl the soap-covered brush on the area you intend to shave. Use a short and circular motion. This will build the lather and will not take longer than 30 seconds to get a rich lather. If your lather proves to be too watery, re-swirl the brush on your soap. On the other hand, if it is too thick, add a few droplets of water to the bristles and reapply them on our cheeks.
Difference between a Shaving Cream and a Soap (Pros & Cons)
When differentiating between cream and soap, there are several things you need to remember.
First, soap is a much older tradition than cream. The shaving cream's first debut was in the mid-20th century while soaps have been in use for ages. This is what your great-grandfathers used to use.
They come is packaged as hard pucks while shaving cream is, well, just cream. Building lather with soap takes a bit more than shaving cream can produce exactly the result you are looking for.
Shave Soap
Since we have already gone into details about the best shaving soaps above, we will just briefly refresh your memory here. There are plenty of shaving soap brands and types available in the market including semi-hard, triple milled, and croaps. Triple-milled is by far the most costly of the three. Most wet shavers prefer it as it gives a thick lather other shaving soaps cannot provide.
Creating lather with your shaving soap means adding some water to soften it and have an easier time. While this makes the process easier, it is important to note that with soaps there is a bit of a learning curve involved.
Shave Cream
Shaving creams have been in use since the mid-20th century has grown in popularity and are now found in all supermarkets and pharmacy stores. The best classic shaving creams are designed to provide wet shavers with rich and thick lather fast and conveniently which is often directly applied to your cheeks. For this reason, shaving cream is best used by new wet shavers.
Shaving cream is designed in a variety of smells. However, if your skin is sensitive, or if you want to use it for bald head shaving you will need to get a fragrance-free one.
Shaving Cream vs Soap, Gel & Foam (What are the Pros and Cons?)
FAQ Shaving Soaps
What Is The Difference Between Shaving Soap And Regular Soap?
The difference between shaving soap and regular soap is in the stability, slickness, hydration, and antiseptic/nourishing properties. One of the biggest contributors to these differences is the sodium and potassium salt, coupled with high stearic acid content oil. The latter improves lather stability and slickness in a shaving soap.
What Is Shave Soap Good For?
Glycerin-based shave soaps have increased in popularity because they are gentler on the sin in comparison to oil and tallow based shave soaps. As such, glycerin-based soaps are perfect for men with sensitive skin.
Is Proraso Good For Sensitive Skin?
Proraso Shaving Cream is ideal for sensitive skin since it gives a rich and creamy lather. The lather prepares the skin for shaving and protects it from irritations and razor burns common with close shaves. Also, the Green Tea and Oatmeal soothe the skin.
Is Shaving Soap Better Than Gel?
Shaving gel is made thicker and is perfect for overly sensitive skin because the razor glides easily when you use shaving gel. Though it doesn't dry the skin as much as foam does, for a better wet shaving experience, use shaving soap or cream.
What Makes A Good Shaving Bowl?
The best saving bowls are made of stoneware or ceramic since they tend to 'preserve' heat better. As such, your shaving experience is improved since you use warm lather. In addition to feeling great on the face, it also helps you achieve a closer shave.
How We Made the Best Shaving Soap List for You
Truth be told, finding the best shaving soap is not an easy process. There are lots of high-quality soaps on the market and narrowing it down to just a few of them is tricky.
To come up with this best shaving soaps list, we used the resources at our disposal to test as many soaps as possible. Sure we did not sample every product available, but where our hands-on experience lacked, research and supporting reviews by other experts in the field came in handy.
During the review process, we considered the price, ease of use, quality, and the ingredients used. We did also consider the aroma of the product even though the scent makes for a small portion of the puzzle.
Hopefully, this best shaving soap review has shed some light and got you on the right path to finding and choosing the best shaving soap available to meet your specific needs.
My name is Don and welcome to Luxury Shaving Razors! The idea behind the site was born in 2016 after trying to find a decent safety razor for my own personal use. I decided to document my journey.