Best Shaving Cream for Men (Sensitive, Budget, Luxury – Buying Guide)
We may earn a commission for purchases using our links. Learn more
In this article, we will look at the best shaving cream for men and the importance good shaving creams have in getting a great wet shaving experience.
In the world we live in today, grooming is everything. The internet and mainstream media are filled with images of young men who are well dressed and groomed. Their hair is well trimmed, and they have an enviable close and smooth shave.
Sure some look good with scruffy beards, but this look is certainly for the minority of modern men.
Top 3 Best Shaving Creams at a Glance
Our Top Pick
Best Cheap Shaving Cream
Sensitive Skin/ Ingrown Hairs/ Razor Bumps
Best Used With
Safety, Straight & Cartridge Razors
Safety, Cartridge & Disposable Razors
Our Top Pick
Best Used With
Safety, Straight & Cartridge Razors
Best Cheap Shaving Cream
Sensitive Skin/ Ingrown Hairs/ Razor Bumps
Best Used With
Safety, Cartridge & Disposable Razors
Last update on 2023-01-29 / Affiliate links / Images from Amazon Product Advertising API
Celebrities and TV commercials sell the story that getting a close and clean shave is easy and anyone can do it when they command it to be so. While there is some truth in that, you should also note that you play the leading role in getting the best shave possible.
That said, getting a close, smooth shave boils down to two crucial tools; your shave cream and a good razor. Yes, there are several other factors including your brush, facial hair texture, technique, and your attention span, but all these are secondary to your razor and your choice of shaving cream.
We have already looked at the importance of the best blades for safety razors in another article, and the razors themselves play in getting you a close shave. In this piece, we shall look at the best shaving creams. We also will review some of the best options on the market this year.
The best shaving cream reviews will give you an easy time picking the right one for your needs. We start with our choice of the best shaving cream – The Art of Shaving Sandalwood Shaving Cream.
Things You Should Consider Before Buying a Shave Cream (What Separates a Good One from the Rest)
When I mentioned the reviews would help you have an easy time when choosing a shaving cream you probably raised your eyebrow and wondered what in the world I was talking about. But before you laugh at me, please understand one thing.
The market is flooded with all kinds of options of shaving creams – all of which claim to be the best shave cream in the industry. But despite their claims, they are all different and excel on different levels.
So yes, the process of choosing the best shaving creams is not easy. In addition to considering the price and packaging, there are other factors you need to consider. Below is a short list to get you started.
1. Important: Determine What Is Your Skin Type?
Before you purchase any shaving cream, the first step should be to determine your skin type. There are three types of skin, namely dry, oily and sensitive. If you are one with sensitive skin, you should stay away from products that are harsh on the face. However, if you have oily skin, astringents in the cream will help to reduce the oiliness of your skin and keep your pores from getting clogged.
2. Ingredients in the Shave Cream You Should Avoid
The components that a shave cream contains are also critical. This is because they make the product what it is. They give it its efficiency, scent, and color. While all the ingredients listed in this section are approved by the relevant authorities, it is advisable that you understand and probably avoid them as much as you can.
Parabens – There are no two ways about it. Parabens are synonymous with trouble. There is nothing else one can say about a product that has been linked to different health issues in the past including allergies and asthma. Parabens are one of the active ingredients in most skin care products. They are used to help prevent the growth of bacteria. But you can get a close shave without this ingredient.
SLS – The acronym sounds like one you would hear in a James Bond movie right? Well, while it has a nice ring to it, SLS stands for Sodium Lauryl Sulfate. Its full name is shocking, right? I know, it knocks you back to reality. SLS is included to help in cleaning the skin before shaving. While it does a good job in what it was designed for, it also works to strip the skin of its natural oils. Even worse, professionals state that the compound stays in the body for up to 5 days.
SLES – This is yet another ingredient contained in most shaving creams and gels. It is added to try and counter the effects of some petroleum-based products used on the skin. It does, however, come with its fair share of side effects as well. These side effects include organ toxicity.
Fragrance – Today, almost all beauty, and skincare products contain an aroma factor. To differentiate their product and increase sales, companies are increasingly using 'fragrance-free' or 'no scent' phrases to lure people into buying their products. We have identified that it can be slightly difficult to avoid these ingredients. But that does not mean just simply giving up. No. Also, note that all 'smells' are not the same. The term is used to refer to over 3000 different chemicals in the industry. You should try as much as you can to make intelligent choices.
3. Ingredients to Include in Your Shaving Cream
We have looked at the ingredients you should try and stay away from. On the other side of the rainbow, there are some ingredients you want your shaving cream to include. These are nature's gifts such as almonds, jojoba, sandalwood, and the like. These ingredients (natural ingredients) prove to be great for the skin, usually are not oily, and maybe most important of all – they evaporate fast from the skin.
In addition to this, you should be on the prowl for a product that includes eucalyptus, sandalwood, rose, aloe vera, vitamin e, and lavender. They have proven to be gentle on the skin and leave a sweet natural smell on your face.
Now that you know what to be on the lookout for when choosing the best pick for your needs, let's proceed and have a look at our reviews of some of the top shaving creams available today.
Best Shaving Cream for Men (Summary)
Last update on 2023-01-29 / Affiliate links / Images from Amazon Product Advertising API
1. The Art of Shaving Sandalwood Shaving Cream for Men – Top Choice (slightly expensive, but worth it)
On average, every shaving male stands in front of a mirror over 20,000 times. Yes, this is too many times. But then again, it is a lifetime, probably between 70 and 100 years. And with so many hours spent shaving (collectively), it is only logical that one may get a little complacent. With complacency comes sloppiness and accidents. The Art of Shaving (the company presenting this one-of-a-kind shaving cream) does not want this to be your story.
When creating The Art of Shaving Sandalwood Shaving Cream, they envision a product that would provide a superior shaving experience. To them, the process of getting an enviable close shave includes ample preparation and lathering as well as shaving and moisturizing.
One can achieve all these four steps with great ease using the Sandalwood Cream. The cream creates a foamy lather that protects you from skin irritation. Additionally, it works to nourish and moisturize the skin.
Its list of ingredients are essential oils, coconut oil, and glycerin. One of the essential oils is Sandalwood which provides the cream with a subtle scent that remains with you all day long without getting allergies.
The Sandalwood oil also doubles up as an antiseptic agent which helps in healing nicks and spots on the skin, slowing down aging and relieving inflammation.
For a shaving cream company that is fairly new in the industry, this unit is pretty badass. That said, it should be noted that it is costlier than most shaving creams. But on the bright side, you only need to use a small amount of lather for every shaving session.

We Like
Provides a rich lather
Has a great sandalwood smell that stays with you all-day
Is great for lubrication and cushioning
Keep This in Mind
Slightly more expensive than most competitors
Sure you will spend slightly more on this cream, but it is also true that you will be getting a high-quality product that will last long. The Art of Shaving Sandalwood Shaving Cream provides great lubrication and cushioning for your shave. In my personal opinion – this is the best shaving cream easily available today.
2. Proraso Shaving Cream, Refreshing, and Toning – Best Cheap Shaving Cream
Proraso – the legendary barber cream from Italy has earned its place as a top contender as the best shaving cream for men list. This shaving cream is a product presented to us by an Italian company that has been around for close to a century. It, however, developed its very first pre-shave cream back in 1948.
While the Proraso shaving cream comes in many versions lines (as well as shaving soaps), in this review we shall focus our sights on the Proraso Green Line Shaving Cream version. It is the general use of shave cream. It also comes highly recommended for those who are new to wet shaving or have just discovered the brand.
As for its features, the Proraso comes with Menthol and Eucalyptus. These two ingredients work to refresh and revitalize the face. I should point out that the menthol smell is rather strong. When you open the cream, you will not fail to notice it the good news being that its effects dissipate quickly.
Proraso is designed to provide a super-rich and thick cream which protects and provides great comfort while getting a close shave. And not only is the lather formed thick but it also foams and lathers fast.
The shaving cream works with all bladed razors whether straight edge, safety, or cartridge razors. Formulated with vegetable oils and natural ingredients. In the list of ingredients, it is important to note it is free of silicones, parabens, and artificial colors.

We Like
Produced by one of the best, most reputable, and quality-oriented companies
Forms a rich and thick lather
Contains menthol and eucalyptus which revitalize and refresh the skin
Keep This in Mind
One of the ingredients it features is a fragrance containing assorted chemicals
The lightweight flexible metal tube container tends to be dented and wrinkled when they arrive – no leakage but does not look nice
While it might be one of the creams your grandfather preferred back in the day, it is still as effective today as it was then. You will love the feeling the Proraso Green Line Shaving Cream leaves on your skin.
3. Jack Black Beard Lube Conditioning Shave – Sensitive Skin/ Ingrown Hairs/ Razor Bumps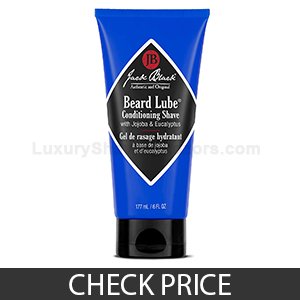 Our 3d pick in the best shaving cream category is this very popular product and bestselling from Jack Black. If you are looking for a shaving cream that will serve more than one purpose, then Jack Black Beard Lube Conditioning Shave cream is the product for you. Unlike most creams, shave gel and foams, this product is a 3-in-1.
Its quality and versatility are just two of the number one reasons why it is popular with the masses and has made this list. Jack Black is a brand that has worked hard to make a name for itself and produces a wide variety of grooming products for men. Of the many products in its inventory, this Lube Conditioning, designed to act as a shaving cream, pre-shaving oil, and conditioner, is the best display of its innovative prowess and attention to quality.
I love this product because it does not dry the skin when applied. On the contrary, it helps to prepare your face for a great shave by penetrating the hair roots and softening. In addition, the product withholds moisture which facilitates a smooth shave. Your safety razor will glide with ease across your skin.
Last but not least, this product also works to improve your shaving experience by getting rid of skin irritation. This is the reason for often being labeled as the top option for men with sensitive skin, or razor bumps, or ingrown hairs.
This quality cream is formulated with unique ingredients which include phospholipids. Phospholipids are rich in fatty acids which help to retain moisture by binding it to your skin and at the same time supporting the foundation of the skin.
Other ingredients include jojoba oil, glycerin, and macadamia nuts. The glycerin is essential as it provides lubrication and protective cushioning for the face while you shave. With this shaving cream, nicking your chin will be a thing of the past (except for those who are excessively clumsy). Moreover, eucalyptus, menthol and peppermint have been added to provide a revitalizing and refreshing feel after a shave. You should note that this product is alcohol-free and smell-free. It also features no colorant, is tested and approved by dermatologists, and is created using vegan products.
The shaving cream has a 'see-through' texture. This characteristic allows one to see the area being shaved making for an efficient and cut-free shave. It is perfect for mustaches, sideburns, and even for head shaving with a razor.

We Like
It is a 3-in-1 product that acts like shaving cream, conditioner, and pre-shave oil
Good for sensitive skin, razor bumps and ingrown hairs
Transparent texture allows you to see where you are shaving
Has a perfect blend of essential and carrier oils
Keep This in Mind
It does not work well with electric and straight razors as other shaving products do
While the fact that it does not lather might be a concern for you when you first start using the Jack Black Beard Lube Conditioning Shave, you will fast get used to it and appreciate its lubrication and the smooth shave it provides. If you are on the lookout for best shaving foam for sensitive skin or a
head shaving cream
– this might be a very good alternative. In my opinion it goes well beyond any of those so-called best shaving foam for men alternatives.
4. Taylor of Old Bond Street Sandalwood Shaving Cream Bowl – Classic English Shaving Cream for Men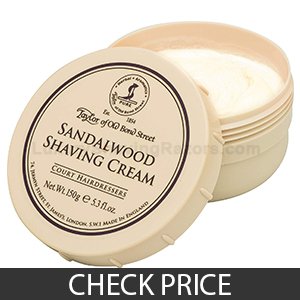 There is no way a review and buying guide of the best men's shaving creams can be complete without featuring this bestseller – Taylor of Old Bond Street Sandalwood Shaving Cream. The Taylor of Old Bond Street is to some the yardstick with which to measure up against. It is the golden standard that has existed for the longest time.
The company was formed back in 1854 and was well known for botanical extracts which is specialized in when it started. Since then, however, the company has diversified and produced lots of other products that are fine and of high quality. It is the high quality of the products that it produces that led to such popularity and fame.
Reviewing this product, it is hard not to fall in love with it. It has so many great features to offer. Its customers stand by it.
Below are some reasons why you should buy this product.
The consistency resembles that of lotions. However, it is significantly easier to work up a luxurious lather. It comes with a bowl made from sandalwood adding to the overall convenience of lathering the shaving cream.
Given the time the company was formed, some might argue that its products are out of style. No one likes to be associated with a product his grandfather used making them feel out of touch and out of style with the current generation. But contrary to what trendy people believe, Taylor products are timeless and are perfect for modern men looking to have a smooth face and a great shave.
The lather this product produces is perfect and provides ample cushioning ensuring a delightful shave. The experience with this shaving cream is comfortable. It leaves the skin moisturized and smooth. Sandalwood achieves this effect courtesy of its glycerin, one of its active ingredients. Glycerin provides ample moisture to your skin and enhances its smoothness.
This product is best used with straight razors and double-edged safety razors. Yes, you can use it with the best electric razor for men or the best disposable razor for men, but the effect and results will not be as good. Speaking of safety razors, this shaving cream ranks among the top for use with safety razors.
The name sheds some light on the fragrance of the product sports. Sandalwood is one of the most popular masculine scents. Sandalwood is an Indian type of wood that has been used for over 4000 years because of its great smell and has become very popular in shaving creams. Taylor combined this scent with a couple of other tones from light vanilla to cedar. However, if you feel sandalwood does not work for you (your choice), you could try different scents available from Taylor of Old Bond Street. These include coconut, almond, lavender, grapefruit, lime, lemon, rose, and peppermint.
It is important to point out that this product fetches a higher price than most competitors. While this might cause some to shy away, you should also note that it lasts longer than most competing products. As such, in the long run, it makes for fair value.
If you still are not convinced, you should probably watch the video below. It is a testament to the wonders this product will work on your skin.
Please note that shaving creams from Taylor of Old Bond Streetares very thick, so it may look as if the box is not full, but the weight of it is always correct.
We Like
It is timeless and features top-quality ingredients
It is comfortable and gentle on the skin
It has a rich and near-perfect lather
Suitable for all skin types
Keep This in Mind
There are not many negatives one can point out aside from the fact it is slightly more expensive than most competitors
If you insist on getting one of the best shave creams on the market, then you will want to try out the Taylor of Old Bond Street Sandalwood Shaving Cream. It is an all-time classic that you won't go wrong with.
5. Billy Jealousy Hydroplane Super Slick Shave Cream – 3-in-1
The Billy Jealousy Hydroplane Super-Slick Shave Cream prides itself on being a sophisticated option. It has one thing in common with the Jack Black Beard – it is a 3-in-1 product and is a perfect blend of a skin conditioner, shaving cream, and pre-shave oil.
This shaving cream creates a foamless lather. The lather is rich and clear. It ensures you get a clean and smooth shave. Reading the list of ingredients, most people gain confidence in this product.
It contains dimethicone as an active ingredient. This is a water-based silicone oil that is designed to provide a thick barrier across the skin making it possible to get a close shave without nicking or cutting yourself. Another active ingredient is silica which has a molecular structure resembling sand. This ingredient works to reduce the chances of skin irritation, razor burn, and razor drag.
Billy Jealousy does not contain alcohol or perfumes. You will, however, find some natural fruit oils that offer great moisturizing and a mild scent and citrus effect. Unlike most shave creams, it does not dry up and a few drops of water are sufficient to keep it super thick throughout the shaving process.
This shaving cream features a clear texture as well. It might require some getting used to, but when you do, you will appreciate it as it helps you see the area you are working on and the progress you make.
Last but not least, you will be pleased to note that the cream does not clog the razor. A simple rinse and it flows out leaving you ready for the next stroke.

We Like
It is a 3-in- product
Has a slick texture that gets rid of the razor's drag
Doesn't contain ingredients that cause skin irritation
Billy Jealousy has created a name for itself around the creation of sleek and edgy products and the Billy Jealousy Hydroplane Super-Slick Shave Cream is not an exception to the rule. It is a level above that of many traditional shave creams and is sure to enhance your overall shaving experience.
6. Cremo Original Shave Cream – Great Against Razor Bumps & Acne Prone Skin
Cremo Original Shave Cream is a rather special product. Most have fallen in love with it for its price. It is budget-friendly, and it stomps all other shaving creams in its budget range.
This product has carved out space for itself in wet shaving. Using this product, you will notice that it does not produce a thick lather as most shaving creams do. Working with this cream, you only need to use your finger to apply it – the best shaving brush is not required.
Does its lack of lather cause it to be an inferior product? Of course not. Some argue that creams that lather easily to a thick foamy paste increase the number of air pockets and as such also increase the number of cuts, nicks,s, and general irritation when shaving. The absence of air forms a protective layer on the skin.
Instead of dead air, this product is full of molecules that ensure a close shave without causing any irritation. It is maybe the best shaving cream against razor bumps or acne-prone skin on the market. This cream features no gimmicks or games. It is straightforward and is crafted to provide the best possible grooming.
The product ingredients include Aloe, Lemon Extract, Macadamia Seed Oil, Olive Leaf Extract, and Papaya Extract.
The cream comes with a subtle citrus smell that is not too overpowering. It is free of paraben and is not tested on animals.
The Aloe Vera contained in the product works to moisturize the face after a shave. It keeps the skin from drying and flaking.
You will be pleased to note that this product works with almost all types of razors including electric, disposable and double-edge safety razors for a wet shave.
Those who prefer straight-edge razors will benefit from this cream as it provides a thin covering allowing you to concentrate on the area you are shaving and your technique.

We Like
It is budget-friendly
A small amount will go a long way
It allows for moist shaves free of irritations
Keep This in Mind
It can be mistaken for oils used alongside shaving creams
As this brief Cremo shave cream review shows, the Cremo Original Shave Cream is unique and is perfect for wet shaving. The fact that it can be used with all razor types has propagated its popularity, and its price has astonished many.
Shave Cream or Shaving Soap – How Are They Different?
Both of these products are designed to achieve the same goal. They, however, are different products and have some slight differences. Understanding these differences will help you achieve the best shave you can.
Soap
Needless to say, the soap is rather old-school. It has been in existence for more than a century and represents a method of wet shaving conducted by our grandfathers and great-grandfathers.
The major difference from the cream is probably the fact that a good shaving soap comes packed in a hard puck. And since to create lather you need a shaving bowl, they require that water is added before creating a thick lather. Using soap, the best way to create thick lather is by using a shaving brush.
Many wet shaving gurus prefer triple-milled soaps. Sure they are harder than most shaving soaps, but once you dedicate some extra time to them, the results obtained are through the roof. Another benefit of the triple-milled soap is that they are designed to last longer in comparison to most shaving soaps. They can last for even four months.
If you are a newbie, note that there is a learning curve to using soap. But with some work, you can nail it with ease.
Cream
Shaving creams have been in existence since the 1940s. Nonetheless, they represent the modern shaving technique. Most of the high-end and quality shaving cream brands are contained in jars or tubes. Gone are the days when they came in spray cans.
Modern creams and the best shaving creme are thicker and require some bit of effort to lather up. They also contain some natural ingredients including Shea butter and aloe which help in nourishing and protecting the skin.
Do not forget about shaving gel which is also packed in cans. They take a few seconds to lather and are recommended for those with sensitive or dry skin.
Differences
One of the differences already mentioned includes their packaging. Creams are packed in cans or tubes while soaps are packed in puck-like discs. But aside from this, there are other differences to be noted.
Smell
First, let us demystify the deep-rotted myth that shaving soaps are unscented. On the contrary, they come in a wide variety of scents. It is the same thing with creams. This is an important fact to know for those who have sensitive skin and think their problems are solved when they use shaving soap.
Before you make a purchase confirm if the soap is scented or unscented. You always have a choice.
Soap or Cream – Lubricating and Cushioning
Now back to lathering.
A shaving cream takes a little effort to lather. The lather provides ample lubrication and cushioning. The same is available when working with shaving soaps. However, experts say that the lather, lubrication, and cushion are way better with soap.
You will, however, have to work slightly harder to get the lather needed.
With shaving soap, you will also need to add some water. Sure it will take some practice to get it right (especially the perfect amount of water).
Price
Shaving creams tend to be slightly more costly compared to shaving soaps. The difference is however not significant. With high-end best men s shaving products, you can part with close to $30. However, you still can find quality products in the price range of $10-$15. Shaving soaps are also in this latter price range.
Method Used to Compile Our Shaving Cream List
We take this opportunity to state this here and now, we take our job of reviewing seriously. There is a host of shave creams available on the market these days and given a chance the list would be insanely long. We spend most of our time researching, reading reviews, and putting together every bit of useful information we come across on specific products.
In addition, we consider the price points and try to pick shaving creams that are affordable to most men. Yes, there is no doubt that some of the best things in life are priced high but thankfully this is not always the case. When coming up with the list, we pay close attention to the ingredients in the products. We prefer those that sport natural ingredients as we think they are better for your face and overall health.
Yes, we are dedicated to reviewing shave creams and gels as they are introduced into the market – it is our full-time job. However, regardless of how much time we put in, we cannot possibly go through all the products available – they are just too many and overwhelming. Nonetheless, we think we did a great job on this list. It will serve you well in your search for the best shaving cream on the market.
My name is Don and welcome to Luxury Shaving Razors! The idea behind the site was born in 2016 after trying to find a decent safety razor for my own personal use. I decided to document my journey.