Best Butterfly Safety Razor (2023 Buyers Guide)
We may earn a commission for purchases using our links. Learn more
Let's start by pointing out the fact that there is a lot of misinformation produced under the 'Best Butterfly Safety Razor' title. As such, you need to be keen on the products recommended especially if you are specific about your choice.
Luckily, you are in the right place. In this guide, we'll help you choose a butterfly safety razor that fits your lifestyle, budget, and preferences. Now, according to the New York Times, safety razors have been regaining popularity since 2009. Over the years, technology has changed and the best d-e razors have improved in design and function. So if ever there was the best time to purchase a butterfly safety razor it's now.
We review 9 butterfly safety razors in this piece. But just in case you are in a rush, our top pick is Parker 99R. Parker 99R has a vintage feel but some outstanding features including great balance and a long handle which offers comfort to men with large hands. Though it is heavy, it's well balanced for a great shaving experience.
3 Top Best Butterfly Safety Razor at a Glance
Best Butterfly Safety Razor
Best Lightweight Butterfly Razor
Best Butterfly Razor for Sensitive Skin
Best Butterfly Safety Razor
Best Lightweight Butterfly Razor
Best Butterfly Razor for Sensitive Skin
Last update on 2023-11-28 / Affiliate links / Images from Amazon Product Advertising API
What Is a Butterfly Safety Razor?
The history of safety razors dates back to the mid-1800s. It started slow but picked up pace in the 19th century when Gillette introduced the first double-edged safety razor. These razors were designed as safer and hygienic alternatives for barbershop shaving sessions.
They are called safety razors because they have a protective guard over the blade, unlike traditional straight razors. Because of this 'layer' of protection, they are safer tools for amateur wet shavers. Their popularity was unshaken for a couple of decades until cartridge razors with multiple blades graced the scene. But so far, safety razors are going back to their glory days.
Safety razors are available in different designs. One such design is the twist-to-open (TTO). With this design, you'll twist a knob located at the bottom of the razor's handle to unscrew the cap and replace your dull blade. There are two TTO options. The first is a simple modification of the three-piece razor model where twisting the handle detaches the cap. This mechanism is seen in the two-piece Muhle R41 and the Merkur 34C.
The second twist to open option is the butterfly safety razor. You should note that 'twist to open' is synonymous with butterfly safety razors. With this design, the cap features a pair of wings that open like a butterfly to expose the silo.
This mechanism makes the blade change a breeze. Even as an amateur, you can complete the change in less than 15 seconds. But given that the blades are sharp, you should be careful not to cut yourself.
Aside from this blade change mechanism, butterfly safety razors are no different from the three or two-piece safety razors. Contrary to popular belief, it doesn't affect the aggressiveness of the razor. This bit is determined by blade exposure and angling.
What to Look For in a Butterfly Razor
Butterfly safety razors have a couple of advantages over the best cartridge razors for men. However, not all cartridge razors are the same. As such, you need to be extra careful when making a pick. To help you make the right choice, below are some considerations to make.
What Material Is It?
The first factor to consider is the material used to make the safety razor. Safety razor construction will affect a lot more than the look and feel of the piece. For instance, a metallic razor is sturdier and lasts longer in comparison to plastic razors. But on the flip side, it might be vulnerable to rust.
Most beginners think weight is a bad thing. On the contrary, a heavy razor is steadier when shaving even when shaky hands wield it. So if you are yet to learn how to get the perfect shave, you should prefer a heavier razor to minimize the risk of nicks and cuts.
But if the goal is to make precise and detailed shaves, you should prefer a lighter and smaller razor. And last but not least, you want a razor that has a solid grip since you'll be shaving with wet hands.
Size
Aside from the material and the weight, the length, and shape of the handle will affect how you shave to an extent. The handle length that works best for you depends on the size of your hands. If you have large hands, a longer handle will work perfectly. But if you have smaller hands, a shorter handle will offer you a heavenly experience.
How you know the handle is long enough is if your pinky can rest on the base of the handle comfortably as you shave.
Aside from this, the length of the handle also determines the pressure and balance as you shave. Longer handles require heavier shavers for balance. But why is balance such a big deal? Well, if it's off, there are high chances you'll nick yourself.
Adjustability
Many butterfly safety razors feature a fixed double edge razor blade. 'Fixed' in the sense that the blade is immovable. However, some companies push the design boundaries and create adjustable butterfly safety razors. With the latter, you can tune the angle of the double edge razor blade depending on your needs.
But like everything else, adjustable safety razors are different as well. Some have two settings while others have as many as five settings to play with.
Mild or Aggressive?
The level of aggressiveness determines the pressure you'll apply when shaving. Aggressive blades/ angles or settings will slice through facial hair faster and require fewer strokes for a close shave. However, it'll open you up to the risk of cuts.
Razor aggressiveness is determined by how much of the blade is exposed and its angle of inclination. If you are a beginner, you should start with a mild razor since it's more forgiving and accommodates mistakes. But if you have experienced wet shaving, you can pick an aggressive blade.
Note that a high level of aggressiveness doesn't mean it's not a safe razor. It all boils down to your skill.
How Much Are You Willing to Spend?
Butterfly safety razors are not the most expensive tools on the market. However, their prices vary and it makes sense to have a budget. If a safety razor isn't within your budget, you can cross it off the list without regrets. Just ensure your budget is reasonable for the features you want in a safety razor and your goals.
Luckily for you, many of the products on this list are affordable.
Benefits of the Best Butterfly Safety Razors
The butterfly razor design is mostly about convenience than anything else. How the silo doors open doesn't affect how well you shave or how aggressive the razor is. However, it makes the process of switching razors easier and less dangerous. With that said, below are some of the top benefits of choosing a butterfly safety razor.
The butterfly doors make blade replacement a breeze, especially for men with arthritis or who suffer from Parkinson's and other neurological conditions. For men with stiff or shaky hands, blade replacement can be a bloody affair. Luckily butterfly doors make it easier to handle the razors.
The TTO mechanism plus the butterfly doors are fast and convenient. According to experts, this butterfly mechanism isn't all rosy. Given it has a mechanism inside the handle, there are claims that it's more susceptible to breaking down. But in all our interactions with these razors, we've not had this happen to us – not even once.
However, we did experience some difficulty cleaning inside the doors. The best way we found around this hurdle was to clean the razor immediately after use under running water. The few times we left the muck to dry and harden we had a difficult time prying it off the nooks and crannies.
Best Butterfly Safety Razor (Summary)
Last update on 2023-11-28 / Affiliate links / Images from Amazon Product Advertising API
1. Parker 99R – Long Handle Heavyweight Butterfly Open Safety Razor – Best Butterfly Safety Razor Overall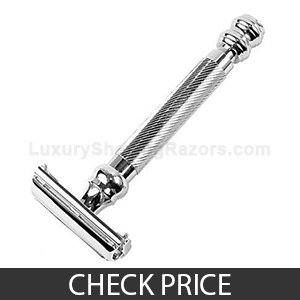 Parker has been around for more than 40 years. Their product range includes safety razors) are also well known for Shavette razors, good straight razors, and quality shaving brushes. Over this period, they have done a lot of fine-tuning to their products. Today, their razors are top-tier and provide men with what they need to have a great shaving experience.
In their list of beautiful, iconic, and functional safety razors is the Parker 99R. This piece is a favorite for many men because of its butterfly design, its handle length, and weight.
Parker 99R's handle measures a cool 4 inches and overall, it measures 3.4 ounces. Given these figures, you can guess that it was made for men with large hands. Its weight is evenly distributed for great razor balance.
Moreover, the razor has knurling on its handle for an improved grip, a bit similar to the Merkur 38c. This way, even if you handle it with wet hands, it's less likely to slip and cause an accident. At the bottom of this handle is a knob that opens the butterfly doors on the cap for a blade switch.
Speaking of the blade, Parker 99R is not an overly aggressive blade – even though some men can't seem to agree on this. You can, therefore, pair it with an aggressive blade for the best results.
The razor is durable courtesy of its chrome-plated brass frame. And though the butterfly door hinges feel flimsy for Parker's standards, they are stronger than what most other brands have to offer.

We Like
Comes with 5 stainless steel blades
Mild and thus perfect for beginners
Durable construction
Keep This in Mind
Difficult to get the best shaving angle
Coming from a long line of quality safety razors, a lot is expected from the Parker 99R. And boy does it deliver. The unit is durable, has a solid grip, a long handle for comfort, and an easy-to-replace blade mechanism.
Read review: Parker 99R
2. Parker 96R – Long Handle Butterfly Open Safety Razor – Best Lightweight Butterfly Safety Razor
This is yet another butterfly safety razor from Parker. Like the 99R, the 96R has a solid construction and is durable and dependable. However, there are some bit of differences, especially in the overall design, and weight.
The Parker 96R weighs 3.75 ounces. This makes it lighter than Parker 99R. But the handle measures 4 inches just like the Parker 99R. So if you have large hands, this unit would be ideal for you. And though it is lighter than 99R, it is perfectly balanced for an enjoyable shaving session.
As for the design, Parker 96R is more appealing. Instead of a plain shiny gray that most razors have, it sports black detailing which adds beauty to the razor. This black detailing is on the handle and starts from under the cap. Along the handle length, the black is broken by a silver ring which adds more character.
Speaking of the handle, it's textured to improve the grip. And to ensure durability, the razor sports a solid brass frame. Upon purchase, you get 5 premium platinum double edge blades to get you started.

We Like
Solid brass construction
It's light
Beautiful design
Keep This in Mind
You might have to apply some pressure to get a closer shave
Parker 96R is not only a beauty, but it is functional and makes wet shaving an enjoyable experience as well. It is durable and good enough for a man with large hands. It is a great choice if you also want to use your
safety razor to shave your head
.
3. VIKINGS BLADE The Chieftain Double Edge Safety Razor – Best Butterfly Safety Razor for Sensitive Skin
Viking is an Australian safety razor company that is unapologetically leaving its mark in the safety razor industry. Though it is a small company, it is giving the likes of Parker a run for their money with high-quality safety razors like The Chieftain DE Safety Razor.
This safety razor is ideal for men with sensitive skin courtesy of the features it sports. If every time you shave with an electric razor for men you end up with ingrown hair, then this razor is perfect for you.
First and foremost, this safety razor has a micro-comb which makes it easy for beginner wet shavers to learn the skill without sustaining too many cuts. Aside from this, it has deep knurls on the handle to provide a superior grip. Even if your hands are wet, the razor will not slide off.
Moreover, the head is tiny which means it's easier to use it to shave some hard-to-reach spots. For an even more comfortable shave, Viking Blade ensured the razor's weight is evenly distributed.

We Like
Deep knurling for a good grip
High-end construction
Comes with a luxury mirror and mild steel blades
Medium aggression
Viking Blade doesn't leave anything to chance with this safety razor. Overall, the razor is 20% heavier, 200% more eco-friendly and 150% smoother than other mass-produced knock-offs. And given its beauty, it makes for a
great razor for men's
gift.
4. Weishi Classic Twist to Open Double Edge Safety Razor – Best Butterfly Safety Razor for Beginners
Weishi is a popular safety razor company offering a long-handled razor for men with big hands. Like many safety razors on this list, the Weishi 9306 comes with disposable blades to start you off.
Now, Weishi 9306 features a solid copper alloy construction. But unlike most safety razors, it comes with a gunmetal finish which looks nice but isn't too much like most shiny chrome finishes. In comparison to most razors, the Weishi 9306 is not as heavy. This means that it's a little more forgiving than most razors even if you apply too much pressure accidentally.
Because of its mild and forgiving design, it is ideal for wet shaving beginners. And though it may not be ideal for men with tough beards, it's ideal for those with sensitive skin. The blade gap is not as large as that of high-ranking Merkur safety razors.
As for the handle, the unit has a solid grip courtesy of its knurling. Coupled with the long handle this razor is comfortable and easy to use.

We Like
A new and chic color
It's affordable
It is lightweight
Keep This in Mind
Its construction isn't as durable
The dull color is refreshing and the lightweight design makes it perfect for beginners. Overall, it's a great razor but could use some reinforcement on the butterfly mechanism.
5. Van Der Hagen Tradition Safety Razor – Best Budget Butterfly Safety Razor
This is an American-based brand. Its headquarters are in Texas. Overall, Van Der Hagen is known for their razors, but also for producing high-quality brushes, traditional shaving soaps, and good shave creams; this butterfly safety razor is no exception. And the beauty of this company is that its products are more affordable than most brands. As such, they are perfect for wet shaving beginners.
The razor comes in orange and black packaging complete with the company logo on it. For protection while in transit, the razor sits on a tight foam inside the box. For durability when in use, the razor sports brass construction. Though this is no steel construction, it's better than the plastic body some safety razors sport.
The handle measures 3 inches and has a butterfly opening on the cap. With this opening mechanism, changing the blades is an easy and safe process. The razor comes with 5 stainless-steel blades (ice-tempered).
Last but not least, the handle is knurled for a better grip. Moreover, since the handle is not long, it is ideal for men with small hands.

We Like
Quality brass construction
Easy to grip handle
5 stainless steel blades to start your wet shaving journey
Keep This in Mind
Some men complain the free blades are flimsy and low quality
The grip isn't comfortable for men with large hands
Given the quality and price, this is easily a beginner product. But despite its low price tag, the razor offers great quality. Moreover, it is best for men with smaller hands.
6. Micro Touch One Safety Razor – Best Travel Butterfly Safety Razor
The first image that should come to mind is that of Rick Harrison, the man from Pawn Stars. Why? Well, because he is the face of the razor in its ads. In the ads, Rick tells of all the advantages of wet shaving over the use of cartridge razors. These reasons include cost savings in the long run and reduced risk of irritations and razor burns. But besides the general advantages, razor sports have some important benefits.
This razor has a brass construction and a chrome finish for beauty, protection, and durability. It has a TTO head for easier blade loading and the handle features horizontal and vertical grooves for a tight grip.
It's important to note that this safety razor looks very similar to the Weishi 9306. Even the travel case looks the same. The only difference we noted is that Micro Touch One is lighter.
As for aggressiveness, the razor has minimal blade exposure which translates to mild aggressiveness. This makes it awesome for beginners yet to master the art of wet shaving.

We Like
Comes with 12 blades
It is light
Has deep grooves
Keep This in Mind
Quality is a concern over time
This razor is quite affordable and is best for wet shaving beginners. You can find it in local stores and major retail stores as well. Its mildly aggressive design means it's more forgiving and accommodating.
7. Grace & Stella Double Edge Razor Kit – Basic Butterfly Safety Razor Kit
To call this a "kit" is stretching it a bit. However, it is a good razor (with extra blades).
This shaving kit is perfect for men who take wet shaving seriously. The kit can yield a close shave which is what most men want. But besides this, the unit comes with stainless steel blades that steal the show.
Honestly, getting a close shave is no easy task especially if you have the wrong tool in hand. Most often you will cut yourself repeatedly. But with this shaving kit, you are bound to succeed.
First off, it has a chrome finish for a retro look and the handle is long enough for men with large hands. And to insist on its quality construction, this razor comes with a 30-day money-back guarantee. The set includes a safety razor and five razor blades. Even though we have seen safety razor kits with a lot more to offer, the quality of the razor is great and the price is perfect.

We Like
Budget-friendly
30-day money-back guarantee
Achieves a close and clean shave
Keep This in Mind
As a shaving kit, most people expect a shaving brush which it lacks
This safety razor kit is not the most comprehensive we've seen, but it is good enough. It will get the job done with ease. The unit also has a 30-day money-back guarantee which means the company is confident in its quality. Check out our
best shaving kit
article if you want to learn more about what to look out for when buying shaving kits.
Related: Best Straight Razor Shaving Kit
8. Feather Double Edge Shaving Razor – Great Value Butterfly Safety Razor
Feather is a safety razor brand from Japan. It is a well-known company and produces some of the best safety razors in the industry, such as the Feather all-stainless steel AS-D2. However, despite its fame, it doesn't have an extensive range of safety razors like other brands do. But the few it has under its belt including this 'Popular' safety razor are excellent and functional.
The Feather Popular Safety Razor is light and long. It weighs 1.2 ounces and its handle is 4.5 inches. This safety razor is light because its handle is made from plastic and the razor head is metallic. But despite the use of different materials, its weight is well balanced for a comfortable shave.
As for its aggressiveness, Feather Popular is a little more aggressive than most beginner safety razors. The medium exposure design on the blade contributes to its aggressiveness. If you have thick and coarse facial hair, this comes in handy. However, if you would rather have a mild shave, you can counter the aggressiveness with a mild razor.
The plastic handle has horizontal grooves for a good solid grip. So regardless of how you hold the razor or if your hands are wet, the razor will not slip from your hand.
Last but not least, the long handle makes it ideal for men with big hands. This way, you can comfortably navigate the razor across your face.

We Like
Perfect for beginners
Great value
Long handle with a solid grip
Keep This in Mind
The construction is not the most solid
The Feather Popular Safety Razor is a great option for beginner wet shavers. Moreover, it offers great value for its price range. If you are still on the fence about making the switch and would love to test the waters, then this is a good option.
Which Blades Are Ideal for a Butterfly Shaver?
Now that you've picked the best butterfly safety razor, you should put some effort to choose the best safety razor blade as well. When choosing a safety razor blade, you should consider your skin and beard type.
If you have a tough beard, choose a sharp blade. But if your skin is sensitive, you should go with a smooth blade.
Moreover, the aggressiveness of your razor counts for everything as well. If you have an aggressive razor, then a mild blade will work great.
The best thing about these replacement blades is that they are cheap. With about $10 you can have a pack with 100 blades. If you aren't sure which blade works for you, try the variety packs. Learn more about How to Find the Right Double-edge Razor Blade Combination for You?
When Is a Butterfly Safety Razor Better than a 3-Piece Razor?
There is a heated debate over when to choose a butterfly razor vs. the 3-piece screw type. Unfortunately, we cannot draw a hard line with this yet because it often boils down to personal preference. One design isn't always better than another.
You will hear some shavers argue that butterfly heads give the blade a lot of room and therefore get misaligned easily. Still, others argue that the knob at the base of the handle losses its strength over time resulting in less control with shaving. While these situations are possible, you can avoid them by choosing one of the high-quality razors listed above and taking care of the razor.
Are TTO Razors Ideal for Everyone?
Yes, they are. The TTO only refers to how you switch the blades and are therefore all about convenience. As we mentioned, the mechanism doesn't affect the aggressiveness of the shave.
When the TTO mechanism was made in the 1930s, the idea was to make the blade replacement process safer by preventing users from touching the blade during the switch. A blade dispenser was used to make this possible. Unfortunately, these dispensers are not made anymore which means that you now have to make the switch manually. But even then, the process is safer and fast. Regardless of your experience with safety razors, you'll have an easier time loading the blades.
Conclusion
Butterfly safety razors vary from other double edge safety razors in that their blade replacement mechanism makes it safer and easier. Aside from this, it doesn't improve aggressiveness. For this, you have to choose a specific butterfly double edge safety razor with the aggressiveness level you desire.