Best Shaving Kit for Men (Beginners & Pros – Buying Guide)
We may earn a commission for purchases using our links. Learn more
Today we take a look at the best shaving kits for men. Every bearded man ought to have a well-maintained beard.
However, this is impossible without a quality shaving kit in hand. Whether you are a sucker for a clean shave, or a slight trim to keep your timeless bearded look, a mens shaving kit will make the shaving experience simpler and more enjoyable.
With all that said, we admit finding the best shaving kit is not a walk in the park. And with so many options available, it's easy to get overwhelmed and confused.
Best Shaving Kit at a Glance
Last update on 2023-11-29 / Affiliate links / Images from Amazon Product Advertising API
Let's take the Merkur Deluxe Travel Dopp Shaving Kit as an example. The Merkur shaving kit exudes a perfect combination of excellent shaving performance and style. It comes with a Merkur 23c safety razor, brush, bowl, Alum block, and soap – including a Leather Toiletry Bag. Overall, it looks great and is ideal for use on your face and the body. What's even more, you can have it at a reasonable cost.
From the description, the Merkur Deluxe Travel Dopp shaving kit is a great option. But don't pick it yet. Remember, we said the choosing process could be confusing; here is how. All shaving kits are designed to achieve the same purpose but sport different features, which makes them ideal for different people. So while the Merkur Deluxe Travel Dopp may be great for your friend, it might not be for you.
As we continue with the guide, you'll learn there are factors you need to consider to choose the perfect shaving kit for you. You need to consider the texture of your beard, the style of shaving tool you want, whether you want a simple trim or a clean shave, and many more. The list is quite long.
Luckily for you, we've immersed ourselves in the industry and checked out the top shaving kits in the industry. After long research and trying some products (we cannot try all shaving kits), we have come up with a guide you can follow. We've also thrown in some tips to consider in case you come across a shaving kit not featured on our list.
Consider These Factors Before Buying Your Next Shaving Kit
1. What Is Your Shaving Style?
Shaving styles differ greatly. Some men like to change things up every week. One day they do a clean shave, the next, they have stubble, and the next, they are just doing a simple trim. And there is nothing wrong with it, after all, change is good. But on the flip side, some men are more set in their ways when it comes to shaving. They stick to one shaving style all through, and it becomes their signature look. But whatever shaving style you are into, you will want to have it in mind when purchasing a shaving kit.
Why is it so important? Simple. Because shaving kits are exactly that – kits. This means that they contain several shaping instruments that vary depending on their intended purpose. The last thing you'd want is to pick a shaving kit only to realize that it doesn't come with the instruments you need for your preferred style. What do you do then? To avoid such bad beard days, you are better off starting with the end in mind.
2. How Much Does It Cost? Is It within My Budget?
Many people think that the most expensive shaving kit is the best and the cheapest is the worst. But this is not always the case. Several factors go into determining the quality of a shaving kit. But instead of going for the extremes, how about you set a budget you can afford and stick to it. This way, even if the shaving kit ends up not being what you hoped it would be, you will not beat yourself up.
Once you have a budget, always try and get a shaving kit that is closer to the maximum limit. This means that if your budget is $50, you should try and get a kit that goes for close to $50, if not $50. There is no point in going cheap if you can afford to spend more.
If you have to move things around to afford a good shaving kit, by all means, do so. You would rather spend on a quality shaving kit that will last you a long time than buy a new kit every other year.
3. What Are Consumers Saying About the Shaving Kit?
We are in the digital age. Today, everything you need to know about a company, service, or product is available online. Consumers who have interacted with a company or used a particular product will leave reviews for those who come after them. You can use these reviews to gauge if the kit is worth the hype.
You can think of consumer reviews as unsolicited advice that is almost always on point.
But like with everything else, there are good and valuable reviews and fake reviews. Fake reviews constitute reviews from consumers (and other times just freelancers) whose sole purpose is to damage the brand's reputation.
A genuine review has a description of how the product felt in hand and even has images of the product in use. Generally, a shaving kit that has numerous genuine reviews will help you decide if the shaving kit is worth your time or not.
On the flip side, if you come across a shaving kit with low ratings, then it only means the product is probably not a good pick, and you should stay away.
4. Is Your Skin Sensitive?
In a perfect world, we would have shaving kits that are all great and offer the same value. But this isn't the reality we live in. Shaving kits are unique and sport different features. It is these features that make all the difference when it comes to the shaving experience. As a result, the perceived quality of the kits is not the same.
If you buy a high-quality shaving kit, then there are chances you will experience less irritation, and the shaving process will be less irritating. We all know how painful it can be when the trimmer tugs on facial hair. Fortunately, you can avoid it by simply switching to a high-quality kit.
If you frequent your local barbershop, you will notice that the trimmer they use achieves great results in a matter of seconds. It could be that your barber is skilled, but even then, the high-quality trimmer they use helps to make the experience all the more worthwhile. If you are stuck in choosing a kit, you could use the barbershop trimmer as an inspiration. At least with a similar unit, you know you'll get the desired results.
5. The Brand Name Speaks Volumes
This might be shocking to many, but it's true. Picking a shaving kit from a reputable brand is better than picking a generic shaving kit. Here's our line of thought. We understand every brand has to start from somewhere. But to provide the user with a product that resonates with them and solves their problems takes time and experience in the industry.
Because of their experience, it's less risky purchasing a shaving kit from a reputable brand than one that isn't known yet. And if you can admit it to yourself, aside from the pride you get in getting a branded item, you feel more comfortable with the product.
If you end up choosing a brand you've never heard of before, you should read through its reviews and ensure it comes with a warranty. This way, your purchase is risk-free during the warranty period. If any company (experienced or not) is willing to put where their mouth is and offer a warranty then the product is worth your time. With a warranty, if the kit breaks for reasons beyond your control, you can claim a refund or a replacement.
6. Identify a Shaving Kit You Love
This might not make sense, especially if this is your first shaving kit. But you must have an idea of what you want before you go hunting for the perfect shaving kit.
As we've pointed out before, shaving kits come in different styles and are of different types. Even if you don't know which specific kit you want, have a general idea of what will meet your needs. This will help you sift through the chaff faster.
If you want a simple shaving kit, something that resembles a safety razor kit, then you will have an easier time choosing a kit. However, if you want something old school or a luxury shaving kit, then the choice process might be a little more complicated than anticipated. Do not be afraid to be picky. This is your hard-earned money on the line after all.
The Best Men's Shaving Kits
1. Merkur Deluxe Travel Dopp Kit – Best Travel Shaving Kit
When we talk about shaving kits, we refer to all kinds of shaving tools, including electric trimmers and safety razors, along with shaving extras that make the process easier and enjoyable. In this light, Merkur has gone out of its way to present you with a safety razor shaving kit you will love and appreciate. Like the Gentleman Jon Complete Wet Shave Kit (also on our list), Merkur includes everything you would need for wet shaving in this kit.
To start us off, the kit consists of a Merkur 23c double edge safety razor. The safety razor has a long handle which makes it easy to use and maneuver to achieve a close shave without cutting or nicking your skin. But just in case you experience skin irritations, the kit features an Osma Block, which will help to ease and soothe the irritations.
Aside from these two, the kit also comes with a shaving bowl and shaving soap. If you have sensitive skin, these two components are a must-have in your shaving kit. To help in mixing, lathering, and spreading the soap on your face, the kit has a badger hair shaving brush. The hairs are strong enough to lift your hair as well as clear dirt and dead skin.
As if that's not enough, Merkur takes it a step further and throws in some of the best razor blades for safety razors (10) available. With everything that's included in the kit, you will not have to shop for your shaving needs for a long time.
All of these items are stored in a leather toiletry bag, which is beautiful. The bag has a big compartment and two separate storage spaces inside. The compartmentalization keeps everything safe and makes it ideal for traveling.
As a trusted brand, Merkur (as part of the DOVO brand) believes in its products. So much so that they offer a money-back guarantee for this kit. It is always nice to see a brand putting its money where its mouth is, right?
We Like
It is durable and strong
It comes with everything you need for shaving
The items included are of good quality
Keep This in Mind
The soap doesn't have the greatest scent
The Merkur brand is confident in the quality of its shaving kit, and rightly so. It contains all the essential shaving tools plus a bag that you can use when you are on the road. This bag is a functional tool that you will always be grateful for any time you travel for business or go on vacation but still want to remain sharp.
2. Naked Armor Straight Razor Shaving Kit – Best Luxury Straight-edge Razor Shaving Kit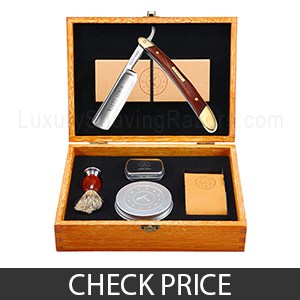 If you are a sucker for luxury and well-presented products, you will fall in love with the Naked Armor Straight Razor Shaving Kit. Though it is not a household brand name yet, Naked Armor goes out of its way to present consumers with the best products at an affordable price. This particular straight razor shaving kit was created when the shaving experience started to be cheapened. The main purpose of the kit was to restore the glory of wet shaving, and boy did it excel in this.
But is good looks the only thing that this shaving kit has going on for it? Of course not. But before we get to what the kit includes, we should mention that it comes in a classic wooden box, making it a perfect mens shaving kit gift set Very few shaving kit companies have dared to pull off this presentation.
Now, inside the box is everything you would need for a great shaving experience. The kit includes:
A 15.7 steel straight razor blade (Japanese)
A travel case made of leather
A sandalwood shaving brush
Sharpening paste
Shaving soap
Okay, but many of the other shaving kits feature these items as well? So why the hype? Well, first, the items are all made from quality materials, the Japanese blade is sharp and long-lasting, and you can tell a lot of thought went into the design and presentation of the kit. So when you purchase it, you are assured the creators had you in mind.
Now, the straight razor sports Japanese steel. We stress the term 'Japanese' because their steel is touted to be the best the world over. If you have watched movies of samurai sword-fighting, you understand why this is so. Aside from being carved from the best steel in the world, the blade is between full hollow and half hollow, it is 7/8 wide at the widest point and 5/8 at the tapered end. Each of these elements has pros and cons, and Naked Armor wanted to capture the best of both worlds with the hybrid blade design.
The wood used in making the handle on the straight razor is among the best as well. The wood used by Naked Armor is called algum. Do not beat yourself up if you have ever heard about this wood. According to history, this is the same wood that was used alongside pine and cedar to build King Solomon's temple. To show its dedication to presenting its customers with the best, Naked Armor flew to Brazil and bought the Amazonian sandalwood (it is one of the most expensive).
As for the shaving soap, stop, and brush, the best materials are used as well. The strop is made from high-quality leather while the handle on the brush is made from beautiful solid sandalwood. It is adequately carved, and it fits perfectly in the hand while shaving. Many brands use real badger hair in their shaving brushes. While the hair feels great and is effective, it means that badgers have to die. Well, Naked Armor does not support cruelty to animals so the kit comes with a synthetic fiber – or as Naked Armor calls it – a Badger-friendly shaving brush. Naked Armor is donating a portion of your purchase to the Wildlife Conservation Network.
Last but not least, the shaving soap is laced with essential oils, has an amazing scent, produces rich and smooth leather, and also has super moisturizing effects.
The Naked Armor shaving kit can be used immediately. However, if for some reason that is not possible, maybe the blade, you can send the item back for a free hone or 100% refund. It is always nice to see a company put money where its mouth is. With the money-back guarantee, you can be sure that this kit is of high quality and delivers results.
We Like
It comes in a beautiful wooden box
The kit comes in different colors, including; metallic, black, brown, and gold
You can repurpose the box
The razor shaves are ready
It is a good gift item
Keep This in Mind
Straight razor shaving has a learning curve
A bit more expensive than the other kits on our list, but worth the money
If you love luxury products or are looking to buy a gift for your dad, brother, or husband, you should get this gift. Aside from looking good, it is made from high-quality materials and is functional. It contains everything you need to ensure you have a great shaving experience. And the fact that Naked Armor offers a lifetime money-back guarantee means that they believe in their product and so should you.
3. The Art of Shaving Sandalwood Shaving Kit for Men – Perfect Shaving Gift
Though this Art of Shaving Sandalwood Shaving Kit for Men doesn't feature a safety razor or a straight razor, it still offers a lot of value. It's a popular setting for most men looking for a full and authentic shaving experience. It's loaded with a lovely and long-lasting Sandalwood scent that helps elevate it as the Groomsmen shaving kit and a perfect gift set.
This kit includes:
Sandalwood pre-shave oil
Sandalwood shaving cream
Sandalwood aftershave balm
Black badger shaving brush
Pre-Shave Oil
The pre-shave oil does a great job of softening beard hair and preparing the skin for a shave without leaving an oily residue. It contains olive oil, castor oil, water, and Coumarin. You should use it sparingly since it's a little sticky and packed with Sandalwood fragrance.
Shaving Cream
It creates a rich lather that forms a protective layer between the blade and the skin, allowing a smooth glide.
Badger Hair Brush
The shaving brush is made from badger hair. The badger hair does a great job of retaining water and helping to generate rich and warm lather on the face to improve the lathering and shaving experience.
Aftershave Balm
This aftershave balm replenishes the moisture to soothe your dry skin after a shave. It's a perfect blend of essential oils and moisturizers that adequately hydrates skin. The Sandalwood scent lasts the whole day but isn't too overwhelming.
We Like
Beautiful scent
Premium feel
Shaving cream is rich in lather
This luxury mens shaving set is designed to elevate your shaving experience while reducing irritations and razor bumps. It achieves this by preparing the skin, creating a protective layer, and soothing it. The set makes for a perfect shaving gift for men.
4. Remington Head-to-Toe Grooming Kit – Great for Head to Toe Grooming
The Remington brand name is not new in this industry. On the contrary, it has years of design experience under its belt and has grown to be among one of the most respected shaving kit brands in the industry. Taking a quick look at the Remington PG525, it's easy to see why the brand name has gotten a lot of positive feedback.
The Remington PG525 shaving kit is electric. What's more, it combines functionality and style with so much prowess. The kit comes with a primary trimmer and eight attachments that are ideal for varied grooming requirements. With these attachments, you can use this electric shaver to shave your head, face, and body as well.
With the trimmer, you can get a close shave as well as make small changes that would otherwise be difficult to achieve with regular razors. To ensure that the trimmer serves you for longer, Remington used steel blades, which don't get dull fast. And even if they do, the trimmer has self-sharpening abilities. With these features, the trimmer will serve you for a long time to come.
With most electric trimmers, you need to charge them regularly. But the story is different from the Remington PG525. It comes with a charging stand, which makes the recharge process a breeze.
Moreover, the trimmer stores charge for over 70 minutes when in use. This is more than enough time to achieve a decent shave.
We Like
It is designed to last long
The brand is known in the shaving kit industry
The electric trimmer comes with eight attachments for variable styling
Keep This in Mind
It comes with an electric trimmer and, as a result, cannot guarantee a close shave like a regular safety razor can
Not everyone is a fan of the old school trimmer designs. Today, people are open to more convenience and technology shining through in these trimmers. Unlike old-school razors, electric trimmers are a great convenience courtesy of their efficiency and styling capabilities.
5. Harry D Koenig & co Shave Set – Good Beginner Shaving Kit
The first thought that will come to mind when you lay your eyes on this set for the first time is 'wow that is beautiful.' With the beautiful black and silver finish, you might even mistake it for a home décor piece.
If aside from meeting your shaving needs, you want to accentuate your bathroom, then the Harry D Koenig & Co Shave Set is the piece for you. Because of its beauty, the piece makes for a good gift for any man who takes growing seriously.
This kit comes with a stand. It has a chrome plating finish. With this finish, it will stand out from the crowd and will also last for a long time. It has a 'T' shape and holds the cartridge razor and the boar shaving brush that come included in the kit. The design adds beauty to the kit, but it also helps keep your shaving tools clean.
The stand also comes with universal fittings, which means it can accommodate any razor and shaving brush. Therefore, if you choose to upgrade in the future, you won't have problems. Speaking of the cartridge razor, the standard option will work for a couple of shaves, after which you'll have to replace it.
Many men who've bought this set often upgrade to the Gillette Mach 3 cartridge, which fits perfectly into the universal handle fittings.
As for the shaving brush, it's a boar hair bristle brush. And though boar hair brushes are stiffer in comparison to badger hair brushes, they get the job done. Last but not least, the set comes with an equally exquisite shaving bowl. The bowl is shallow and allows you ample room to whip up lather fast with a good quality old-school shaving soap.

We Like
It is more like a statement piece
It comes with a shaving bowl and shaving soap
The handles have universal fittings
Keep This in Mind
The metal handles are heavy
This razor kit is ideal for beginners. It features everything one needs to start wet shaving, including a brush, bowl, razor, and soap. All these components work well together, and to top it all off, it looks great.
6. Philips Norelco Multi-groom Trimmer Kit – All Sorts of Hair Grooming
If you are new to wet shaving, there's one thing you should know, Philips (the brand) is a beast in the shaving industry. Many consumers swear by their products. And given the quality and efficiency the products have, you'll come to the same conclusion.
The kit wasn't labeled a multi-groom set for anything. You can use the trimmer on your face, head, and body. Philips makes it difficult for other companies to compete with what it has to offer.
You see, the multi-groomer is all about versatility coupled with the latest technology. The combination of these two factors gives the unit an unbeatable experience. At the top of its list of features is the DualCut technology. With this tech, the trimmer features twice as many blades as other trimmers. Moreover, the technology means the blades are not only sharp but also last longer. In case you are wondering, keeping the blades sharp for a long time is a big deal in this industry. Philips achieves it by strategically positioning the blades so that they don't graze against each other as they cut hair.
What's more, the multi-groomer comes with fourteen trimming guards. The trimming guards are made in varying lengths and, as such, can cut and style hair all over your body with ease. To avoid confusion, the guards have clear labeling and marking according to the body part they are ideal for.
So the blades stay sharp for longer because of the proper positioning. Well, this is true, but also because they are made from stainless steel. This material doesn't rust or corrode after several shaves.
To complete the look, the trimmer has a stainless steel frame as well. Therefore it's strong and durable.
For a superior grip, the trimmer has rubber detailing. As an electric trimmer, the unit is powered by a Li-ion battery. This battery is powerful and provides 5 hours of service. So if you are on the road and need to stay neat, this trimmer comes in handy.
We Like
DualCut technology
It has a strong steel frame
It has multiple attachments ideal for different styling
Keep This in Mind
With all the steel used, the unit is heavy
The heads aren't adjustable
Philips is a reputable brand name in this industry. It makes quality shavers, and this unit is no different. The 23 styling pieces, the Li-ion battery, and DualCut technology make it a beast not only for
beard trimming
 but for all sorts of hair grooming.
7. Gentleman Jon Complete Wet Shave Kit – Great Value Wet Shave Set
According to Gentleman Jon, shaving should not be a ritual or a ritual – it is more than that. As a man, you should enjoy shaving and presenting your best self every time. But unfortunately, this is easier said than done, especially because most men don't have enough time to shave in the morning.
But do not fret, Gentleman Jon is here to the rescue with a wet shave kit. This kit comes with six items, including a badger brush, a 3-piece safety razor, a shaving bowl made from stainless steel, an alum block, Astra razor blades, and shaving soap. It comes with everything you'd need for a great shaving experience and at a reasonable price.
So how do all these items work together to offer you the best shaving experience? Easy. The safety razor is designed for comfort and precision. As a result, it achieves a close shave with great ease. On the other hand, the badger brush hair generates lather, which is important for lifting facial hair, exfoliating the skin, and preventing skin irritations.
And just in case you graze your skin, the alum block will prevent skin irritations courtesy of its antiseptic properties. And last but not least, the Astra blades are made of stainless steel; hence they remain sharper for longer.
Overall, we appreciate the Gentleman Jon Complete wet shave kit, and its presentation is unique. The packaging has a classic look, and it slides open to reveal the contents inside.
We Like
It is a perfect gift
The alum block prevents skin irritations
It features every tool you need for a fun shaving experience
Keep This in Mind
Consumers warn that the safety razor needs to be handled with care (but that's just the way it is with safety razors)
The Gentleman Jon kit is everything you want for a classic wet shave. It is ideal for wet shaving beginners that want to use a safety razor.
8. Bevel Shave System – Great Gift, Top Choice for Coarse Hair
In your research for the best shaving kits, you might have noticed there's a lot of hype surrounding the Bevel shave kit. Bevel has won the hearts of many men and women around the globe. People find it difficult not to marvel and admire Bevel's presentation. It's sleek with its logo, matte finish, and shaved edges. At first glance, you can tell the unboxing experience is thrilling. But will it meet your shaving needs? Below is a quick run-down of what to expect from the Bevel Safety Razor Shave Kit.
Bevel is the brainchild of Tristan Walker. He started the business in 2013 after searching and failing to find a good shaving kit for men of color.
Creating Bevel was his way of providing men of color a solution to shaving coarse and curly hair without experiencing razor burns.
While this was his initial target market, 8 years down the line, he's expanded his target market to include men of all races. Aside from providing great products, Bevel comes with instructions on how to use the shaving kit and tutorials on how to achieve specific styles and reduce skin irritation.
Bevel shave kit includes:
Bevel Priming Oil
Bevel Restoring Balm
Bevel Shave Cream
Bevel Shave Brush
Bevel Safety Razor
20 blades
Bevel Priming Oil
All Bevel shaving products have purposes describable in two words. For the Bevel Priming oil, the two words are 'Prepares' and 'Clams.' This is the Bevel Shaving Process's first product. After all, moisture is the key to calm and prepared hair and skin.
If you have dry skin, you'll be pleased to note that the Priming Oil is alcohol-free. Instead of alcohol, it uses castor oil to prevent infections.
Aside from castor oil, Bevel Priming Oil contains sunflower, lavender, and olive oils to soothe and moisturize the skin while reducing irritation and itching. The goal is to leave your face smooth, oiled, and relaxed.
Bevel Shave Cream
The Shave Cream 'Moisturizes' and 'Protects.' To achieve this, it serves the skin and hair with a dose of Aloe Vera. At this point, you might be tempted to argue that other shaving creams contain Aloe Vera. This is not a quality water-based shaving cream can boast about.
The Aloe Vera works with Comfrey extract, White tea, and Shea butter to keep the moisture and smooths the hair and skin. Moreover, it provides a protective layer that lets the safety razor pass over the skin to reduce skin cuts and irritations.
Bevel Shave Brush
The Bevel Shave Brush 'Lifts' facial hair and 'Exfoliates.' The Shave Brush achieves three functions that hand application does not. These include:
Whipping the shaving cream to improve its moisturizing effect on the skin
Gently exfoliating impurities and dead skin cells
Ensures a close shave by lifting the hair.
To ensure you reap maximum benefit, Bevel includes a set of instructions on how to use the shaving brush and how to clean and maintain it for the best results.
Bevel Safety Razor
The safety razor 'Prevents bumps' and 'irritations.' The safety razor has a single blade to prevent your facial hair from being pulled from under the skin, as is the tendency with most multi-blade razors. The pulling leads to nicking and ugly bumps. Also, the safety razor is weighted to apply just the right amount of pressure on the skin leading to a great experience.
Aside from delivering quality results, the razor has a sleek design courtesy of its matte silver metal handle finish.
Bevel Restoring Balm
This balm is designed to 'soothe' and 'hydrate.' Like the priming oil, it's alcohol-free, a quality that prevents the skin from drying. The restoring balm contains jojoba oil, tea tree oil, salicylic acid, and oat kernel. Collectively, these ingredients protect the skin from infection, prevent irritation, unclog pores and coolly hydrate the skin.

We Like
It's a complete shaving system that generates excellent results
It leaves the skin feeling soft and smooth
Moisturizes the skin
Ideal for wet shaving beginners
Keep This in Mind
There's a learning curve to it. Luckily, it comes with instructions to help shorten it.
If you have just gotten into wet shaving and would like a kit that's customized to give you the best results, then this is a perfect choice. While it's intended for men of color, anyone can use it. The shaving kit also makes for a great gift.
9. Parker 96R Safety Razor Shave Set – Great Safety Razor & Brush
If you are looking for a kit that is above average, but that will not render you broke, then this is the shaving kit for you. Granted, it is not the most elaborate or the most beautiful-looking kit on this list, but it is not the cheapest either. Parker created a shaving kit that falls between luxury and budget perfectly. But even then, a quick look at it and you can tell that it is close to the high-end mar than it is to the budget option.
The kit comes with the bare essentials including a badger bristle brush, and a Parker 96R butterfly design safety razor. For luxurious storage/presentation, it comes with a beautiful chrome stand which not only looks great but feels great as well. If your purpose is to take good care of this kit, you will never go shopping for another shaving kit in your life.
Aside from the products, why should you consider getting this kit? Well, there are two reasons why.
First, aside from its shiny appearance and fancy look, the one thing it excels in is function. The kit works flawlessly. It cuts right to the chase and helps you achieve a decent clean shave. The Parker 96R safety razor is of good quality, and it has a 4-inch handle which allows for better handling. On the other hand, the badger bristle brush will ensure you prepare the skin for shaving and don't get irritations. The bristles are made from 100% badger, which feels awesome on the skin. And though it might feel a little stiff at the start, it will soften with time.
Second, the timeless look is a winner. The shaving kit will look great on any bathroom finishing. Whether it's a traditional/retro look or a modern style, the kit will shine through. This is mostly because of its chrome and black design.
And last but not least, the kit feels more expensive than it is.

We Like
Great shaving kit for a beginner
It feels great in the hand
Quality safety razor
Keep This in Mind
It provides the bare minimum. It lacks shaving soap and a shaving bowl.
For a shaving kit that looks and feels like the Parker 96R safety razor kit, the price point is a steal. And despite missing the shaving extras (the shaving bowl and soap), it still offers a good shaving experience.
Tips for Getting a Close and Smooth Shave without Irritations
1. Do Not Shave Dry
With all that we have to balance, at times we are just too tired to wake up on time in the morning. But even if you are late to work, you should never attempt to shave dry. Sure, you might save yourself a couple of minutes that morning, but later, you will pay dearly for skin irritations and razor burns.
If you use a popular cartridge razor, double-edged safety razor, or even the best straight razors for beginners, you need to prepare your skin for the shaving process. Yes, for great results, even if you are using a foaming shave gel, you need to show your skin some tender love and care to prevent razor burn. Use a quality shaving cream for the best results – with the best shaving brush, to allow a good quality razor to glide over the skin without causing irritations.
With that said, the only time you can shave dry is when you are wielding an electric shaver and are not cutting hair from the root. In these situations, there are no repercussions for shaving dry.
2. Exfoliate Your Skin before Shaving
We pay a lot of attention to the skin on our faces; we scrub and moisturize it to keep it soft and supple. However, many men forget all about the skin under the facial hair. In the end, they experience skin irritations.
The skin under the beard gets clogged with dead skin over time. If you do not do anything about it, the hair follicles absorb the dirt, and you end up with a dirty and itchy beard. Exfoliating the skin will unclog the pores and allow the skin to breathe.
If you haven't tried exfoliating before shaving, try it today and be in awe of the results.
3. Close the Pores After You Shave
Before you call us out for contradicting statements, read on.
At the start of the shaving session, you use warm water on the beard to moisten the hair and the skin underneath. The result of this process is that the skin pores open up, making your shaving session comfortable. Also, because the skin pores are open, they readily let in the nutrients in the products that you use, including the moisturizer and shaving cream. The process contributes to a clean and smooth shave free of irritations. It also contributes to the growth of a healthy beard.
But once you are done shaving, you need to close the skin pores. Do not walk out of your door with open skin pores because they will trap dirt in the clean, shaved skin. When this happens, you will get ingrown hairs and suffer from skin irritations.
The most effective method of closing your skin pores is by using cold water. Yes, preventing skin irritations, rashes, and ingrown hairs is as simple as that. Finish off with a quality aftershave product.
4. Invest in Shaving Products
If you are to have a good shaving experience, the least you can do is invest in proper shaving products. Unfortunately, basic soap will not cut it.
Buying quality shaving cream (doesn't have to be expensive) will allow you to shave closer and smoother with minimal irritation. Moreover, using shaving cream will moisturize your skin as well.
5. Take Time to Shave
When wet shaving, there is a right way and a wrong way of doing it. If you are a beginner at wet shaving, we suggest that you take your time learning the right way of doing things before you start experimenting with ways of shaving. For instance, you could opt to start with the neck and then move up or start from the face and move to the chin.
Moreover, regardless of the technique variations you use, always take your time. If you hurry, there are higher chances of messing up the shave and irritating the skin. If you wake up late and don't have time to do things right, you would rather skip the shaving session instead.
6. Do Not Burn the Skin
By now, you know how to open the skin pores – you use warm water on your face. Do not be tempted to use hot water because you could end up burning your skin. Also, when you use hot water, you will make the skin overly sensitive and get irritations after. The trick for opening the skin pores is to be conservative with water temperatures.
7. Remember to Charge the Batteries and Replace the Blades
Depending on whether you are using an electric trimmer or a safety razor, you should ensure that the batteries are charged, or the blades are sharp.
The more you use your trimmer/razor, the older the batteries and blades get. Eventually, the cut gets worse. This is expected as the batteries will lose their freshness, and the blades will lose their sharpness.
With reduced efficiency, you will need to replace these. This way, you ensure you are getting a smooth shave always without getting irritations.
Electric Trimmers vs. Classic Razors
Improving your shaving game is not as easy as you think. You need to have the right shaving items at hand and master the shaving technique. And since there are variations of shaving items, you should learn what each is ideal for before you make a choice.
Classic Razors
Classic razors such as safety razors are designed to achieve a close shave. If you desire to get a smooth and clean shave, then you should purchase a classic razor. Though they have a simple goal, they sport different features to ensure they give a great shaving experience.
Classic safety razors with an adjustable blade are great. But unfortunately, it does not offer the same versatility that an adjustable electric blade offers. The latter is designed to trim hairs to different lengths. But this doesn't mean the classic razor has not to place in your shaving tool kit. Even if you do not fancy a clean shaved face, it works great when shaving the jawline and the neck for a contoured appearance.
Electric Trimmer
Electric trimmers come in different forms. However, they all achieve the same goal – trimming facial hair. But despite being a tool to trim hair, it can also achieve an almost-perfect clean shave just like classic razors, and for most men, the close shave is enough.
With a classic razor, you cannot shave dry shave because you will develop irritations and ingrown hairs.
On the flip side, with an electric trimmer, you can use it on the skin while it is dry. And the good thing is that you will not hurt yourself or develop ingrown hairs.
Some men use either the classic razor or the electric trimmer. On the flip side, other men prefer using the two tools depending on what they are in the mood for.
Details on How We Chose the Best Shaving Sets
Like with many shaving products, there are loads of shaving kits for men available in the market. While having options is a great thing, it can be overwhelming when you want to choose the best in the industry.
Luckily for you, we did the heavy lifting. Below is how we arrived at the above list.
First and foremost, we followed our advice. By this, we mean we considered the purchasing tips we described earlier. Besides that, we felt it was important to recommend products that are strong and will last for a long time. With the costs involved, it only makes sense to direct you to tools that will provide you with value for your money.
Second, we considered the price and what people are saying about the shaving kit. In our time in the industry, we have learned that there is some truth in what consumers say about products. Though some are too hateful and others too nice, you can always find a middle ground from which you can draw your conclusion about the product. As for the price, we are aware that you might be loaded or not. Since we cannot ascertain which category you lie, we chose shaving kits that strike a balance in their price and value. Many of the shaving kits above do not break the bank.
Third, our goal was to keep things exciting and versatile. Sure, many of the shaving kits in the industry feature classic razors. To keep this guide from being too predictable, we threw in some that sport electric trimmers. If you give it a chance, an electric trimmer will help you maintain an exquisite beard game. Have an open mind as you make a choice, and above all, understand your needs.
Conclusion
Choosing the best shaving kit for men is a challenge – especially for beginners. Most men tend to shave at least once a week. As such, it is essential to find the perfect shaving kit. Always ensure it meets your needs.
If you are wondering why we've made a big fuss over beard care, here's a question for you, 'would you settle for a bad haircut every other week?' if you can't, then it does not make sense to be okay with a bad shave.
Finally, think of shaving as creating an art piece. To get the best results, you need to have the best tools at hand. In this piece, we have tried to simplify things for you. If you come across a men's shaving kit that's not on this list, do your due diligence and consider the buying tips we listed.